Go to a Microsoft Store, instantly grab 100 GB of free OneDrive storage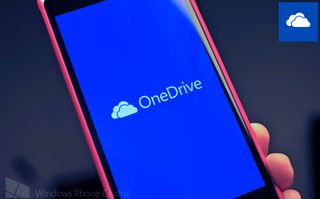 Did you miss the riddle today of logging in to OneDrive at 11:11 AM PT? If you were one of the lucky 100,000 users, you nabbed yourself an extra 100 GB of free space (for one year). We're also hearing that those who missed it on getting a consolation 20 GB of storage via email from the OneDrive team.
But did you know that the Microsoft Stores – the physical ones – are also giving away 100 GB, giving you a second chance?
How to do it? Simply walk in, talk to a rep and either "activate a free OneDrive account or provide proof of an existing OneDrive account". The other caveat? Beat the other people who may be ahead of you, as only the first 10,000 – across all Stores – will get the full 100 GB. The next 20,000 will get 20 GB.
The offer is only good from today until 2:59 a.m. ET on February 24, 2014, so make that trip as soon as you can.
You can only 'enter' the instant-win contest once, though there's no word if you picked up 100 GB online today if you can also pick up another 100 GB by heading to the Store. We'll find out!
Need the full rules? Here you go (opens in new tab). Contest only open to those in the US, Puerto Rico, and Canada
Source: Microsoft Store (opens in new tab), via: Twitter (@OneDrive)
Windows Central Newsletter
Get the best of Windows Central in in your inbox, every day!
Daniel Rubino is the Editor-in-chief of Windows Central, head reviewer, podcast co-host, and analyst. He has been covering Microsoft since 2007 when this site was called WMExperts (and later Windows Phone Central). His interests include Windows, laptops, next-gen computing, and for some reason, watches. Before all this tech stuff, he worked on a Ph.D. in linguistics, watched people sleep (for medical purposes!), and ran the projectors at movie theaters because it was fun.
I missed the 100gb option earlier and now I just woke up to this lol :(

I was driving to work ... (8:11am here in NZ)

Since I had to leave at 11:00, I asked my brother to do it for me. I thought he wouldn't be fast enough but it seems he was.

Damnit. Too busy watching Olympic Hockey this morning and forgot to log in at 11:11.

Nice to know there are hockey fans out there. The sport really needs more, on verge of dying in India.

I got both the 100gb and 20gb online. Unfortunately I can't get the store deal as I live in Argentina! =(

how i can get them? i am from Argentina too and i don't understand a thing! lol

Los 100gb eran para los primeros 1000 o 10000o, en iniciar sesion despues de las 4:11 de Argentina. Pero creo que si inicias sesion hoy te llega un mail para 20 extras. Ademas si pones la subida automatica de fotos te dan 3gb extras y 500mb (hasta 5) por cada persona invitada a Onedrive. For english speakers: you probably read the news already.

Logerase en donde? yo tengo las opciones automaticas activadas desde siempre, las reactivo?

Entra a www.onedrive.com y pone en la seccion de codigos, este codigo: 9JPNR-WCHJ6-9Q2PR-49BDY-8FFBC Pero apurate que lo puede usar cualquiera. Todos los que recibieron 20 pueden dar 20 a otra persona mas. A lo mejor te llega mas tarde un mail pero si lei bien en otra pagina decia que era para los usuarios mas antiguos.

Hay que aprobar. Buen trabajo muchacho :)

Missed it. This is why I use Google Drive, the lack of storage and the stupid limited time on storage on one drive is ridiculous!

where is my free 100gb i have now 10gb free only

MS is not serious with this stupid promo, logged in yesterday 11:11, no 100G, no 20G. Got at least two friends on Onedrive via invite friends to get extra 500MB per friend, got nothing. Just that 3G added yesterday for everyone. Have only 10G. Will tell all my friends to deactivate their onedrive account, it's fraud! Dropbox did it and no hitch whatsoever and I got 50G. I just wish they make an app for Windows Phone 8 soon, Onedrive is just another bullshit like many of MS dumb apps

If you read the article properly, it said that the first 100,000 users will receive the the extra 100gb storage. Guess you weren't one of the lucky 100,000

I know what you did there! :O

That's laughing out loud!

Its only for a year though. So I barely used up 500mb out of 25gb over last year.

Yeah but they always have some offer, so there's a good chance you will get another bump before it runs out. If you need it use it.

My heart sank at "Contest only open to those in US, Puerto Rico, and Canada". No love for those of us Down Under.

Dude. Get on a flight ASAP and come to the USA. There's a Microsoft Store 20 mins from LAX. You land and get a cab and head straight there! You can do it!

Ah! If only I had 16 hours earlier notice to cut out the flying time that would have been perfect.

I'm sure that would be cost prohibitive. And stupid.

Might as well pick up Adobe Creative Cloud as well if you're coming that far.

Makes sense if you're from Australia.

LOL Sam!! A flight? Wouldn't it be less expensive to buy the top tier storage options. :-) hehe!

HA! I went to my Microsoft Store and they make it like a scratch off card thing on the screen. I "scratched off" 20GB not the 100GB. This is the first one of these that I've been able to do, so it's good to be part of the bonus storage club. Somehow I don't get ANY of the emails for Windows Phone or Sky/OneDrive enthusiasts.

I've had wm6 6.1 , wp7 X2 , wp8 X2 ... No love for me but I got an enthusiasts bonus from one drive :D

Sam, unless you're coming on a Saturday morning with no traffic on the 405 there is no way you can get from LAX to Microsoft Retail in 20 minutes. Stop lying to people lol

I got the 100GB but there is no physical store where I live so I guess I won't be finding out if you can stack them. I wish it didn't expire though.

Where was the riddle? Why didn't I see it... :/

They put it out in a tweet.

Damn it lol missed it but then again... Rarely use it other than work docs so yeah 7gb is more than enough. Not uploading my entire life story onto the cloud lol... I wonder why on earth does anyone need 100gb + storage.. Given the fact not everyone has unlimited data, which will soon disappear imo as more and more people stream on their mobile / tether it will become cost prohibitive to offer unlimited data to everyone. But I don't live in the US so could be different story. I've found people with unlimited data complain about very slow speeds, 1st world problems lol.. Doubt most even experienced the speed dial-up internet connections.

I have 229gb available for free and only use 19gb. Stupid slow uplink speed.

I didn't hear about the riddle . . . What was it about and where was it found?

The logging in at 11:11 AM thing. @OneDrive tweeted out a puzzle to solve, it basically said to log in at that time to win. Many of us knew ;)

I don't have a Twitter account. #facebookuser
#discrimination
#unfair

I'm crying you a river, let me know when it reaches you, lol

He'll be drown before you know it Daniel. Lol

I got the notice of the "contest" in my facebook feed. Have you liked the Surface Page, Microsoft Page, OneDrive page? It was on all three!

It was posted to the Facebook pages for Surface, Microsoft and OneDrive as well. I saw it several times in my feed. Just like the pages to get these notices...

curious... i tweeted back the answer at 11:22... i can't imagine that 100,000 got it faster. Or were were supposed to log into our Onedrive account at exactly 11:11?

Daniel, I set my 1020 up for the auto uploads for pics to OneDrive and have not gotten the 3GB. Do you know how to fix this?

Log in to OneDrive and activate it from there.

I went and I'm having trouble. Where would it be listed?

For me, it was listed at the main page.

Didn't know about the riddle at all -- just pure chance i got the 100 GB :) Got the 20 GB Have 28 GB permanent now and 120 GB for a year

What happens if I don't pay for the extra storage after a year and my files exceed 7GB? Force delete my files?

They make them public, they just give your stuff away. Think the TV show Storage Wars but for your OneDrive. Seriously, what happens is you can't add anything more to your drive. Your stuff stays there and you can access it. But to add more, you need to delete below your account limit.

Damn, if they still let you access your stuff then that's pretty sweet indeed. :-)

I stopped in the Las Vegas store to get redeemed and only got 20 Gig. The salesman showing me how to set up put in his creds and got 100 gig. He used his gmail account. arrg.

Was he waving his iPhone in the air too?

I would guess they let you still access them, but you are unable to add more to it until you pay to increase your space to exceed the amount you are using.

I got the 100gb and the 20gb...winning!

Onsite store? I was at work that time.

But it goes away after a year right? That suck

Hey, free is free.... please stop complaining LOL

I went to the Microsoft store and got the free 100GB and the hot chick who helped me is coming over later tonight to give me a blow job for free too!

Not worth it unless you plan on keeping it, which means paying for it.

I didn't get the 100gb but now i notice they gave me 3Gb for camera roll bonus.. Still happy about it

There was also an email that gives you 20 GB and also a link for one additional friend.

never got this email on any of my accounts

Is there an expiration for the 3gb? I got it and very much contented with 10gb space. I just hope the add'l 3gb won't expire.

Pointless if it expires anyway.

No, it is not. You don't understand how it works.

Yay... now on 10gb... lucky me....

I got both. 100gb and 20gb!! Now I am with 168gb free! Great!

i passed on 100G cause i will never use that amount of cloud storage but i got 20G for a year and 3G for free

I was lucky enough to grab the 100 GB's of storage this afternoon, all thanks to Daniel R. & Mary Jo, was getting ready to watch the live stream of Windows Weekly when they mentioned this! Thanks :-)

Same here... Now if Dan would appear on his own podcast..... ;-)

Rumor has it...tomorrow (or today, Thursday, basically).

i got 100gb by visiting Microsoft Store, plus 20gb thru the email they sent me, which said if i missed 100gb i can at least have this 20gb. well, i didn't miss that and so i got 120gb in all. plus 3 gb for camera roll :D :D however, the email says my friends can get 20gb if i forward this email to them, it didn't work for my friend, anyone having any idea??

What's the point of it if it's only for one year? Then what....you have to pay to keep storing all your files, which is what all these 1-year limit promos are all about, increase peoples storage, get them to put a ton of crap on there and when it runs out after a year they will most likely pay you to keep using it, because they got used to it and are now too lazy to download all of their crap and store it on other servers or local storage. It's a brilliant marketing strategy. Unless they offer a permanent free increase it's just not worth it to even bother.

The point is that it's crack. They give you a taste so you get hooked, then charge you. You don't really think you'll get something for nothing, do you? Yeah, it's free, but at the price of weening yourself off of it next year or paying the piper.

I turned on auto-upload for photos on my Nexus 7 and Lumia 920, and don't see my free 3GB. Anyone else having a similar problem? Fix?

go to OneDrive website login then click on manage storage see if you can get the free 3G from there

Thanks, all that's there is a "learn more" button, which takes me to the onedrive photo promo page.

sign in with your microsoft account https://onedrive.live.com/about/en/ on bottom left side click get more storage see if you have an option for 3G bonus camera auto upload and you could also try upload something from your camera roll album it might activate the free storage

Thanks again for the suggestions. Tried all that, still nothing. Maybe it takes a day or two.

No, it should've been instant. Try turning the feature off and on again, and on Windows Phone. I was on WiFI when I did it, but nothing else special...

Thanks. Tried it, but no dice. Couple other people on onedrive support forum are having the same problem as I am. I guess I'll wait and see if they get a response.

Ensure auto upload to OneDrive is on.... I have high quality selected which defaults to WiFi.

I got it while Daniel was on Windows Weekly, on two of my accounts and the church account, but my wife was too late. Only 3 GB because I couldn't log into her account due to two factor authentication.

I have not receive any notification, logged in a minute ago and my total storage is now 10Gb. Can't remember when did mine increased.

You got 3 free because you have your pictures backing up to onedrive

I called them at my local MS store and they had no idea what I was talking about. They told me that they were not giving anything related to OneDrive free. The first guy I spoke to didn't even know they had change the branding.

I got the extra 20 GB for a year and I got one this december too. But instead of adding another 20 GB, they added another 2 years. I have 20 GB enthusiast bonus til 2016-12-20. Fucking sweet:)

The SkyDrive app on tablets really needs to show shared folders like family room. I hope this feature comes with the one drive update.

Don't need 100 GB, have 290 allready and use only 1 GB.

I have in all 50gb total ... 7gb storage as usual and i got 20 gb bonus from microaoft bfore a month and again got 20 gn bonus from nokia bfore a week or two ... Yeah they did give me extra 3 gb for camera roll back up ') still happy coz i hardly use 1gb out of 50 ...

I have gotten shafted on every single one of these, first I receive the free 20gb with a broken link so I can't claim it (only one of which I might add), then they just decide to offer products to US only recipients.

Hahaha I just happened to get on my tablet at 11:09 and remembered. Got the 100gb and the email for 20gb...i now have 171GB xD

بدلیل اینکه مایکروسافت برای دیگر کاربرانش بجز آمریکا و کانادا احترام قائل نیست و دیگر کاربران را مورد تبعیض قرار داده و این فضای ۱۰۰ گیگ را برای آنها در نظر نگرفته است تا ۲۴ ساعت دیگر تمامی حسابهای کاربری خودم در مایکروسافت را بسته و این موضوع را به تمام دوستانم هم گفته و در فیسبوک هم به اشتراک میگذارم تا از مایکروسافت خداحافظی کنند و به اپل یا اندروید مهاجرت میکنم، شاید آنجا تبعیضی نباشد

Did you mean?? "Because Microsoft for other properties, except for the United States and Canada do not respect other users and discriminated against and this is space 100 GB is not intended for them to all other user accounts 24 hours myself on Microsoft and it's subject to all my friends on Facebook and said the time to subscribe to Microsoft I say goodbye to Apple or Android there is not discrimination, perhaps immigration" - via Bing Translator.

LOL this is so transparently sleazy. Think about it. What purpose would having 100GB of cloud storage for only a year serve? None. If you are going to accumulate that much hosted data, you are going to want to keep it hosted forever. This is a way to trick people into thinking they have way more storage than they truly do so that they use it up less sparingly and then feel pressured into buying that storage they were originally "given" back.

And what about for people like me who use SkyDrive and would love to get 100 free for a year because it would save me some $.

Here's a tip for you. Don't use it. That'll just leave more space on the servers for those of us who will use it.

Got 20GB to one account, not to the other though

Got it!!! 100GB+20GB+3GB on top of my legacy 25GB!! Awesome!!

I've got 20 bonus GB on email for year :)
Thanks Microsoft

Only for a year is rubbish really just a marketing ploy. Get 1 terrabite on my flickr no expiry date Posted via the WPC App for Android!

Who uses Flickr for Cloud Storage? That's like saying I don't need a duplex, I have u-haul truck. Wait, whuh? Apples, oranges. We're not uploading 100 GB of photos here, more like music, docs, videos, ZIPs, etc.

got 100 GB making total 130 GB SWEET

Of course this is posted minutes after I leave the Microsoft Store...

I was already in the MS store when I saw this post (my 1520 flipped out). In store you put in your name and email address and then there is a "scratch off" on screen. Some people get 20, others get 100. ( got 100)

Darn! I'm out of the country atm

I realy don't think MS is giving away 100 GB of space on there servers. If you have 100 GB For free It means that you can upload 100 GB. If you don't use that, you don't have It. It's Just a number on your screen that means not much until you use It. Unless, unless MS is stupid.

it wouldnt be there if I needed)) what i have now, 7gb i guess, not 50mb is used)


I solved the puzzle yesterday at 12:30 am IST, I was just supposed to login into onedrive.com at 12:41 IST, and I got the 100 GB free for 3 of my accounts.. Out of which one account has a total of 130GB.. I know it's just a logical number.

I'm living in the wrong country...

How does one use that much space without posting content that violates their terms of agreement?

You start taking high def pics and videos all the time with your Lumia of course!

I didn't do anything special, just logged into my SkyDrive in the browser today and was told that since I was a long time user I now had an extra 100GB of storage. That was nice of them.

Same here. Total accident!

Got mine while listening to Daniel on the podcast today... Got 130 GB of storage....

I still got 10 GB. Bummer.

Did Microsoft forget their customers around the world?

Er, I don't think the stores exist in Europe ;-)

One year only. no Thanks.

Nothing for us Europians. This is prbably my first and las windows phone.

EuropEans (except if you live in some place called Europia ;-) ) get everything but the MS store deal. Probably because we don't have any MS store out there.
Tell me what other phone OS editor give you that much... Google does not. Apple does not. Blackberry does not. Nokia (as in Asha) does not...
Feel free to leave, but you won't feel that free anymore then.

I taken mine... Now I have got 107 GB. Yuppyyy

There is a new camera roll bonus of 3gb, that's new, wasn't there two days ago, also referrals wasn't in my storage management and i already made 7 human-beings switch to outlook with skydrive.

Did anyone who signed in over phone browser get anything?

Waiting patiently over here in Germany!!!

As long as it's for one year only, I'll pass. What are you supposed to do then? Arbitrarily lose everything beyond your standard plan? Or opt for a greater plan to keep this all? Both options do not suit me.

You don't lose anything. You just wont be able to add anything beyond 100gb of you used it all.

So as per usual another US only offer. Pisses me off.

No more free additional space for Russia :(

Kinda wish I could upload larger files. This is kinda annoying with the 100mb limit. Or was it 50?

Got my 100gb and 20gb for the wifey today. Coolness

Dont tell the wife you got 100GB and gave her 20GB or you will be sleeping on the couch with your 1520 lodged up your butt sideways lol

This 100GB in store is BS! Microsoft Store here said that only 20GB extentions were being given out at the store!

Does anybody has a code to share?

try this one, still 5 to go https://onedrive.live.com?invref=8706b0b54e4bec58&invsrc=90

NEW LINK, in order to redeem 1/2GB
https://onedrive.live.com?invref=c6f6127cbc670393&invsrc=90


https://onedrive.live.com/?invref=5cfb41be46110ce2&invsrc=90

Get Here Free 100 GB Reward For Bing JUst Sign UP Here at Link below https://onedrive.live.com/?invref=f951c5e630bacafc&invsrc=90
Windows Central Newsletter
Thank you for signing up to Windows Central. You will receive a verification email shortly.
There was a problem. Please refresh the page and try again.