Microsoft Store offers 5 percent coupon code for most items, including Xbox One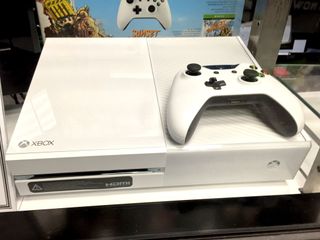 Want to save even more money on the Xbox One, which will already see its price go down to as far as $349 starting November 2? Then all you have to do is sign up for a text message deal that will offer up a 5 percent coupon for most anything on the Microsoft Store website.
Basically, you can sign up on Microsoft's promo page to get text messages from their retail store division to get the code for the 5 percent discount, or you can text 'Play' to 29502 to get the same thing. It appears that the Surface Pro 3 is the only product that is ineligible for this offer. Also, keep in mind that the Xbox One discount might be available in limited quantities.
The upshot of all of this is that starting November 2, you could in theory get an Xbox One with a free game like Sunset Overdrive for as low as $332.50 from the Microsoft Store website. Will you use the coupon for an Xbox One discount?
Source: Microsoft Store via Neowin
Windows Central Newsletter
Get the best of Windows Central in your inbox, every day!
I see what you did there...

Thanks for the tip, John!

yes, looks us only, it wont accept my details

Looks to be US and Canada. From the bottom of the coupon page, emphasis mine: *Valid from 12/16/2014 – 3/31/2015. Available in select Microsoft retail stores in US (including Puerto Rico) and Canada. Not valid on prior orders or purchases; cannot be transferred or otherwise redeemed for cash or gift cards. Not combinable with other offers. Offer only valid on select products. Excludes gift cards, pre-ordered products, volume licensing, contract phones, Surface Pro 3 devices and Surface Pro 3 accessories. Limited to stock on hand. Discount applies before taxes, shipping and other fees. Void where prohibited or restricted by law. Microsoft reserves the right to modify or discontinue offers at any time. Limit 1 coupon per person. Not for resellers. Quantity limits may apply. See a store associate for details. Promo Code: C73

Should I buy Xbox one or wait another year or two for them to make a smaller faster model, just like what happened to Xbox 360 which has about 4 models now.

Go ahead pick one up now. It'll be worth it :)

They won't be redesigning the Xbox One anytime soon. The reason 360 went through so many changes was because it had terrible early going issues that had to be addressed through lowering its heat output.

They don't make the consoles faster. They all have to be the same

I am going to play devils advocate to the other replies. If you don't NEED to play Master Chief Collection or Sunset Overdrive, there is a good chance microsoft reveals a slimmer console at E3. The original machine is waaaaaay too conservative space-wise, just begging for a smaller sibling. With that said, I use the heck out of my XB1, can never go back to 360.

Man I really want an Xbox One...

Me too thinking to buy Xbox one. Bcoz that's Microsoft's best product ever

Add a $100 trade in for your old console and you can get the One for $222.50. Seems like a good deal.

Where are you seeing that information?

It's been on for a while now.. On all MS Stores

That's too bad that the surface pro 3 wasn't included. I've been waiting for a deal to pick one up.

Staples had them for 20% off a few weeks ago and they currently have it for $75 off with coupon.

Would you rather have 0%?

I'm going to switch from 360 to one

Please make a contest for a free Xbox One give away. I am dying to get one but just can't afford it :-/

Let me ask you something. Can you buy a Lamborgini Vaneno?

Yay. Been waiting for this.

I think Microsoft really wants me to buy an Xbox One...


Wow, so if you do that and get the Assassin's Creed bundle at $332.50 + spend $60 on Halo: MCC, that means you can get 6 amazing games (AC Unity, AC IV Black Flag, and Halo1-4) for only $392.50--also known as $7 cheaper than a PS4 with ZERO games. That is absurd. I've never seen a deal like this in gaming.

Im guessing like the xb1 preorder discount code its US site is the only 1 it works on?

I'll stick with the Wii U for console games. I don't fancy playing .