Microsoft Store offers free copy of Assassin's Creed Unity with most Xbox One bundles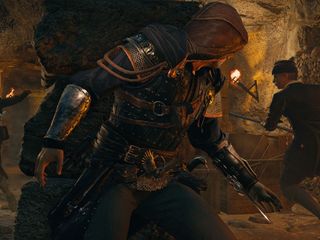 Microsoft has sweetened the deal to purchase most of its Xbox One consoles if you buy it from the Microsoft Store site. The company is throwing in a free copy of Ubisoft's 2014 action game Assassin's Creed Unity with its Xbox One bundles, even if it already has a free game included in the package.
Yes, that does mean that if you buy the Xbox One with the free Halo: The Master Chief Collection, you still get Assassin's Creed Unity as well. The freebie also covers several upcoming Xbox One bundles that will have a free copy of Forza Motorsport 6, Madden NFL 16 or Gears of War: Ultimate Edition. There's no word on how long this free Assassin's Creed Unity offer will last.
Check out the Xbox One bundles with Assassin's Creed Unity at the Microsoft Store site (opens in new tab)
Unity is the worst assassins creed, losing only to liberation. That bundle would be better with ac rogue or 4

I liked brotherhood the best

I dunno man. I enjoyed unity, but I also played it months later once the glitches got fixed. Still way better than revelations, or whatever the third ezio one was.

Better than Revelations? What The fuck, did you really play it?

Unity annoyed the hell out of me as it was promoted as a multiplayer title and then locked you out of that content until you had played through a few hours of single player story. Just let me access the content I want play and let me jump online with some friends from start.

Assassin's and Batman: The best games without guns.

Well there are guns in assassins creed. From revelations onwards

You also have a pistol in 2

Oh yes. The one that Leonardo makes from the codex page

Can't use em forever you see, and can't just be dependent on it.

I know this isn't related but has their been any more news on Minecraft windows 10 edition

What do you want to know about it? It comes out in two days when Windows 10 launches and will have Xbox achievements. It will be in beta form for an undisclosed amount of time and only cost $10 (or, if you already own the Java version, it will be free). Eventually it will allow for cross-platform online play with Minecraft: Pocket Edition on mobile devices.

Everything in US and UK? What about other contries, don't they exist??? Fuck MS

Seems Unity is bundled in India : http://www.xbox.com/en-IN/xbox-one/consoles?xr=shellnav Why are you hating on them so hard?

1. The price difference! I hope u check that!
2. Limited edition or similar things are not released
3. No free goodies like this one Posted via the Windows Central App for Android

Honestly, it seems like Microsoft is becoming desperate about sales of the Xbox One. Almost every other week you read about some game being bundled with the Xbox One. Even with so many bundles and lower prices they are still unable to outsell the PS4, makes you wonder about the future of the Xbox One.

Not really. There's a difference between outselling a competitor and failing as a platform. The console still sells millions. Sure they are creating bundles because who doesn't want to sell more, but that doesn't mean they are afraid of not making another generation. The only thing I am 'worried' about for the future of xbox, is that there's always the possibility that they build their own 'steambox' type of 'console'

Assassin's Creed II is the best ever....

Ya. I liked 2, brotherhood and revelations cause they're all with the same person. They should make more like that

This is very old news... the promo started on June 15th.

That alright, for newbies , I have it already came with my console unity and black flag
Windows Central Newsletter
Thank you for signing up to Windows Central. You will receive a verification email shortly.
There was a problem. Please refresh the page and try again.