Microsoft Store opens London flagship on July 11
Microsoft's upcoming London flagship store opens its doors next month.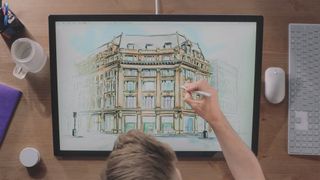 What you need to know
Microsoft has unveiled plans to open its first Microsoft Store in the UK.
The upcoming store hits Oxford Circus in the heart of London.
Doors will open to the public on July 11, 2019.
Microsoft has detailed plans (opens in new tab) to debut its first European retail space next month, via an all-new London, UK flagship. The Microsoft Store hits Oxford Circus on July 11, 2019, packing 21,932 square feet across three floors of Surface, Windows, Xbox, HoloLens, and more.
First rumor of Microsoft's UK retail venture surfaced in late 2017, securing a lease from United Colours of Benetton. The new store falls adjacent to the Oxford Circus Tube station, with placement on a prime avenue for London shoppers, alongside Apple's own Regent Street flagship.
Upon its July 11 opening, Microsoft promises opportunities to "test technology, products, and services from Microsoft and its partners." The space will offer interactive zones and wall-wrapping video screens, with events and activities for visitors. A dedicated "Answer Desk" will provide training and repairs, alongside its "Community Theatre" for free workshops and programs.
"This new flagship store builds upon Microsoft's significant track record of investment in the UK," said Cindy Rose, CEO at Microsoft UK. "More importantly, located in the heart of central London it will serve as a vibrant hub – for both visitors to our great city as well as a variety of different local communities – to come and play, learn, create and discover."
Expect more details on the Microsoft Store London flagship in the weeks ahead, including a first look inside the physical store.
Windows Central Newsletter
Get the best of Windows Central in your inbox, every day!
Matt Brown was formerly a Windows Central's Senior Editor, Xbox & PC, at Future. Following over seven years of professional consumer technology and gaming coverage, he's focused on the world of Microsoft's gaming efforts. You can follow him on Twitter @mattjbrown.
Timing fail!
All companies are leaving London and moving their HQs to mainland Europe, Microsoft opens flagship store in London LOL

This is a retail outlet not their HQ - your comment makes no sense whatsoever.

And even then this person's comment makes no sense. Presumably, it's some kind of dig at Brexit when Microsoft has already confirmed its commitment to the UK is unchanged regardless of the referendum in 2016.

Brexit will affect tourism too, so my comment makes perfect sense.

You're such a failure, good job

@Imperial Dynamics, actually :P it doesn't... you were talking about the HQ and tourists don't really visit a companies HQ. Personally, brexit has been shambolic on all levels and most people who voted for brexit did so as they have been maligned and ignorned by investments that have been poured into specific areas. It really stems back to the thatcher era where all the docks and shipwards where closed, these areas never really recovered. Instead of transitioning the local economy to new sectors and industry, the tory government at the time took the easy route and closed down the docks and shipwards. So quite alot of skilled labour and knowledge was also lost, these would have been key to transitioning the local economy to other manufacturing industries such as cars, trains and buses. The greatest irony of it all is that due to Brexit, the UK has actually lost more investment and has had to make compromises / concessions when securing trade deals. It's inherently easier to secure trade as a block as opposed to as a single entity. As the other party has to make concessions to gain access to the block whereas a single entity has to make the concessions to gain access to a market for example. Take monopoly for example, you wouldn't trade Old Kent road for Piccadiliy Circus would you?
However if you had both May Fair, Park Lane and Whitechapel road along with funds to spare AND the game has proven that every player has landed on the either Old Kent Road and Whitechapel Road. Old Kent road becomes substantially more valuable to you so in that case trading Picadilly Circus is ofset by your ability to build hotels straight away. Secondly the timing of the trade is equially important, if all the players are on the Green set for example then it's highly probably they will land on either Old kent road or whitechapel road, as no one wants to pay rent on the dark blue set. So for the cost of 500 quid, you could make a lot of money (especially if you have alot of players involved in the game). So what Brexit has infact done is weaken the UK's stance on trade.
https://www.theguardian.com/commentisfree/2019/feb/07/trade-deals-britai... https://www.theguardian.com/business/2019/feb/13/brexit-uk-trade-deals-eu Those who harp on about the benefits of brexit have no clue how trade, commerce and economy works in this digital era. As there are no benefits to brexit at all as it's 2019 where everything is digitally inter-connected not the era of sailing ships and merchant vessels. Most importantly we are a nation of two islands and neither are landlocked so we are by necessity due to the geographical lottery reliant on the EU and customs union. I'll leave this here - https://www.independent.co.uk/news/uk/politics/brexit-latest-dominic-raa...

I don't live in London but visit there occasionally. I just happen to be in the city on July 13th so will definitely take a look at this!

It looks pretty! I bet Zac is really happy too. 🙂

Looking forward to first store, if only they kept mobole