Microsoft Store sites in Germany and Spain are taking pre-orders for Lumia 950 and 950 XL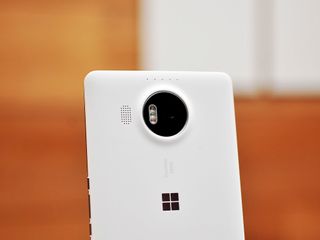 We are still about a month away from the official launch of the Lumia 950 and Lumia 950 XL smartphones from Microsoft with Windows 10 Mobile. However, more Microsoft Store international sites have started taking pre-orders for the phones, in Germany and Spain.
We have already reported that the Microsoft Store sites in the UK and Italy have started their pre-orders, but now Germany has joined the list. As with the Italy listing, the German Microsoft Store site is pricing the Lumia 950 at €599 and the Lumia 950 XL at €699. Both are scheduled to ship on November 28.
The prices are the same on the Spain Microsoft Store site, except they are projecting the new Lumia smartphones to start shipping on November 28.
Again, these are just for Microsoft Store sites in parts of Europe; the US Microsoft Store list has both the new Lumias listed, but it has not yet flipped the switch to start taking pre-orders.
Thanks to everyone who tipped us!
Why does the UK have the furthest away date? :(

They know we're not happy unless we have a queue to moan about! :)

Not even orderable in the US yet

Waiting for the Beast here in Saudi Arabia

It's ridiculous that we still don't know the release date...

It actually make sense. Windows 10 mobile isn't actually finished yet.

Exactly. The poor interns are working very hard to finalize the OS for us, since nobody there probably wants to work on it. But then again, I heard engineering interns there make way more than most people anyway. $6K a month I think? Sadly I wasn't able to land an internship there, but I would at least have been enthusiastic about working with the mobile division.

Halfway through that rant I thought you were joking. Now Im not sure if you really think they're letting interns touch OS code.

I doubt interns work on any Windows Mobile stuff. I do know of people who were interns there that worked on Windows 8 stuff before it was revealed. It was probably some small coding on the side, but nonetheless it's pretty cool to be able to work with new systems and prototypes before everyone else gets to see them.

@offbeatbop:
I wouldn't expect them to do that, but can't help myself with having the impression that Windows on phones is coded with a level of scrutiny usually employed by interns (due to their lack of experience).

I'm pretty sure that if Microsoft had a Windows 10 Mobile team the size of Google's Android team, the OS would have been done a long time ago. But I like to joke that the engineers/programmers pull straws, and the losers have to go in the small corner and work on Windows 10 Mobile or some more budget Lumias.

yep. some people are not understanding that. the hardware is ready, software... not so much.

Then you don't announce a new flagship phone, that's a BlackBerry move. If the OS isn't ready, you wait until it is so you can start selling the thing. That's just smart business.

I think they just wanted to squeeze the phones in with all the other tech they showcased at the October event a few weeks back, since it was quite important, maybe to create hype and/or make ordinary people acknowledge these phones even exist Posted via the Windows Central app for Android because it's infinitely better than the WP/ WM one

Plus with it being so close to Christmas it's good to let people know that something good is just around the corner.

@bigbmc26:
I totally agree with you.
But that doesn't change the fact that the incomplete status of Windows 10 mobile is Microsoft's fault in general and particularly Nadella's. It could and should have been ready by now, if Mr. Nadella would've been wise enough to follow my counsel and, if he felt that laying off ten thousands of people was necessary, had done it AFTER the operating system reached general availability status and a couple of accompanying handsets have been released.

Smh! These phones were known about or leaked half a year ago meaning it was first to be seen, announced a month ago and it'll be the last flagship to be released. Makes no damn sense,but hey its Microsoft we're dealing with.

When I ordered, the release date was given as 27th November.

Fuck iphone-land just give it to us Europeans! (joking)

I bet you are not joking. :P

Are they really going to launch at the end of November? It's like they're trying to be the last company this year to launch a high end phone. It probably won't affect sales though, since only true Windows fans will buy these anyway. But since it's releasing so close to 2016 it's going to be competing against the galaxy S7, which could potentially kick the Lumia 950 out of the number one camera position (if it happens to get there in the first place) in like one month.

Seems faster in Europe :P

At the price stated those phones are not going to sell in Spain! Microsoft can only hope that at the store level the sales staff for Yoigo, Orange, Movistar et al will push people to get them on 24 month contracts that ain't going to happen. When Microsoft finally get around to releasing these phones they will last about six months on the carriers sales floor before the carriers discount then discontinue them Posted via the Windows Central App for Android

I love when people are able to read the future like this! /sarcasm off It just reminds me of Ballmer's comment on iPhone's sales in 2007...

Can only comment about what I see. The only WP phones that are on offer are the budget ones and even then if the person is under 70 the sales staff actively discourage you from buying one. A friend of mine (a clued up girl who works for Orange) said that she never pushed them because they caused to much after sales hassle Posted via the Windows Central App for Android

I can second that. My girlfriends auntie needed a new phone but has no clue about technology. So I recommended a WP because it is easy to use etc. We went to the nearest orange store and looked up the Lumias they had (low end phones in their catalogue). We asked for them and the employee told us that her boss doesn't even sell WP because nobody wants them and he thinks they are bad.

So you ask to buy a phone but they won't sell it to you because "nobody wants them"? That's some beautiful logic right there.

They actively discourage you from buying one Posted via the Windows Central App for Android

Same in the netherlands....

If the demand was not there, fair enough. His decision not to sell them - It's his store afterall. But because "he thinks they are bad" is just retarded. Bad are Android phones for non-tech people especially at the low end level. Chances are they will die on you more often than you can count, lack at time, and just reduce your life by a few years. Windows OS is known to be stable and snappy on the other hand. That even holds true for their low end phones with subpar tech built into them in comparison. It only lacks hip new apps and that's not an issue for me, even less for my parents. My father just pre-ordered the 950 after playing with my phone for a while. I haven't heard of a similar sales representive issue here in Germany (am just visiting my family here) and for sure not in the US at At&t stores.

Yeah spain is the only big eu country behaving like amaricans with 3% WPs. Shame on you :D

FYI... IT?s already out of stock in spain :) It sell pretty fast :)

Here in spain, I only know one person with wp8. And he will switch to android for next phone. Msft should drop prices

Drop prices? It's already priced way below the latest Iphone and is superior in regards to tech build into it. Don't get your point other than that you're broke but keep aiming for the hot potatoes out there.

And in the Netherlands too

Come on EE and Carphone Warehouse. And I hope we see some demo/dummy units ASAP. I wanna check the size first.

I see both of the 950's on Carphone Warehouse website in the coming soon section so at least they will get them!!!!

And in Portugal as well! Finally Portugal in the front line!

I have ordered mine in Sweden. They say in webstore 27th of november.

Also in Sweden. Ship date 3rd dec. 950 - 5995 sek. 950xl - 6995 sek. So about $700 and $800.

Correct me if i`m wrong, didn`t they said the 950 would be around 550$ ? Then how come they sell it at 600 Euro in EU ? :)

...because in Europe the sales tax is already included?! :-)

Also Denmark December 3. I ordered from Call Me a bit cheaper than anywhere else in DK atm.

Deductions.
1)Software team has until 20th Nov or a week earlier to sort out the final release build of W10m. Hmm.
2) Microsoft is still using old distribution channels that traditionally arrived from Europe to Asia to Australia to Americas.
Now some ideas for Microsoft.
1) Lumia and Surface distribution channels need to merge with both these Brands reaching places within a timeframe where they didn't use to reach before.
2) The buzz around next generation Surface Pro 5, Surface 4 and Surface Book 2 will be reaching the tipping point. Microsoft needs to use that halo effect for future Surface Phone and Lumia phones to their advantage. And they have to do it once and they have to do it right. And in both hardware and software departments. (I'm looking at you W10m developing team.)
3) They have to get the radio frequencies universal. They have to put every kind of 3g, 4g LTE and CDMA that runs across world including Verizon and Sprint. They have to take updates ONLY in their own hands and with carrier subsidy phones TOO. NON NEGOTIABLE.
4) They need to implement the same demand and supply distribution strategy that they have for Surface overall and merge it and/or apply it to Lumia division sale too. Also implement different configuration preorders both online and through retail with shipping dates within month globally. They have to improve after sale services and repair globally.

LOL you'll receive a 200k job contract, check your mail!!

I don't need a job contract lol. All of these suggestions help consumer cause one way or another. I for one would want that.

I understand but my joke was related to the fact that while we all think they should improve distribution and marketing they might have their reason for not doing that and those reason might be based on some market analysis and scientific data. I mean, maybe they know they have a product as good as competition if not even a little better but that's not enough so they just want to keep their market stable for now and prepare for the big blow when they feel they can really make a difference despite their bad time to market.

Looks like Microsoft want plating when they said they'd reevaluate markets and carriers that weren't supporting Windows phone. I guess the US Microsoft Store will start selling the phones among the last.

While I feel sorry for Lumia fans in the US who have to put up with the petty antics of their carriers (who have way too much power) I think this is a brilliant move!!! There's so much talk on this site about Windows Phone being dead & having less than 3% market share but that's mainly in the US! It's doing quite well elsewhere & garnering as much as 10% market share in some parts of Europe so why not capitalize on that success! I know America is still one of the largest & most important markets but if the rest of the world is actually buying Lumias then Microsoft should go ahead and get their coins!

The phones only just got FCC approval a day or two ago, that's needed in order to sell them in the US. I guess they got regulatory approval earlier in Europe, but as VW has shown us European regulatory approval is pretty much a rubber stamp so that's no surprise.

I'm guessing they will sell just as good as my 930.. And that I hopefully can get it for 50/60% less in 4-5 months.

Microsoft Store Free dock offer in UK with L950 & L950XL

Hey, not sure how you found that link but do you have the link for the 950 promo...?

My Microsoft store in Canada also told me it would come with a free dock.

Mind to share the link for that?

https://www.windowscentral.com/e?link=https2F%2Fclick.linksynergy.co...

That's amazing!!!!! Good catch!!!!! Not sure how much I would use it though!!!!! But still nice to have!!!!

I'd carriers place a "coming soon" logo on phones for a 2-4 week prior prior to preorder. Expect the Att variant for preorder on or before 11-15. Probably ships out around December 1.

I picked up my surface book on day one. The Microsoft employee at the Microsoft kiosk told me I was able to preorder the Lumia 950 XL that day. I was able to get two pre orders entered by this employee. And he said definitely on or before the middle of November. 825 Dulaney Valley Rd, Towson, MD 21204, (855) 270-6581 Xbox gamer tage if you want to hit me up. Onetimenarc.

So €700 is only for phone or dock it's included?
I hope that wouldn't only phone for €700 in Ukraine, samsung and apple are cheaper :( Still waiting for dates and prices for Dual sim :)

Same price for Dual Sim in France and Spain and ready for pre-order; €699,-

Meanwhile in North America.... I'm guessing Canada will be one of the last place on earth to start preorder.

Spoke to a dealer in bombay...said launch just before diwali...donno I true...lets wait and watch

Actually in the US you can go to the store and place your preorder.

Yeah I was just on the Microsoft store USA and they were taking pre orders for the White 950XL, could only order Black from Clove or unlocked mobiles website, they are all saying December 3rd as far as I'm aware!!!!

I'm done with Microsoft's failed attempts to getting their platform out to the masses. They are lousy business strategists and are doing everything to not support its customer base. I'm switching to Android when the LG V10 arrives. I'm done with all this bs.

FYI for US, the big four carriers have said they don't support WiFi calling on the 950 series. That's a deal breaker for me.

When is the release date?

Unfortunately Australians love iPhone and Samsung devices and this reason is why Australia doesn't get the Lumia devices quicker than other countries.

Ordered mine on Wednesday. I woke up to the notification email in my inbox.

Windows Central Newsletter
Thank you for signing up to Windows Central. You will receive a verification email shortly.
There was a problem. Please refresh the page and try again.