Microsoft Store US now showing $499 Surface as back in stock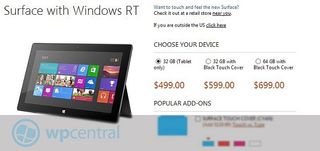 Good news for those that missed out on the initial stock of the Surface tablet, the US store is now showing them back in stock.
The popular $499 option that comes with 32GB Storage but not a Touch Cover had been missing for some time due to the hurry to snap up devices for pre order.
Having a Surface tablet without that keyboard option seems bonkers to us but many have opted for that device and then added the Touch Cover of their choice to the package even if it costs a little more. If you have been waiting with fire in your eyes for things to return to normal now is your chance to head over to the Microsoft Store and grab one.
While we're talking availability we should also mention that other regions aren't having so much luck with their stock levels. We thought we'd check to see how things are looking 'globally' and here is what you can expect if outside the US.
UK - Only the 64GB Surface with Black Touch Cover is available
Australia - Both 32GB and 64GB options are available but the 32GB tablet only option is out of stock
Germany - Both 32GB and 64GB options are available but the 32GB tablet only option is out of stock
Canada - Both 32GB and 64GB options are available but the 32GB tablet only option is out of stock
France - Both 32GB and 64GB options are available but the 32GB tablet only option is out of stock
From the looks of it the option without the black touch cover has been a sell out in every region with only the UK selling out of the 32GB Surface without touch cover and the 32GB with the black touch cover. Perhaps we're just a little more conservative about our colour options here.
We certainly hope that stock levels return to normal globally in the run up to the holiday season.
Microsoft Store (opens in new tab); thanks, Todd Tiemann, for the Tip!
Windows Central Newsletter
Get the best of Windows Central in in your inbox, every day!
Is there any news when the tablet will come to the Netherlands? I really want one!

I have my 500 Eur ready. Time goes by so slowly for those who wait.

I was waiting for the 920 so I didnt order, and I got my 920 on Oct 29th. Plan to get a Surface before Xmas, great news!

I'll take it with any cover touchcover, typecover, tankcover, tiltcover... as long as it gets to sweden!

If anybody needs, I do have an extra black touch cover, for around $80 :-)

By the way, Surface RT can be seen in recent episode of Hawaii Five-0.......
And along with some other WP8 devices, I think I saw Sumsung ATIV S and Nokia Lumia 920.......

Damn, if the manufacturing cost of harware is really less than $300 then they really made a mistake with the price (at least they could've put more storage for additional couple of bucks if they want to charge double at $600).

Micro SD. USB port. iPad has neither.

crazygonzo. Let me tell you as someone who just handed back their iPad to the company, The Surface ROCKS!
I absolutely love the one I am using. Battery lasts 9-10 hours, all day (I use my machine constantly, I don't do lunch)
The touch sensivitiy is just like iPad, smooth, fast. But I can do real work on this thing. The apps look much nicer!
Go watch the Ballmer Keynote, its an hour or so long but Pappa Ballmer (who is no elite power user) demos lots of devices, and shows just how great Win8 is on touch devices.
He even taught me that search, plus hitting "news" makes an on-the-fly newspaper with your search term. Amazeballs!


I live in NYC, and I've had the privilege of visiting the Microsoft store located in Time Square. My experience went well. The employees were kind, inviting, and extremely knowledgable. I currently own an iPad 2, and it's ridiculed when compared to the Microsoft Surface!

Glad to see this is back. I need a type cover and didn't want to have to buy a model with touch cover plus spend the money on the type cover.

I must say, "the touch cover is lot easy to use than expected!" With that said, I would highly recommend it.

I got mine this week and I'm loving it. I found a great reader app probably better than Flipboard so I'm in heaven.

OOh Techblogger, what App is that , Nextgen Reader?

Got my surface last week. Love it!!!
Windows Central Newsletter
Thank you for signing up to Windows Central. You will receive a verification email shortly.
There was a problem. Please refresh the page and try again.