Microsoft Store for Windows 10 testing wish list, remote installs, and more
The Microsoft Store for Windows 10 is beginning to pick up a few more familiar features.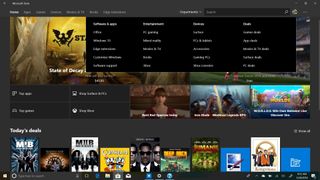 Microsoft appears to be testing another batch of changes to the Store app on Windows 10, all of which bring some familiar elements from other online stores to the fore. Initially spotted by Twitter user Ajith (via Windows Latest), the new features include a wish list, remote app installs, and more.
The biggest addition here is a new "Wish list" section, which operates just as you'd imagine if you're familiar with the section at other retailers. While browsing the store, you can mark apps, games, and other offerings to be added to your wish list. From there, you can view your wish list at any time from the ellipses menu next to your profile icon. As Windows Latest notes, there doesn't yet appear to be a way to share the list with others.
Another major change is the addition of the ability to manage remote installs. An "Install on my devices" option will let you queue up app and game installs for your other Windows 10 devices from the device you're currently using. If you're using an Android phone, Google Play already has a version of this available, and it should operate in a similar manner on the Microsoft Store. If you have multiple PCs in your household, this can come in handy for distributing a particular app or game without having to manually move from PC to PC.
Lastly, there's a new "Cart" section available from the top of the Store, where you can queue up items you want to purchase.
These changes come following a similar rollout of a new "Departments" section on the Microsoft Store, which makes it easier to hone in on what you're looking for.
Like departments, remote installs and the wish list appear to be a part of an A/B test right now, so not everyone will see the options as available right away. However, if testing goes well, the new features should arrive for everyone in due time.
Windows Central Newsletter
Get the best of Windows Central in in your inbox, every day!
Dan Thorp-Lancaster is the former Editor-in-Chief of Windows Central. He began working with Windows Central, Android Central, and iMore as a news writer in 2014 and is obsessed with tech of all sorts. You can follow Dan on Twitter @DthorpL and Instagram @heyitsdtl.
These are great additions. I don't want to start a major complaining party about the Store here, but has anyone heard why MS is taking a good while with Store improvements? It seems like a Store is something that would be given a huge amount of attention and yet I have lots of trouble with search being too finicky and it recommending nonsense apps.

No idea. I'm still confused as to why each game or package doesn't have a simple, homogenised forum available. That customers are instead encouraged to decamp to Reddit is pretty crazy. This is one of the major reasons Steam has a far better community. It would appear obvious to every user, and an easy win, but not so obvious to MS it seems. We can only hope they will cotton on eventually, but as we all know such hopes are commonly frustrated in the Windows world.

Wouldn't be surprised if the (extremely) slow improvements to the Store weighted into Myerson's dismissal.

Pick for you: Will get better based on what apps/games/themes you download in the past, have installed and use. Search has got better in 2016 I think it was typing cru would show the Candy Crush Sagas first
now crunchyroll is correctly at the top of the list

Lack of man power. Microsoft is pretty busy on many fronts. Features like thus aren't that obvious to implement only because they exist on other platforms.

The problem is that even features that should be more obvious are not still being implemented like the Wishlist and Gift feature that is long existed on other online stores. Maybe it is a lack of manpower but also does lack of proper focus on these areas that are typically more for consumers.

They do seem to be hammering away at the store app, at least it's been updated a LOT lately, but since they can't seem to be bothered to add version history info, I have no idea what those updates actually fix or add.

Yeah, this would sound nice too. I also want the app to NOT only show review by region. I can't see most reviews because of region, I think.

some UI tweaks/ slightly tweaked my library/ acrylic and reveal in hamburger menu and new back button😉 so far

Finally they do, which is a long overdue and some of these features like Wishlist, Cart, and Gift should have been implemented long ago if not after the introduction of new Windows Store. Now Microsoft Store is finally catching up and getting better, but Microsoft has to face the already bad rep from past shortcomings and issues from Windows Store. Version History is still missing and I don't get it why they seem to refuse to add certain features. Microsoft wants us to use Microsoft Store but for a long time, they never seem to aggressively improve it, only more recently. There is still a lot of things they have to work on Microsoft Store, but at least they do care about it now and pushing more improvements.

Their search engine used in Microsoft Store sure does need a serious attention. It's not great, only okay if you know what you are looking for but still bad at presenting results. They are improving in that area though, but it needs more options like sorting and they need a human to help filter out bad apps.

A Wish List! I put this in Feedback over two years ago and got over a 1000 upvotes! And have upvoted every other person who asked for this. One guy got almost 4000 upvotes! Finally!

Took them a while (which is an understatement).

If you have multiple PCs in your household, this can come in handy for distributing a particular app or game without having to manually move from PC to PC.LOOK ALL NEW TECH HERE...https://bit.ly/2IoiTqv

I don't know what MS is doing...remote installs was a good feature I used between my first Windows Phone and my Windows 8 PC. One day they removed it, now it's coming back. -\0/-
Windows Central Newsletter
Thank you for signing up to Windows Central. You will receive a verification email shortly.
There was a problem. Please refresh the page and try again.