Microsoft to support Surface with Windows RT for at least four years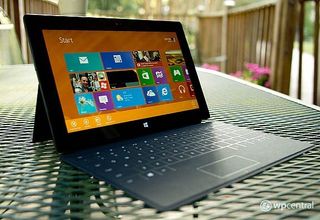 The Surface RT tablet was released last month, but Microsoft has remained tight-lipped about the support policy for Windows RT itself. The company has since released information detailing its declaration to support its initial Surface tablet for four years. ZDNet has taken a look at the new information provided to see what this means for consumers.
The Mainstream Support End Date is set as April 11, 2017, with no Extended Support End Date due to the Surface tablet being classed as a consumer device. Microsoft has updated its policy (opens in new tab) to provide addition details to cover consumer hardware to better reflect the available support for consumers. Quick snippet:
What does it all mean for the consumer? Those who purchase a Surface RT tablet will be eligible for firmware updates until at least April 2017. Windows RT and the bundled Office suite will both be covered for the minimum five-year period defined for consumer software, providing ample future proofing for consumers.
ZDNet also compared the support provided by Microsoft against competitors. Apple's original iPad, released just over two-years ago, no longer qualifies for iOS updates. It's a cloud of confusion when it comes to Android tablets. OEM partners will be releasing hardware powered by Windows RT, and so far Microsoft's support lifecycle page is current word on expected support dates for hardware released by each company.
Consumers who have been affected by the Touch Cover issues will be pleased to know Microsoft is set to continue to support its products for a generous duration of time.
Source: ZDNet
Windows Central Newsletter
Get the best of Windows Central in in your inbox, every day!
Rich Edmonds was formerly a Senior Editor of PC hardware at Windows Central, covering everything related to PC components and NAS. He's been involved in technology for more than a decade and knows a thing or two about the magic inside a PC chassis. You can follow him on Twitter at @RichEdmonds.
I assume you mean 2017, not 2007, right? =)

Hah, good catch :-P quantum leaping back in time!

4 years minimum, can't you read?

interesting...i wonder if that means we will get an upgrade if a new version of RT comes out.

Yeah, just like Apple are giving all new-iPad owners free iPad minis right now ...

I think he meant the is, not the hardware

True. All this Surface RT/Windows RT stuff can be confusing.

I'm also seeing 2007. Whaaaat?!?!

Sounds about right. A tablet being more like a PC than a phone should last longer than a phone which gets replaced every two years. Right now a lot of people are calling RT a stop gap and I only partially agreee. Odds are by 2017 metro apps will have become the standard to the point where the lack of desktop support won't matter or intel chips will have reached the point of power consumption that they really don't need to use ARM to be competitive and they can drop RT if they choose.

With the speculation of Apple using their own chips in Macs, I'm leaning more towards ARM taking over intel chips.

Oh boy what a relief.... (Sarcasm)

Sounds fair, and better than the competing products.

And thanks WPC, I was on a fence for Surface for not knowing its support policy, this sealed the deal, just ordered it, my Xmas gift!

One of the reasons windows is a better choice for those who don't change their gadgets every year (or 6 months if you are an apple fan). Also, if you get the pro model there is no reason you can't get windows 9 on there too I expect.

This is the type of support that will win over consumers.

Support in terms of what??

OS support. For example iPad 1 no longer supports iOS 6, and it's less than 2 years old.

To be fair it's about 2.5 years old.

Which is kinda weird considering the iPhone 3GS supports iOS6. Even if it already lags terribly with IOS5. That said, hardware nowadays are plenty powerful, so there aren't as many reasons for companies not to support them for longer periods (besides making money of course).

Off topic: I must be dense, or WPC edit method is a bit clunky...

That is quite a good support window for a consumer product that you know is going to have some significant changes over those 4 years. Way to go and not leave us in the lurch like IOS.

Actually as I think more about it, that's probably about the time Windows 9 should be due.

Sure is better than the commitment to Zune!

And also "better" than with Xbox 360, because, being far 10 years for a consumer device is way too much. We need a new one.

The Xbox 360 is a gaming device and still does this well. It wasn't until later that Microsoft started to repurpose it as an entertainment device. The new Xbox is coming I've read late Q3_2013. What they have planned is exciting!

they have done a GREAT job with the 360. From the old days of the horrid "blades" UI to what we have now it is amazing what they have done with the console. THE reason the Xbox is on top is because of the long term commitment to the console. Unlike ADHD nintendo and their Wii that was sold out then wasn't, then a catastrophic crash in sales. Now they have Wii U which is another bridge to no where....with a joke of an online gaming system.

Why do we need a new one when it's capabilities haven't yet been maxed out?

As I stated, the Xbox 360 is a gaming device. Microsoft bolted on other services to extend its capabilities as an entertainment device. It was not designed for the latter and it shows. Microsoft wants to be THE entertainment devices and services provider. The next Xbox is going to be a graphical powerhouse, with multitasking abilities, and refined APIs to not just make it a powerful new gaming platform, but a full on interactive entertainment PLATFORM. What that means is that if it's built modularly like W8 and perhaps uses the same core kernel, we could see gaming devices; video devices; music devices; cable set-top devices from Microsoft and licensees.

How does it show? It's just as capable for gaming as anything else, it most certainly handles the tasks better than the PS3 whose YouTube app crashes.

They likely made this leap because there is company pressure. Companies actually really like this device but don't want to be caught buying into something that sees support dropped in a mere 1-2 years. While Microsoft points out it is still a consumer device, I am certain they have their eyes on the big prize here, which is corporate.

I think the long support cycle is an effort to get consumers/enterprises accustomed to Microsoft's vision for the future of computing - a paradigm shift in the UX.

Apps apps apps apps apps apps apps apps apps apps apps apps apps apps apps apps apps apps apps apps apps apps apps apps apps apps

But....but... I'm an early adopter. I got it the morning it came out online. I deserve an extra year or two of support than someone who just bought one. Am I riiiight or what!

I want one so bad but can't afford it, so I won't buy one until the price is dropped.... :[

Developers, developers, developers, developers... http://www.youtube.com/watch?v=8To-6VIJZRE

Glad to see there support for RT is going to last for 4 years. As for the Xbox please give us a new one asap as the 360 is to long in the tooth.

Why make a new one when the current one hasn't been maxed out yet?- stupid comment

My Surface has surpassed all my expectations. It is a wonderful piece of equipment and I have no regrets spending the money.

You'd probably assume Windows 9 will be released around that time then. While Windows 8 is the latest Windows OS you'd expect the surface to continue to receive upgrades as the hardware requirements shouldn't change too much.
Windows Central Newsletter
Thank you for signing up to Windows Central. You will receive a verification email shortly.
There was a problem. Please refresh the page and try again.