Microsoft Surface RT Touch Cover issues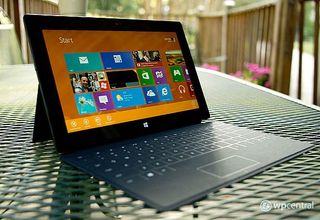 We've heard rumblings about the Microsoft Surface RT Touch Cover coming un-raveled along the connector (opens in new tab). The plastic shell on the keyboard separates and exposes the connecting wires. Not a really good situation.
The separation looks as if it is caused when you fold the keyboard over behind the Surface and the plastic shell is stretched too far and comes loose. If you're having problems with the Surface Touch Cover, while a roll of duct tape (opens in new tab) could fix the problem, there's a better solutions. Here's what you need to do.
Call Microsoft's Surface Support at 1-800-Microsoft (which translates to 1-800-642-7676). You'll go through the obligatory menu options but you are heading to Surface Technical Support. Once there, explain the issues and have your original order number handy.
At some point you'll be given two options to replace the Touch Cover. There is the Advanced Exchange where a hold is placed on your credit card (for the cost of the replacement cover) and the replacement cover is sent out without delay. Microsoft will also send you a return shipping label to send the defective Touch Cover back. You've got fifteen days to return the old cover of the credit card hold becomes a credit card charge.
Surface Touch Cover coming unraveled at the connection point
The other option is to have Microsoft email you a return label that you will use to send the defective cover to them with. Once Microsoft receives the cover and confirms the warranty status, they'll ship out a replacement.
It took me about 30 minutes to get all this done but I also started out calling the Microsoft Store which in turn transferred me to product support which transferred me to Surface Support where I talked to a very nice and helpful agent, Christine, who was able to get things rolling.
If you've had problems with your Touch Cover there is a solution. It may take a few minutes on the phone to get things rolling but it's nice to see Microsoft stand behind their products.
George is the Reviews Editor at Windows Central, concentrating on Windows 10 PC and Mobile apps. He's been a supporter of the platform since the days of Windows CE and uses his current Windows 10 Mobile phone daily to keep up with life and enjoy a game during down time.
Had same issue, but went to surface support page and started a 'chat' session with an agent. In 10 minutes I got an email from UPS with shipping information to send the touch cover and get a replacement. I live in the UK but even I had to send it back for a replacement, MS support made it worthwile.

Mine is now all wrapped up for Christmas so I guess I have a little while to wait yet. I only got to play with it for one day before the stupid Christmas present ruled kicked in.

Two weeks ago I reported mine as faulty and am still waiting for a replacement. Microsoft Store support have been useless, they can't tell me how long I'll be waiting for a replacement and have flat out refused to offer a refund.

MS Store brick & mortar and MS Store online are two separate entities. (full disclosure, I work at a B&M store). While we are facilitating online returns, the refunds are processed via the website (we are sending product back on customer's behalf).
If you call a B&M store, we do not have the ability to tell you return turnaround time, or issue a refund. If you bought it at a B&M store, go on in and you should be taken care of pretty quickly.

Same issue, and they were just as slow for me. I'm not impressed.

Always a buzzkill on every article

I don't get this and I use the hell out of my touch cover, am I the only one???

I use this thing every day. I'm keenly looking at the middle area to see if it separates. Nothing so far, fingers crossed.

Same here. I use this thing everyday, and I have inspected it thoroughly and it looks fine (color: white). It could be the folding back that's the source. I fold mine back occasionally, but if I know I'm not using it, I normally just disconnect it and use my Surface as a standalone touch device. It's good Microsoft is so willing to replace them, becasue $120 is a bit pricey for something that has the possibility of a short shelf life.

No problems for me either - had a good look and it looks like mine is nice and securely connected in the middle point. Seems to be that if it is going to break it breaks sooner than later.

Haven't had the separation issue so far. The strangest issue for me is that the Touch cover is sometimes unresponsive. One time had to completely restart for it to work, but that may have been an updated firmware issue. Still have times where opening the cover does nothing and doesn't do anything for some time. I don't think that's a hardware issue, though, because once it's recognized it works with no issues.....

I had a similar issue whereby I needed to connect the cover about 5 times before it was recognised or I'd take it off and the on screen keyboard wasn't active. I gave support a call and they sent a new tablet out.

yeah ive had this, redocking it gets it going again for me

I've heard that if you clean the magnets on on the cover with alcohol the unresponsive issue you're having can be resolved. Worth a try. The seperation issue is real. Mine has already seperated. I think it only effects people that fold the cover back 180 degrees frequently. Which is stated by microsoft as accepted normal use

I wonder if the new one has a modified construction or will it be a revolving door of replacement keyboards...

This is my quetsion as well. I hope they fix the issue with the replacements they are sending out.

i just put a bit of glue in mine. lol.

no issues yet luckly. using everyday

I hope they solve this issue by the time PRO rolls out. I would hate to spend nearly $1000 on something that breaks. But beyond that, I have to represent a quality product to my friends and family who have so far been sold on Apple crap. I refuse to get Apple crap and want to show them the light... But worn out hard ware that malfunctions half the time is a bad sign, I can't show them that.

No problem with mine and I use it daily

Also used daily and no problem but will keep an eye on it now!



The only problem I have experienced with my SurfaceRT is that the keyboard would become unresponsive after coming back from sleeping. This has since been fixed with the latest firmware update, so everything is cool now.

I had this issue, and spent about two hours on the phone over the course of three days to try and get it resolved. By the time I finally got a UPS label sent to me, I was on vacation in California. As there was a Microsoft store near my hotel, I just took the cover there, and the folks there exchanged it on the spot for me once they saw the issue. Took a total of 10 minutes. (Too bad I had to drive almost 700 miles to make the exchange though. :)

Sadly after 1 day of use my cyan fell apart. I have my new one coming from MS now. They charged me another $119 but will refund it after i return it. I am not sure what will be different with the new one, i'm sure that will rip too.

i was told only the color ones have issues, not the black one.

My black touch cover developed the issue after about 5 days... new one is holding up pretty well at the moment.I did notice that the spot where the issue occurs (i.e. the center) is slightly thicker than my previous cover so I'm guessing extra adhesive has been applied at the manufacturing stage.

Hopefully Microsoft learns from these Issues and make the Surface Pro more kick arse :p
can't wait for the pro!

Yes, I am sure they will learn something from the fact that there are a very small number of covers with defects. It is called mass production for a reason and there will always be isolated defects. With a few notable exceptions, they appear to be handling it very well. Surface Pro will also use the same covers.

This is why I dont jump ship to new products...smh

I am glad I did as this the best tablet I have owned.

so far Microsoft have been replacing keyboard no questions asked, updating apps, os and the firmware like crazy. im normally with you and wait, but jumped on asap with the RT, so far im really happy with it

I, as a mechanical engineer, thought about this the first time I used it. So what I started doing is that when I need to fold it, I either remove it instead or just flip it and install it backwards. This allows it to be folded in the intended direction. Any material folded back and forth will eventually give, especially if the material is cold making it more brittle.

No problems yet.. Day 1 adapter and no regrets whatsoever. Willing and patiently waiting for SPs.

Another reason why it should be bundled with the device or priced at $49.

By that logic every mass produced item in existence should have all accessories given away from free since there will be some low incidence of defects in any production run of any product.

My originaly Touch Cover had the part untucked literally after 1 day. My replacement is good 2 weeks later. I just went to the store and they replaced it on site without a question. I too usually remove the cover when i'm on table mode on my couch now. But i'll still bend it back if its already connected and i'm using it.

If I get one of these for Xmas am I gonna like it?

Mine arrived and the first day they landed in the UK, within an hour the tell tail signs were there of the material coming away.
On contacting support, they were very efficient and carried out the process of replacement as everyone has mentioned, in fact they were implying that they were twiddling their thumbs and made pleasant chit-chat.
The new touch cover arrived next day, and looked fine for all intensive purposes, but 3 weeks down the line, it's coming away again. Will contact support again tomorrow as I now see the issue is widespread.
Modification required. How could they miss this?
Love, love the device, upgrading to pro upon release!

Same here I use mine everyday but don't have that problem..maybe because I remove it when I'm sitting on the couch or when I'm laying in bed...just saying.

No problems so far here, type and fold daily...

"Once MS confirms warranty status"?? WTH? These covers are less than 30 days old. What needs to be verified?

My 3 year old, my wife, and I use it every day and ours is in perfect shape. I use it with the touch cover bent backwards every night in bed.

The only issue I'm having with mine is the random muting issue. I'm skeptical a new one will change that based on some of what I've read. Other than that I'm really happy with my Surface.

I bought the type cover (still in its box as not used and returning it) but noticed from the outside (unopened case) that the construction at the hinge is different so I guess this relates to Touch covers only

When I read of this, the first thing on my mind was, you attached the keyboard the OTHER way aroun. Then you can keep yout touch cover attached and STILL use the tablet in its entirety.

Problem solved.

Is it worth buying? Like what can you really use it for? I'm buying a Surface for sure, just not for sure about the keyboard, be better to get a reg usb keyboard?

Windows Central Newsletter
Get the best of Windows Central in in your inbox, every day!
Thank you for signing up to Windows Central. You will receive a verification email shortly.
There was a problem. Please refresh the page and try again.