Unboxing the Surface Duo: Hands-on with Microsoft's ambitious new phone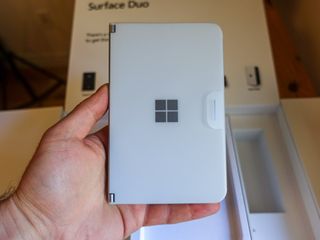 (Image credit: Daniel Bader / Windows Central)
Whether you have plans to buy it or merely watch the hype unfold over the internet, the Surface Duo is undoubtedly one of the most interesting phones to be released in 2020. That it's coming so early in the year — it was originally slated for closer to Christmas — is one of the few gifts this otherwise terrible year has given us.
Most typical smartphone users are just growing used to the idea that foldables are real, that they're not as fallible as originally thought, and that, inevitably, they will be mainstream. Microsoft's take on the foldable avoids the foibles of flexible displays and breakable plastic overlays, relying instead on two distinct OLED screens and a sturdy, infinitely adjustable hinge that forms the, well, backbone of the Duo itself.
Surface Duo FAQ: Everything you need to know about Microsoft's dual-screen Surface
Source: Daniel Bader / Android Central
While it's too early for me to show you the phone's software, I was lucky enough to be among the first people in the world to unbox the Surface Duo this week, and I'm going to walk you through that process now.
The reviewer's kit is a deliberate play on the Duo's extensible nature, unspooling horizontally to reveal a vertical flap inside that, underneath, houses the Surface Duo retail box as well as a pair of Surface Earbuds in a new Graphite color (opens in new tab) that should be available on September 10, the same day as the Duo itself.
Source: Daniel Bader / Android Central
The box also houses a printed and embossed card from Panos Panay, Microsoft's Chief Product Officer, who says, "I hope you love using Surface Duo as much as we loved creating it." It's a nice touch.
Inside the Surface Duo's box, opened with a quick pull-tab, is the phone itself, an 18W USB-C charger, a USB C-to-USB C cable, and a bumper case that adheres to the edges of the ultra-thin Surface Duo. I don't see myself using the bumper — it makes an already-wide phone even wider — but it's great to have it included given that the unconventional design of the phone will limit third-party accessory options.
And then there's the phone itself. Panay described it more than once as a smaller Surface, not necessarily an Android phone, and looking at it I can totally understand where he's coming from. This is the first phone I can remember using that doesn't have a rear camera. Aside from the Microsoft logo on the front there are no other embellishments.
The buttons, all adorned on the phone's right-screen edge when closed, are clicky and easy to identify. The capacitive fingerprint sensor is in a comfortable position for the thumb when the phone is open on either side. The USB-C port is unfortunately not centered.
Source: Daniel Bader / Android Central
When the Duo is open, it absolutely feels like you're holding a tablet, albeit an ultrathin one. The hinge holds securely even when you're holding only one side. It's easy to place the phone down in a laptop-like orientation, and it's even easier to tent it to watch video content. Yes, the bezels above and below the two displays are large.
I can't say whether they are distracting while in use, but they do provide ample space to grasp the Duo anywhere on the open chassis without covering the display, which I'm sure is the point.
The phone closes with a soft, satisfying metallic thud, and it goes back to being an unassuming book-like thing that resembles nothing else on the market today.
You'll have to wait a bit longer for a full review, but I hope this has been at least somewhat useful in understanding what the Duo looks like, how it feels, and what you can look forward to if you choose to buy one. I'll be hanging around in the comments to answer any questions you have, or hit me up on Twitter if you'd prefer.
Preorder today
(opens in new tab)
Two screens are better than one

Microsoft delves into the future of foldables with an ambitious dual-screen device, featuring two ultra-thin 5.6-inch AMOLED displays bound by a 360-degree hinge. This pocketable inking-enabled Android smartphone marks the latest in the Surface lineup, geared for mobile productivity.
Main
Windows Central Newsletter
Get the best of Windows Central in your inbox, every day!
Awesome stuff! I'm glad to STILL be here to witness this actually "Surface Phone" (Surface Scribe😘) come to reality. From the days of Windows Phone Central, to our loved Lumia devices, to Windows Central, Surface, Windows 10, and now Surface Duo,, us fans have a lot to be thankful for... And, it is so much more rewarding being a fan here because it's an exciting ride, and we never know what to expect. We stuck through the ups and downs, and we're still here. Still celebrating terrific Microsoft products. The disappointments, failures, and let downs, etc.. Non of it matters after seeing that production Surface Duo in that box... Surface fans have always believed Microsoft would come back into the mobile game one day, and others had their doubts. We never had our doubts. Even if you don't like Duo, think it's going to fail, or don't believe foldables are sensible,, Surface Duo is here. And, it doesn't matter because the fact is that Surface Duo is in that box! Fans believed Duo would be here; they were right, and others were wrong... Because of this I speak for all critics, doubters, trolls, and all negative, overly biased Microsoft haters when I say WE TOLD YOU SO! 💯💯💯💯💯💯 Yep, totally immature of me, but totally justified, and it feels so good, so I have no shame. 🤷🏾‍♂️🤷🏾‍♂️🤷🏾‍♂️👌🏽👌🏽👌🏽😂😂😂

Did you not just put surface scribe? You must not be feeling well today, Rodney

Oh, let me go back and edit it. Thanks. 😍😍😍😍 There you go. 👌🏽

Your edited comment is hilarious!!!
Looks like Rubino has some decisions to make; windows phone central is back? It's crazy how long I've frequent this site. Well before I became a member and commented

Lol. It's a amazing time for Windows Central.. This is not Black Berry. Daniel, Zak, and everyone involved including us stuck with it, and we aren't going anywhere... What Microsoft is doing is working, and this is just the beginning for Microsoft's mobile ambitions. I'm satisfied so far. I say we call it "Surface Phone Central". 🥳🥳🥳 (Totally not going to happen, but whatever🤷🏾‍♂️)

It's nothing wrong with having a bit of fun with speculation. Surface Central lol

I mean, if they could have a site dedicated to iPhones, Android devices, and Windows Phone devices, it's totally possible to have a Surface Central. As long as the amount of content supports it this is a possibility, and I'm sure Daniel would agree to some degree.

Realistically there would be no reason to since surface is adequately covered already here. Plus all of the mobile nations sites cover more news then just single devices but more of all consumer (and some business) of their parent/governing companies. That being said... Windows Android Phone Central 🤣😂

Yep, feels really good to see this! Can't wait for the 'real' hands-on!!

Rodney, I get the feeling you are happy. :-D

Yes finally! Have not commented ever since my HP Elite x3 died. But like TabletPCs, Microsoft has a vision and they just go for it even if its 20 years in the making. Yes I would say this is befitting the Surface Phone title but X 2! 😁 Will I buy this phone? Idk, I have the Vivo Nex 3 and am looking forward to Nex 4 with 5x optical zoom and 5axis ois. The price is eye watering as well. But who knows what will happen if I touch the phone and fall in love. Like I do with the Surface Pro.

It definitely looks more tablet to me than phone; even in single display mode. Seeing the device being held really shows that the 4:3 aspect ratio display really makes a difference; and I'm digging it. (I'm now thinking to myself: "I've been a good boy this year. I deserve something nice...")

don't quote me but I believe IPhones are 4:3 too so if you use that, you'll likely be familiar with the feel

No way iPhones are 4:3 aspect ratio

Maybe I'm thinking of ipads. Yea I'm confident it's ipads so iPad mini but admittedly I'm not as well versed with apple's products as Microsoft's.

iPhones were 16:9 until the X, and now they're a little bit taller.

I know zac is steaming right now! 😂 🤣

So when DO we get. A full review? Do we get it the 28th,when it arrives in stores for display? Do we have to wait until September 10th, the official release day? If the demo units in stores are functional to try out, then I really hope we get reviews at that time.

Because if you get them after, the reviews will mean less? You would want a product reviewed in less than 2 days of use? Why can't they do a few weeks of use in 2 days? Okay, Karen Wallace

You're such a clown. Now you think it's unreasonable for ask for a review date? Yeesh, Montgomery. Also, that this was posted today doesn't necessarily mean the package arrived today. There are a lot of times that things are sent out with various embargo dates attached, like when you can unbox vs. when you can show the device turned on and post a full review.

#1 My comment clearly addressed you karening by hoping for the review by the 28th and not you asking when the review date would be. #2 unlike you with your ignorance, I know when the reviewed unit showed up. It was today. #3 I know that they are allowed to show the unboxing experience they received and the device but none of the on-screen experience including the boot up yet. #4 I've already said in other comments days ago when to expect the reviews due to embargo Nice reaching, Karen Wallace, but you'll have to do better than that.
"I hope the reviews are live before I can play with it myself knowing that will be the 28th aka < 2 days from now!" 😂 🤣 okay Karen .. And your welcomed to verify ANY of this info.

In the video he said "see you later this week".... That's confirmation enough.

I would not put any weight on 'reviews' done in less than 2 days of using it. This would include scripting, filming, and editing on top of using the product.
Previews are cool. Early impressions are acceptable. But reviews?! Nope!!
I even value after the buzz type reviews a bit more than 1st reviews in some cases.

Then, let them be team players and cancel their weekend of doing nothing and get busy with the review already.
I hope I did not show too much anxiousness.

Lol testing is underway!!! ... but as a fan of personal tech, and I'm sure any decent reviewer would agree, that you cannot get the totality of the experience of a device in such short of time even if they were allowed to post a review on the 28th.
For example, imagine testing the local playback of video claim to verify its validity. You would have to do it at least twice. That 30 hours of JUST THAT particular battery TEST with the 28th being so close. Let alone real world usage test. Camera samples, videos and photos, cellular tests in different area (urban vs suburbs), app usage (spanning and account sync). All of this in less than 2 days?? Karen is hoping for the rise and set of the sun around their liken. An absolute outlandish ask.

Agreed. Add to this that a device this expensive, with so many missing features on other devices this expensive, deserves serious consideration before purchasing. I want to see a month into it, 3 months into it how giddy people still are after the honeymoon phase wears off. These questions deserve answers at $1400 + the price of accessories: * What's it like to open/close this device several times a day?
* If you choose to leave it unfolded all the time how does the glass fare? Does it scratch?
* What is that camera like when you use it for basic family photography?
* Does the battery strain under those dual screens and all that multitasking?
* How irritating/not-irritating is it to carry a pen around with you in a separate pocket all the time?
* Or if you choose not to carry the pen separately, how irritating is it to not have it with you that one time you especially want to use it?
* Do you really find the app-pairs all that useful?
* If so, what specific app-pairs seem to work well together? And why?
* Do the dual screen office apps really make you that more productive?
* How often do you really use Your Phone with Duo?
* Do you miss having wireless charging if you had it before?
* Do you miss not able to make tap purchases if you were able to do that before?
* Are non-Microsoft Android developers besides Amazon Kindle choosing to take advantage of dual screen capabilities?
* Did anybody who bought this end up losing their job later on, due to Covid, and regret having plunked down $1400 + $300 worth of accessories for a splurge device? I'm as interested as anyone in this device, even though I really wanted a Win10x device. Mostly because of Panos' sales job though. He made me really believe I could get so much more done on my phone if it had an extra screen! Sales job or no though, I'm not about to plunk down $1700 (1400 + accessories) until the honeymoon period has wore off and we have some answers to valid questions. And I don't see that happening for about 3 to 6 months.

I would take WC reviews with a grain of salt. I always go with Lisa from mobile tech review.

Lisa has given out incorrect info a few times on surface devices. I unsubbed because of that.

Ahh, I can't watch with audio, had to just see the video. Sounds like it won't be the 28th, but oh well.

Review embargo is not the 28th. We'll have some time with the review unit before reaching conclusions for a review. Surface reviews have always landed on day-of availability, and that's probably a good precedent to go by.

Probably an obvious question, but do you guys work with Android Central to coordinate these things?

Of course, we're all colleagues/co-workers and coordinate.

Awesome stuff. It would be great to have an article with a summary of everyone's take on the device. 💯 💯 💯

Gotcha, thanks. I'm curious to see how these demo units go over in stores on Friday. I might venture out to see if they're just dummy units to show the form factor, or if they're functional devices. They might not even let people handle them, given how things are limited with the coronavirus stuff. I would even wonder if they have the launch software, or if there's an expected Day One (or closer to it) software update before they're deemed customer-ready.

In the video he said see you in a few days so maybe the 28th!

It's not the 28th, I assure you. Surface reviews have always landed on day-of availability, and that's probably a good precedent to go by.

Mary Jo Foley is saying Sept. 10 for review.

i came back to microsoft because of this phone. i am so excited.

Now that would have been a cool surprise if everyone got the buds.

No brainer for enthusiasts! I'm hoping I can wait until black Friday bc I'm hoping for a bundle like that. They'll probably bundle it with software instead though smh 🤦🏾‍♂️

I'm a new commenter here. Mr Burns I'm debating the same thing about when to buy. Last year at release I was sure I was NOT getting this. But recently feel I can't not get it. lol. I'm trying to make the best financial decision, as it isn't cheap. Do you think the trade-in pricing will remain the same during 'Black Friday' or will that decrease as they give a discount? Either way I'm having a hard time waiting!

Do you have a Samsung or iPhone you would trade in? If not, you won't get much of a discount.

Yeah they're actually giving $400 for iphone 8plus 64 GB. That helps me.

Welcome to community! Glad to have you join. I KNOW I'm getting it. I'm just trying to fight the urge for another 2 months to save a bit. Went back and forth with the pre-order then took myself to a best buy a few times. Impulse smh lol.
Here's what you could do... Wait 2 weeks after the 10th and purchase. If anything happens on black Friday, you'll be within the 60 days return period and you can just contact customer support. IIRC, there has been a time where new surface devices were in some kind of black Friday promotion before so that's what I am hoping will repeat. The two possible options are, they discount the duo itself or bundle in some extra products for the same price. Your guess is as good as anyone's. I do believe they'll still have the trade in program as this isn't the first time it's been around. But the trade in program is in partnership with a 3rd party so I don't know if ms has much say so about the value of owned devices. It might depend on what's happening in the phone space in Nov. This year has been unpredictable and there's been delays in the mobile space so prices may hold well.

The trade deal MIGHT hold, but these things usually don't stick around for the 3 months you'd need to wait for Black Friday. You're probably left to decide between trading in now and getting a better trade value or waiting, getting less on trade, but betting a better purchase prices. Ultimately, I would expect this ends up costing you about the same. If you think the price is OK after the trade, I Would just do it. Even if you maybe miss out on a slightly better deal, you'll get months of using the device now, rather than waiting and worrying about whether or not the deal will get worse.

THat's kinda been my debate. You summed up my dilemma perfectly. Now can you just come over here and push "place purchase" on my SPX please! haha

Surface Pro X is a tougher sell, IMO. Personally, I don't see the appeal of it over a regular Surface Pro, which is likely to have better software support and more consistent performance--on top of having little benefits like different colors of Type Covers and more models with different CPU/RAM/storage configurations. Most importantly, we know Microsoft likes to refresh the Surface products in the fall. It's possible a second-gen SPX is out in 2 months. If not, a SP8 is likely, and it would likely be a much better buy in a similar (or even lower) price point than the Pro X. The Duo is much different because it doesn't have a 100% clear competitor. It's also launching now, so there isn't much fear of an immediately better replacement, especially since Microsoft usually waits more than a year before the successor device (an argument against a fall Surface Pro X successor, admittedly).

Okay, Karen, let me explain this to you. They already have the spx. They are saying the pre-order process is on the screen of the spx and joking asking if you could press the purchase button for the duo for them.

The trade deal for iPhones will drop once the new one comes out either next month or October. So I predict they won't hold.

Being such a huge fan I feel like I deserve a unit with buds.. Some of us work hard to help Microsoft look good, and stand by them through everything.

It'd be amazing if they threw a bone to fans/enthusiasts/early adopters/advocates/promoters *looks at Brad Sam's, windows central, etc. * Oh... They did. We're just the suckers!

Nah, this is just a review package for both devices. That is NOT a retail box that you'd get at the store (that is, the box with the Duo and earphones together).

Excited to see full review soon.

Dude! I almost feel like I got one! 😂🤣 Great stuff!

I also gotta bring up this pun that opened the article: "..watch the hype unfold.." Literally, huh?

Daniel, you commented in last weeks podcast that it would likely receive "Black Friday" discounts. Any speculation as to what Microsoft might want to promote at that time? Trying to decide when to buy!

I wouldn't be surprised if they do a $200 off thing, or if not discount, toss in Earbuds for free. This device may be different though - there is no EDU/military discount, and even MS employees aren't getting a discount, so who knows. If it all happens it'll be in mid to late November.

I noticed no EDU discount when I considered pre-ordering. That 10% would have helped! Thx for all the content, as usual. Great stuff. This all takes me back to Jason's Wardetorials finally coming to fruition! I've been silently with you guys for many years and appreciate your balanced enthusiasm.

If you have a Best Buy account, there's a 10% off a single item. IDK if that is only for existing accounts, or new ones as well. When I sign in to my Best Buy account, it shows I can get the Duo for 10% off.

Do you have a BB credit card KW? I'm only asking because I've received a terrible run around with BB today trying to identify this discount. It seems I don't have it???

Apparently that discount has been sent out randomly after spending all morning with BB agents. harrumph :(

My guess is that Best Buy or AT&T are more likely to give a discount than Microsoft themselves. $200 off would be nice. Pays for the earbuds.

Typically retailers won't give discounts without manufacturer approval, but they can include extras for the same price.

Daniel, that is not correct. There is an MSFT Employee/Alumni discount on the Duo.

This must have changed recently if true. I spoke with someone from Microsoft just a few days ago and there wasn't a discount for them

The person should re-check. It's been available for at least a week, probably since the Duo was listed.

It very well may have been around a week since. Im going to fill out my application, get hired, use the discount, then quit lol 😂 🤣 jk

Based on how they do the Surface Pro, they usually offer a bundle with a Pen and Type Cover together. They would probably include the Slim Pen in a bundle, if I had to guess. They might, like with the Pro bundle, include a discount.

So happy for everyone that is excited, long time coming. The duo isn't the right device for me right now for a few reasons, the price tag and the camera. I would be using this as a true consumer device and I just don't think I'm the targeted consumer here. Don't get me wrong, I would absolutely love to "play" with the Duo, I just don't think it's the device I should be investing in right now.

Good fortune coming your way! Soon you won't have to worry about the price! Good day to you

Beautiful device. And those Earbuds look so much better in that gray color. In terms of esthetics I'm very impressed.

I have a question about the review: With the Duo being a Surface device, yet an Android powered one, will we get more than one review? It appears Android Central is the target here with Bader having and presenting the unit, but as a Surface device (2-screened "Windows" approach Panay touts), should it be reviewed by Windows Central as well?

Windows central almost always does its due diligence on covering surface products giving advice, opinions, hints, tips, and solutions from multiple viewpoints, perspectives, and use cases. Expect no different in the Duo coverage as this has already been occurring before our eyes for the last few years.

Bader on Android Central got his review unit a day ahead of us, hence why he took the lead this morning on this (I don't have mine yet, waiting on the courier now). AC will do its own review. I'll do ours. We'll share each other's perspectives/takes. Same with Michael Fisher aka MrMobile, who is getting one too.

I would expect they have either 2 different reviews for each site, or they have one review that is a collaboration between Dan and someone at AC, then posted to both sites.

How about that September 10th Apple event announcement? 😂🤣

I'm sure iMore will be covering that ;)

This is one of the reasons we like Daniel Rubino! Truth brotha!!!

I'm eager to see your honest review of the Surface Duo. Right now, I'm still up in the air about upgrading my Note 8 to the Note S20 Ultra or the Duo. Even after the reviews, I will need some hands on to get a better idea of which I will upgrade to. I like the idea that the Duo can use the Surface pen and adequately multi-task.

I am in the exact same boat. I have a Note 8 and I want to upgrade. I'm torn right now. Started cycling last year, and that has me leaning toward the Note 20 Ultra - camera and function easier to manipulate with a slab phone. I'm just tired of getting phones that don't bring anything new. Upgraded tech (specs) is good, but when are we going to get something new and possibly revolutionary. The Duo looks like it could actually change and improve my mobile experience - make me more effective and efficient.

To me, a note 20 ultra is functionally the same as a $300 phone except for the pen function. Same form factor, a slab phone. Sure, it's faster with more this and more that but you do things exactly the same way.

Why cant the software be shown?

NDA from Microsoft, most likely. Usually, media members sampled for a product review have either an understood or contractual obligation to not show the software or post a review before a set release date. I think it was AMD's products (maybe their first-gen Navi GPUs) that allowed unboxing videos to be posted, but nothing about performance/benchmarks until the release date of the product. If you follow computer hardware at all, these things are fairly common.

Right, I mean an NDA doesn't explain it all. We've already seen the software in emulation and in a bunch of new ads. Perhaps it's very different than that?

Theyve been the only people to show the software and that has been carefully controlled. The only other was was the emulator and remember that was for developers and not for marketing and promotion.

Must be a day 1 software update To polish anything the reviewers find. Should have given Zaq one. Sure he would have dug deep.

I'm super excited about this device.
The only reason why I didn't preorder is that I've never had much luck with preorders from MSFT and usually received them days after launch date.
So, I'll get it in person on the 10th.
Years anticipated, only days away.
Good times.

The fact that they're not letting anyone show the actual software is a serious concern. It's days before being released and they're not even confident enough to show the most important part of the product. That's pretty sad

It's because they want the reviewers to actually spend some time with the devices instead of making snap judgments especially during unboxing videos. Even in the unboxing videos, some of them didn't even know you had to peel the blue tape for the bumpers to stick, making comments that the bumpers were hard to attach. If they had spent time before making the video, they would know.

Just went to at&t store to check out the Duo. The software feels buggy a bit especially the swipeup/home button. But the hardware, I have till date never seen such beautiful hardware and I have used pretty much every surface and iphone devices. I think the surface team has outdone them selves.