FY22 Q1: Microsoft Surface rev drops 17%, while Windows is up 10% with ongoing chip shortage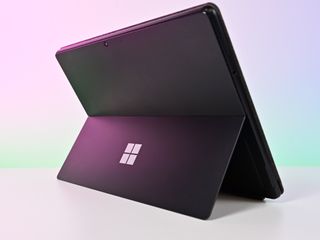 (Image credit: Daniel Rubino / Windows Central)
What you need to know
Microsoft's More Personal Computing division is up 12% YoY.
Surface revenue dropped 17% due to chip shortages.
Revenue from Windows OEM licenses was up 10%.
Search and news advertising revenue grew 40% with "improved customer advertising spend."
Update: Microsoft remarked during the investor call that next quarter wouldn't be better for Surface with a "single-digit decline" in revenue calling out the impact on premium devices due to ongoing supply chain issues. Overall rev for More Personal Computing should be between $16.35 and 16.75 billion, with Windows OEM license rev growing "low to mid-teens." Xbox hardware rev should grow in the "high single digits" despite "supply chain uncertainty" with growth in the mid-teens for Xbox services with strong holiday engagement.
Microsoft has published its FY22 Q1 numbers (opens in new tab) hitting $45.3 billion in overall revenue and (again) beating expectations of between $43 and $44 billion.
The More Personal Computing division's results were mostly very positive, with overall revenue at $13.3 billion and up 12% year-over-year. Here's how it breaks down.
Windows OEM revenue increased 10%
Windows Commercial products and cloud services revenue increased 12% (up 10% in constant currency)
Xbox content and services revenue increased 2% (relatively unchanged in constant currency)
Search and news advertising revenue excluding traffic acquisition costs increased 40% (up 39% in constant currency)
Surface revenue decreased 17% (down 19% in constant currency)
The one sore spot is Surface revenue, which had a sharp decline of 17% compared to last year. However, this was expected as during the FY21 Q4 earnings call Microsoft gave guidance noting it expected "reduced revenue in the low teens." However, 17% is the high teens, suggesting the impact due to ongoing supply chain issues was more significant than anticipated.
Incidentally, Microsoft stopped reporting actual Surface revenue in dollar amounts. Instead, it is only revealing percent changes in Surface income.
Microsoft is in a precarious position for component supply for its Surface business. It only makes small chip orders through Intel and AMD putting it at the bottom of the list compared to the big three (Lenovo, Dell, and HP), prioritizing bulk orders with larger contracts.
While Microsoft just launched Surface Pro 8, Surface Laptop Studio, Surface Go 3, and Surface Duo 2, those were only a few weeks ago with limited supply in a very narrow set of markets, suggesting these numbers are primarily about existing (and older) Surface products.
Windows OEM rev is "better than expected," although even there, Microsoft observes, "continued PC demand impacted by supply chain constraints." That translates to it could have sold even more licenses to its OEM partners if those partners didn't have their own issues producing and shipping new laptops and PCs. Microsoft CEO Satya Nadella notes there has been a "structural shift in PC demand" due to the pandemic. Microsoft CFO Amy Hood remarked that Windows OEM revenue was "stronger than expected" due to commericial interest with higher rev per Windows license.
It is also worth noting that search and news advertising related to Bing and MSN.com had its revenue grow by 40%, which is another good sign that MSN and Bing are doing quite well for the company.
Finally, Microsoft Xbox FY22 Q1 revenue also went up 16% citing Xbox Series X|S and Game Pass.
Daniel Rubino is the Executive Editor of Windows Central, head reviewer, podcast co-host, and analyst. He has been covering Microsoft here since 2007, back when this site was called WMExperts (and later Windows Phone Central). His interests include Windows, Microsoft Surface, laptops, next-gen computing, and arguing with people on the internet.
"While Microsoft just launched Surface Pro 8, Surface Laptop Studio, Surface Go 3, and Surface Duo 2, those were only a few weeks ago with limited supply in a very narrow set of markets, suggesting these numbers are primarily about existing (and older) Surface products." Maybe, but they warned in the conference call following the earnings announcement that next quarter will probably see a further drop in Surface sales. Not as big a drop as this quarter but still a drop. Pretty disapointing following a pretty significant product refresh.

Yes, I noted that in the update near the top, and Microsoft remarked that premium devices are going to take the biggest hit due to the ongoing chip shortage. It'll all affect Windows OEM licenses, again, but since its partners are fairing better with chips e.g. Lenovo and Dell, they still expect positive growth due to extraordinary demand.

Is the chip shortage really the issue? I don't feel like I've ever had trouble finding a Surface on store shelves...if I wanted. Xbox revenue's through the roof as those chips are incapable of meeting demand, though they obviously have more revenue sources (XBL, games, GPU, accessories) to help. It's just strange, to me, that a device I can easily purchase any time I want is suffering from supply issues that are hurting its revenue. I would more think that the constant price gouging on Surfaces is turning people away. I used to recommend Surfaces to anyone and everyone looking for a laptop. They were THE laptop I suggested. They were all we ordered at work. Now, we started buying Dell, Acer, and ASUS laptops. It's been 2+ years since we bought a Surface. We're looking at replacing our desktops with laptops and docking stations, and Surfaces aren't even being discussed. I haven't recommended Surfaces to people in about as long too. Like Macbooks, they're just priced beyond what is reasonable for a lot of users. If that's the market they want, so be it, but I wouldn't be surprised if jacking up the entry price for a Surface Pro by hundreds of dollars played a factor in a reality where we've already seen Surface revenue hit its peak. Maybe I'm wrong, but I can't imagine people are going to flock to $1,200 2-in-1s (plus keyboard and pen costs) when $700-800 solutions from others (who give you a working keyboard and active stylus with your purchase) can do PRETTY CLOSE to the same thing.

"Is the chip shortage really the issue?"

Are you suggesting that Microsoft is

lying

to investors? Because that is what you are doing without any evidence. I hope you can back that up. Yet there is Intel talking about how chips will be in short supply through all of 2022 and into 2023 and AMD saying it won't get better until early quarters of 2022. Everyone agrees the shortage is getting worse, not better:

"We're in the worst of it now, every quarter next year we'll get incrementally better, but they're not going to have supply-demand balance until 2023," Gelsinger told CNBC. Intel recently said that the chip shortages are dragging down laptop sales, and warned that it might be hard to find juicy PC deals this holiday season.

If pricing was an issue why would Microsoft not adjust pricing so it doesn't report such a decline in revenue? Instead, it gave guidance for this quarter and next flat out saying

we can't ship our products due to supply constraints, so expect negative results.

Even where there is positive news (Windows licenses, Xbox sales), Microsoft comments that those results would be higher were it not for "supply chain uncertainty" (per the investor call). And your anecdote doesn't hold much power when you talk to IT departments who are trying to order Surface products. Do a survey or even talk to some businesses/schools trying to stock on Surface — the wait is

months

.

Lenovo and Dell are showing lead times of 2-3 months for custom orders. The chip shortage hasn't clobbered the PC market yet because there's still plenty of stock for older models, at least on store shelves. That's fine if you want an old SPX or SP7, SL4 or Go 2. The problem is for new models: there's a huge supply crunch for almost all the chips that go into computers, from CPUs to GPUs to the tiny ICs that populate motherboards. Even Apple with all its supply chain prowess is seeing supply constraints on new MacBook models.

Yup. Microsoft even noted that sell-thru for Windows 11 licenses was actually lower as OEM partners prioritized existing stock focusing on upgrades instead.

The one Surface item that seems to be out of stock everywhere is the dock. Both the first and second gen are impossible to source unless you'll pay quite a bit over retail on eBay... everyone else is sold out. I'm hoping they're not eliminating it now that their new models support thunderbolt.
Windows Central Newsletter
Get the best of Windows Central in in your inbox, every day!
Thank you for signing up to Windows Central. You will receive a verification email shortly.
There was a problem. Please refresh the page and try again.