Microsoft Surface RT and Pro updates rolling out, volume and Wi-Fi fixes in tow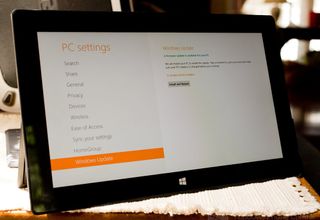 Microsoft is pushing out a series of updates for both the Surface RT and Surface Pro tablets.
The updates for the Surface RT addresses the low speaker volume and other stability improvements. The Surface Pro updates deal with improved Wi-Fi connectivity and stability along with a video update to improve Skype performance.
You also get a PXE boot feature that can be used by administrators for network installation of Windows. Both cluster of updates also include the regular security updates.
Source: Surface RT (opens in new tab)/Surface Pro (opens in new tab) History Pages, Via: The Verge (opens in new tab); Thanks, cddigi, for the tip!
George is the Reviews Editor at Windows Central, concentrating on Windows 10 PC and Mobile apps. He's been a supporter of the platform since the days of Windows CE and uses his current Windows 10 Mobile phone daily to keep up with life and enjoy a game during down time.
Low speaker volume? Finally! Absolute disgrace how quiet it is!

My Surface RT sounds awesomely LOUD now :)

Much louder, though little difference from 50 - 100. To clarify, 50 is much louder than before.

Finally. Now i won't have to shush my kids for Skype calls or watching videos.

You are very smart. But usually when I Skype with my family, my wife and older son are also sitting by me. Plus, I hate wearing headphones. I find it rude when you have family around and you are sitting in a conrner with your headphones on.

same here, forgot i had full volume on, almost woke up my whole family..lol

Yeah, from my experience Microsoft really botched the audio oh the surface.

Damnit, the Pro has crappy volume too. Why no fix for the Pro?

What do you mean?? My Surface Pro sound is awesome.

How does the Pro's speakers compare to the RT? I played with the RT and the sound was very weak.

My Surface sounds great :-)

I would say the Pro is very quiet. I really hope this update fixes the Pro's volume and not just the RT's but I don't know yet.

The Pro is quiet as well. Not as quiet as the RT was but still low on volume. My sons Kindle Fire HD is super loud compared to my Surface tablets. Hope that gets fixed.

Anybody else have problems turning on their device (pro)?

YES!! to the volume fix. That's been my only complaint. Thank you MS for fixing.

Could do with this kind of update on my Asus vivotab the volume is also very quiet.

The volume in Pro was really low, lets check this update, thanks MS

Don't have my Surface RT with me today at work. For those who have updated, how much louder is it now? It was always so damn low at 100.

75 is like what 100 used to be.

Updating my RT and Pro now. I love the speed and regularity that Microsoft is pumping out updates instead of annual service packs.

Agreed. While I realize one involves changing the UEFI, and the other is software; I really wish they would update Windows Phone on a schedule like this. It definitely needs fixes and feature completion as badly as the Surface needed firmware updates for the Wi-Fi adapter, speaker volume, muting issue, and audio distortion while asleep. Now if they could just get the Wi-Fi performance better, the Surface would be perfect.

The speakers are much louder now.

Is rt getting pxe boot as well?

Why would it? There is no Windows RT deployment kit for administrators as far as I know.

Kinda thought that after i posted it. That's one tick on my noob count today :D

I wish I could get a Wifi fix for my RT too. The previous one didn't make a difference.

I gotta say: I LOVE my Surface RT. Can't wait to get louder speakers!

Fixes are always welcome.
Personally though, I'll be anxiously waiting for version 2 (hopefully with a MUCH IMPROVED batter life).

Waiting for my Surface Pro to full charge for updating. Do you guys already updated your Pro the Wacom driver? Now working on Photoshop with pressure!

Updated my Surface RT, it goes louder, but not that much louder :(

I guess I'm the only one that was already satisfied with the RT's volume? I keep mine turned way down because usually its too loud

I'm with you. I don't typically use mine in load environments, so I've never really had any issues before, but I will always welcome improvements!

I usually take it with me around the house to watch my TV shows on while I'm doing chores, etc. I've noticed that it can easily get drowned out by ambient noise. The new volume sounds decent; haven't given it a good test yet though.

PXE boot? That's huge if your in a school or enterprise! Wonder how that has been implemented??

Nice, one of the only two problems I had. Now can we get some app love??? Am I the only one that needs HBO GO, NBA GameTime, Watch ESPN, SHOWTIME, etc.

You had me until "NBA"...

Me too!! I don't want just apps from CBS, FOX-like basic channls, I want more apps for other TV channels!!

You can access all of those sites with internet explorer

I've been using the website for NBA Gametime. Not ideal, but it works.

Yeah same here, but HBO, ShowTime, ESPN dont work through IE.
Please that is all we want more apps. That's the only department where apple and android have bragging rights over and there's nothing we can do about it.

Huge improvements in the sound now. Thank goodness!!!!

Now just update Xbox music to not suck and I can fully enjoy music on it!

Always impress by the monthly support RT/Pro gets. Equally impressed by Nokia's updates as well. Very well done guys. Makes me proud to buy your products.

Having the speakers facing backwards does not help the problem with surface sound volume. Hope they change the position in surface 2 I will get this update as soon as I get home, the speakers are my biggest disappointment with RT as soon as they release version 2 I am in.

Those with a pro cam fox the volume themselves. E.g vlc player amplifies volume up to 200% by default so there's no reason you couldn't tweak the system to say 125-150% amplification by default without affecting the speakers.

I sure hope they fixed that nagging power-on issue on the RT. It takes multiple presses of the Windows button before the lock screen finally shows. Even the official hardware power button on top does not work most of the time. A lot of people have these same issues (see http://answers.microsoft.com). Hope they fixed it with this update! Lovin my RT to death nonetheless!!

After update, i just double tap on Windows button and the screen shows up. Hope it works for you :-)

Yes! I forgot about that! Sometimes mine won't wake up for 15-20 seconds, regardless of whether I press the button once, or ten times.

Exactly. I did not have the chance to test this out with the new update, did it work for you?

Unfortunately it did not fix this.

You are right, it didn't. Tried this for myself too. Oh well, maybe the next update?

Great update. Speakers v loud now!

From 70 - 100 there is no difference in volume :(

Let have a conversation about the difficulty of browsing the web on a surface, I think there are two points to this, one, many sites just dont work with touch, they require mouse. Second, IE on surface RT is a bit slow and unstable (it's usable but can be frustrating). The navigate backwards performance on RT IE is very poor. FIX THIS MS! Give us a mouse OSK where you track with one hand and click with the other. This is an awesome idea, can someone do a render please.

Anyone else have issues with their update? For some reason is not installing the very important firmware update... =[
Windows Central Newsletter
Get the best of Windows Central in in your inbox, every day!
Thank you for signing up to Windows Central. You will receive a verification email shortly.
There was a problem. Please refresh the page and try again.