Microsoft Surface Tip: Internet Explorer Favorites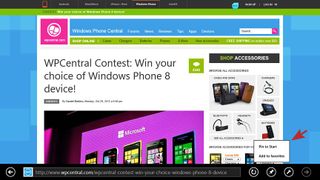 The Microsoft Surface comes pre-loaded with Internet Explorer 10 and the one thing that was odd (or at least for me) was the lack of an obvious way to save a website as a favorite. I kept looking for a 'star" button to add sites to my favorites list.
The process of adding a website as a favorite ended up being rather simple. Just tap on the "pin" button and you'll find two options. First to pin the site to your Start Screen for easy access and second, to add the site as a favorite.
To access your favorites, just tap on the URL field to pull up a tile list listing of frequently visited sites as well as your favorites.
George is the Reviews Editor at Windows Central, concentrating on Windows 10 PC and Mobile apps. He's been a supporter of the platform since the days of Windows CE and uses his current Windows 10 Mobile phone daily to keep up with life and enjoy a game during down time.
Will IE10 sync favorites between devices like Chrome does?

Yes, if you choose that option.


Yes with windows 8 / RT you can set many things to sync...not just favorites

In Window 8 not only pinned sites but also the recent list and also all browsing history is synchronized between all your PCs. For me that makes bookmarks obsolete, I get along perfectly without them, and I don't have to clean up the favourites folder :) Another thing that I love is that my saved logins and passwords are synced too. I wish my WP could also join that party.

Maybe I am just stupid or something, but how do you save a login and password? I figured when I logged into a website, somewhere it would ask me if I want the password saved, but it doesn't.

Mine does ask to save passwords. I think you have to turn the autfill feature on for this to work.

That was actually not too hard to find as there are only a couple of buttons in the Metro version. Some may have not tried the pin button, thinking this was pin only.

I want a Surface. :( Dang PRO needs to come out...

was going to hold-off the Pro, but then I said, fuck it I have a PC already anyways. got the RT and am extremely satisfied, plus there's remote desktop which lets me control my full PC right there.

Absolutely. I am disabled and having Remote access has been a lifesaver. I used to use my phone for that (RemoteSuite) but a phone screen is not that practical. Plus Surface came with a keyboard making the experience very pleasing

Nokia but because I am on Verizon I'd love to get an HTC 8x in the super cool blue. Again love the site and the spreading of the good word guys!!!

Ummm...wrong article? Were you trying to comment on the article where you could win a free phone?

Unfortunately, Favorites on Surface are hard to use if you're like me and have hundreds. :(

Ya, that is going to be a sore point with some. It was with me at first until I went through my list of favorites 95% of which I hadn't visited in over a year. Deleted every single link except a couple absolute must haves and just decided to start over. It'll force me to only keep links that are really worth keeping. I figure 10 or 20 at any time before I need to do some cleanup. Still, if users come back with a lot of complaints, they'll be forced to come up with some kind of solution. I'm ok with it either way.

So are they still favorites or are they all websites you visit ;)

It's both. The favorites are to the right of the websites you visit.

In my situation, they're a combination of Favorites AND Bookmarks. Since I'm the IT guy where I work, I keep most of my bookmarks to product documentation and download sites, and to be honest, I use most of them at least once per business quarter as I keep my software up-to-date. There are sites that I only have as a reference ... obscure documentation for issues that I will encounter rarely but need solutions handy when I do, so I don't have to spend hours Binging or Googling for them again.

One thing you could do is to export favorites from IE9 and then open the htm file instead as favorites list.
Haven't checked yet but does IE10 for desktop have the traditional tree layout for favorites? It might be same as IE9 not sure.

Wht no folder preservation or option???
Scrolling through all those tiles is a major pain.

Agreed, that's the worse thing I've found about windows8 (other than complete lack of pop3 support in the mail app)

That's the one thing I hate about IE10.

Exactly what I said. I'd much prefer a screen like on Windows Phone where I can navigate more easily. Or, at least have section/folder jumps. Something to make it easier.

I don't keep everything on the desktop. Things that I use infrequently, I just type a few letters and they show up. I also love the fact that you can pinch and zoom out on the desktop to see all times to allow fast navigation

Another tip in case you don't know but you can drag pages left and right to navigate backward and forward... Hope that helps someone out!

Yup, and if the webpage you are viewing supports it, you can also use "browse/flip ahead" such as on some forum software and multi-page web articles.

Forgot to mention, just drag left as if you were going forward and if the page website supports it you will be taken to the next page.

Knew how to save a favorite, but was stumped on retrieving. Thanks.

Ditto here ... thanks for the retrieval tip.

Here's a tip: Apparently you can hold the Windows key at the bottom of the bezel and press the volume down button on the rocker on the left to take a screenshot that gets saved to your Pictures folder.

Very cool tip on the screenshot. Thanks!

The interface of the site is very beautiful congratulation WPCentral development team thanks for tips GP... Pouria Nayeb

Try holding down the windows button and then pressing volume down to take a screenshot, now thats a tip! Then type paint in the search bar to open paint so you can save the screenshot that is in your clipboard. Oh and try searching for notepad cmd control panel etc they are all there.

The picture actually gets auto saved to you pictures hub in a screenshot folder, no need for paint!

OCTOBER 30, 2012 7:24 A.M. caleb23 wrote: Morningstar today about Nokia:
Share price assumption at this moment: 2.40 euro (Nokia share is in Helsinki right now 2.06 euro, in New York 2.56 dollar)
Best scenario (if WP8 phones go well): the stock price will go to about 7.70 euro per share)
Worst scenario: no bankruptcy, because Nokia would be sold in parts before that.
Estimated price for this: intellectual properties over 1 euro per share;
other business parts (smartphones, featurephones, NSN) at least over 1.50 euro per share.
And NAVTEQ´s price not included (Nokia bought NAVTEQ with about 7 billion euro). All in all even in this case, Nokia share price would be at least over 2.5 euro. Pretty much like my thoughts and analysis.

Tool me a while to figure that out on my own. MS does have some tutorials on line which can greatly speed up the learning curve

I thought everyone around here already tried the Release Preview and had all that stuff figured out by now.
Windows Central Newsletter
Get the best of Windows Central in in your inbox, every day!
Thank you for signing up to Windows Central. You will receive a verification email shortly.
There was a problem. Please refresh the page and try again.