Microsoft takes Cortana to college to help with academic research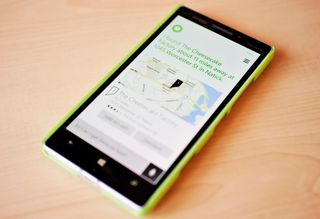 Cortana may or may not hold a college degree, but that's not stopping it from aiding in the research of academics who rely on the smarts of Windows Phone's digital assistant. Thanks to its reliance on Bing's search engine, Cortana will be able to integrate academic data more tightly into her repertoire starting this fall.
"This fall, she will be able to point the way to a wealth of information from the academic community," Microsoft announced at its 15th annual Microsoft Research Faculty Summit. "Cortana is powered by Bing, and soon, that search engine will have academic data tightly integrated and prominently featured on its search pages."
We'll have to wait until school is back in session to see how the power of Bing, Cortana, and integrated academic data perform when we're trying to crank out a research paper.
And in other Cortana news, we're hearing that our favorite assistant is rumored to make her way to the desktop. Perhaps, Cortana on Windows will help to aid students in the future if this pans out to be accurate.
Be sure to visit Microsoft (opens in new tab) to learn more about Cortana's book smarts.
Are you excited to see how Cortana will help you learn and research your favorite--or required--topics? As Cortana absorbs the Internet to provide you with relevant searches and information, what subject matter will you rely on Cortana to help you absorb in your study?
Thanks to Sridhar V. for the tip.
Windows Central Newsletter
Get the best of Windows Central in in your inbox, every day!
Chuong's passion for gadgets began with the humble PDA. Since then, he has covered a range of consumer and enterprise devices, raning from smartphones to tablets, laptops to desktops and everything in between for publications like Pocketnow, Digital Trends, Wareable, Paste Magazine, and TechRadar in the past before joining the awesome team at Windows Central. Based in the San Francisco Bay Area, when not working, he likes exploring the diverse and eclectic food scene, taking short jaunts to wine country, soaking in the sun along California's coast, consuming news, and finding new hiking trails.
As long as its US only....

Thought the same.MS should first put some resources to bring Bing experience at same level for rest of the world. Utter crap here, in my part of Europe.

It seems strange to leave out parts of the world like Europe where WP is already successful.

LOL, I want her to also do my citations.

This is what bugs me more and more about the Windows Phone platform. Earlier today I saw a tweet that asked why people in the US are shunning Windows Phone, in response to a tweet about how WP is leading or 2nd to iPhone in some markets. I responded by saying my question is why people in markets outside the US are bothering with WP, given the experience is so much worse outside the US.

Can she tell about history? or syence?

Syence... Lol! You youngsters and your slang..

That Syence word... Never read it before. Loved it.

"May not help stopping it" "it".....
Let's refer to her as "her", please.:-):-):-):-):-):-)

Do I look like Jonny cash to you❔❔

Where the hell is Cortana for the UK....

I tweeted this idea as part of the #bingfeedback campaign last year :) "@bing Access to academic/peer reviewed databases would make research easier for students & knowledge more available to all.#BingFeedback" https://twitter.com/BinsonS/status/304990224637886464

I always thought that the Microsoft Academic Search app on WP was way underappreciated and underdeveloped by Microsoft. Same goes for the corresponding website. They could've made that the online database for academic publications and professional social network for academics.

It doesn't excite me a least bit. MS should give us Cortana first.

Yeah, Cortana, spread the truth..

I think Cortana should also take information from Wolfram Alpha like Siri does. It is pretty good resource for knowledge based information.


Mmmm... The Cheesecake Factory!

So they basically integrating the data gathered by Academic Search app from WP8 to Cortana... Nice.
And, guys, note that this app works for academic research published worldwide and not just the US...

I think they understand that. Their frustration is that Cortana is not enabled outside of the US, making this useless for non-US types

Can you send me the link to this app? I can't find this trough the US Store =/

This is awesome. Writing papers is a pain when you have to go through the school library system to find books and articles. This could make it easier to get real sources outside the collection my university has paid for. Very happy this is coming!

While Microsoft are there maybe they could get some geography students to show them a map of 'the rest of the world', since they don't seem to be aware that it exists?

Yep but the feature that enables Cortana to tap into the MS academic research app might only be available in the U.S.
Windows Central Newsletter
Thank you for signing up to Windows Central. You will receive a verification email shortly.
There was a problem. Please refresh the page and try again.