Microsoft takes gaming on Windows 10 to the next level with the new Xbox app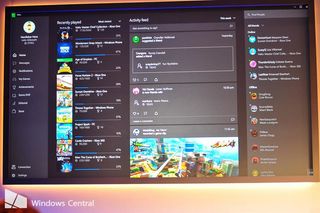 Phil Spencer was also present during Microsoft's Windows 10 event at Redmond to talk about gaming on Microsoft's latest operating system. Video games are a major part of the Windows experience, and is something Microsoft is to take seriously in the next release of Windows. Say hello to Xbox on Windows.
The head of the Xbox team spoke about how "gaming has always been inherently personal," which is true as more and more consumers take part in gaming, not only on the PC and consoles, but tablets and mobile devices too. Not everyone plays the same game the same way. 50 million members on Xbox Live are now able to really take gaming to the next level with Windows 10.
Gone were the days of the platform wars between Xbox and PC. Microsoft is bridging the gap between console fans and the PC, working towards eliminating the social impact of selecting one platform over the other. Part of this is the upcoming Xbox app for Windows 10, which will not only display the current list of games, but also friends too.
Need to chat with a friend on Xbox One about the upcoming game night, but happen to be on your PC? Not a problem. You'll be able to seamlessly communicate with friends on your Xbox contact list, but that's not all. Console players and PC users will also be able to game together, on different platforms, in the same instance. But more on this in a separate article.
The new app will also allow you to watch shared DVR clips, as well as comment and like said content.
Wouldn't it be awesome to record the last 30 seconds of gaming on the PC, just like you can on Xbox One? You will be able to do so in Windows 10. No longer will you miss those incredibly funny moments that come unexpectedly, nor will you have to have a capture suite running in the background, hogging valuable computing resources. This also works with Steam.
Achievements are also making a return to the PC, but will mean more with the added experience that's set to take gaming on the PC to the next level. OneDrive will play a part too (who would have thought otherwise?) to make recorded clips readily available for sharing.
But that's just a quick insight into what's coming to gaming on Windows 10. So, who's ready to get fraggin'?
Remain tuned for more details from the event!
Windows Central Newsletter
Get the best of Windows Central in in your inbox, every day!
Rich Edmonds was formerly a Senior Editor of PC hardware at Windows Central, covering everything related to PC components and NAS. He's been involved in technology for more than a decade and knows a thing or two about the magic inside a PC chassis. You can follow him on Twitter at @RichEdmonds.
Pretty interesting.....much more to come I hope....

Erm, perhaps. Can't help but feel this is going to be GFWL v2.0. I'll not be investing in any games on this until I can be sure it isn't just going to fold and take my games with it like GFWL. So, a few years to wait yet. Meanwhile, Steam is proven tech. I prefer MS as a company, but GFWL has left me very cautious.

So why talk about it if you're going to pass on it? Oh well free speech I guess

Well will it be for phone also.

Wonder if they could have somehow sneaked in Cortana here too. I wonder how Cortana could have helped?

Hopefully you can use Cortana to save DVR clips like the "Xbox, Record That!" on XO. Win+G to pause the game then click something feels really clumsy.

everything about windows 10 is so great. from PC to mobile and now gaming. Just bring it microsoft! Me and my devices are ready.

That's what they should've done, but it appears that they have not. Anyway, I don't get the fuss about this "Xbox App". You can already do 99% of this via the SmartGlass app. What's the big deal?

Love the new Xbox focus for PC. This app looks amazing as well. Love the new Gen of Xbox Smartglass app, so this will be even better. I welcome the evolution.

Sorry If I'm not understanding this right, but this does mean Forza for PC ?

You can play Forza on your PC but only by streaming it from an Xbox One console (i.e. you still need the X1).

I want that series too :/ that's the only series I regret not playing bcz I'm a PC gamer..

Wait, wasn't the plan to having Windows 10 running on Xbox?

That's the plan, guess you didn't watch. Windows 10 is coming to Xbox one. Not sure when exactly.

Can you control this app with a gamepad?

Thanks. Does the xbox button on the gamepad launch the app or do anything like that? If I'm also using big picture, since the xbox button launches steam - will there be conflicts? How will that work? Can I use this app instead of big picture mode to launch games? I'm wondering what will be the better solution for living room gaming on a PC between the two (steam big picture) and if/how they will work together.

The Xbox button open up a hud box smilar to X One and let's wait and see how they implement it

You used to be able to chat to people on Live with GFWL. Secondly, the recording bit will take resources, more than likely increased RAM usage and then hard drive writes if you choose to save. It sounds interesting imo, but lets hope they don't make a hash of it like they did with GFWL.

The game DVR on W10 is fantastic. This feels like a great first step. Did anyone notice the achievement for the PC version of Fable? Ye they are definitely going to have a games app store with Xbox integration.

I love this highlight of the day!

Games games games. Shopping for a gaming PC can't wait for windows 10 for phone and Consumer version fully optimized...

Well I don't think first person shooter players on xbox one will be too thrilled about this. PC players, even the mediocore ones will obliterate them in matches.

My eyes are bleeding just looking at that ui itunes much.

iTunes doesn't look anything like that. It's got a white background for starters...

Waaaa this is brilliant. Can't wait to see this

This looks cool. What about phone?
Windows Central Newsletter
Thank you for signing up to Windows Central. You will receive a verification email shortly.
There was a problem. Please refresh the page and try again.