Microsoft Teams maximum group chat size to increase this month
Group chats in Microsoft Teams can more than double in size, thanks to an update rolling out this month.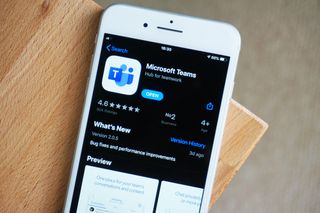 (Image credit: Windows Central)
What you need to know
The maximum number of group chat participants will increase in Microsoft Teams this month.
The update brings the maximum number of group chat participants from 100 to 250.
The update is rolling out now and will be completed by mid-May.
Microsoft Teams group chats can be significantly larger starting this month. A new update is rolling out now that increases the maximum number of group chat participants from 100 to 250. Petri reports that the update will be available to all Microsoft Teams tenants by mid-May, pointing toward the Microsoft 365 roadmap (opens in new tab).
Large group chats in Microsoft Teams have a few settings that make them easier to manage. For example, any chat with more than 20 people turns off Outlook automatic replies and Teams status messages, typing indicators, video and audio calling, and read receipts.
Unfortunately, admins cannot limit a chat's group size, meaning that a group chat can grow to exceed the maximum capacity for calls.
Microsoft Teams has experienced unprecedented growth during the current global health crisis. With more people working from home, Microsoft Teams skyrocketed to 75 million daily active users. Microsoft continues to add features to Teams, including several that help people having to work from home in larger numbers. Teams recently increased the number of people you can view on your screen at once from four to nine.
News Writer and apps editor
Sean Endicott brings nearly a decade of experience covering Microsoft and Windows news to Windows Central. He joined our team in 2017 as an app reviewer and now heads up our day-to-day news coverage. If you have a news tip or an app to review, hit him up at sean.endicott@futurenet.com (opens in new tab).
Still only 9 viewable people...when will this increase to more? Is there even a plan to? Is this a computing capacity issue on the backend? (and no need to debate the pros and cons of this, it's just a question...)

I'm not sure, I'd have to go through their roadmap to see what they have planned. The increase from four to nine was welcomed. I'd hope they keep increasing options.

I'm curious what percentage of users would actually use that. I'm sure it's something they've considered, but they probably have metrics showing that it reduces productivity to have too many faces or something.

It 's not smart to limit to 9. My daughter works as a teacher and stopped using Microsoft teams. With Google meet she can see all the child's, more than 20

So, 20 is the right number, 4 by 5? What if the class has 25 students? Guess we should do 5 x 5. No, wait. We should do 7 x 7, for 49, because … Zoom. But we can have 100 people in the 'chat' so shouldn't it be 10 x 10? Darn, they are upping it to 250, so 10 x 25, or 15 x 16.66. What do we do with that .66 of a person on each row? In reality the number of effectively displayed individuals would really depend more on the screen you are using than some artificial, 'we need to this number because they support this number'. Right now the requirements are kind of skewed. People are hosting parties on VTC platforms that were envisioned for meetings. If you hold a meeting with 20 people and everyone has something to say, you aren't going to get anything done. A hundred people, 250? That's not a meeting, that's a lecture. Maybe a panel discussion. You might need to see the 5-6 people on the panel, and the one person from the audience with a question, but you can do that already, with Skype, probably with Teams. I get the classroom paradigm in these strange times, but that's a grade school requirement for Ms. Prunelly to see each of her little urchins. High School and beyond and business you need to see who is speaking, what they are presenting, and be able to switch that view. Hollywood Squares is a nice feature for some small collaboration groups, but why is everyone falling all over themselves to fast track a volatile requirement, largely for a customer segment that isn't paying for it.

I agree with what you're saying

I guess ability see the participants is more beneficial to the host to see the participants faces even they are in a smaller box than participants to see each other. But yeah too many people in VC can be counter-productive, but on education scenario, they are basically trying to replicate regular class that may have like 20 or more students. They can reduce the number, that will require rescheduling that may not be practical for the teachers end. I guess Microsoft hasn't envisioned that Teams will have to accommodate such a large number before for video conference like this especially for virtual classes, which are mostly in smaller numbers. It will be interesting the direction of communication platforms in the future after this pandemic. Whether there will be shift or not.

...so much for saying, "No need to debate this..." :-/

Nevertheless schools are quitting. 9 is not enough. And off course the screen is the limit but that is up to the user.

If there is enough demand for it, Microsoft will change it. That's why they went to 3x3. We'll see.

I still only see 4 people, do I have to change a setting on the front end or do my admins have to adjust on the back end?

It would be nice to move the people to the top of the screen where 95% of the cams live. Everybody is always looking down instead of at the camera.

I don't think that'll be a problem much longer. There are already phones slated to come out this year with cameras behind the screens, I'm sure it'll take off with laptops and business monitors soon afterwards.

The cameras aren't going to be in the middle of the screens. They'll be at the top like they are now. I don't imagine there will be active pixels on top of the camera, so you have to shoot through them. I think at best you are going to make the pixels over the camera hole clear when using the camera, which will still appear as a hole. Can't imagine that be in the middle of the screen.

But it's silly to tie this feature request to hardware when a simple software fix could move the people tile to where you want..

Apple tried to tackle that in the Beta's of iOS 13. They AI'd your eyes in Facetime to look up so you would look like you are looking into your girlfriends eyes, instead of...well, you know. It was called Facetime Attention Correction, and you could turn it off. Some found it creepy. Didn't make the release.
Windows Central Newsletter
Thank you for signing up to Windows Central. You will receive a verification email shortly.
There was a problem. Please refresh the page and try again.