Microsoft Teams for personal life rolls out on iOS and Android in preview
Microsoft Teams for personal life lets you easily stay in touch with your friends and family.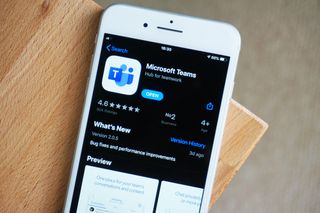 (Image credit: Windows Central)
What you need to know
Microsoft Teams for personal life is rolling out to iOS and Android devices in preview.
It uses your personal Microsoft account and has features for everyday life.
Microsoft Teams for personal life works within the Teams app that's already available.
Microsoft Teams for personal life is rolling out in preview to iOS and Android devices. Teams for personal life isn't a new app, instead it is a different type of Teams login that uses your personal account. You can log into your personal account and other accounts within the same app and easily jump between them. Teams for personal life has several features for staying in touch with your friends and family, including sharing your location, having group chats, and sharing a calendar.
Microsoft initially sent out an email on Monday that said Teams for personal life had arrived, but the link didn't seem to work. Microsoft followed that up with an email late last night with a new link and a brief summary of Teams for personal life:
These features seem to have actually been out for a couple of weeks, but Microsoft didn't make a massive fanfare about it. With the email being sent out last night by Microsoft, it's likely that more people will try out the new features.
I had previously signed up to be notified when Teams for personal life came out in preview, so the email is likely only being sent to people who signed up.
I played around with Microsoft Teams for personal life this morning and it's clear that it isn't just a rebranded Microsoft Teams. There are slight differences in its interface that make it more accessible to everyday communication. It also has some features that are more useful in a non-work environment.
Image 1 of 3
When signed into Microsoft Teams for personal life, chats are more like standard messaging rather than the channel structure seen in the professional-oriented version of Teams. You also seem to just see messages as they come rather than having threads. Threads are a great feature for virtual workspaces to reduce clutter, but might not fit in that well into everyday conversation.
Teams for personal life has a dashboard that shows your group calendar, photos, options for location sharing, a shortcut to a secure place to share files, and a shortcut to a task list. You can also navigate to these features on the bottom menu, alongside calls and your camera.
Microsoft Teams for personal life is in preview, so some features might change or move around within the app.
Microsoft has an FAQ section (opens in new tab) that breaks down Teams for personal life. In response to the question "Do I need a Microsoft 365 subscription to use the new features in Teams?" the page states "At this time, a Microsoft 365 subscription isn't required to use the new features in Teams" (emphasis added). Microsoft's phrasing implies that in the future these features could require a paid subscription.
Windows Central Newsletter
Get the best of Windows Central in in your inbox, every day!
News Writer and apps editor
Sean Endicott brings nearly a decade of experience covering Microsoft and Windows news to Windows Central. He joined our team in 2017 as an app reviewer and now heads up our day-to-day news coverage. If you have a news tip or an app to review, hit him up at sean.endicott@futurenet.com (opens in new tab).
Historically, MSFT has bred confusion by creating apps that essentially do the same thing. With that said, this is a scenario where they should have created a separate app. It's Teams that doesn't look or act like Teams. Also, the branding doesn't fit - people won't think of Teams when it is time to connect with family and friends. Lastly, why would this hit just mobile in preview?

Many may already have shared family Outlook calendars (from the days of Windows Phone family room!). There doesn't seem to be a way to add these to the Teams for personal life calendar section. This is a big problem as starting a new calendar just to be able to use Teams in the family doesn't feel worthwhile at present.

My calendar seemed to automatically sync. I added events in Teams and Outlook and both showed up on the other one.

Yea, My calendar showed up, as did My OneDrive. Where is the 'TEAMS' aspect of this. It should default to a group calendar and a group file repository. Incidentally this seems to have been available for a while. I created a personal TEAM account a week or two ago. Nothing said beta, or demo, or anything. This is on an iPhone on which I already had two business TEAMS accounts. Under add an account, it has a sign up for free button which offers both a personal or business option. It also lists accounts you could use that are on the device. There is a free Business Teams option.

Cool, I'll try it out. Hopefully in the future it will have all the features of "Rooms for Windows Phone". RIP Windows Phone

The Tasks section is a rebadged To Do. Which is fine, but for now it is slower and buggier than the To Do app itself. But happy to see how that evolves during Preview.

I've been using MS Teams for a long time, both on my phone and my desktop. It was in a preview mode. I created an "organization", for the preview over a year ago. I've just checked on my phone and see that this Microsoft Teams for personal life is there. I had that set up to only work with the Teams environment I have at work. Decided to include my "organization". But in the process of adding my organization, I see there's a new option for personal, using just my Microsoft email. So, what is that about?

This is the actual "MS Teams for Personal Life" integration. Like you I created an "organization/company" to merely utilize the Teams features. Basically it was a beta version of the preview. Now you don't need to create an organization to utilize Teams for personal life. It's automatically set up to use your personal Outlook account. In addition you can use the MS Authenticator to log in. So as it stands I have three accounts through Teams. My actual work account through my employer, the organization I created to use the Teams for personal life features, and the actual Teams for Personal Life account through my personal email. I will probably delete the organization I created because I don't really need that anymore. I hope this makes sense.

Thank you, Pierre, that does make sense.

Oh, and if you did create an 'Organization' to try it out, as I did somewhat accidentally, it is hard as heck to get rid of it.

I have found a couple issues, kinda major First, if I save a picture to my phone, it does not save to my gallery, instead it saves in internal storage on my files app. Deep in the system folders... Second, when opening a picture within Teams, scrolling is a nightmare when zoomed, and third, it freezes when I try to open or download video files... Does anyone have any fixes? I'm using LG G8x on Android 10.

I've been using Teams for personal life for about a week on Android. It's slick. I've never had a work teams account. I set it up with my personal account info. Unfortunately, presently a personal account in Teams is not interoperable with Skype. So, I can't chat or call my friends who are solely on Skype This feature is presently only for people who set up personal life with a work account.

Got the email notification about a week ago and have been using it since. But you're right, no fanfare made about it at all. I use Teams for work and noticed the change before I got the email. Still too new to really give a good impression but overall liking what I see so far.

What if you want to use this on a Windows tablet or laptop? Does it not work with the web version of Teams or are you SOL?

AFAIK you can't use the desktop or web version for personal use at the moment

I will be surprised if personal teams is around for long, too much competition and Ms have joined the club too late. i have been using discord, it is great, apart from a couple of days ago when it went down.

Love Teams. On the mobile version it's easy to switch between work and personal profiles. But on the desktop version it involves a full-on "sign out" and then a "sign in" operation which takes way too much time. They'll need to incorporate more immediate profile switching on the desktop version if they want this "personal life" angle to catch on.

You can't sign into a personal account on the desktop version at the moment 🤨

still no personal account on web or windows ... thanks nadella
Windows Central Newsletter
Thank you for signing up to Windows Central. You will receive a verification email shortly.
There was a problem. Please refresh the page and try again.