Microsoft Teams for personal use is now generally available with features for family and friends
Teams isn't just for work anymore. Use it with your family and friends too!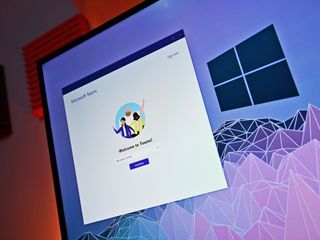 (Image credit: Windows Central)
What you need to know
Microsoft Teams for personal use is now out of beta.
Features group and video chats, a shared dashboard, and more.
It's available today on iOS, Android, PC, and Mac.
Last year, Microsoft unveiled a new version of Microsoft Teams built specifically for friends and family. It was a version of Teams that wasn't for work, built around personal use with features such as shared family calendars, group text and video chats, and more. Today, Microsoft is announcing (opens in new tab) that Microsoft Teams for personal use is now out of beta and generally available on PC and mobile.
Microsoft highlights several key features as part of Microsoft Teams for personal use that differentiates it from other services that can be used for friends and family communication. Features such as Together Mode, which puts you and other call participants in a virtual environment, allowing you to sit alongside friends and family just like real life.
Teams also has live emoji reactions and gifs, which adds plenty of flair to group chats. Because this is Microsoft Teams, there are also several productivity-focused tools that are aimed at keeping you and your family or friend groups organized. With shared calendars, to-do lists, polls, and the ability to share documents, Teams makes it easy to manage social groups with ease.
Parents can also use it to keep in touch with their children, as well as track their location to make sure they're safe and where they are supposed to be. The dashboard view organizes all of your group chats shared contents, including photos, files, web links, and tasks. Microsoft also says you can invite up to 300 people for events like as a virtual wedding.
Microsoft Teams for personal use is available now, and can be accessed by downloading Teams and logging into your personal Microsoft Account on PC or Mac, iOS, and Android. There's also the web app, which does the same thing. What are your thoughts on Microsoft Teams for personal use? Let us know in the comments.
Zac Bowden is a Senior Editor at Windows Central. Bringing you exclusive coverage into the world of Windows 10 on PCs, tablets, phones, and more. Also an avid collector of rare Microsoft prototype devices! Keep in touch on Twitter: @zacbowden.
Why is Teams not available at the Microsoft Store? Yes I know you get it elsewhere, but why?

The store looks childish for a work program. Many w10 deploys don't have access to the store, like the one I use for work, the enterprise edition. You can install teams as a normal user without the store. It also can be installed in Linux. No reason to move it.

Now that Teams is open for everyone, it should become an in-box app on Windows 10.

Can you run both Teams for Personal Use and MS Teams for Business at the same time on one computer?

I assume you mean without switching accounts? Not sure the Teams app allows you to be logged in simultaneously into two different accounts. I think you still have to switch between the two. Would be nice to have that feature, though.

Okay. Confirmed that only ONE active MS Account can be chosen and logged into at any time. So that's the limitation. Thanks.

I'm logged into both simultaneously. In Teams, there is an option to "+ Personal Account" When I do so, a new Teams window opens and my work Teams remains open.

I can confirm this is true.

Yes you can! I was able to do this based on the recommendation of "Kros". When you click on the user icon in your work Teams window, you should see a second option listed as "+ Add Personal Account". If you're already logged in, it asks you to "Continue as [you]@utlook.com" , and then it asks for your phone number to send you a code via text message, then - voila! - your personal Teams window loads up independent of your work window. You can pin them to your taskbar or Start menu and launch them independently.

Another one, have we not got enough ways to keep in contact with people? The way it is going, people will have more communication apps on their phones than anything else.
i will stick with SMS.

"The way it is going, people will have more communication apps on their phones than anything else." That part made me chuckle. Anybody remember when phones were *nothing but* communication apps?

LOL, those were the days. At least phones lasted longer those days, and we did not feel as if we were tracked 24/7. But there are now far too many communication type apps now, I stick with SMS for most things, I do have Facebook Messenger on my phone, so people who don't have my phone number, like some at work can message me if they really need to. I have taken the main facebook app off my phone, I take a peak at it now and again on the computer.
I also use discord, again mainly on the computer, I got it installed on the tablet, but since that don't work any more, as the socket for charging have gone belly up, it doesn't really count.

Benefit of Teams is you can save share files, photos. I think you can also see shared calendars. Much more functionality than SMS.
Windows Central Newsletter
Get the best of Windows Central in in your inbox, every day!
Thank you for signing up to Windows Central. You will receive a verification email shortly.
There was a problem. Please refresh the page and try again.