On Microsoft Teams' third anniversary, Microsoft announces several upcoming features
Microsoft Teams is celebrating its anniversary with a slew of new features.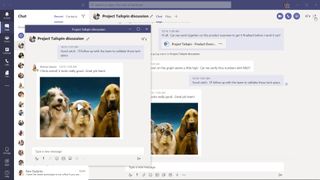 (Image credit: Microsoft)
What you need to know
Microsoft announced several new features that are on the way for Microsoft Teams
All of the newly announced features should arrive later this year.
This week is the third anniversary of Microsoft Teams.
Microsoft Teams turns three years old this week, and to celebrate, Microsoft announced several upcoming features for the service. Many of the features focus on reducing distraction and enabling more direct communication. All of the newly announced features are set to arrive later this year, though a few will be available sooner.
Here's a quick list of the new features on the way for Microsoft Teams:
Real-time noise suppression that can minimize background noise
A raise hand feature that sends a visual signal that a person has something to say
Integration with RealWear head-mounted devices for hands-free communication
Support for the Bookings app

(opens in new tab)

in Teams
The ability to pop out chats into separate windows
Offline and low-bandwidth support
Support for the Yealink VC210
Support for the Bose Noise Cancelling headphone 700UC
The new features come as Microsoft announced a new milestone for its number of daily users today. Microsoft Teams now stands at 44 million daily uesrs, which is up from 20 million in November 2019. A large reason for that surge is due to Teams adoption among people and companies now working remotely because of the ongoing coronavirus (COVID-19) pandemic. Microsoft says it went from 32 million daily users on March 11 to 44 million by March 18.
Microsoft Teams has gained a significant market share over its first three years and appears to stack well against Slack in terms of usage numbers. During the coronavirus outbreak, Microsoft made the premium version of Microsoft Teams free.
News Writer and apps editor
Sean Endicott brings nearly a decade of experience covering Microsoft and Windows news to Windows Central. He joined our team in 2017 as an app reviewer and now heads up our day-to-day news coverage. If you have a news tip or an app to review, hit him up at sean.endicott@futurenet.com (opens in new tab).
I used Teams online for the first time yesterday, unrelated to the virus (we are just starting to switch to Teams). Welcome to Hangouts circa 2013. Huge improvement compared to Skype.

yeah well you came to Teams too late joining the flying plane when everyone else was already using it for 3 years @bleached 😄

Not my choice. I was stuck on the dumpster fire that is Skype for Business.

@Sean Endicott or @Zac Bowden should do a Teams vs. BaseCamp vs. Slack comparison article 🤔

I tried it out to see what the hype is about. Deleted it after few hours. I rather use IRC or Telegram before using this bloated and slow nonsense.

It's a full app for sure so does use some RAM, but comparing IRC to Teams is like comparing a tricycle to a fighter jet. While it uses RAM, it's pretty light on the CPU. It looks like MS is going to add (maybe started to add) cross-talk ability with Skype. Until that's done, there's not really anything to try -- like Slack, it's really for working with a Team (hence the name) where everyone on the Team is using the same system. It's the easiest way to share and collaborate on files, meet, and work on projects together. It doesn't do anything if you try to use it by yourself.

Why the specific mention of the Bose headphones? Don't all headphones work?

I use Teams, Slack, Skype for Business, and Skype. Of those, each has its strengths, but Teams is my favorite. In fact, it's so much more than any of the others, it's not really fair to compare it. Teams brings the core features of SharePoint (file storage and sharing, file collaboration), plus enhanced full WYSIWYG chat, plus other MS Tools like Planner (similar to Trello) and OneNote and even access to any Power BI dashboards all in one place, and then it does more. You can embed any web site or document right at the top of a channel. Teams is just awesome. Teams is also brilliant in the way it distinguishes between Team activity vs dynamic/ad-hoc one-to-one or one-to-group chats. You can effectively create a "team" instantly by just chatting with anyone, and add as many people as you want to the chat. History and file sharing is permanent unless you remove them. File management is OneDrive behind the scenes, so it fully supports everything OneDrive does. Just awesome. Compared to Slack, if the only thing you're doing is chatting, then they're comparable, but Slack doesn't really have any of the collaboration features of Teams or ability to embed web sites and documents. Slack's file management is atrocious, to the point of not really being usable (it's fine to send a file, like consumer Skype, but there is no folder structure, so it's useless for sharing and collaborating across many files over an extended period of time, like an entire project or over many months or years). Compared to Skype for Business, well almost everything is much better in Teams. Skype for Business (formerly Lync) is pretty bad. There is one exception: Skype for Business lets you have each chat in a separate window, which can come in handy. That's not an option in Teams. Compared to consumer Skype, Teams is a better voice, text, and video chat application, but consumer Skype is easier to spin up and start using for a novice. The only thing it really seems that Teams is missing is the ability to do multiple tabs (but neither Slack nor Skype does that either, only Skype for Business supports this). Teams is so powerful with all the features, it really needs support for multiple active tabs or windows. Hopefully, this feature will be coming soon.

Just another example of how amazing Teams is: you can hold a meeting in Teams, have it record the Meeting (including video and/or screen sharing), which it will automatically record and post to an auto-created Microsoft Stream account for your Team, where you can have it auto transcribe the meeting. You can post the meeting in the Team and anyone can watch the meeting, including text-based Search with the audio of the meeting. "I know we talked about the elephant in the room, but can't remember where." So just search for 'elephant in the room' and it will jump you right to that part of the video. There is nothing like this in Slack or Skype. It crushes Zoom and GoToMeeting. It's all automatic, without any of the complexity of even something like converting the video format and posting to YouTube, plus it's automatically secured and only available to the Team by default.

That's pretty amazing - I wasn't even vaguely aware of that. I don't do work that requires a chat/collab client with the kind of depth Teams seems to have, but who wouldn't want to record a meeting, auto-publish it, and have it transcribed to boot? Thanks for sharing your experiences.

Wow, that's pretty cool!!! 😮

I totally agree with @GraniteStateColin. I am a high school teacher, and at our school (in Denmark) we have been teaching virtually via Teams (because COVID19 shutdown). Teams have worked impressively well. We have "normal" class discussions, group presentations, group meeting, file sharing and co-authoring in shared documents. The combination of video call/chat in one tab, and shared documents in a tab just beside it, is really useful, and the way you can share your screen, a specific app-window, power point presentations and whiteboards with the students is amazing.
Windows Central Newsletter
Thank you for signing up to Windows Central. You will receive a verification email shortly.
There was a problem. Please refresh the page and try again.