Microsoft UK sends its Surface tablets into the Big Brother house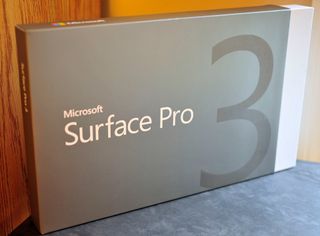 Microsoft has signed a deal with UK broadcaster Channel 5 to have its Surface family of Windows tablets advertised on the popular TV show Big Brother. While the reality show may not be the ideal program for Microsoft to show off its new gadgets, Big Brother will be taking on a technological theme for this year, making Surface tablets fit in perfectly. The products will be featured through the show with the product placement agreement signed.
If you're not familiar with the show, a handful of contestants are locked in a carefully constructed house, isolated from the outside world. Competing in numerous challenges and nominating house mates to evict, the public gets involved with voting and stalking each contestant's every move. The winner who survives the battle through various public voting rounds takes home a cash prize.
The product placement deal will see house mates utilize the Microsoft Surface tablets for weekly nominations to select which contestants they wish to face the public vote for eviction. As well as voting, the Windows tablets will also be used for shopping (carried out by the show's team). It's believed there's at least one Surface tablet inside the Big Brother house, with a fan site noting one is mounted on the wall next to the kitchen.
Overall, it's a solid deal for Microsoft as Big Brother is a hit show with millions of viewers. It's not known which Surface tablet will be used.
Source: MediaWeek, BBspy via: Engadget, WinBeta; thanks, Marco,for the tip!
Rich Edmonds is Senior Editor of PC hardware at Windows Central, covering everything related to PC components and NAS. He's been involved in technology for more than a decade and knows a thing or two about the magic inside a PC chassis. You can follow him over on Twitter at @RichEdmonds.
What happened to guys... You've post it after long hours....

Who on earth doesn't no big brother

I dont. Coolest Man Alive

I don't. I'm from the US, so...

I'm aware its something that used to be on the tv ten years ago or so, but I can't think of a single time I've heard it mentioned in at least 5, until now! Who on earth could still be watching that rubbish?!

Is that show still going! Lol

Good thing it isn't the Kinect getting product placement here. ;)

Jesus. No one who goes on Big Brother can even spell, let alone switch on a Surface. Incidentally, Word Flow corrected spell to sperm. Thanks for that..

LOL, but think you may be correct.

They'll probably try to have sex with it somehow.

I just hope they don't slate it and its broadcast to the audience!!! I guess MS have some form of editorial control...

Omg...had the exact same thought when I read the article, lol!

Wow, great...
Surface for dummies...

They should do the same in Holland for the tv show 'Utopia' and soap 'Goede tijden slechte tijden'. I always see those big Samsung Galaxy screens

You know something is terribly wrong with Britain when Big Brother is still popular.

Daaaaamn, who advised them to be associated with Big Brother? Must be a desperate move. Dear oh dear :-S

Does anyone watch this trash still?

That's tha one that SURFACE 3..... IT'S ERRTHING.

We may see one in Hollyoaks too. I know they have the Lumias in there, may try and get a Surface in too.

Jeez, the Surface Pro 3 will be the smartest thing in there.

Microsoft is becoming a corporation serving enterprises, rather than its consumers. Don't you think?

No. Other that to note that afaik enterprises are its biggest customers.

+720 Microsoft prefers enterprise first coz their products are mainly made for them. Search on Bing Wikipedia about their products u may come to know what products they make for the enterprises

Does this mean the contestants will have internet access in the house?

Just making the young people aware of the product.

Sadly I know some people who actually watch this crap. Watching paint dry would be more amusing and productive lol.

It won't be long for the surface to get vote out. Hmm. Eh.

You probably need to win first. :P

Corrected ;). Speaking of winning, when are the results of the wpc competition coming out?

Erm I not only watch it every day, but for the best part of 4 years I went to every single eviction and got to know a lot of people. Loved it with Davina, hated it with Brian, but Emma is a darling too and loving it again. Have been on Big Brother's Little Brother with gorgeous George Lamb, Big Mouth and since it has been on Channel 5 have been on Bit on the Side. Now I have left London again, can only watch from afar; but love the show. Not to everyone's taste but it is certainly mine. I think the Surface 3 will be great for this season, as it is tech based and the contestants are all rich enough to buy one when they leave the house. Lol. The house is a lot smaller than you think. I know a couple of housemates personally and have talked about what it is like to live in there with them. So there you have it. My insights into the enigma that is Big Brother.

Off topic but some cool :P attire at discount prices https://www.windowscentral.com/e?link=https2F%2Fclick.linksynergy.co...

Not sure msft actually benefits from this association lol

Love Big Brother, so much so I made a Windows Phone app for it!, just search the Store for it. Also, I tipped this days ago and don't get a mention? ;)
Windows Central Newsletter
Get the best of Windows Central in in your inbox, every day!
Thank you for signing up to Windows Central. You will receive a verification email shortly.
There was a problem. Please refresh the page and try again.