Microsoft unlocks an extra 1GB of RAM for games running on Project Scorpio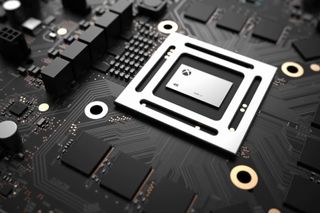 Microsoft's full Project Scorpio reveal is only days away, and it's already getting a bit of a spec bump — sort of. Microsoft corporate VP of Xbox & Windows gaming Mike Ybarra has announced that Microsoft is giving developers access to an extra 1GB of RAM for games running on Scorpio, bumping up to 9GB total.
We'll keep tuning Scorpio to empower creators to share the best versions of their games. Unlocked extra GB of RAM for them, now 9GB of GDDR5We'll keep tuning Scorpio to empower creators to share the best versions of their games. Unlocked extra GB of RAM for them, now 9GB of GDDR5— Mike Ybarra (@XboxQwik) June 8, 2017June 8, 2017
To recap, Project Scorpio comes with a full 12GB of GDDR5 RAM on board. Prior to this announcement, Microsoft had revealed that games would have access to 8GB of that RAM, while the other 4GB would be dedicated other system tasks and the Dashboard. Now, games will be able to use up to 9GB of RAM, leaving 3GB left over for other tasks.
For games that actually make use of this extra RAM, it should give them just a bit more headroom to squeeze out some extra performance. And for games that don't use the full 9GB, Ybarra clarified that the rest of the RAM will be used as cache to make things load much faster.
We've already gotten a look at Project Scorpio's full specs, including what's behind its six teraflops of GPU power. We'll get our full look at Scorpio, including its name and design, at the Xbox E3 briefing on Sunday, June 11. Keep it locked to Windows Central, where we'll have all of the news as it breaks.
Windows Central Newsletter
Get the best of Windows Central in your inbox, every day!
Dan Thorp-Lancaster is the former Editor-in-Chief of Windows Central. He began working with Windows Central, Android Central, and iMore as a news writer in 2014 and is obsessed with tech of all sorts. You can follow Dan on Twitter @DthorpL and Instagram @heyitsdtl.
That's really great news for gaming peeps!! :)

What a drip. Could Mike not wait a few days? Would have been good to throw in at e3. Pointless 5 days before.

Nope, perfect timing... Go into the weekend on a positive news cycle instead of the "ooh, backwards compatibility isn't a good idea" nonsense that started this week.

All this is very nice BUT an even more important thing is yet unknown: what kind of hard drives will it have AND what will be the available options. Will 1TB finally become the minimum acceptable? I mean...games aren't getting any smaller and 4K games sure as hell won't allow a 500GB console space to last long...

A small SSD just for the OS with space for future updates would be nice. But I don't think that this will happen.

I really don't want that. This is a console, not a laptop. Having the OS on there isn't a big deal for something that is capable of an always-on state, to an extent. On a gaming console, I want an SSD to improve load times of games--that's a much bigger deal than on a PC, where you're dealing with programs that don't need to hit the drive over and over to load in the same way.

This is an honest question. The Xbox 360 allowed external flash storage. I don't own an Xbox One yet. Does it allow external hard drives?

Yes, I have a 2tb WD Passport hooked up to mine and it works great.

External USB drives are actual faster than the HDD in my day one XboxOne.

And in general, because of the fact they used the worst drive they could in the XB1, a 5400 RPM laptop drive. It's also a SATA II connection, which I believe is slower than the USB 3.0 peak speeds.

The 5400 RPM speed would definitely be the main bottleneck for loading times but the SATA II port is way more than enough for a HDD. As far as I know, no single HDD setup can even saturate the SATA II connection. However, I still think they should've omitted the SATA II port and just go for SATA III.

Yeah, I know the SATA II port should handle it, somewhat just saying that can't stand if you use a SSD (the PS4's load times were barely improved going to a SSD). Like you said, it's just weird to go SATA II because it doesn't do anything. It's not been the popular choice for a while now, can't imagine the savings were significant, if anything.

loading times don't just rely on the HD speed, once the data has been read from the disk it need to be unpacked, that relies heavily on the CPU.

Yes, and games load a tiny bit quicker off external drives.

Sure do... I have a 4tb WD external, as well as a 120GB Solid State drive for whatever game I am playing actively. The SSD load times are unbelievable.. I can't recommend this enough. Division, Destiny, TitanFall, COD, Battlefield... Load times when coming off my SSD are at least 40% faster than the integrated HD. Its fantastic.

Really that quick? Can you have several external ones plugged in at a time? I forget how many usb ports it has.

Absolutely. And yes, you can plug multiple drives in. There are 3 total USB ports on an xbox one/s. two on the rear of the console and one either on the front or left side depnding on whether you have an s (front) or the OG (left) xbox one.

Chief Beefalo, I thought there was a minimum drive size that could be used, and 120GB was below it? I have a spare 120GB SSD I would love to use...

I didn't know about any "minimum" drive size.. I absolutely have a 120gb SSD and it works great, so you might want to try yours.

I have a 3tb Seagate that has been flawless for me.

Of course! I have a 5TB external hdd that I use just for games. I put all my apps on the internal drive, which its 2tb...I think. And yes you can use 2 external drives at the same time.

1TB is the minimum, its on the website.

XboxOne only has 8 GB. How much of that is always used for other stuff than games? Is that the reason why the system still doesn't feel that snappy? Btw they did a great work on that so far.

Games used 5gb. Then it was upped to 6 i believe. But that was at 64 gb/sec bandwidth. With possible peaks to 200 using the small EDRAM. But that was only 64 mb in size. Scorpio is now using 9 gb for games running at a constant 326 gb/sec bandwidth. For comparison Nvidia Geforce 1070 GTX PC card is 6TF with 8 gb ram at 256gb/sec bandwidth. So yeah Scorpio is very powerful. And games will be more optimized than PC games.

Till this day XB1 still uses 5GB for games. Same as PS4. PS4 Pro uses 5.5 GB for games.

Yeah Scorpio will be a beast in loading 4k textures.

Just keeps getting better and better for Scorpio.

I like that he referred to it simply as Scorpio and dropped the Project, suggesting the new console would probably be named Xbox Scorpio :D

I hope they do announce the name to be Scorpio. I think it has enough recognition and hype around that name to not change it at this point. And I think Scorpio is a pretty great name as well.

I want to know what is happening with OneGuide and the tv capabilities...

TV capabilities are the same on Scorpio as it retains the HDMI in port. OneGuide is being rebranded to Entertainment but everything else is the same as far as I know.

I hope this doesn't put the performance of the dashboard to the Xbox one level. It is faster than it was previously but id like to see a bit snappier. It can still be laggy at times

3GB of much much faster RAM is still an improvement over the relatively slow 3GB we have now.

Good point. Also the boost in CPU clock should also help. I'm super excited for this box!! Can't wait until Sunday 😁

This naming of DirectReality would be consistent with many of the original DirectX component names, such as Direct3D, DirectDraw, DirectMusic, DirectPlay, DirectSound, etc. Edit: This was a comment on another article. Not sure how it ended up here... LOL

Now, it's just a question of what that RAM is going to be powering for exclusives. I need some compelling software to get Scorpio, and the apparent omission of VR is a bit disappointing for E3.

No Kinect support for Scorpio?

It does support Kinect. However, like Xbox One S, you need to purchase additional adapter to use it.