Microsoft's new 'Clipboard' is cloud-enabled copy and paste for Windows 10
Microsoft today announced that with the Fall Creators Update, the company will introducing a new, highly requested and sought-after feature called "Clipboard," a cloud-based copy-and-paste function being built directly into Windows 10.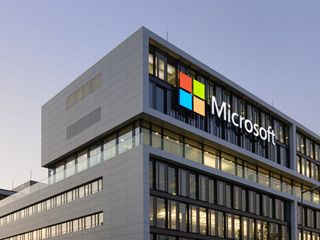 (Image credit: Microsoft)
Clipboard is essentially OneClip, a Microsoft Garage app that oddly disappeared a few months into its development. Clipboard is being built directly into the OS with the Fall Creators Update, and when hooked up to a Microsoft Account it will allow you to share content copied on one machine with your other Windows 10 devices, as well as iOS and Android.
From Microsoft:
Windows Insiders will be able to test out Clipboard during the next few weeks, with the feature expected to ship officially in this fall alongside the appropriately named Fall Creators Update. This is a feature many Insiders have been asking for ever since OneClip was unveiled, and now it's being built directly into Windows 10.
Windows Central Newsletter
Get the best of Windows Central in in your inbox, every day!
Zac Bowden is a Senior Editor at Windows Central. Bringing you exclusive coverage into the world of Windows on PCs, tablets, phones, and more. Also an avid collector of rare Microsoft prototype devices! Keep in touch on Twitter: @zacbowden.
It would allow you to copy text from one device and paste to another very useful in theory. However, without a mobile presence, not so much. I guess they could make an android/ios app or something like that. I'm constantly finding something on my pc that I wish I could send to mobile. Web addresses, addresses, general text, etc..

They're obviously making it available on iOS and Android, since they said "your favorite mobile device ". And I'm not being sarcastic.

I'm sure but the problem is that I would have to copy from the android or ios system commands and then paste into whatever app ms has, then i could paste on my pc or vice versa. Still cool.

I can see it being embedded into an Android system, as they are so open to that type of intrusive app. But I would expect iOS to require some hoops to jump through.

It is being baked into the swiftkey keyboard

Nah... I have been using Alt Copy for the last couple years and it does not require you to re-copy it from the app on the phone. You can simply copy something on your pc, go to a messenger/browser/whatever app on the phone, and then paste it right there. http://altcopy.net I am sure that Microsoft's wont be any different, and probably function much better because it can handle images and such. It is really simple in theory, so I see no reason to doubt it will work well.

The demonstration showed them using it with iOS. You have to have the SwiftKey keyboard installed, and it's built into the keyboard, I think.

Well even from tablet to pc or vice versa is useful too

Never had to email a link or such to yourself so you can grab it later on another device?

yes, and I used Email for that.. and it worked...... without Microsoft spying on my ass :))

Oh, which email provider did you use? Unless you self-host, you know they are watching... always watching...

so all our copy pastes goes directly i to microsofts snooping hands .. lol. it's getting really creapy ..

That's how all services that work between devices work. It goes to the providers servers and retrieved by the other device. This applies to Apple, Google, Facebook, email, etc. If you think someone is actually interested in anything you do, then don't use these services. You are free to print to paper and then scan it into the other device.

If you distrust Microsoft for whatever reason, you could use ClipClip instead which offers more functionality and lets you decide if you want to use the cloud feature, and it works with any desktop synced cloud storage service such as Dropbox, Google Drive or Box.

Please check out the app by Dan Harris - Hand Off. A great app that pretty much works on this!!! Claps to him for working on it. 👏👏👏
Now we can say that MSFT copied it. Lol.

They started the presentation with: "Who has sent himself a photo per mail to get it from mobile to Desktop", and 80% of all people raised their hand. Me at home on the screen too.

This was added with the latest macOS and iOS updates.

If it's compatible with Windows Mobile then this would be very useful for me. I regularly have to copy something temporary into OneDrive to get it on another device then delete it afterwards.

I hope that it will be available on W10M as well, but not very optimistic here :(

Just download the "hand off" from the store. It will do the work. It can open the page which you're browsing on edge mobile and open that page into the edge on your other windows 10 device. Same applies for every UWP app. Any UWP app that available for both platforms then you can do it.

Doesn't One Note already do this?

No, that would be consider the "middle man".. This would copy straight to a cloud enabled clipboard to be pasted directly anywhere... "Copy & Paste". Literally a two step process, but between devices.

So it's like Kopy if I understand correctly. Well, it I do, I'm very glad to see this. Specially since development of Kopy has been in peril and that app is immensely useful to send stuff between Windows and Android. If Microsoft is doing one and baking it into Windows as well as providing apps for Android and iOS too, perfect.

Wasn't OneClip renamed Cache? Cause I signed up for that trial and saw some great possibilities, used it for a couple of projects to store images, links and text in one place. But honestly OneNote can also be used for this and even To-Do to a certain extent. Wish MS could just consolidate these functions into one easy to manage place rather than spread different uses among different apps or parts of the OS.

It seems the Universal Clipboard won't have the functionality OneClip or Cache offered. You could use ClipClip instead, which does all that and more.

I'm excited for this. I'm constantly reading a article on the phone and want to send it to the PC. Aside from emailing, texting or saving to ONENOTE, there hasn't been a real easy way to do this. Currently I'm using HAND OFF to do this task.

Just download the "hand off" from the store. It will do the work. It can open the page which you're browsing on edge mobile and open that page into the edge on your other windows 10 device. Same applies for every UWP app. Any UWP app that is available for both platforms then you can do it.

Hand Off & Copy Space work very well for this. Copy Space even works with the Action Center rather well

Encrpt the data and only allow the connected user, to view it. No access from the Microsoft servers, except for the hand offs.

Been wanting this since 1992

Brilliant. Thank you Microsoft!

If this won't work on W10M, I'll shoot myself in the head...

It looks like you're making an excuse to kill yourself.

I knew that this will be the first reply 😂

Are people interested in this? I made an app for myself, which just did this. Cloud based clipboard... Maybe I should polish it and make it public?! :)

Sounds both promising and terrifying for security purposes.

Not if you're in the Windows ecosystem... That is the reason why a Windows Phone is great, and why it is also important, for MS to have in It's lineup... This feature would be TERRIFIC for WP.

What does being in the Windows ecosystem do for improved safety? We know Windows is under a constant barrage of attacks and is far from impenetrable. I don't like the idea of anything being copied to the cloud and getting either skimmed by a hacker or analyzed and turned into ad revenue or something wthing MS. There isn't a tech company on the planet I'm not leery of when it comes to data privacy these day.

Great feature. I can finally get rid of Pushbullet.

Love that this is coming, but honestly, they couldn't come up with a better name to set it apart from, you know, every other clipboard?

You mean like Pushbullet!? And that allows me to have a cloud-based clipboard between any device running Chrome (Windows 10, Android, Chromebook, etc.).

What about my Windows phone????

There are so many times per day this would be super useful. It's the little things...

Let me guess, this requires Cortana?

I hope this also has a Clipboard Manager so that multiple thinks can be copied before pasting.

It does not seem to have a clipboard manager. It seems it's limited to being a universal cliboard, basically a clone of Apple, which lets you copy only one item at a time. For an actual clipboard manager I'd recommend using ClipClip
Windows Central Newsletter
Thank you for signing up to Windows Central. You will receive a verification email shortly.
There was a problem. Please refresh the page and try again.