Microsoft unveils new, Universal version of Outlook for phones, tablets, and PCs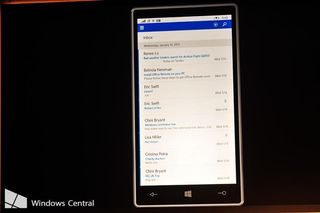 Microsoft has announced a new, Universal version of Outlook today at their Windows 10 briefing. The new Outlook was shown off on both PC and phone, and it will also work on tablets.
The app uses the full Word engine for formatting, using the same ribbon interface as Word. You can swipe left across a message to delete it, and right to flag. There are many colors to use for calendar events, and you will be able to pinch-zoom on your months, weeks, and days.
Be sure you're getting the latest from the event by tuning in to our liveblog.
Windows Central Newsletter
Get the best of Windows Central in in your inbox, every day!
This will be awesome if (and only if) it lets me: Edit the contents of a forward or reply Attach multiple documents of different kinds Reply or forward from a different account than the one from which the email was originally received If I can do these three things, I'll be super stoked. Any other functionality will be appreciated, but not needed. I need these three capabilities or I'm done with Windows Phone.

Wow that's pretty harsh ​

Ok... but do you pinky swear promise that you'll go buy something else?

And then some! Email is such a disaster on WP. With no exageration I can honestly say it is the worst email client I have ever used -- and that's going all the way back to Elm on my college's Unix mainframe. There is no excuse for such a POS.

HTC's ui for email/sms wasn't that great either

What about being able to search within the Outlook calendar? Am I the only one that finds it ridiculous that this simple feature isn't available (but is on Google's calendar)

You can, but it's a little bit awkward. Searching from Cortana under the "Phone" page does bring up calendar entries.

i'm glad you came here just to post this in every article

Someone will always be unhappy.

Exactly... No matter what an outcome is in life, out of ever tiny aspect of a situation, one person always has something to complain about.

It's not just one person though.

Im saying in general, its AT LEAST one person. Of course its always more though.

But who cares? Marketshare and whatever else people cry about be damned. It's time for those that don't like it, to move on to something they do like instead of bouncing around from thread to thread crying like little miserable girls.

No, this is a unmitigated disaster. This is the one thing MS got unambigiously right in Metro and they are killing it.

I can kind of feel his pain, though. Hamburgers are gross. But cheeseburgers on the other hand....

Every article you comment on you say the same thing....

I prefer the ellipsis ... :)

I'd prefer the rectangle one ;)

He's kind right though. You can basically get rid of the ... menu now

But ... is right there with easy access with the thumb. I'm a one finger typists. Now I would have to stretch my thumb all the way to the top just for more info. Damn, oh the promise of Windows Phone slowly turning into Android. :/

Finally an update to Outlook. Now all I want is it to have a live tile.

Your Outlook tile isn't live? Mine is.

But UI looks like android in that picture..

The status bar and the blue bar being different colors slightly disturbs me. It looks like a better interface overall though.

I didn't like the hamburger menu and thin icons are present instead of circular app buttons which now looks like android lollipop :(

Lets be real here, size 36 font taking up 1/4 screen isn't a great look even if we are fans of windows phone... This is a more refined ui

Your comment is convincing me

OMG FINALLY SOMEONE WHO THINKS LIKE ME.

I guess this is Android on the picture, not W10. I can't believe MS would be so stupid to (again) ditch good things in WP. Hubs are gone, FB integration is gone, FB+SMS messaging is gone. Now we get hamburger menu and lose pivots and appbar with round icons and finally, we get android icons. For me, all that was so good about WP is slowly dying.

but what will they do to the inbuilt one. i love that too.

If possible, can we veify if attachements will include more than just photos on the phone. I know this is a pain point for a lot of users, that you can't hit "attach" and select a Word document or PDF.

Came here to ask this as well

Ah... i did not like similar to this UI shown on the tablet, but loved the WP 8.1 outlook so much, that I use windows phone only for checking email, just for this great app. Hope, the new one will not be disappointing with crowded menu, which could be difficult to use on smaller screens with touch.

The back and search buttons are also changed now.

They are the project my screen app buttons

Everything is getting android! Will miss the pull up menu! And the circle shortcuts! :'(

I love the bubble icons and the 3 dots pull up menu. Too bad they're going away. Not to mention that icons at the bottom are much easier!!

A step forwards in functionality, a step backwords in design. Hamburger buttons and search icons at the top of the screen SUCK. What happened to MS' own UI guidelines?

We're supposed to go forward not backward. Our fingers aren't getting longer.

This is NOT evolution. This is stupidity and going backward. Looks like people having good sense about design and usability are gone from MS. Now they want to gain market share so hard that they started thinking that silently copying android is the way to go. Like they can't recognize good stuff they made. That's why Apple won, they had good product and did stick to it. 1 phone was good enough. MS had so many good things but they are abandoning them one by one.

He said 10 on the phone after the super bowl..

Hope there's a way to change it to black background white text, althought I doubt it. I really liked having a black background.

Hopefully it's tied with the system white and black theme but I kind of doubt it. I think we're stuck with this blinding white UI. Sigh.

Is that McLaren in white? Interesting back and search keys

It's getting drowned in the design of android!! Wao!! Easy to remain to android or go to IOS because they're now remains no metro style anymore

They basically killed the great and unique Windows Phone UI. Whats their argument now to not use Android or iOS? Office is already there. Why do we need another platform with an identical interface? Everybody loved Windows Phone's UI now it's history. Really sad, IMO.

Unfortunately I have to agree. It's ridiculous.

Completely disagree, the UI is much beautiful thn before

Loved it. The only thing I didn't like they changed was to move the buttons from below to the top.

This is so Android it's not even funny. I was really excited for this event, but between another dead end, worthless technology and a bunch more nails on modern design's coffin I can finally let go of Windows when my contract it's up.

Hamburger menu top left, that's not the ideal place to put a menu.

Those gestures are just so iOS-esque.

It looks really nice on desktop!

Looks so so much better. Who's gonna start complaining about swiping and hamburger menu?

The presentation seemed faster lol didn't see much stud about the phone

Fingers crossed for Tasks integration as well!!!

A beta is out for iOS and Android.
Windows Central Newsletter
Thank you for signing up to Windows Central. You will receive a verification email shortly.
There was a problem. Please refresh the page and try again.