Microsoft updates MSN and Glance Screen apps for Windows 10 Mobile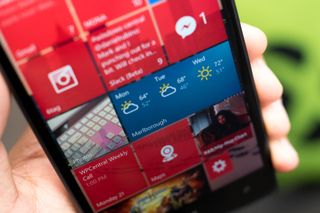 Microsoft pushed out updates for its suite of MSN apps for Windows 10 Mobile this morning. It also released a new version of its Glance Screen app as well.
It's not immediately clear what's new in the MSN or Glance Screen apps, since the published change logs appear to be old. The Glance Screen version number is now 4.1.0.151 and, according to one of our tips, it appears that the background images might be working again for some users who have had problems with this feature.
Let us know if you notice anything else that may be new or interesting after you finish downloading and updating the apps
Thanks to everyone who tipped us!
For whatever reason, Windows Insider for mobile started sending configuration updates out about the same time. Updates for Fast and Release Preview rings now causing installation failure loops on multiple devices enrolled. So frustrating that every step forward results in three steps backwards.

What has that to do with the updates to the apps?

I still dont know how was the last update making the app same as glance background BETA? And as we cant download the glance background BETA anymore i want to see the app working the same!! Please someone help

You can set the glance background by setting your lockscreen picture. Unfortunately, this means you have to use a picture and can't use an app to update your lockscreen, but if you really want glance to have a background picture (the same as lock screen), that works just fine.

No, there is no change at all. Please tell me what shouldnt be on in order to do that.

Note: under lock screen settings, change Background to My Picture... set the picture... oh no, it doesn't work! But... Open Photos app... find photo... set as background... WORKS!!! Finally, in Glance screen settings, set background photo to On (and whatever else you want) You are welcome. :-)

It's really nice being able to see profile pictures from the app now.. It gives you a whole new perspective of who you're talking to.....
.........
With that said... "How U Doin??"... Lol

But there is no option for background image. Is there and problem for Lumia 720? Glance background BETA worked fine but no option in settings now!!

Windows central only writes about the goody goody topics ( puts them on the good side of Microsoft) and rarely about issues that frustrate readers, those readers have to vent of somewhere. The best place is here, in the community that can help raise the awareness, start the debate, and find the solution.
I hate MS advertising division, I don't think I'm not the only one. I believe that's why they kinda restructure twice in the past year.

MS update that's what!!!!!!!!!

Bo issues on my Lumia 1520, 3 - Lumia 640's!

That is exactly what happened to my 520. Have been running latest update no problem but a bit slow. Last few updates loaded fine but this failed with error many times. Had to hard reset to get it.

Glance now shows as 15 Seconds peak rather than Off like it did before on the Lumia 950 XL

Hmm I'm not getting this change. I have the app updated and is still showing "Off, 30 seconds, 15 minutes, Always on"

Nothing seems different, att 950.

Hopefully glace now moves to different positions on the screen like it did it 8.1. I'm very concerned about eventual burn-in with it always in the same position.

It does and it has done so before.

I read somewhere on WXM it consumes alot of battery, maybe that is what's fixed
Here, found it
http://allaboutwindowsphone.com/features/item/21246_Quantifying_Glances_...

Lumia 1520 show's off, 30 sec, 15 minutes, and always on.

My lumia 720 shows option in glance night modes: Red,green,blue, and hide glance screen(new)!

Microsoft Health was also updated (and included an update for the Band too). You can now share almost anything... even sleeps!

Good looks :-) Updating now.

Hopefully this helps iron out the recent bugs with Health and the Band. Notifications rarely come through (except phone and text), Health will go days without syncing in the background, Cortana never works, text keyboard reply doesn't work, etc.

It fixes a problem where Glance screen doesn't ever show up and it now shows its app and svc version from within the Settings.

Hope so. Glance disappearing and needing to restart phone was mildly annoying.

Gadgets disappeared too but is there from storage > search

Glance now shows the app and background service versions at the bottom of the page too.

Meaningless to me until I have an upgrade path from 1020.

Insider is your upgrade path until official release.

And particularly now that Windows Insider now has a "Release Preview" option in addition to the Fast and Slow "beta rings". In other news, I'm quite happy with the 950 / 950 XL as a suitable upgrade from the 1020, but if you're happy with your 1020's "speed" then I guess no need to upgrade your hardware (you won't get any of the Rich Capture features, though, so that's definitely something to consider...).

Buy a new phone, there are lot of great one specially 950xl, or wait for HP phone.

I'm not able to get any updates, I'm on 10586.107 & its really irritating...

Stored old updates seem to not evidently appear in the list when you push for notifications, this happened to me with the Office suite, then you click in the arrow and they seem to pop up. It's a weird behaviour I've been noticing since before .107, so it's clearly a Store quirk (at best).

Maybe the Glance update will improve the battery drain reported on by All About Windows.

As it did not change with the update: What do you guys think about screen wearing if Glance is always on and on the same pixels? It used to change every minute or so on older devices, but not on the 950 (XL). I am a little bit scared and therefore disabled the always on during loading. Glad to have the Band 2...

The reason I prefer LCD displays

The burn of the oled screen is in fact due to the difference of lifetimes between the three rgb oleds. Since blue can last 16000h, red 60000h and green more than 150000h, a located image that use blue oled will burn the screen since you'll reach quicker the 16000h on those pixels. But green one will last almost forever compared to blue one, so I only use green glance screen for this reason, by putting the end of night time 1min before the start. (I checked with a micrscope that only green oled were used).

Clever, but are these numbers up to date? Do you have a source?

Images is grayed out for me.

Glance still crashes for me.. Anyone having the same issue?

Have you tried hard reset, old one I know, but fixed my problems with glance and feedback on touch settings a few versions back. L925

Done.. Still crashes when i try to open

Same with me, i did 2 time hard reset . Lumia 830
what is ur

Mine had been working fine on L925 until this update. Now it opens then crashes immediately

Weird. No problems ever on my L925 (insider fast ring) on .107. Have you tried a hard reset with no restore point. Did that a couple of builds ago and that fixed alot of my problems.

I did a hard reset just prior to 107 that fixed a ton of problems...hoping to not have to do another.

Same here :( Lumia 920. Glance crashes on starting the app. And that too on 'production' build 10586.29 & now 10586.107.

Same issue here :'-O Lumia 1020, build 10586.164. Glance used to work fine until I had to reset the phone to solve other issues (SMS count not appearing on the Message tile, not shown on the Glance Screen; Mail app not marking messages as Read anymore). It was my first reset in 6 months after successive installations of Insider builds. The reset solved the Messages and Mail issues but now Glance is gone :-(. Immediately after reset Glance was present in Settings/Extra but when launched, it would only show an empty screen except for the title. Then I got a Glance update through the Store. Now the app starts, shows the settings for 1/10 sec then crashes. Of course the Glance screen doesn't show up ... Tried several resets, tried starting fresh, tried restoring a backup but nothing would do. The Glance app crashes invariably. Tried uninstalling Glance but then I can't reinstall it from the Store since the Store says that this app is designed for Windows 10 Mobile but is "Not compatible with your device"!?!!

Features MIA in my 1520 Win10Mo since 10581
1. Glance screen
2. Auto brightness
3. Display settings

All of those settings present, accounted for and working well on my L925 (insider fast ring) on .107. Might need a hard reset.

I'm using my 1520 on the newest build and glance, auto brightness, and display works just fine

Btw...all three of those settings are in the "Extras" category in your settings. They will not show up when you search. You have to open the "Extras" catagory at the very bottom to access them.

They have always been there on my phone but not working, I have loads of large sized games I just want hard reset to be the last option

Confirming change - the background images are working now on 950XL!

I still dont know how was the last update making the app same as glance background BETA? And as we cant download the glance background BETA anymore i want to see the app working the same!! Please someone help!!I still dont know how was the last update making the app same as glance background BETA? And as we cant download the glance background BETA anymore i want to see the app working the same!! Please someone help!!

Select a photo, Bing or any other app does nit show on Glance.

Personal photo showing fine here. You just can't show anything else on Glance except Health

But how does the background image work in glance!?? I want to know how to make it work!!!!??? Please tell me.

Still doesn't work on 1520...

All settings related to the display have been **** for a long time now on this phone, it makes me really mad adjusting display every now and then. I can survive without glance but lack of auto brightness is killing me(faster)

It's there. Just in a different place. Look in the "Extras" catagory at the bottom of your settings

Says installed on my Fast Ring Lumia 640 (Glance screen ).

I just wish they would add dark themes to Weather, Money, News, etc. I did have install errors when the Outlook update hit a couple of nights ago but that was fixed by morning time - that appeared to be a store issue.

There is a dark theme for news. Not there for sports yet though

Well, dark background for articles but the rest of the app is white/red. Better than nothing :)

I wish the store would give notifications when an app updates like in 8.1 :-(

Same. I requested the feature in the feedback app. I hope they add it soon.

Hey! Can you do me a favour!? Please post on that feedback app to ad support for background images on Lumia 720. I am using wp8.1 so its not possible for me to fo!

Exactly, plus a list of recently updated apps. Is that so hard?!

Background images had been working fine for me, selecting pictures from the Lock screen setting locally or from OneDrive albums. Since .107 clicking a photo from OneDrive accessed through the Lock screen setting force closes Settings. Glance background works fine regardless.

Some guys on app raisin are saying the update broke glance on the 950 and 950XL's. Seems fine on my 950Xl so far.

Yes glance was and still is working fine for me on the XL. Pictures and all.

Im one of those that glance has broken for. It was barely showing before this update and now its completely gone. I was about to send phone for repairs prior to the recent update as I thought my device was faulty. Lets hope ms remedies this soon.

I now have a live tile for Microsoft health. Was that always there?

Is there anyway of installing glance background on a 640xl?

I don't see an option on my 640 XL - just the basic lock screen info of date and time and quick status icons along with night mode and charging options.

Glance background images now optionally in color!

On what device? This has always been the case on my 920, since last few builds at least.

That setting has been there for a while

Still no double tap to wake? :-(

It's there still on the 925. What device do you have?

I have noticed that the MSN Money Tile changes colour depending on the direction a share price has gone

Can someone explain me why Lumia 930 didnt have Glance settings? Have same display like 950 :( It is not fair!

Doesn't have display memory.

Life isn't fair my friend

Ok so how's weather live tile?!

Any sign of transparent tiles yet? You know that concept that Microsoft invented yet fail to incorporate into their own 'apps?

The Microsoft Health app has a partial transparent tile

The only app that I saw updated was the money and Telegram and glance screen.

Microsoft really needs to improve the speed of how these apps open messaging news weather still very slow to open. At least on my 550 very slow I wish they would just get these things going.

Glance screen app still crashing after just opening. Lumia 830
Any solution

It is now broken on my Lumia 950. No Glance Screen and when I try to open the app it just closes right back up. It even did the soft reset like it was supposed to. I tried soft resetting again myself and nothing. I can't even comment on it in the WP Store because it is now saying my hardware does not support glance so I can't review the app. WTH! It is a Lumia 950! It comes with Glance!

Settings -> Extras -> Glance screen The old Glance app from W8.1 does not work on W10

Did this fix the constant crashing when opening articles in the News app?

Is anybody having this same problem? after this update I cannot download any apps at all, try to reset twice now and still don't.

App still crashing...auto brightness doesn't work either.Lumia 830.

Can finally pin a sports team or league to Start as live tile, like WP8.1

So a Glance updated, yet still has no rotation, I mean I charge my L950XL sideways because of the USB-C conector at the bottom, but it's awfull that the Glance info does not rotate like a lot of the OS's do! When will they think of this?

I just want my Glance back. Got to settings--extras--glance screen and it tries to open and then crashes. I miss my Glance screen! There was nothing wrong with it before. Come on Microsoft, fix this!

Installed Windows Insider 3 times and all 3 time 950 xl dual either locks up on glance or will not connect to 3 if my APs. Frustrating. Reminds me if android custom ROMs.

Hmmm, on my AT&T branded Lumia 950 my Glance screen was working fine with 10586.107----->Extras--->Glance screen options: Content: Background photo: On------both Color and Black and white worked correctly...however with 10586.122---->No success at all...hard reset, clean install performed twice...no luck!
Windows Central Newsletter
Get the best of Windows Central in in your inbox, every day!
Thank you for signing up to Windows Central. You will receive a verification email shortly.
There was a problem. Please refresh the page and try again.