Microsoft updates the Office Mobile suite for Windows 10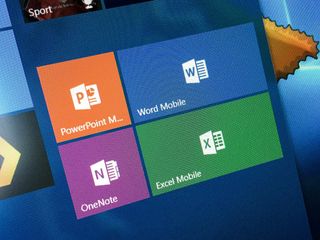 Microsoft has rolled out an update for Word, Excel, PowerPoint Mobile, as well as Mail and Calendar. The batch of releases have hit Windows 10 Mobile phones, but since we're looking at a Universal suite of apps, the same updates will also hit those who are using the apps on their Windows 10 PC.
As is usually the case when it comes to Microsoft (and most notably Office) updates, we're not entirely sure what's actually new in these releases, though we have been informed about more highlight colors being added to Word.
Notice anything else after updating your installation? Sound off in the comments!
Download Excel for Windows 10 Mobile (opens in new tab)
Download PowerPoint for Windows 10 Mobile (opens in new tab)
Download Word for Windows 10 Mobile (opens in new tab)
Big thanks to everyone who tipped us!
Rich Edmonds is Senior Editor of PC hardware at Windows Central, covering everything related to PC components and NAS. He's been involved in technology for more than a decade and knows a thing or two about the magic inside a PC chassis. You can follow him over on Twitter at @RichEdmonds.
You've been Panzer Geekz for quite a while now, haven't you?

Pin office docs to start again and then it'll perk my interest.

Nothing showing up on my devices. Do you need to be in the fast ring?

Nope, as they dont are beta apps.

Microsoft has pushed out updates to the Mail and Calendar app that were only available to Insiders in the fast ring before.

However, no updates here on 950 XL production build .29.

Yeah, must be insider only. Not seeing them on my L950.

Well, I am on the Release Preview Ring and still getting nothing.

I'm on Release Preview Ring and I got the update after I restarted my phone

Still nothing for me, even after soft reset. Also, when opening Outlook Mail and Calendar in the store, it shown as installed without any button.

For the Office updates, you do not need to be in the fast ring. The updates will not be found by going into the Settings / Update & Security / Phone Update. These office app updates will be shown by going into the Store, where you will navigate to "Downloads and updates" and then Check for updates. Hope this helps everyone not seeing the updates.

I'm perfectly aware of the diffence between app and OS updates, but thanks anyway. Doesn't change the fact that these updates don't appear on my devices. I'm not in a rush to get them, though.

Change-log in the What's new section inside the app

Belgium did not receive any updates anymore. I am supose Microsoft have erase belgium from the worldmap

Yeah just checked the maps app and Belgium no longer exists. Now where will we get our chocolates from???

@ronny2010:
Not only Belgium.
Microsoft has erased this whole wonky project that's used to be called "Europe" some time ago...

No apps update found m in fast ring

Updating.... In fast ring

Even though I know 99% of WC app update posts don't contain info on what's new - I still feel compelled to click into every one just to be sure

When you start the apps, they now show a "New in this release". E.g. Word now allows you to highlight with different colors. Excel has 3 new features, PPT none. Outlook does not show a new window so just bugfixes.

Office apps not showing up. When, if ever, will they fix Outlook Mail HTML rendering!!!!!!!!!!!!!!!!!!!!!!!!!!!!!!!!!!!!!!!!! When? When? When?

Still no push mail. F#ck it.

Amazing updates MS is bringing us!

And here I am getting error 0x80240024, not able to install it

Outlook mail crash frecvently.

Still can't open excel workbooks that contain form controls, OLE objects, or range protection. :-(

Mail and Calender on my Pc not working, can't get the mail to sync and How do you update these two built in apps per se? Whenever I click on setting on go to updates I never see any app updates to be downloaded. I go to app store and have never seen any way to update apps installed on PC.

They are updated normally through the Windows Store.

M bot getting any updates plz help m in fast ring

No updates for me. Lumia 730. Build 10586.107. India.

Since the last two updates of outlook mail and calendar, I noticed that as soon as I book an appointment and before I can enter any appt. Details, a calendar entry for [no title] appears in the action centre. Happens on both PC & mobile. Anyone else seeing similar behavior?

I have insider .71 on 950 and having updated outlook and office

Don't update "Word" it'll not allow you to edit or start new documents on your phone. I've purchased office, I'm not paying a monthly fee for it...

I have had that happen as well a couple of weeks ago. Just click on your name in the upper right corner and sign out and then sign back in. Worked for me.

This happens sometimes in the office mobile suite. The solution is disconnect the account from the affected office applications, close them, re-open them and re-login with the MS account. If this does not fix a phone restart may help before the re-login. I also do not see the update in the store. Probably non-English (US) application may take some time to recive the localized update.

Getting error updating office apps and Mail and Calendar except OneNote. xbox avatars updated too.

An update for excel also
More functions
Handier zoom
Funnel chart

Week view STILL adding appointments at the beginning of the week no matter what day of the week you select. Week view still unusable. Doing great guys! Keep it up and your mission to completely ignore most major bugs like band 2 being essentially broken on win mob10, and sleep bugs on the surface will be accomplished! Shoot for a whole year without fixing them! Almost there. You can do it!

Found this only happens in portrait not landscape

That is really annoying with the calendar it seems crazy to me they are even contemplating adding new features before they fix the bugs.

Now this update is telling me that I need to have an Office 365 subscription. WTF I can no longer use this Office Apps. :( anyone having the same issue?

I am also having same issue. Is Office not free anymore even on smartphone?

@Elias Tomnob Jr:
Why do you think they're handing out 1-year-licences of Office365 Personal with the purchase of a device that does, at least at the moment, not need a subscription?
To lure you into the subscription and drop the free usage on Windows Phone/Mobile devices afterwards.
You didn't really expect this nob Nadella to let you use Office for free, did you?!

@Elias Tomnob Jr. Tried signing out and signing or reinstall? Edit: Just seen your comment below.

Highlight colors!!! Yey! Thats my feedback! Now, give us rulers plez!!!

@Dick S O-Rosary:
If you want rulers, move to a monarchy or dictatorship of your preference.

thanks, office apps now working after reinstall.

They really seems faster, especially Outlook.

Depois dessa atualização eu conseguir instalar os 3 no meu aparelho. Antes eu havia desinstalado por questão de espaço para instalação da ultima build e não mais conseguia instalar. Creio que seja uma correção também para até colocarem no post.

I hope it fixes OneNote on my 640. It just sits there telling me to wait while it gets my notes. Never gets past that.

Not impressed with the updates. Would be nice if Microsoft speeds up, not only on the Office apps.

10 PC only updated mail and calendar!

In my Lumia Icon it just updated Word, when opened the app after updating the "What's new" notification said something like "New highlight colors, not just yellow anymore". Not showing updates for the other apps yet.

More highlight colours?!
WTF? They're really riding the feature train like an acid trip, aren't they?!

https://support.office.com/en-us/article/What-s-new-in-Mail-and-Calendar-for-Windows-10-9822b33c-b9ad-48bc-ac53-c1b6136e405b?omkt=en-us&ui=en-US&rs=en-US&ad=US

Wow it is so great having OneNote notes on all my devices including WP10. The rest of the Office apps work fine! Finally am able to get the latest billing invoice even on phone via OneDrive. I'm happy.

I have Outlook mail vers. 17.658.16902.0. Which is the latest vers because I didn't notice any update until now on my L950 on Insiders FR.

dont know about anyone else - but im having problems (crashing app) when i try to forward an email that contains images or photos...

Still no any updates on my 640xl? Not that I care. Word works fine, Note works fine also. Others I don't use so don't now. Calendar is a sort of a problem. It's a mess.

I'm using Lumia 550 Win 10 Mob build 10586.29, no updates showing for Office suite & Outlook.

Still waiting on MS to give an update to allow our 365 education work account edit word excel and PowerPoint. Works on windows phone 8.1 iPad and droid just not on new apps had 65 to setup and was pain. Shame you cant login with just a 365 account and download from store etc have to setup a MS account on each one then add a work account which is annoying and you had to go into each app to point it to use the 365 account not very business friendly :( anyone else had this issue? :)

In Excel, What's New - More Functions, Handier Zoom & Funnel charts are now available

On my Lumia 950, prior to this update, a test app (with the rotating cube) showed rendering at 61FPS. After the update, the app consistently shows 66FPS. This is an 9% increase in rendering speed on the same hardware!

What's the difference btw Office Mobile for Windpows 10 and Office Centennial? They both seems to target the new UWP platform.
Windows Central Newsletter
Get the best of Windows Central in in your inbox, every day!
Thank you for signing up to Windows Central. You will receive a verification email shortly.
There was a problem. Please refresh the page and try again.