Microsoft updates OneNote Clipper browser add-on with new location picker and more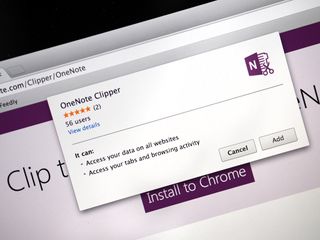 Microsoft has released a major update for its OneNote Clipper browser add-on. It brings the version number to 2.0 and includes a number of changes and additions for the web clipping content tool, including a new location picker feature.
Microsoft goes over how the location picker addition works, which was a popular request among current OneNote Clipper users:
OneNote Clipper 2.0 can also identify if a website has an article, a product or a recipe. It can clean up the page to show that content in a more organized format before sending it to OneNote. In addition, the Chrome extension now has a Region feature that lets users select a specific portion of a web page to clip and save. Microsoft says, "Just select Region mode from the Clipper user interface and then click and drag to select the area of the screen you'd like to clip."
Source: Office blogs (opens in new tab)
Windows Central Newsletter
Get the best of Windows Central in in your inbox, every day!
In my opinion One Note is an outstanding piece of kit

its just awsome sinple words. no improvements needed

OneNote FTW. Also, get yourself Onetastic: http://www.omeratay.com/onetastic/ Brilliant add on, with some handy utils like "crop" and macros for bulk removing red underline for spelling etc.

How about the ability to open password protected memos on my phone?!? That's an improvement that should have been there oh, three years ago. It's on iOS, for krissakes.

Im sure its something Toshiba owners have known for a long time

Onenote touch app for windows 10... I love it...
Best note taking app...

Why not just use Snipping Tool?

Because that only saves the capture to your computer.

The only reason I can think of is it won't send the snip straight to OneNote

Yes it does. I use it all the time.

Because the Snipping Tool only snips images of the WebPage while Send to OneNote will actually copy the WebPage's text. This will allow for greater search abilities as well as other options like their new option to automatically categorize the information.

Ah! Now that is really useful.

Desktop OneNote installs its own Send to OneNote tool that is usable. The clipper I've never used because it works terribly in Internet Explorer. You basically have to use Chrome or Firefox (or OS X Safari) to get a decent user experience with it.

Sticky notes should be integrated was OneNote. That would be awesome.

What/where is this??? Is it an app for phone, computer, universal?

Someone didn't read the article. On a serious note, OneNote is an app available on basically everything. Though the app is not what the article is discussing. Have fun reading the article. Knowledge is power!!!

Yeah got it! Reading on the hoof and also not realising the name of something that I have installed and use regularly!!! Doh

Didn't know those features. I use One Note a lot and it has no match. Now this unknown ability makes me feel more capable handling web page documentation. Thanks.

Microsoft MUST update the OneNote for Windows Phones. I use this app a lot

wait for windows 10 like Microsoft Office they will surely update OneNote.

OneNote should replace notepad and and provide sticky note features. Live writer should replace wordpad on the desktop and be installed by default, im just saying

Finally,all my clips not lumped into one folder I have to later organize.

We need a dedicated clipping (universal app) tool as well for phones, tablets and convertibles. Will be great if it can save clips not only to onenote in individual sections but also other office universal apps with APIs for 3rd party apps. Also, would be cool to have an option to clip multiple instances of text simultaneously, differentiated through numbers or colour codes and at users discretion to be copied into any of the one note notebooks or to different sections or office apps. It is a lot of hassle otherwise if you have to take references from multiple sources and have to keep switching between app and source websites to copy each clip. If Microsoft is focusing on productivity, that is one area where life can be made a lot easier with a feature rich and intuitive clipper/snippet tool.

OneNote is an excellent app it's my main note taking app for meetings simply brilliant.

I regularly use this over the paid version of Pocket. The new UI is refreshing.

What browser is this for?

IE 11 "ironically" too. I can't speak for other browsers but before I make a statement I check first. That helps everyone.

Well, I stand corrected. I'm actually surprised that they support IE 11.

OneNote is one hellava app from our friends in Redmond and hats off to them for supporting the other guys. But I can't imagine why they wouldn't support their own browser.


Because IE11 is very limited in add-on support. The IE Gallery is a desert compared to Chrome Web Store. There are a grand total of nineteen add-ons in the IE Gallery, lol.

I haven't investigated this but are there many **Microsoft** add-ons that are not supported on IE? I understand the desert thing, but I was referring to a Microsoft add-on.

Still using ie 9 at work.

Not add-on but apps. There are many better Microsoft apps on Android and iOS compared to WP so I assume add-ons would be the same.

Yea but this thread is about the Clipper add-on and it being supported on IE as well as other browsers. Apps are another ball game.

One more reason is that the picture in the article is of Chrome. You would think they would have shown IE picture if it had been available on IE.

Support for IE,yes, but limited. The Region Clipping is only for Chrome!

Yes the article depicts Chrome but..... It ** IS ** available on IE, that was my point. I tested it.


Where is "OneNote Clipper" add-on available on IE? I tried to add it. I have the latest IE11 with the latest Windows 8.1 and just went to add-ons and looked for it and it is not there. There is only "Send to OneNote". That is NOT the same.

OneNote Clipper is here: www.onenote.com/clipper Works fine for me on IE11 as mentioned earlier. This is NOT Send to OneNote, it IS Clipper.

I don't know anyone who uses OneNote. Posted via Windows Phone Central App

I do. I just don't know anyone else.

So Windows Central uses a picture of Chrome on a Mac to illustrate?

How I wish it supports Firefox :(

How do you know it doesn't support Firefox?

OneNote is one my favorite application I use it on a daily basis on multiple devices

One Note save to any folder...FINALYYYY!!
For the love of Zeus M-soft, put the feature on every version of One Note, and while you're at it One Drive team, please do the same to the save to One Drive feature from Outlook.

Don't forget Windows Phone especially.

I try to follow the instructions to add this and i get an error.

Oneonote app on iphone is much better than on my windowsphone. Why?? Posted via the Windows Phone Central App for Android
Windows Central Newsletter
Thank you for signing up to Windows Central. You will receive a verification email shortly.
There was a problem. Please refresh the page and try again.