Microsoft updates Reading List and Bing Translator for Windows Phone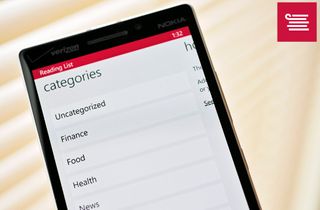 Today Microsoft has updated two of their apps for Windows Phone. Head into the Windows Phone Store and you'll see updates for Bing Translator and Windows Reading List, an app they released just last week. Bing Translator is available to everyone, while Reading List is only available to those on Windows Phone 8.1 since they use the universal Microsoft Account sign in. Let's check out what's new.
Bing Translator
Version 2.9.2.0 of Bing Translator is what you'll find in the Windows Phone Store. Version 2.9.1 of Bing Translator brings the following new features:
Automatic language detection in Keyboard mode
Offline translation for Arabic and Persian
We missed covering the 2.9.1 update, so today's update to 2.9.2.0 probably is just a handful of bug fixes. If you notice anything else let us know. That said, we're really liking the automatic language detection when using the keyboard. We're also sure a lot of our friends who speak Arabic and Persian will appreciate the offline support that now comes in Bing Translator.
Download Bing Translator from the Windows Phone Store.
Reading List
Microsoft has updated Windows Reading List to version 1.0.121.502. We're not seeing a changelog in the app description or in the details section of the Windows Phone Store. We're going to go out far on a limb and say you're getting bug fixes. We've heard some users have troubles with items taking sometime to sync, hopefully this update speeds up the process.
Download Reading List from the Windows Phone Store.
Thanks for the tips everyone!
Windows Central Newsletter
Get the best of Windows Central in your inbox, every day!
Heard Xbox games hub got updated too...guys?

The automatic language detection should be helpful.

It doesn't work actually.

Reading List got transparent tile support.

Always a welcome addition!

Now waiting for nokia camera, blink, refocus, here maps, here drive, viber, office Lens, camscanner... The list is too long..

All of those applications are already available so what on earth are you actually waiting for, if you don't mind me asking?

For them to update their apps to support transparent tiles.

Not everyone wants all apps to have transparent tiles. I actually like the cocktail of colors on my screen!

Busyman, I don't understand this OCD-like insistence that every tile must be transparent either... seems boring to me. I hope everything doesn't move to transparency either... but it seems like we're outnumbered.

I agree..i want some color options. My idea is that developers shouldn't force it, but let us choose. I don't want all transparent and I don't want all color. So far, alot of my apps let me choose.

+1 I don't want to have everything on my start screen transparent, I like to have some variety.

I think some companies will still keep colored tiles because it is part of their visual identity and branding.

He/she never said " everyone" did want it. Just cos you don't want transparent tiles doesn't mean it shouldn't be an option.

Hi Rem97, Now I understand. Thanks for filling me in. And yeah, I think all tiles should have transparency support because it is excellent. Until then I will make do with customising my start screen with tiles that do support transparency.

You can use transparency app, out can solve this problem.

The Transparency Tiles app doesn't completely solve the problem because of 2 limitations: (1) it can't support apps like Nokia Camera, OneNote and Skype that don't allow activation, and (2) the tiles it generates are static, not live.

Finally, transparent tile support. Now I can pin the app to my start screen.

I got the translater yesterday

I hope they incorporate translator into Cortana in the future.

Any reason they rebranded it "Bing" Translator? Any plans to rebrand the rest of the Microsoft suite?

Who knows, because it used to be Bing News and Bing Weather and they dropped the Bing off of those; so it appears they have some inconsistencies with branding right now.

It's weird... They dropped the Bing name from the rest of the apps, but they added it to Translator.

Yeah, I went to look for "Translator" to today as I don't have it pinned and couldn't find it. Had to search and see that it got renamed. Grrr.

Whatsupp with QR codes? I have a Surface 2 also :/

Actually Arabic offline was supported 2 updates ago.

The previous version had Arabic offline support :P

Now if only the WPCentral app could share to reading list...

It can. When you share, go to Social and it's in the top list. They should probably rename the option to Apps instead of calling it Social.

I found the long route to it through Social, but would love if they'd just replace the Pocket link with a Reading List link so it's more direct.

Would be nice if the Reading List included a Chrome plugin so I can get items into it easily. ;) Kind of hard to use it unless you are using IE Metro on Windows 8 and Charms. Even desktop users IE users can't effectively use this tool because IE really doesn't have useful pluggins.

Desktop ie is too slow and clunky for me. I dont want to use chrome but i am forced. Even Firefox is not as smooth. Metro ie is great but sadly, i dont have a touchscreen laptop.

Modern Desktop IE is quite usable with keyboard/mouse in Windows 8.1 (Update 1). Regarding desktop IE being slow, do you have add-ons installed? Uninstalled any OneClick etc. add-ons from Programs and Features. Once done, press Alt+X+O in IE and go to Advanced Internet Options and press Reset. Check the box and OK. Close, then reopen IE to get the fastest browsing experience.

Firefox is so choppy and lagging, it hurts my head.

For IE desktop to get social sharing option, vote for this suggestion: https://connect.microsoft.com/IE/feedback/details/806762/ootb-sharing-options-in-internet-explorer (sign-in and click I can too).

I got an update for Extra+Info for my 8.1 Lumia 920; 15 MB.

Anyone try out Office Mix? Its pretty cool.

As long as Bing Translator is not integrated with Cortana/search, it's very limited for me. I want to be able to search "Translate hello to French" and then the Cortana/Search should open the app. Now, even if you click the Bing translate link in the search result, it doesn't open the app. Poor integration.

Keep in mind Cortana herself is still in beta.

I mean even with search. If you search a stock ticket now, for example, you get a customized first search result that if you click it, it opens the Finance App. That's what I'm asking for.

@wpcentral: do add the feature to directly save an article to reading list app of microsoft, from the wpcentral app itself..
Like u have an option for pocket

I've been wishing for the same. I love Reading List and resist duplicating software if at all possible.

WPC already has this feature... Share-> social-> should be there... The "social" tap should be renamed to "apps" though

Yeah, got it...
Thnx a lot man

Bing translator renamed become translator now after this update it again becomes Bin translator....

YES!!!! Finally offline PERSIAN translation added!!! :D

Now we need our music app updated!

In comparison to Google Translate, Bing Translator is actually pretty bad. Not trying to hate, but it's simple fact.

Exactly. It has idiotic things like 2 flavors of Klingon while missing quite a few significant "real" languages. And the translations themselves are often incorrect or inaccurate. Much more so than Google. I'm not a fan of Google, but this is one area they won hands down. No one else comes close. Bing Translate is just useless to me as it currently stands, unfortunately. Keyboard recognition/support means nothing if Bing isn't supporting the language I am trying to translate. Get the basics right first.

I use English-Spanish a lot and am very happy with Bing translator actually.

You can share from ANY APP to reading list. Why does any Pocket client/WhatsApp has SHARE FROM ANY APP? Please answer.

wish I didn't need to read about updates. There automatic in 8.1 I just need to know my app works. Kinda defeats the purpose of automation with every post. I just dont need or want to know everything. Maybe if your app had a way to only show types of news I want not everything?? Its to much some days.

translatier could be a bit better. sentences are still buggy. and my language dutch is still missing voice recognition. thats a poor experience and left out feeling for us and I imagine even more poor for nondutch speaking people.

Microsoft should solve the offline issue with reading list, it´s a great app with a nice design, but that´s basic I think.

What happened to translator being able to take a picture and translate it. Didn't work for me in Paris ugh. Would love to see this app integrate with Cortana and the Camera app or just integrate it into the entire system and in I.e

I know that on Windows Phone 8, you can press your search button and then click the Eye icon once Bing opens, then press Search Text and then Translate.

Is Reading List even good? I just use a web service to handle my bookmarks. Does the app compare to something like that?

Hope reading list to be offline

It's no longer listed under T in the app list. It's now under B as Bing Translator.

Does reading list store articles offline? Or is it just a bookmarking service?

Got transparent tile absolutely

They need some kind of manual sync because now its so slow.

Was Bing Translator called "Translator" before?

My app which is currently on sd card was updated with this update and now the app is shown installed on store but I can't find it on phone... Not in phone.. Not in sd card.. The live tile used to be there but if I pressed it it just starts the translator logo and exits... What the hell is this? Anyone got any solution.