Microsoft updates Windows Phone 8.1 Battery Saver, adds list-sorting ability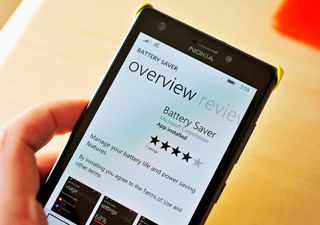 Microsoft has released a new update to its Windows Phone 8.1 Battery Saver feature, allowing owners of phones with the OS to download and install it as an app from the Windows Phone Store.
The app update has a version number of 1.0.14131.157. It's very interesting that Microsoft is allowing Windows Phone 8.1 device owners to update features in the OS such as Battery Saver via apps rather than a full update for the platform. A similar update recently happened with Calendar for Windows Phone 8.1.
Battery Saver lets users control and manage apps running in the background in addition to seeing how much power those apps consume.
Today's update adds a list-sorting ability with three settings:
Show apps with usage
Show all apps
Show apps that can run in the background
The ability to sort apps by usage or running in the background should make management much easier, as the previous version showed everything at once.
You can download the Battery Saver update right now from the Windows Phone Store Thanks to the many people who tipped us!
Windows Central Newsletter
Get the best of Windows Central in your inbox, every day!
Keep dreaming. Skype team doesn't care one Nutella about the Windows ecosystem.

But.....but.....Microsoft owns it!

They just updated Skype a little under a month ago.

Yeah, but... Can send pic?

I think he means an update of any sort of significance. Something along the lines of dragging the App into the modern Messaging age, or giving us features they're handing to the competition first.

Seems faster &... more useful?

Yeah, fix Skype crashes already! Integrate it too while your at it!

Yeah FFS UPDATE SKYPE! Stop fiddling with things that ain't broken!

Very cool! I really like this updates of the system without a "software update" like Cyan ecc ecc.. Great move Microsoft! :)

I wish they'd update the People app like this and bring back integrated Facebook messaging and photos into the hub. This was one of the advantages of Windows Phone that brought me on board.
Being restricted to an OS update schedule was touted as the reason for removing these features, but this proves it can be done at an app level.

It actually closes now when you hit the back button, instead of just hiding.

Lol, yea I noticed that too.

Good point! Back in April i tried the first wave of the Dev Preview and i found that Battery Saver was ironically destroying my Lumia925 battery. I mean like 7 hours max on IDLE state. I later disabled battery saver itself (within battery saver) lol inception. Anyway, my battery returned to normal 15-17 hours daily use. Perhaps there is a hidden bug fix they aren't admitting, cause i cannot wait on my carrier for Cyan and i will be updating to Dev Preview tonight. I had ordered a new phone in June and never updated this one.

LMAO...inception.... Welcome to the WP 8.1 Dev PV buddy, your gonna love it!

its just ridiculous but it is actually faster that way rather than using the "resuming" screen

It adds a menu to sort the apps.

Wow, Thanks! Why did they never mention that in the articl...... Oh wait, they did! do us all a favour and at least F&cking READ articles you comment on!

Update is - now we can sort most used battery app list , show all, and show app can run in background. Thats it

And, "show all with usage" is at the very top now.. It used to be either at the bottom, or midway down..

I hope they keep this up. In fact, in the future I hope they can update APIs through app updates much like Google does for Google Play Services. Well, either that, or have full autonomy to update the OS as often as they want.

if Battery Saver no longer reduces battery life, THAT would be an update!

Disable battery saver from running in the background...

I noticed that it drains the battery, shown in the app it self lol

It most definitely did lol. Read the forums since way back in the first Dev Preview release. Battery saver background task was draining many devices battery.

It does drain more on my L920. Oh the irony.

8.0's Battery saver actually saves my battery, so I hope they'll get this straightened out before att releases the butchered version of 8.1

I'd just like to say again that this 1080p support for the WPC app is AWESOME❗❗❗❗❗❗❗❗❗❗❗❗❗❗❗ ;-)

I knew it was an app, splash screen was a dead giveaway...

sorting apps on my 630.. its a new feature or i was blind as hell before? http://i.imgur.com/HolnFGh.png oh yeah, post updated. forget my comment :DD

It certainly saves my battery faster, as in an urgent state of energy conservation.

Is this supposed to replace the one baked into the OS? Just a little confused on why an app and not just an os update. Yeah, I'm the naive guy that asks this stuff lol

It is the same app. This update to the app separates it from the OS so they can update without the need for OS Updates.

Which have to be pushed through all of the carrier inefficiencies and foot dragging.

How about updating OneNote and Office as apps.

You'll probably have to wait for office Gemini ♊ for that

Office for iOS and Android is better. :'(

I'm guessing that is the case, but I haven't heard much about the Windows Phone version aside from the mention that Gemini will be universal.

I love that new notification sound of WPC app.

Nice addition, though they could have used the app bar and the shiny new 8.1 flyout menu instead of text links.

John... One change is that "show all with usage" is now at the very top...

Don't care bout the Skype app since I don't use it that much, How bout updating the Instagram app and make it on par with Ios and android?

But MS doesn't own or publish the Instagram app. So...yeah?

Shhhh... Don't let him know

If its on their main list of services at the bottom of MS'S services page, they should make a full effort to make it premium. Ex: near the bottom of the page all of their services are lined up. https://www.windowscentral.com/e?link=https2F%2Fclick.linksynergy.co...

Am I the only one that thinks that this should have been renamed to Battery Sense in 8.1? To me that would make it fit the theme with Storage Sense, Wifi Sense, and Data Sense...

They need to bring back DISPLAYING the INFORMATION of WHAT EXACTLY the background task was. Mostly it regarded live tile, but I don't think that was always the case.

Now its more useful than before. MS, I'd like these same sorting abilities in the settings list please.

I wish xbm could sort better. Especially on PC, it is a pain to find what hasn't synced to my cloud... The makers of Access too... On topic. I love 8.1... More updates!

I was just hoping for a live tile that flips and shows the estimated remaining time of usage.

That would be a nice addition, along side how much the recently used apps have consumed.

Hope they fixed the bug were it drains the battery instead of saving it

Agreed, I was just about to say that. I specifically disabled battery saver just fit that reason.

They just updated Xbox music to have a convenient crash-when-opened feature!

How about allowing me to change the percentage that battery saver kicks in ?... Seems like at 20 percent it kicks in... before it seem like it was 10%. Anyone know if that's true or nah.

It has always been 20%, but the ability to change it would be awesome.

Kicks in at 20%, warns you at 10%.

Kind of liking this new separated OS app model. Have a feeling it all has to do with the next major OS release that brings it even closer to Windows 8 as one. Lets teams work on app specific features without having to sort through everything at the OS level.

Too bad it's 10x slower that way

Very nice and useful addition!!

THIS update caused one more change. Battery Saver app is not kept in memory anymore for faster resume when back button is pressed? AM I ALONE? Why MS why? uhuh

This is appears to only show usage, not how much battery is bring consumed. Why can't we see how much battery the screen, wifi, and cellular radio is using? Very disappointing. I may get hate for this but android has really nice battery usage tracking built in. Would love to see something like that!

Yeah, and very nice battery draining along with that. LOL

I wish they would add percentages allocated to each individual application alongside the graphical bars. Not only that, but apps aren't the only thing that consume battery - hardware such as the display, antenna and processor all use battery too.
Don't know about you guys, but I want percentages and graphs on the consumption levels of the above!

Totally agreed, make it like Android's, which is far the best on the market.

Hardware doesn't consume energy unless it's executing some sort of job like, you know, applications and stuff

Very practical! Reminds me of the ability to sort the app list in order of frequency of use that was supposed to be part of WP81, what happened with that?
Look and feel of the sort option is very awkward, I whish it worked more like filtering in Whats New.

Abit cautious after the Calendar Update fiasco, will wait before updating Also "Show apps with usage" and "Show All Apps" are not new... only "Show Apps That Can Run In The Background" is new.

That's great... How about if they make it so you can sort the store and remove apps from your app list that you tried and did not work out

Well if your in the store already (the history is sorted by recently installed / updated), tap the app you want to uninstall, press view on the app, long press on the app in the applist and uninstall or simply just find it in the app list and uninstall....

Dat drop down doe. It's inconsistent with the rest of the OS...

They need to allow us to see which system resources are draining the power also, such as the screen and os like Android does. Also, need to be able to reset the counters and change the lines so we see what percentage each so takes since those lines are almost meaningless.

HELP! My Battery saver stuck at "installing..." :/ its almost half an hour after the update and it still ddnt finish installing

I just had this problem with another app. Try restarting your phone. That worked for me.

Did a soft reset, it installed :) After that the app was crashing whenever i tried to open it. Restarted my phone, and now its working fine...

Kind if an aside, but do background tasks randomly turn on or off for anyone else? For example, sometimes the Store is randomly not allowed, and FM Radio always seems to turn back to allowed when I turn it off.

What about Skype, that"major" update was mostly nothing but Cortana integration, guess what, I have HTC, I don't have Cortana

Sorely needed update. In fact , I was just wanting this last week when it became clear that I'd run into the max number of tasks running in the background. I'll check this update out.

Does it actually give a better understanding of what's being used? I'm not a fan of the lack of info the app gives. The usage bar doesn't tell me anything about how much is actually being used, just that it's "some degree" higher than another app. I want to know a % per min, hour, or day so that I can tell if it's even doing much draining.

Would this affect the battery?

An option to turn off all the apps in the background by one tap would be very helpful :/

They should return the heart instead of the shield

Anyone else have the issue where the Battery Saver app never shows them any app usage?

Since I updated my phone gets super super hot!

Yes. Calendar, battery, xbox music,games,video are updateable via store. But, those feel like an 3rd party apps. Slow and never getting better. Even, calendar and battery saver are frozen in the background in order to make them faster when we launch the apps again. Fvk MS

since batery saver is now an app i think that we will soon see some auto ram managment apps like tasker on android or simlar :)

Awkward menu, shows no design consistency with the other menus.. Crappy design from MS.

I know. They should have followed "showing contacts" like menu from people hub. Seems no one is paying attention to the UI. Sad.

Agreed. This looks like it was slapped together quickly. This is supposed to be a polished system app not a patched together placeholder.

Better doing this thing. They should concentrate on other apps like music

I want battery saver on my surface pro 2, when I get as low as 20 or 30% I want to stop all the background processes and increase the battery life for say another 1 hour, that would be cool. They need to include some windows phone features in Windows 9.

Can I say the my 920 generally feels more faster?

hey my battery draining faster in my Lumia 820

And can we expect any sort of sorting for the main Settings? It's too messy to find something in there...

This is great! Like the option to sort to view only the apps that can run in the background. Like the old background tasks page from WP7.

My app is crashing every time I try to open it after the update. Already tried soft reseting the phone some times, unpinning from star screen. Anyone else? I'm on 920 with pd an no cyan yet

Does anyone else notice that some apps in the 'show apps that can run in the background' list are 'not allowed', or is it just me?

some apps are running in the background,,,strangely to say,..i didn't use that app at all...not sure how to fix this crazy bugs,,any help??

Any idea how i can stop Battery Saver from running in the back ground, i ticked the wrong box, and now i can not stop it from running in the back ground.