Microsoft wants Final Fantasy 14: A Realm Reborn to come to the Xbox One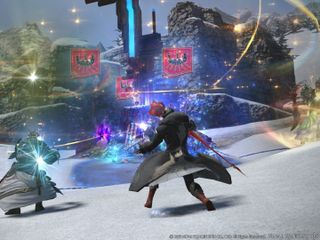 Square Enix says that Microsoft has held discussions the game publisher on the possible launch of its fantasy MMO game Final Fantasy 14: A Realm Reborn for the Xbox One console.
Square Enix launched the first version of the game for the PC in 2010 but it was plagued with so many bugs and missing features that the publisher basically decided to start over again after a massive player backlash. The updated version, Final Fantasy 14: A Realm Reborn, launched to a much better reception in 2013 for the PC and PlayStation 3. It launched on the PlayStation 4 in 2014.
In a chat with Polygon during E3 2016, Final Fantasy 14 director Naoki Yoshida stated that the Xbox One's cross-play support for other consoles could allow the game to come to Microsoft's platform. However, it sounds like there may still be some issues that need to be resolved first:
Windows Central Newsletter
Get the best of Windows Central in your inbox, every day!
I would love if it came to xbox

This would be awesome if it happens.

I really hope Microsoft will make the exceptions for Square Enix (and then adjust its policies for everyone).

Maybe Paul but will they and who would play it

Im not a fan but id give it a shot and Im sure there would be quite a few people who would Posted via the Windows Central App for Android

You have to buy the game AND pay a subscription every month. Only people who know they want it are going to get involved in this game. It's been out long enough for people to know they want it, still a good move to get it on console but it's not going to have the sort of adoption rate that Neverwinter saw as a F2P mmo.


You get your frirst month free if you buy the game. So if someone buys this on Xbox and plays for that month, doesn't resub and feels they got their moneys, that's perfectly fine. They might also try adding the 2 week trail verion on the Xbox One, making it even easier to get people to just try the game.


I will. My wife and I play it in PC. Our desktop rig is nice and it looks pretty, but on our laptop looks kinda meh and stutters sometimes. We don't want to buy another laptop because this one works well for all other of our needs, and already own an Xbox One. So if I could play it there, it would instantly solve my potato PC problem.

I played a ton of this on my laptop! Brilliant game! Would definitely revisit Eórzea if it came to the Xbox One

It would be awesome if they make it for Xbox 360, also DC Universe Online too.

X360 is on its last legs.

As a FF XIV player, I remember that there was a road map to coming on Xbox. In 2017 I guess but not sure. It may arrive on xbox with next expention which also will be in mid-late 2017

I don't get what their excuse is. We had FFXI on the 360 in the past so it is doable unless this is something new involving Xbox Live. Posted via the Windows Central App for Android

Does anyone have an ideas to what these limitations or restrictions could be? I would think MS is trying to lower them as they merge XBox and Windows 10 together.

The main limitation was that MS wanted a server for Xbox One players only (like The Elder Scrolls Online is set-up right now), but SE would not do it (and it's good they refused). Now with cross-platform play there a chance, but maybe MS wants them to use Xbox Live or something, I don't know. Let's just hope they sort it out. The thing is, SE has been running the game for 3 years now, so MS can't expect to make them change the whole way networking works to adapt to Xbox regulations.

More than likely, it's still needing to have a gold sub. FF14 team doesn't want someone to have to sub twice to play their game.

Now MS wants FFXIV? Lol what happened 2/3 y ago when square enix said that they were ready to ship to xbox one, but they couldn't because of policies?

They changed their policies, haven't you been following the news? Cross-play exists now. The old Xbox leader has gone and the new guy actually gives a crap about gamers.

So it basically comes down to Microsoft allowing them to offer Final Fantasy XIV:ARR/Heavensward to those who don't have Xbox Live Gold and be able to play online without that subscription. Only thing it could be. They did it for FFXI so they should do the same for this.

"we realized that Microsoft may not have the experience or understanding of running an MMORPG as an online game genre just yet." Erm, because MS doesn't currently have any MMO's running on Xbox One? Both ESO (rated best MMO of 2015) and Neverwinter both run on XBO without any problems.

I don't think either Neverwinter or ESO have cross platform play. There may still be some issues with their policies regarding that.

Best MMO out there by far: Easy to learn, great graphics, solid story (best of any MMO I've played), etc. etc.....This was actually the original reason I got my PS4.

i never understood why FF14 and FF11 both.

Because FF11 is an ancient MMO that is even older than WoW and what players want out of an MMO nowadays is different than when it launched. Because of the sheer size of an MMO and the coding and resources needed to bring it up to snuff to today's standards, it's better to create the sequel for people who want more modern gameplay features and much better graphics. They basically did what Blizzard should have done with WoW to maintain a healthy playerbase.

Played it a lot on my notebook. Would love to is it on xbox

the limition is xbox live gold subscription . why must final Fantasy player pay for two subscription to play the game . Posted via the Windows Central App for Android

I wasn't bothered by paying 2 subscriptions. One is yearly and the other monthly
I was cool with that.

Come on Microsoft. Make this happen and get over your annoying regulations. We need more games to the Xbox, this game is amazing too.