Microsoft Wi-Fi makes an appearance in Windows 10 build 10158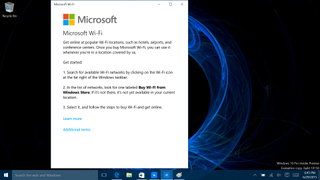 Microsoft Wi-Fi, the rebranded version of Skype Wi-fi, which enables buyers to pay for Wi-Fi access at public spots around the globe, is now active as a new app in the recently-released Windows 10 build 10158.
Microsoft Wi-Fi is a paid service that operates much the same as Skype Wi-Fi did previously. Rather than paying a monthly fee, users buy access to the Wi-Fi hotspots by increments of time. When we previously caught a glimpse of this service on its website earlier this month, it wasn't quite clear how users would pay for the time. However, according to the app included in Windows 10 build 10158, it appears that users can pay for access using the same payment method they use for purchasing apps in the Windows Store.
Image 1 of 3
Overall, accessing the networks looks pretty straightforward. Interested users can simply search for a Wi-Fi network labeled "Buy Wi-Fi from Windows Store" when they're in a public place, at which point they'll be able to do just that. Going forward, users should automatically connect to Microsoft Wi-Fi hotspots whenever they are within range at a hotel, airport, or other location for the remainder of their time.
Update: As it turns out this is an update/refresh to the 'Network Beta' app. To refresh, head to the Store and force check for a new updates. Once the update is installed, it should switch from 'Network beta' to a working app called 'Microsoft Wi-Fi'.
Windows Central Newsletter
Get the best of Windows Central in in your inbox, every day!
Dan Thorp-Lancaster is the former Editor-in-Chief of Windows Central. He began working with Windows Central, Android Central, and iMore as a news writer in 2014 and is obsessed with tech of all sorts. You can follow Dan on Twitter @DthorpL and Instagram @heyitsdtl.
I should note I did download this as a beta app on 10147 although it did not work. It got an update today and now works. Unfortunately, I can't find the Store link but maybe someone else can.

Looks like it is missing on a clean install of 10162.

I found it! http://apps.microsoft.com/windows/en-us/app/network-beta/73476b19-eb1e-4...

I don't seem to have MSFT Wi-Fi app with my 10158...I do have an app called Network Beta. That the same thing or something else?

Try and do a Store update and if it is the same one, it should update with the new branding.

Thx Daniel, that did the trick.

why not call the network simply "Microsoft Wi-fi"?? :D

Shouldn't be much longer installing this build now on my SP3, but can anybody confirm if the Photos app has the option to be uninstalled? (And if it appears in the Beta Store now as a download, so I can re-download it)

Why do you need to do that, out of interest?

I've never really used Skype WiFi much, as there's often free WiFi in the major UK cities, but I think the Microsoft Branding could help it take off a bit more than it did with the Skype name.It'll also make it a logical thing to bundle in with phones / surface tablets now too

Lucky you, WiFi is not so free in the US.

It isn't? But every Starbucks and McDonalds has a free WiFi, and those are at every corner it seems, at least here in Texas.

Just another reason why Texas is awesome!!

It seems to me that in the US pretty much any coffee shop has free WiFi as do many other public areas uch as libraries. If you're in any urban sort of area there is a good chance there is free WiFi quite close by. Also most of the major cable internet providers give free WiFi all over the place as part of their internet package. Thye do this by putting open hotsposts in whenever they install cable modems. With the cross agreements in place a cable customer can use the WiFi service of a different provider in other parts off the country. In fact the Microsoft service aactually piiggy backs on the cable companies' hotspots.

free wifi in urban areas is very very slow. goodluck using skype in times square for example :)

That's why I love my unlimited data plan....

So how/why exactly would you pay for this when there's lots of free, public Wi-Fi hotspots in places like fast food, libraries, and malls? I've had the Skype Wi-Fi app and never once understood the point of it exactly. It's not like this is going to fill in holes where there's no Wi-Fi or where Wi-Fi Sense couldn't point you to.

Convienience. Often while travelling you just want to get online. This is likely cheaper than you pay at a hotel etc. If it is simple, works and reasonable people will use it.

Maybe America is different, but unless you are out in the suburbs here in Australia (or out bush) then there is always free WiFi available. And the fact of the matter is I highly doubt that the suburbs and out woop-woop would be covered by this service anyway, for the same reason they aren't covered by WiFi already. So yeah, not that useful to a lot of people. Unless they set up contracts at airports and other paid WiFi areas to provide the service instead of whoever already is.

Pretty much the same thing in the US. Consdiering Starbuck and McDonalds offer free WiFi even the suburbs have pretty good options.

Yeah, true, Maccas and Starbucks do it here too, they're just fewer and farther between once you move away from the city centre (although if you really need free WiFi you can find it so long as you are in a major city).

Only ordeal I can see this being good at is an airport, where everyone has some sort of Windows device on them, where the WiFi networks all use a different system (if they have one) and this will unify them.

"enables buyers to pay for Wi-Fi access at public spots around the globe" Pay?
LOL!
Yeah, I already have access to the Fon network around Europe. And if I want to pay, my ISP also has international plans I can add to my existing account. Well, and I'm not even going to mention the Free WiFi which is available in a ton of places accross most western cities. I don't see the point of Microsoft WiFi really. Specially if we consider, being a Microsoft service, even if it's not US-only, only places where it's not needed will have it available.

What do you mean by "Western cities"? In the US most require a plan from someone, some ISP give you free access some don't. Also, some of the free connections at coffee shops are painfully slow.

The only thing I can think of is that they will take over contracts at airports and train stations (and the incredibly rare instances where shopping centres aren't free, although in those cases I usually just sit outside an EB in the complex if I need to grab something/listen to music while having lunch/etc), where WiFi tends to be a paid service, other than that, pretty much useless.

I still dont seem to grasp what this app does :(

'Wi-Fi' alone doesn't define the offering clearly enough for me. If the service is provided offering security (AES) and charges fairly based on usage, and doesn't make me bank and loose 'credits' and other infantile games, I would be interested in it. This coming from a patron of an ISP who offers free public Wi-Fi to their cable customers to boot!

I would like to mention an error within this article; since the Microsoft Wifi app is not a new feature within the 10158 build; I have the app working within my computer (running build 10130). Below are links to 2 screenshots taken on my computer; one with the App within the Start Menu (3rd list below M on the far left) and the second being the app running. http://gyazo.com/a8a38b1bd169c8ec6016d2f94ac0e396 http://gyazo.com/7d87a9e2fe555a18f4f03bb873b9d651 Hope this helps!

I just looked on my build 10130 and I have it as well.

Facing problem while upgrading to build 10158.

Same here. It keeps rolling back on me at 71% of the install. Stuck.

what's trhe difference between public wifi and microsoft wifi. In the Netherlands it seems that the microsoft wifi hotspots are the same as many regular wifi hotspots. So what makes it different from my regular free wifi hotspot connection? Also yes, it does seem that microsoft wifi in the Netherlands is at hotspots where the density of free wifi connection is high. So microsoft wifi at hotspots is practically useless for skype calls unless microsoft wifi lets the skype user throttle the data connection for wifi calls. So I wonder what microsoft is going to do with this in the near future as the product is not as ideal as what they are possibly advertising in the real world.

I need that cortana wallpaper!

I'd it uses a secure convention that would be with paying for in public

As soon as I can get the updates from the affiliate store I'll repost them here. http://Global.Wi-Fi-Hotspot.com and On Twitter @WiFiHotspotcom

apps.Wi-Fi-Hotspot.com, and WorldWide.Wi-Fi-Hotspot.com will not be Updated until after windows 10 Release. Sorry !.
Windows Central Newsletter
Thank you for signing up to Windows Central. You will receive a verification email shortly.
There was a problem. Please refresh the page and try again.