Microsoft to let Insiders 'skip ahead' to the next Windows 10 update preview
Insiders will soon be able to start previewing Redstone 4 builds alongside Fall Creators Update builds as Microsoft finalizes development.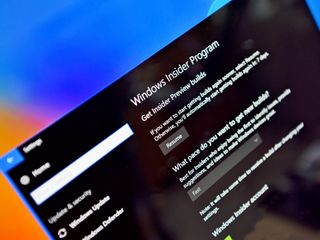 (Image credit: Windows Central)
Starting very soon, Microsoft will allows Insiders who are keen to get testing the next Windows 10 update (the one after the upcoming Fall Creators Update, codenamed Redstone 4) on their machines with a new "skip ahead" feature that will split the Fast ring into two groups, one for the Fall Creators Update and one for Redstone 4.
As I mentioned previously, the Fall Creators Update is now at its tail end of development, meaning bug fixes and general improvements are going to be the norm from here until release. Internally however, Microsoft is already hard at work on Redstone 4, and now it appears Insiders will be able to get in on that early Redstone 4 action before the Fall Creators Update is done.
The new "skip ahead" feature is simple. Insiders in the Fast ring will now have two options, either builds from the rs3_release branch, or builds from the rs_prerelease branch. Eagle eyed Insiders will know that the "xxx_release" branch is generally pretty stable, as it's where Microsoft compiles and rolls out the production builds of Windows 10. The rs_prerelease branch is where all the preview, rougher, buggier builds come from.
Since we're just a couple of months away from the Fall Creators Update being done, Microsoft will be flighting rs3_release builds to Insiders who wish to remain on the Fall Creators Update path. These builds will get more and more stable up until release, whereas the rs_prerelease branch will get buggier and buggier, as that branch is leading into the next major Windows 10 update after the Fall Creators Update.
One benefit of this change is it gives Insiders the ability to test the latest Insider versions of inbox apps. If an Insider chooses the rs_prerelease branch, they will be able to test the latest preview versions of those apps, whereas the rs3_release branch will remain on production versions of apps.
So, this is a big change for the Insider Program, and one that will require Insiders to make a choice. Would you rather continue testing the Fall Creators Update with builds that are more stable up until release, or are you willing to try out builds of the next version of Windows 10 that may be more buggier? The choice is up to you.
Zac Bowden is a Senior Editor at Windows Central. Bringing you exclusive coverage into the world of Windows 10 on PCs, tablets, phones, and more. Also an avid collector of rare Microsoft prototype devices! Keep in touch on Twitter: @zacbowden.
To the express fast ring!

Insider Nokia Lumia 630 Update Windows 10

I'd be happy to join the Insiders program and use Redstone 4 on my test Win 10 laptop. Its easy to rebuild so buggy, not a big deal. I won't follow the update on my main Win10 Desktop or my work Win10 laptop and tablet I need stability in dealing with my IT clients.

Now that's the way it should be done :D

When RS3 drops Fast Ring will move to RS4 builds and Skip Ahead will go away again

But will work in the future for Redstone 5,6.....etc

That's right it will come back when they get close to finishing a release, and disappear once that release drops for a while

But it'll give Microsoft a chance to start testing the next major update in the public much earlier and that might accelerate the development of Windows.

Hopefully Windows 10 mobile does the same thing.

Windows 10 Mobile is at the end of the road. From here on out, it will only get small fixes and updates with new RS3/RS4 builds going to Windows 10 on ARM (new devices coming out)

It doesn't have Skip ahead and will not be getting it. Brandon LeBlanc confirmed it

There is no evidence WM are even getting RS3, yet along RS4.

W10m went from Redstone2 to Deathcom1...!

Those last two sentences I kept hearing Jigsaw's voice.

Guessing this is only for the PC?

After all, RS4 COULD have the features we were expecting in RS3

I'll probably toss one of the three machines here onto prerelease and see what happens.

Redstone4 = Spring Creators Update ?

Probably, since Microsoft is so good with naming.

Sadly yeah, but they do at times but not that too often. I wished that they will just come up with a naming scheme that really doesn't involved with date, seasons or any form of holidays, which all varies by country and cultures. Even Zac from the podcast discussed about this. I think it would be better if they name the update based on city names. They tend to sound cooler, and fitting for modern and how progressive Windows 10 is. If Apple is naming their OS release with mountains (and cats used to be), Google name their OS with desserts, then Microsoft I think would be fitting to name theirs based on cities, which is a lot!

Fall Creators Update 2, this time for the southern hemisphere.

Fall Creators Update 2: Southern Hemisphere Edition

Getting convoluted. Just keep the fast ring users on the bleeding edge, and the slow ring users on last stable build fast ring users can use.... like how it was suppose to be. Even Apple handles it's betas more organized than Microsoft.

The thing is though, Microsoft will have been working on RS4 fseparate to RS3 or a while now. At what point should Fast Insiders start getting RS4 builds rather than RS3 builds? What if someone wants to just stick with RS3 the whole way? How are they to know when to switch from Fast to Slow? You'd have to keep a close eye on announcements and hope that you didn't miss the change-over.

While I agree that it will be nice rule to Fast ring for bleeding edge(sometimes almost literally), and Slow for current state, where no new features/blockers introduced. However there is a problem.
It will be interesting to see actual numbers, but looks like Fast ring is oversaturated with casual users who are unable to deal with issues (even known) that make some features unusable (e.g. broken Bluetooth settings page which crashed Settings).
Move them to new branch, where we have almost no visible features, but visible bugs may be introduced - far from optimal, so another manual step will allow them to avoid it.
It would be nice to see system like on XBox where you are unable to pick whatever ring you want until you match some criteria, which will allow to "Make Fast Ring fast again" with users who provide feedback on regular basis and ready to deal with complete Windows reinstall.

Awesome, I see the option already

I don't understand why they don't suggest people to move to slow ring and shift everyone on fast ring to next release. Why is there a fast ring and another faster under that?

I am guessing that they want fastring feeback on the refinments being made as they approach release. Keeping the "fast" ring protects the slow ring, even thiugh the feasture set seems to be fixed and uncoming release are bug fixes and polishing.

What comes after Redstone, Bluestone?

Threshold/Redstone, Treadstone.. Jason Bourne..? Lol.

When the bleeding edge doesn't hemorrhage fast enough for you. ;)

And on mobile, on feature2, all we have is Fast and Slow... 😢

Mobile is going nowhere, Arm64 is the future.

Don't drink all the kool-aid by yourself

Current phones aren't running ARM64 chips?

Yeah, but W10M is strictly 32 bit.

So was Android and iOS until they weren't. Didn't slow them down.

Got the option already. Awesome! :D

Now I can see this option on my computer. Nice.

Faster Ring? Future Ring? lol.

I want the option to start testing Insider builds from the future! Before they are even worked on, that is. Numba One! Make it so!

No dude, it eventually culminates in a Linux distro that only runs on select microwave ovens, you don't wanna see that future. Spoiler alert.

Living on the edge... skipping ahead on my main Surface Pro 4

Shut the door and go to sleep tboy 😃

Excellent. Work PC is moving to RS4 preview and main home rig staying on RS3. SLI needs to work again!

not sure what you are implying.

Already got the options. Was wondering what is was for. Now I know....not ready to skip ahead just yet. Have to many outstanding problems!!!

You sound like one of those people who should be on the slow ring 😌

Last paragraph. More buggier?

Should read: "More Extra Buggier" lol

I opted for prerelease on my main computer cause I live life on the edge

RS4 for me, please! Can't wait.

I'm Windows 10 Mobile user, I already skipped RS3.

I'll probably skip RS4 too.

Redstone 4 = Windows 10 Not For Mobile Update

Lets see what will happen with the lumia 950 en 950xl

They already have the ability to list different update tracks in Windows 10 Enterprise; you can out it into a business "ring". Would be nice if they merged the concepts and kept it simple.

This is dumb IMO. Fast should switch to RS4 while while Slow should get RS3.

Am I the only person that worries all the good testers (those who report the issues they encounter and writes great feedback) will leave to the RS4 fast ring while all the rest will give little to no feedback? If the above is true, I fear the consumers will get a buggier release than previously. Then again, it would not make sense for Microsoft to offer this option, if it meant too low a feedback level... However, Microsoft are not particular well known for making GREAT consumer choices 😏 None the less, I will stay On RS3 fast, helping to ease the amount of bugs that will pass unpatched into the live ring.

No need to worry, Brandon LeBlanc said yesterday on twitter that "Skip Ahead" is device based so actually only limited subset can skip ahead to RS4 branch.

I have the option on my virtual machine and have set it, see what happens

I don't think that will be an issue, because they're limiting the number of users who can skip ahead: "We need to have Windows Insiders in the Fast ring helping us get the Windows 10 Fall Creators Update ready and giving us feedback on issues they are experiencing," the post explains. "So there will be a limit as to how many Windows Insiders can skip ahead. Once that limit is met, the UI on the flight settings page will notify Windows Insiders trying to choose to skip ahead that it's been closed."

Okay, thanks! I would have thought a limit on something like this would actually have a mention in the article, especially because it does not have a source link :)

I believe the announcement was in Feedback Hub, thus no link.

I know you can share a link for an announcement in FbHub as well, and all on the live ring have a FbHub version that supports opening of those links, whether it works, once that announcement is no longer the newest, is a different matter. Thank you for telling me about it, none the less 😌

HOV lane for Windows Insiders with more than one device. :P

Hmm I am getting a new Hard drive and will pertition it for regular Redstone 3 and insider's Redstone 4. that'ssthe best way to go if you can set it up.

I can hardly wait to see the reactions when an RS4 build trashes a bunch of Insiders machines and everyone forgets that they agreed that this might happen.

How is that any different than previous early builds? It's always been risky when they first make major changes.

That's why I only run preview builds on a virtual machine
Windows Central Newsletter
Thank you for signing up to Windows Central. You will receive a verification email shortly.
There was a problem. Please refresh the page and try again.