Microsoft will offer you up to $300 to trade-in your old computer for a new Windows 10 PC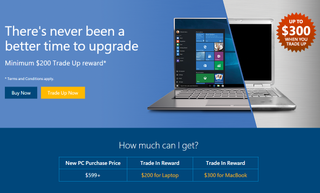 Microsoft is currently running a promotion called Easy Trade Up that sees the company offer up to $300 for trading in old hardware. Should you be on the lookout for a new Windows 10 PC, you'll want to check out this promotion to see if it can help you fork out for a more expensive solution. The company will offer up to $200 for an old laptop, or $300 for a traded in MacBook.
The promotion is available in Brazil, Canada, France, Germany, India, Taiwan, UK and the US. For those of you in the US, only purchases over $599 at Microsoft Store qualifies for the trade-up deal, which will last until October 20. Microsoft will accept all-in-ones, laptop or 2-in-1, Apple MacBook or an iMac. The device you wish to trade-in needs to be under six years old and be in a working condition.
It's up to you whether you believe you'll receive more money for your old hardware using third-party services to sell directly. Be sure to check the website for more details and terms for your region.
Source: Microsoft Trade-in Program
Windows Central Newsletter
Get the best of Windows Central in your inbox, every day!
Rich Edmonds was formerly a Senior Editor of PC hardware at Windows Central, covering everything related to PC components and NAS. He's been involved in technology for more than a decade and knows a thing or two about the magic inside a PC chassis. You can follow him on Twitter at @RichEdmonds.
Didn't sleep all night...

I just wondering what they did with my devices after I trade them

They burn the Mac Books and give the laptops to the needy with Windoes 10 preinstalled. Or maybe the just burn it all.

Can I trade in my Stream 13 for 200£ and get a better device

In the UK you only get between £30 and £100 depending on price of new device... And for some reason Pro devices don't qualify at all?!

Yup its quite limited. Not worth it.

I have a full Traditional PC ... Is it possible to trade that ?

I think the article is deceiving in that it says PC. It seems they'll take anything BUT a desktop.

From the site "Send us your old Laptop(s), Desktop(s) or Chromebook(s)"

Please make this available in Norway! Would like to swap my SP1 for a SP4.

Surface is excluded from the deal :/

Lol same with most xb1 deals which is a shame for early adopters that now need more space but who would prefer an internal hdd

Yeah, it's nice when Best Buy or GameStop runs a console trade-in real that has the 360 and PS3 with more in a trade than an Xbox One. I was going to trade my current One for the Forza or Halo one, but I'm not taking $140-145 from Best Buy for it, that's absurd.

Lol yeah instead im trading in my xb1(with kinnect/headset dont really use either) my 3ds xl(original ver.) that will nearly makeup the amount they've been offering at eb with their swap offer(trade in ps4 for a xb1 get $250 credit toward vise versa)

before giving out perks to mac users, ms should address the issue of defective lumia 930 mic 3&4 that has been circulating worldwide which renders the device useless in speaker call and everything voice recording related. they have yet to issue any official statement about it. i have personally sent my lumia 930 3 times within the last 3 months for the same problem. MICROSOFT take care of your existing customers first! then you guys can give out any rebate you want to whoever. @RICH EDMONDS, i think its about time this issue is brought forward. do your journalistic duties and make sure microsoft hears this

There's a forum section on Windows Central

the forum section is the least effective way to get ms' attention to this issue. besides, it pisses me off seing microsoft doing its level best to woo the mac users instead of taking care of the people who already supporting the platform. you are telling me to use the forum, i agree to a certain extent but ms dont care. once upon a time, tech sites like this will feature even the smallest discrepancies they can find on the device (remember when HTC used to sell devices without finished graphics driver?) people ike chainfire in the XDA-DEV forums discusses and all the relevant info is brought up on the front page of the portal where HTC finally addresses the issues. well i believe users like me needs an outlet for my voice to be heard because. i have been brushed off by ms support, people over at their official forums and so on, a major news site like this should be looking into news that affects users directly. i believe WC should start reporting on user side of the news instead of just focussing on the corporations' side (not just MS). the news is not ballanced and really biased to one side in my opinion.

You're complaining on the wrong site try elsewhere ie. Engadget, cnet, etc ,etc

Engadget just changed its commenting system to maybe me create a new account with them. Left that tire fire.

My 925 MIC broke for speaker phone and Cortana, its super annoying. I have heard a deal of 925 mics breaking.

My 920 is the opposite. I always use speakerphone because people say I cut out otherwise.

My 925 had that problem, and it turned out the headphone jack was bad, so it thought I had a headset plugged in. Replaced the headphone jack assembly and all is well again.

Definitely not worth the effort so close to a new device. Any way to confirm the malfunction though?

It realy wasn't that hard to replace the heaphone jack, and it only cost like $7. (And then you would have a good spare phone if you might need one.) One way to try to confirm while on a call would be to plugin a headset/headphones and unplug it and see if it starts working. (Or changes) You can also try wiggling a headphone plug in it a little bit. On mine sometimes I could hear them, but they couldn't hear me. Other times they could hear me but I couldn't hear them. Something else to note is that the assy. includes the USB port, headphone jack, and the microphone on the top of the phone. (So if your USB jack is getting loose this would fix it too.) While I had mine open I replaced the battery too, but that was a real pain as it was stuck in there really good.

I'm not sure if I understand your problem. Are you complaining that you can't record your call while it's on speaker? Because if so, that's not a bug, Microsoft has deliberately blocked those microphones from working since the update from WP7 to WP8. I remember there was a call recording app that had a ton of legal warnings, and it disappeared from the store after Windows Phone 8 came out.

the problem is, on a lot of high end lumias that uses the 4 microphone array to pick up better sound, 2 of the mics will cease to function. these 2 mics (no 3&4) near the ear piece, is used for recording voice notes, whatsapp voice message, audio recorder etc. by default, so all the apps that records anything will fail to record any feedback because the mics are broken. its a manufacturing defect. so basically MS is selling defective products to people. i know they will not address the issue officially because it can trigger a major recall. im just curious as to why windows central (which i consider the de facto site for everything windows) does not cover such news. i know i sound like im complaining but i believe that this is a valid issue to be discussed and windows central should be spearheading it.

I believe it was an update that disables it improperly because in some cases it works (like landscape mode I thought). I was waiting for gdr2 to be pushed out to my 930 or maybe just wait for win10.

Thank you very much for explanation! I can't do any speaker call last year on my 930... I thought till this moment that I broke my phone...

I am curious...what will MS do with those MacBooks?

Take them apart to see how far behind Apple is or something lol

You think they havent done that already?

Id assume resell with w10 bootcamp/parallels installed on their ebay portal where it can be seen & not heard

Because it's already available in India https://easytradeup.com/in/en/pages/tradeup/terms

i have a lenovo pc dated 2010.
hope this offer comes in india soon

Offer is valid in India. But looking for the source and the stores participating

It IS in India - says so right in the article https://easytradeup.com/in/en/pages/tradeup/terms

Where can I claim dat offer ..i mean is there any website or a kind of thing

You should read dat article and click on dat link at the bottom. Dat should answer dat question for you. :P

I would be up for doing this if they bring it to the UK EDIT: Reading the article again. IT IS!!

What about for a Surface 2!

Not here, as usual... I swear, we NEVER get any sort of deals here in Scandinavia! :-/

Just bought a stream on Monday - damn!!

Can they do the same for trading 930 for 950 please

I'll give them both my L625 and L830 (plus my gf's L520) in exchange for a 950XL. Heck, I might even leave her with just the L520 and throw in her daily use L830 to sweeten the deal. Ha ha!

for a moment that sounded like 'I might even leave her.....' if they give you 950XL !!

Was thinking of getting rid of my amd 486 dx machine, running dos 6.0! But alas it does not qualify by many many kilometres! Can always lock the hard drive.....

It is ridiculous in Brazil... The promotion does not apply if you buy a Microsoft Surface or a device with Windows Pro. Besides that, we get back R$ 200 if we buy a new PC between R$ 1100 and R$ 1499, get R$ 300 if we buy between R$ 1500 and R$ 2499, and get R$ 600 if we buy R$ 2500 or higher...

Is any other company that regularly providing these tradeins?

Surface products are excluded. :-\

This is probably part of that advertising campagn that Microsoft is doing to boost OEM PC sales.

Can anyone please share me the terms for India??

Just change the language in the URL: i.e. https://easytradeup.com/in/en/pages/tradeup/home https://easytradeup.com/in/en/pages/tradeup/terms

I wonder if the old laptops gets cleaned up and sent to Bill & Melinda foundation, then donated to poor kids. That would actually be kinda cool. I'd definitely trade up one of my older laptops.

What of Surface Pro 3? Has there been any word of a future trade in program?

I don't like these kind of offers, how is a 6 year old MacBook with lowest spec worth $300 when a $3000 laptop from 1 year ago is worth $200? They should just say up to $300 off and then look up the eBay price of whatever device is being traded. I get the convenience part of this offer but people would be much better offer checking their old devices value first.

Obviously if you have a pc worth more it does not apply to you. But if you have a 7 year old pos sitting about that cannot get 10 and you never use it anyway. Go ahead trade it in get $200, makes that $600 machine 400. I suspect this is cause oem partners are pissed about surface book. Hence why no surface products are included. Posted via the Windows Central App for Android

Read the terms. Not valid when buying a Surface or anything running a Pro Windows OS. Disappointing.

What is the uk link please?

Wouldn't mind trading in my 3 yr old Alienware M17X for a Surface book with DGPU. But not for $200 lol.

£30-£100 in the UK? Rip off, yet again the UK gets shafted with bad pricing.

So if I trade my Macbook Pro from 2014 (2k euro) i get 300 $ in exchange? no thank you

Another hot air promotion.

Wish you could put the 200 toward a 950 or 950xl ...

I hope there's a scheme like this in windows phones. I'd like to trade my 1520 to 950xl

Damn that's means they won't take my inspiron 8200

I understand that this is to hit apple, but even if in Italy we do not buy much apple products it is just strange to leave us out. And that can be said for all the EU countires left out....

I wish this also available on Australia. I want to trade off old 5 year old Lenovo Ideapad laptop.

I'll save more than that on Craigslist. Useless. People need to be educated on finding deals on the internet. There's so many people who spend $1200 (example) on a laptop and realize they can't afford it and sell for $500 on Craigslist. I literally buy and sell them for a living lol. Get educated people. :)

You're assuming everyone spent $1200 on a laptop that's 2 years old. This promotion would be good for me since there's no way I would be able to get $200 for my Dell Inspiron Mini 9 that's been collecting dust for the last 4 years.

If they gave me $50 credit for a old P4 desktop in my closet, it would be a WIN..... I am sure it's not.... I would bring in a stack of PCs, give me $50 each and I'll get a new one :)

Exactly how many old P4 desktops do you have in your closet???

What about Single Core APU/2GB Windows 7 starter edition devices from Compaq, Acer, Lenovo? What about convertible tablets like ASUS T100? I think getting $200 for these devices is a steal, great value for your money.

Only Mac Books? What about other devices?