Microsoft will reveal info on new 3D printing file format during Build 2015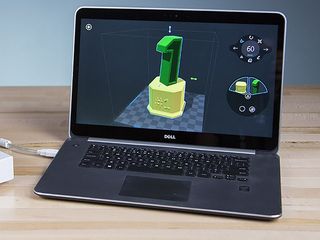 Microsoft plans to offer more information on plans to develop a new file format for 3D printing as part of its Build 2015 developers conference next week in San Francisco. The reveal will be made as part of the session "Developing 3D Printing Applications and Services in Windows 10" on April 30.
Support for 3D printing was added natively into Windows 8.1 in 2013, with the goal of making that kind of work as easy as printing a word document is right now. However, Microsoft says that current file formats are unable to realize the full potential that is available from modern 3D printers. The company describes what a next-generation file format will have to do to work well with 3D printers.
Microsoft says that a new, but unnamed, industry consortium, has already been formed to create this format. HP has already been announced as a member and we would assume Microsoft is part of the group as well. Again, we should learn a lot more about this effort at Build 2015 next week. We will be attending the conference and will offer first-hand coverage of the event.
It would be cool if Microsoft developed a light weight CAD application and included it in an office 365 subscription. I'd be down with that.

Seems like MS is trying to oneUP Apple in this area of Desing...
....
Wish they would also focus on music production.

3D printed camera grips, and accessories for Lumia devices.... Who needs GoPro❓

Traditional mass production is alway cheaper, qulity is higher. The only case, if you want something you can't buy anywhere.

They later comment you made is what fueled my original... But, I agree. We're just so small we have to depend on those smaller startups to fend for us...

Like Lumia accessories, for example!

It would sure be great if Microsoft led what looks like the next industrial revolution. Can't wait to see what they come out with.

Man, if they seriously advertised everything they have reveled around W10 this year, they would flood the airwaves, and that would have a huge impact on perception, and market share.. They really have some nice things happening.

I agree MS has some cool things going on with windows 10, keys house they market well. Hopefully they will follow Samsung's example in this regard.

Samsung, Google, Apple, Ford, Toyota, Chrysler, Bavarian Motor Works, Kraft, ConAgra Foods.... Micky D's, McDonald's, Mackers,, whatever you call it. Lol❗

Don't forget Mercedes Benz, Honda, LG, hell even HTC lol.....

Pretty much any company that has a terrific product, or service, that wants people to know about it.... Well, with Surface we can add MS to that list. That's promising. MS increased Surface sales year, over year, almost 50%❗❗ Proves what great marketing can do.

I agree, I think MS did a good job advertising the surface pro 3. If they do the same with Windows 10 sales may increase due to awareness.

Hell, yes❗ And, with Lumia, Hololens, and the MSB2.... Whatever that is.

No,, you will wait.... I can't wait, so I will sleep until Wednesday.

Lol, I don't see a flagship being announced at build.

Yeah, probably not going to happen...... No leaks❓ But, it's ok to dream.

I, on the other hand, believe they did a poor job, even with Surface. Microsoft tend to market by doing a couple high production, high cost ads, and run those on air only for special events (superbowl for example), or infrequently over a couple weeks only. Samsung, Apple, even the initial Android ads, tend to be low cost, shorter, more interesting, with better music, and are generally run over and over again providing better brand awareness. From my perspective, Microsoft's marketing efforts honestly sucks.

You are right but I think that the surface ad campaign was a step in the right direction, let's hope that MS steps it up.

Well. I mean, I have to agree with that as well.....
One of my biggest gripes about MS marketing is that it comes in spurts.... GooSaPple doesn't let up... Ever❗ They are relentless, and MS should be the same.

I agree Rodney, they can afford it and they can't afford to not do it. I feel if of things are the same by fall 2016 it may be over.

Lol... So, you mean people will be using file boxes to clean out their cubicles❓ Lol.

What I mean Rodney is if there isn't improvement then WP will stay as the distant third that gets little support.

You're correct, their marketing is relentless, and generally creative. It apparently make folks want to own their product. Based just on the body of work over the past decade I can easily visualize (and I may be wrong here) that the adv agencies used by Microsoft's competitors are staffed by young energetic twenty-year-old, brimming with ideas and in touch with modern hip culture, whereas the adv agencies used by Microsoft are run by old geezers, so old and affluent they don't even go to work at the office anymore, and are out of touch with reality. Even if that's even remotely close to being true though, end of the day Microsoft is responsible for accepting/approving all work done by their contractors so MSFT is still to blame for their own poor showing in marketing and public relations.

Now THIS IS FUTURE. This and HoloLens should work hand in hand. In fact, I think this was made keeping HoloLens in mind. This shows that MS isn't playing around with HoloLens. ShitJustGotReal.gif

Cool stuff. It would be great if people could come together and make up a universal format for general EDA design layouts too. Too bad you have to choose between Cadence and Synopsis and cant switch between each other

Can't wait to 3D print my new Windows Phone flagship phone!

I used 3D print quite a bit, I think it is good for prototyping, but not much else.

Well, if it cuts prototyping time in half, or more, then it definitely is the future of design.

Microsoft really needs to make a CAD application alternative, hell entire Adobe suite for cheaper. It will include stuff like visual studio features, Blend, etc.

Isn't a lot of 3D printing done in Minecraft? You'd think they'd make use of that since they own it now.

I can't understand what more information the new file could possibly use. Gcode completely defines what the 3D printer needs to do to make the part, whilst an STL is a polygon shape which defines the whole thing. I'm not sure what MS goals are here, and more to the point, what problems are they trying to solve. If MS really wants to bring 3D printing to the masses, then it should really have a look at releasing cheaper CAD software with the slicer integrated.

Let's just focus on getting Win10 done... with file and driver support... drag and drop integration between phones, printers, pcs, laptos, tablets... etc.... even if it's a network neighborhood type interface... shocked that my Lumia 1520 with Win10 and my Intel I7-4770k PC with Win10, both logged into the same wireless network... have no provisions for browsing one another??? and the 1520 still can print to my printer.... this kind of stuff has to be finished before we trott along ad nauseum about Win10 design language 2.x and 3D drafting apps for Office.

I know. If only Microsoft had 100,000 employees to work on projects simultaneously. Too bad they only have that one guy coding in the basement. Trying to plan things for the future is too much for that poor guy.

And that poor guy still has to deal with his mom calling him up for dinner and the occasional shower. ;-)

Perhaps they're looking forward. While existing formats work for what printers can do now, eventually the tech will grow. Printers of the future may be able to switch between materials on the fly, making prints composed of multiple compounds. Our maybe the density of compounds could be adjusted. Who knows?

But that can all be controlled in gcode. It literally is nothing fancy to do, if the technology were capble to do it. Changing materials would be no different to turret mills or lathes changing a tool. I'm just sceptical and concerned about changing a technology which works and has been refined over the last 60 years (numerical control was a WW2 development). Gcode is capable of defining any aspect of how a CNC machine operates, that's why it was so readily adapted from subtractive manufacturing (mills and lathes) to additive manufacturing (i.e. 3d printing). This could potentially fragment the technology in a bad way. As it is, you have websites such as thingiverse or youmagine, where people put up STL files, and anyone can send those to their slicer, adjust print settings, produce the gcode and have it print.

They should partner with Carbon3D on this. They have revolutionized 3D printing. Check out the TED Talk about it where they give a live demo. Impressive stuff! http://www.ted.com/talks/joe_desimone_what_if_3d_printing_was_25x_faster http://carbon3d.com/

Gotta love it when they announce the announcement.

Nice, but will mostly be useful for prototype testing... Don't really see 3D printing taking off with today's average consumers who are just too dumb when it comes to technology.

.stl is the accepted file format for 3-D printing from SolidWorks, the most popular AutoCAD software at engineering firms at the moment. We'll see what the adoption rate will be of this new file format

...meanwhile at Sony HQ a top secret format to compete with it is in the works. Why? Because who doesn't love format wars! Long live Betamax and Memory Stick Duo!
Windows Central Newsletter
Thank you for signing up to Windows Central. You will receive a verification email shortly.
There was a problem. Please refresh the page and try again.