Microsoft says Windows Phone has hit 'critical mass' with latest app push
By Daniel Rubino last updated
Has Windows Phone finally come of age? Microsoft emphatically says 'yes'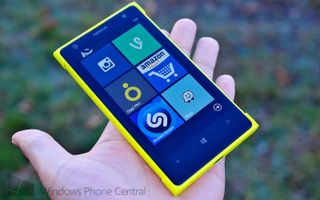 With today's announcement that Instagram has arrived for Windows Phone along with Waze (Mint and Xbox Video are still "coming soon"), Windows Phone as an operating system has finally reached a significant turning point. At least according to Microsoft.
We recently sat down with Todd Brix (opens in new tab), General Manager, Windows Apps and Store at Microsoft, who walked us through some of the recent accomplishments. Brix and Microsoft are claiming that with the recent spate of app releases, a "critical mass" has finally pushed Windows Phone into the big leagues. Windows Phone now has parity on most of the top download apps found on iOS and Android with an "85% overlap" in top-25 titles, according to the company.
Microsoft always knew that when they launched Windows Phone three years ago that they were behind the competition. However, they sought to compete on quality and not just quantity, knowing that someday, they would reach that goal. That achievement, according to them, has been reached this month, culminating with today's release of Instagram—the number one searched for app on Windows Phone. Brix claims not only is Instagram a real achievement, but symbolic one for the platform too. Same goes for Vine, which launched just last week.
Is Instagram the turning point?
Brix and his team were excited to share numerous stats about the Store, including how Windows Phone apps, on average, are rated higher than their iOS top-50 app counterparts. Indeed, the average Windows Phone app rating overall has increased from 3.6 to 3.8 over the last year, signifying the renewed focus on design and quality. Some of that success is due to partners like Nokia, who have been not only aggressive in courting developers, but have lent assistance in terms of design and promotion for those apps with their DVLUP program. While other hit apps and games come from the successful AppCampus, a joint venture between Microsoft, Nokia and Aalto University.
As an ecosystem, Windows Phone has been a sore spot for many, especially critics and would-be customers. The Windows Phone Store though seems to be riding through the storm, accumulating nearly 10 million app downloads a day, with users sporting an average of 65 apps on their phones (up from 42 a year ago). Combined with consistent design principals and exclusive features like Lens support and multiple Live Tiles, Microsoft have made some significant strides for their app offering. In fact, Microsoft claims that if developers add a double-wide Tile to their app, they see an average of 0.7 rating increase from that one, little change. That not may seem like much, but in reality it's a noteworthy increase for such a simple, minor code change.
The Windows Phone platform does have some significant advantages over its competitors, including overlapping libraries for coding between Windows 8 and Windows Phone, making coding easier for both platforms. That's becoming more and more common these days, something that will increase as both platforms merge in the future. Likewise, Microsoft has embraced carrier billing, allowing those without credit cards to purchase apps, notching 2x as many carrier billing deals over Android and surpassing Apple. That's not a big deal for those in the West, but in emerging markets, it's massive. And it's in those markets that we see the most growth for Windows Phone these days.
Slide & figures courtesy of Microsoft
Official apps launching on Windows Phone first is also becoming more common, especially in high growth markets like India. Recently, the official Indian Railways company (IRCTC) launched their first ever mobile app on Windows Phone first, beating out iOS and Android. Likewise for the movie-tie in game Dhoom 3. The IRCTC app was the second most popular app for Windows Phone for the second half of 2013—it's nothing inconsequential for the platform.
Ultimately, Brix sees Windows Phone finally turning the corner with a renewed vigor this holiday season. Microsoft has their new Gift Card program, where they've invested $100 million to increase apps sales, new headline grabbing hardware like the Lumia 1520, and nearly all the top apps users demand these days. Will it be enough? Perhaps not, but Microsoft has always said this was a marathon and not a sprint. Today, they inched up just a big closer to the competition.
Daniel Rubino is the Executive Editor of Windows Central, head reviewer, podcast co-host, and analyst. He has been covering Microsoft here since 2007, back when this site was called WMExperts (and later Windows Phone Central). His interests include Windows, Microsoft Surface, laptops, next-gen computing, and arguing with people on the internet.
When Xbox video comes, then I'll say yes, its at critical mass. It just seems so basic to an ecosystem.

XBox Video will be huge for me. Still can't believe it wasn't included when WP8 was first released.

What's even crazier is that its been over a year since WP 8 release and it's still not available. They could have left it out in the beginning and released it a few weeks after, but a year already and nothing! That's crazy.

It's typical Microsoft. Non-US users had to wait a year after WP7 released just to buy music, videos, and passes on Zune.

So you will be happy very very very soon!! :)

Xbox video will be awesome. I actually have a decent amount invested in the platform, and this app will finally link one of the main things I use my Xbox for to my phone

Very nice, the only problem for Windows Phone now is the Moto G, the weapon that Google designed to kill It.

Huh? Its $70 more than the 520 which will soon to be upgraded to the 525 which runs smoother than most android phones including the Moto g.

sorry. but the 520 is no comparison to the moto g. the only thing budget about the moto g is the price.

The Moto G has comparable specs to the Lumia 925 or the Galaxy S4 mini at a fraction of the price. I don't understand how google could reach that price point.

Maybe they are selling at cost.

Maybe they are selling below cost.

According to some people, selling something really cheap is a sign of desperation. Does that apply to Google?

Yeah man, I too was curious about the story behind the Moto G. It is a great phone on paper and I am sure Jellybean runs pretty smooth on it. I can only imagine Nokias' next 620 gen will be directly aiming at this device, and Nokia too will have to take a lost for each sold. It is the only way I see that device so low lol I was like damnnn they got almost everything, they left out the SD Card support and I don't think Nokia will follow they know SD card is a must with 8GB storage

By not having comparable specs perhaps? Seriosly, it does not have comparable specs because it will have a worse camera and you don't know about the actual quality of the screen. Resolution is not the same thing as quality, it's good with resolution but there can then be signficant differences even the resolution is the same. The GPU in the Moto G is the exact same one that is used in the current Lumia 520 and is in all likelyhood slower than the one in the Lumia 925. The CPU is equivalent to the low power part of Samsungs octa chip, as it uses 4 low power A7 cores which are very likely to be slower in reality than the higher clocked dual core in the 920 series. The iPhone CPU clearly shows that a good dual core is competetive and the higher end Moto X also uses a higher clocked dual core CPU. This is at best a mid range device from last generation and not at all comparable to last years flagships. That's how they reach the price together with Google likely accepting a very slim profit marigin.

It could never kill WP unless it was running something other than Android. A LOT of people are scarred from using the OS and vow never to use another Android mobile or tablet again, no matter how cheap it is.

Anyone who is talking about Google devices and trying to compare prices to others is sooo wrong. Google is making its money with ads, while others are making its money with devices. Buying Google device, means you will continue paying it with your tracked life, that will be sold to ad companies. Buying non-Google device will mean, that you payd your device already. Thats why prices are different.

So true ! Thanks for This comment

Stuff Xbox video, they need to fix this filthy music player first

Follow me on instagram! @kaaspparas :D

I've never tried Xbox video. How would you guys rate it? Is there a monthly subscription, or pay per film? Thanks for the feedback.

Yeah... Moto G outspecs anything WP at the price point. It is a nice phone, but it is being sold at cost. Its possible a Lumia 630 could address it though.

Well, I've never used it on a phone, obviously. But I've used it on my Windows 8/8.1 laptop and my XBOX 360. Here's how I break it down...

No subscription (kinda wish they would, though, as an option) You can purchase or rent TV shows and movies Purchases and rentals can be streamed or downloaded for offline viewing (rentals expire) Streaming is phenominal on lower bandwidth connections; I can stream video on less than 500kbps (this is better than Netflix, which is saying something because Netflix does good at streaming connectivity)

Every once in a while, I've had issues with downloading a file. I typically credit that to a low bandwidth connection, but their support is great if you connect with them through the chat. Got refunded so much once, that I went and purchased an album on XBOX Music with the amount of points they had refunded me. They're using a pretty solid model, and I've been satisfied or dealt with nicely when I was disappointed. Since it's a pay-for-view style model, you may as well give it a shot and decide for yourself. If I've mislead with anything here, somebody feel free to chime in.

Thanks for the detailed information. I'll give them a try.

Ya that but wait a min, critical mass and they only have a pathetic 3.6% marketshare - is the dude high?

critical mass from the perspective of apps and app parity on other platform he didnt mention marketshare at all..

Exactly, without a video service or working youtube app then its still behind.

For me it still needs an official release of Starbucks (outside of Mexico, preferably a UK app)

There will also be *that* app that is missing, but the app-gap is rapidly closing. To the point that most of those apps that you really want *are* in the works right now.

Grindr is still missing, (and not even in the works) there are alternatives, but with tiny amounts of users in comparison. There is actually an unofficial app at the moment, but dont tell them that as theyll block it like they did the last one. Its no secret that the pink pound is a powerful currency, but theyll be a hard sell to leave their iphones without Grindr... Perhaps a twitter campain could help? ;)

You speak the truth. Funnily enough, the majority of the folks that I know who use WP are gay. Sure there's Scruff and the like, but if you think instagram is a killer app, wait until Grindr comes out. The gays can make a platform and as we're already seeing iPhone weho boys migrated to Galaxy S4s, I could see the same for WP. Also, an aside: on Fire Island I spoke with some guys about the Lumia 1020 and they all liked it (especially the camera) but the app selection, like Grindr and Instagram did actually come up, partially in drunken jest but still it's noticable.

So start a Twitter campaign then! We've already started one to prod Microsoft executives to dedicate more effort to Xbox gaming on Windows Phone (#SaveXboxWP). Start a hashtag for getting Grindr, let us know on WPcentral, and we'll help you nag them on Twitter. The social movement is in your hands! Lead us.

I would... but if I'm honest I don't really know a lot about twitter, I only follow Jeremy Clarkson and Lisa Vanderpump, and don't have any followers myself :-) But if someone else wants to do whatever it is that needs to be done, I'll be happy to copy whatever it is to my thing :-) He he

Okay, I'll help you get started. I created a new hashtag movement called #MobileEquality. Twitter users can use it to petition any company that has an app on iOS and Android but not Windows Phone. I created the first tweet lobbying Grindr to support Windows Phone. You should retweet it, have your friends retweet it, and write your own tweets to @Grindr with the #MobileEquality hashtag: https://twitter.com/opticon9/statuses/403327175006253056

I'm not holding out for Grindr or Manhunt for WP8. :( Both seem perfectly content in ignoring us.

Grindr even supports Blackberry... BLACKBERRY!!! That really is a kick in the face for the WP platform!

What pisses me off is that they blocked a Grindr app with the promise we would be getting an official client. That was over a year ago. And yes, at least there's Scruff. The new version is in beta right now.

There is another third party app called Meet'm, which works better than normal grindr. Although it did have some quirks at first, it used to send you a message to say if someone blocked you, but if you replied to it, you were unblocked... Which was quite funny. Doesn't do that now, i guess some people were getting blocked a lot and didn't like it.

Lisa & Clarkson? That's an interesting choice for 2 people to follow! I really only need an Amazon MP3 app and I'll be pretty content.

The problem will not be the big apps that are missing but the apps that complete the experience. (mint, DirecTV, HBO, dish, Comcast, plants vs. Zombies 2, ShowTime) These apps are not the ones people are screaming about like Instagram, but they really do help personalize the phone. I'm sure there's other apps people miss when they pick up a Windows Phone.

Yeah hbogo and DirecTV would pretty much wrap up my phone as an all in one entertainment device hopefully soon. Outside that I still have zero interest leaving WP anytime soon.

All the little apps for banks, stores, etc. That's when we've got critical mass. Target's apps, for example, only iOS or Android. Seeing WP as an equal third option there would give legitimacy to the OS. It's not a flashy app, and most people wouldn't even use it, but it's that little unquantifiable extra.

I was wondering for a long time why US banks (except Bank of America and Chase) are under-represented in Windows Phone Store. It's because companies like MitekSystems, that handle the backend support for bank websites, and hence their bank apps, don't support Windows Phone.

Look what iTheVerge posted about WP http://www.theverge.com/2013/11/20/5117180/windows-phone-turning-a-corner-app-gap

Makes sense because the app they quoted on REPEAT was Instagram, Instagram, Instagram. I don't know what little snipe they'll add to EVERY review now.

Daniel, Would you put an official fitbit app that syncs in the category of "are" in the works? Even a wink, nudge response would be appreciated if you're bound by some type of NDA.

Danny..When will be VLC coming to windows phone..is that the kickstarters still kicking on it

I use Starbux to manage my Starbucks cards... If this is what you want to do, you're covered

I would love an official version, I won't deny that.

Where is the Sirius-XM app? a working WWE app?

People still watch WWE? Interesting....

Most popular longest running show on tv

The thing about the Starbucks app isn't a big deal for me. I just wanted to pay by phone like those other guys, so I didn't need to carry that card around. That was an easy fix for me: Use an iOS/Android device to bring up the QR Code, then take a screenshot. I send it over to my L920, and set it as a favorite image for easy access. Done. Sure, I don't get to see my points balance, but I would only do that occasionally.

I love my windows phone more and more as time goes. I'm so glad I chose ATIV S instead of Android phone. :)

ATIV S is a great phone. I got to use one in store and really liked it. I have a Lumia 1020 which I think is absolutely amazing but I think more people should buy Samsungs ATIV line as well as HTC's 8 series. If only to encourage those companies to continue building Windows Phones.

Yes, I couldn't agree more. I have the Samsung Ativ S and it really is a beautiful phone. And the recent app push has been great, loving it! Now I'm just waiting for Temple Run 2 and Fifa 14, and my app-wish list should just about be complete.

I would've bought the 8X but HTC dropped the ball on the specs, and haven't bothered to release anything else. As much as I like HTC for their years of supporting WM, their WP efforts need drastic improvement.

Not to be greedy, but if we had HBOGo and Flipboard (I know it's on its way), my experience will be pretty much complete. Oh yeah, and a Sonos app.

Would be nice with official Sonos app, but for me, phonos does the job just fine. Even the wife knows how to use it!

What's funny is there's an HBOgo app in Romania that's been available for over a year lol. And fuck yeah, Sonos is soooo needed.

I've played with the HBO GO app. Its actually well done. Is there anyway we can convince HBO to expand support?

HBOGO will never be mission critical for the same reason Pandora wasn't (and was oversold as such) because it's US ONLY. No app limited to the US will every be of the same stature as something like Instagram.

This is true. Instagram was literally the top-searched app in the Store. Not saying HBOGo isn't important, but it will come in due time. The point is, with today's announcements (and others coming), WP is finally at a turning point. It doesn't mean we're 1:1 with Android or iOS, but rather it's now the definitive "third way".

Daniel, do you know of anyway we can directly request for HBO to expand that app to us?

I'm not Daniel but you can use Twitter to let them know you want it, if people ask for it they will know there is a userbase that want's it. The same goes for all apps contact them and let them know you need/want it.

I'd like to have HBOGO, and ESPNGO (or whatever it's called).

Flipboard would/will be stellar!

Xbox music needs an update. I really want to be able to manage my cloud collection from my phone and not just the desktop app or the web.
I can't wait for Xbox video and I might get back into mint too.

I don't know about critical mass, but it's getting very very close. Now sales associates can't say "It doesn't have Instagram" and whether we want to believe it or not, that's huge.

They'll still probably say it for a couple of months, just because they don't check.

Probably gonna take a full year for them to find out "oh, WP got instagram" ;)

So true as much as us fans of WP may not want to acknowledge but that was a barrier for the younger buyers who spends the majority of time on Instagram. I have a teenage daughter and her friends live on Instagram with their Android and iPhones. So I'm glad that WP now has Instagram; as you said hopefully sales associates will be knowledgeable and state it to potential buyers. Way to go Nokia and Microsoft for getting this done!! Pround owner of HTC 8XT on Sprint.Now if only Sprint can get Lumias but that's another topic for another day.

They will probably still say WP doesn't have Instagram...and maybe even some will say " WP can't post to Facebook"

I hope that doesn't impact sales of WP7 devices going forward...oh wait.

Might not impact sales of WP7 devices going forward, but it may prevent some of us current WP7 users from moving to WP8 when we need new devices. My wife & I have been on WP7 for 2+ years, but I'm not sure I want to hitch my wagon to WP going forward because of the app situation. Apps not available, or becoming available WAY after Apple / Android doesn't help. The situation may be better for those with WP8 right now, but it doesn't feel any better for those of us who have been left behind with WP7 and haven't had access to those updates.

If you understand the technical limitations here then this becomes a non-issue. The apps simply aren't compatible, and a lot of extra work is required to support WP7. There is no need for that kind of hard break to happen again.

Wait.. what? I don't get this. Why would Instagram on WP8 prevent you from moving to WP8 when you need a new device? Wouldn't that be a motivation to upgrade? Unless you're just doing it out of spite for reasons like "damn, they didn't put it on WP7 (which is an almost 4 year OS and ending support in 2014) so I'm out of here and switching to android!" Honestly, you rarely see apps even on other platforms being made that far backwards compatible. 2 years is a stretch, let alone 4. I'd say stick with it. This is a good sign, and meant to show that the app ecosystem is growing. It's not a reason to be a stick in the mud and leave just as soon as the system hit's a good pace (or as this article calls it, a "critical mass") Apps coming out for a newer platform in no way impedes your ability to upgrade and get those apps. It's like complaining that no one makes applications for Windows XP these days, and then saying "well screw it, I'm switching to MacOS"

And what about my wm 6.5
Think they completely forgotten about it :(

You need to upgrade to wm6.7

WP7 isn't supported because while they look the same, the underlying architecture is COMPLETELY different. This won't and can't happen again because windows phone is on the same architecture as windows 8 now.

Sure, but let's be honest, MSFT technically could've supported upgrades from WP7 devices to WP8 (minus NFC). If the HD2 was hacked to run WP8 (which it was), then it is/was technically possible, however, they chose not to do it for reasons other than those publicly stated. Was such a small installed user base at the time that, presumably, they thought the risk was warranted.

Is it out yet❔ shit, I've missed it...

They need to aim for the top 50 titles on Android and iOS now that they've accomplished the top 25, and work at speeding up development and distribution of their own products (xbox video, updated office, etc.)

You mean marathon, sprint is a type of race too! :D

I thought a marathon is a race as well? lol I mean there's a winner, no? Still, marathon does sound better, duly noted.

Hey, you guys are doing an awesome job. So awesome that I'm addicted to reading your articles, first thing I do every morning! ;)

And the last thing I do before I get to sleep. Reading article through WPCentral app on my sweet Lumia 720 :)

I would so be over 720 was it not for that stupid Drive without plus limitation. So now I have the 620 and I actually bought a second shell and am enjoying it.


I'm pretty sure marathons are called snickers these days.

I laughed harder than I should have at this.

We have at last reach The Tipping Point! (Malcolm Gladwell would be so proud...) Now watch its marketshare double in the next 18 months.

Outstanding read! I recommend highly!

Love my Lumia 925. Such a great experience. Can't wait for Mint, and hopefully my bank app (PSECU). Only two apps I miss. I'm excited for the future. Plus, I love being that "cool" guy because no one else has wp8 phones.

I have to agree with you there. I feel unique riding on the NYC train with my Lumia 928. It's an iPhone world down there. At least 70% of the riders use the fruit phone. The rest are at the mercy of Android. Passengers sitting next to me are always captured by the difference they see on my WP. Many have made inquiries about the platform.

I only want a bullshit free official youtube app and flipboard then am happy

Well, Google's jerkishness level may be softening a bit as they just updated their app and don't they own Waze?

I don't think they control Waze enough yet to stop the launch of the WP app. And they update Search because they know it's an easy switch for users to Bing on their Windows Phones, and not something that would make someone leave the platform. They also know that YouTube is not something most people can give up, so having no official app on WP is a way encourage potential customers to steer clear.

Have you seen this? http://www.microsoftstore.com/store/msusa/en_US/cat/Scroogled/categoryID.67575900 Do you think google is feeling the MS love now? I am sure google is not even bothered to make any apps for WP. Why should they? http://www.theverge.com/2013/11/20/5127052/microsoft-scroogled-mugs-t-shirts-store

Why do you care if it's "official"? MetroTube is better than the "official" YouTube on Android or iOS.

not gonna happen anytime soon.. they only make wp apps for wich MS has good enough alternatives.. they will be doing this (not making apps that people want the most) for as long as it slows down wp sales.. or for as long as it stays at the point of MS losing profits and not google

I am very happy with the release of some of the latest apps and the news that some big time apps are coming, but I am becoming more and more concerned with XBox Live branded games. MS really needs to figure something out with there certification process.

Agreed. As someone who'd like to publish games in the near future I'm also concerned by this.
Here's what they need to do:
A: Reduce the prices a little. That markup is criminal. Maybe just have a higher percentage cut rather than enforce a price, eg MS takes 40% of the earnings rather than 30%.
B: Allow indie apps to be Live certified.
C: Reduce the certification requirements to something as simple as 1) achievements are all possible and difficulty must be relative to gamerscore reward (no gamerscore farms), 2) correctly age-rate the app's content, 3) usual Store requirements, 4) games must be polished and professional, and 5) absolutely nothing else.

I don't think reducing certifications is a good ideea. Those are there to ensure a quality standard. This is also the reason for your B point. And considering that the Live tag increases sales I say the 40% rather than 30% is fair since the certification require additional men to test the game

I agree with you on the quality. I updated my comment with a couple of extras, like the polish and professionalism. The issue here is all the red tape around certification. It should be that there are a few extra steps on top of the usual app process, not that it's a whole different process in itself. Microsoft have every right to set an arbitrary quality level for Live games (and I encourage them to), but they don't need to take 6 months to test your app only to fail it. Sure, they need time to play through the entire game, but you could even have functionality here where they can put your game into 'testing' mode which unlocks all levels rather than requiring them earn everything along the way. There has to be a faster method that will get your game certified in weeks rather than months, and allow them to come back with a comprehensive list of issues that you can fix in one go rather than quitting testing on the first issue every time. I don't understand how this is so hard, and hopefully with the merge of the stores and the staff involved we will see a shake up of the Live certification process as well.

I agree with you. But I think the best solution is to increase the staff size. The problem with hacks like 'testing' switches is that there could still be a show stopper bug if you don't use the 'testing' switch. It they unite the windows store and most esentially with the xbox testing division then we should see some faster times. But the excuse that they test too long and then fail you it's not a good excuse. When you submit there should be no reason for failure. I mean it's cheaper for everyone to outsource the final game testing or create your own method

They should, however, give you all the reasons your game fails rather than taking 6 months for every item. Sure, some issues may not be visible if there's a blocking issue somewhere else, but you shouldn't have a fail the second time for something that was in the first submission but not mentioned. The Store certification process already gives you an exhaustive list of fail criteria, so you know that if you fix all these issues (and any new sections of the app enabled by fixing these issues pass cert), then your app *will* get in.

Congrats Microsoft really looking forward to Xbox video on my phone.

You guys/gals catch Daniel's tweet from about an hr. ago... Fantastic! =) @Daniel_Rubino: I just took an energy pill and now I'm having a beer...I declared war on my kidneys

I was shocked by that tweet and his reckless abandonment for his physical health. Not the role model my children were hoping for.

According to the latest stats, your children are probably overweight anyway :P Meanwhile I workout 6 days a week (flexes in mirror) and maintain a 13% BF comp.

My probably fat children are impressed.

There are some problems. Come down to Canada and you'll find that vendor support entirely non-existent: no apps for the major banks (RBC, TD, BMO, Scotia, CIBC), no apps for the grocery chains (Loblaws, Metro, Longos, etc), no apps for airlines (Air Canada, WestJet), no apps for staples (Tim Hortons, Cineplex, Goodlife Fitness), etc. Sure, Canada isn't that big of a market, but there are smaller markets out there with more local support (e.g. Australia). Microsoft needs to ensure local support is consistent (in a good way) across markets. Sure, it can't get all local vendors, but essentials such as banks and airlines should be factored in. If not, you won't get retention. That Lumia 520 user will jump to the iPhone or Galaxy instead of a Lumia 1020, that's not good.

I'm issing the TD app, the airlines and cinepelx app would be nice too, out of curiosity why would you need a goodlife app? to book classes?

I guess to see which branches are nearby or open late night, especially if you're travelling to another city for work. It's a perception thing as well, when people walk into a Goodlife and see them advertise mobile, it sucks that Windows Phone is no where to be seen or mentioned.

fair enough, i never get a chance to work out when i'm travelling for work so never thought about it that way

Yep, but still, $60 a month, I want my app.

i think those guys have their work cut out with absorbing extreme and renovating some of their gyms

Agreed agreed agreed. I need my TD, Air Canada and Cineplex apps. FWIW Cineplex does have a W8 app so maybe it's on its way- so does RBC. TD has said it has no plans. No idea about Air Canada. Frustrating as hell- we live in this weird market where BB still has something like 25% of share (not of sales but exisiting marketshare) and all of these companies support BB. Infuriating. At least Rogers has a WP app!

Agreed. Not having a TD app is my single largest grievance with windows phone. Aside from that a solid transit app is necessary. HERE Transit is useless in ottawa. Would also appreciate an app to access my schools LMS. Also US only contests really piss me off.

I would lobby my transit provider to make the schedule information available the the format that most use. it is a standard, but the name escapes me. i am in mississauga and get good results for GO, Mississauga and Brampton systems.

Well Canada is Blackberry's home base, and we all know far too well which platform participated in their push to the backburner. "Bittersweet?"

What are the missing 4 apps out of that top 25 most popular apps? Any guesses?

google maps? not that i need it on my wp

I need Autodesk 360 and Flipboard !!! And all of those apps should be converted to Windows 8.1

I've got flipboard on my Surface now... not sure about WP..

if WP8 didn't have WhatsApp, I can tell you that I woud NOT have gotten a WP8 yet. loving where WP8 is at now.

No. The turning point will be reached when Google and Microsoft bury the hatchet. Google is a big player, one of the biggest, like it or not. Official apps from Google will finally mean Windows Phone is a competitor. I don't like it, you probably don't like it, but it's the truth.

Google isn't making apps as WP IS already a competition. They do not want users to have same Google experience outside of Android.

From what I read, the Google experience is better on iOS than it is on Android.... Google was playing catch-up to iOS when Android came out, so they had to support iOS. Google just doesn't want Microsoft to succeed with Windows Phone, that is the only reason they won't support it at this point. If Windows Phone can get to 10% in the US, then they might need to reconsider.

Well, Waze is here and many thought it was or would be cancelled by Google. Google Search also got a nice update. Maybe things are turning around?

I doubt that especially after this https://www.windowscentral.com/e?link=https%3A%2F%2Fclick.linksynergy.co...
They just set the site up. Thought I'd tip you guys too.

I think its better this way. Not give a fuck about Google. They couldn't cooperate for this long, fuck them. Microsoft services are improving very well these days (Bing is even more better now. The interface is very much in par with the One Windows UI). Except for Youtube, of course. Its sad, but I so want to see Google come crawling back on their own will. They couldn't support WP but want close integration with Windows 8.1.? Nope, Google had its chance, its time for MSFT to go strong on marketing now.

Bing is a rotten pile of $hit -- that's the best possible description I can think of.

That's your opinion, but I love Bing and its future plans sound like it will be even more killer.

Exactly. People are welcome to have their opinions about Bing, but I absolutely love it now. :D

I wouldn't count on it, Daniel. Not a single f*ck has been given by Microsoft when it comes to getting along with Google. https://www.windowscentral.com/e?link=https%3A%2F%2Fclick.linksynergy.co...

I think you're confusing competition with business. I mean, Xbox One just got an official YouTube app. So how does that play into this if they don't do business together? Remember, in the business world there's jabbing your competition but they also can work together.

The Xbox doesn't compete against anything that Google provides, so there's no competition. WP competes with Android, so that's why there's only 1 google app... And its search (ok, 2 if you count waze, but there's still like 8 that aren't). I'm sure that if Google made the PS4, then the Xbox wouldn't get YouTube. Edit: and before you say "that's because its business" keep in mind that android, ios, and even BB all have Skype, so keeping your apps from platforms that compete with you isn't that great of a smart business decision.

And this is the basic reason google makes stuff for ios... ultimately they want that user base that they can't get any other way,

Exactly, hence why Google likely won't support Windows Phone or Windows 8 (Metro). It's sad that they're so insecure about their own platforms, but it's the truth. It's irrational that Google would ignore some tens of millions of users (and increasing) for this long. This is a deliberate attempt on Google's part to smother WP in the cradle.

This is why I firmly believe MS should not release Office for Android when the modern version comes out.At least not for awhile.

No, that's what Google wants MS to do... No Office on Android means stronger adoption of Google Docs. What Microsoft should do is offer each of its services on Android, but update them last, prioritize BB10 before Android apps if need be.

Exactly. Keep people using Office that is tied to the Windows ecosystems.

A better alternaive would be to get Skype running as perfectly as possible on WP, and then kill it on android.
MS would catch bloody hell for it, but so what? I had a youtube "app" on my Windows MOBILE 6.x device, and they pulled the plug. So why not return the favor?

Why? Because MS is unsecure as well about its platform?
Business is business: you do not give advantages to your competitors... unless your gain is greater. Simple as that..

Google Chrome has Metro app on Windows 8.

Partly true, but it isn't an ARM app from what I see.

Um... no they don't. It doesn't appear they have any Windows 8 apps.

Agreed. The official YouTube should be the next big app they need to get.

Why? It wasn't that big of a deal when it was released the last two times...

If only they'd get snapchat and oovoo.

most top apps? yes, but not good apps..

It will reach critical mass when WP gets: Flipboard Pinterest Candy Crush Snapchat

And then someone would amend it with their top apps. The point is, WP platform is now at a turning point where developers are finally seriously paying attention to it. It won't be 1:1 with the competition, but going forward, it will be taken more seriously. Microsoft is adamant about this message, hence the media push. Also, there are other apps coming...this wasn't the end of it, but just the beginning. Don't forget, Android is way bigger than iOS, but iOS still gets app first many times. Has that impacted Android? Has it ever?

Daniel, It seems your energy pill is acting faassst!

I hope your right.
But, I also hope Microsoft doesn't "rest" on their pursuit of courting app developers by concluding: "We've reached critical mass". On a similar note, I was happy to see Amazon Instant Video launching on XBox One, I'm taking that as hope for a Windows 8 and Windows Phone 8 app sometime in the near future.

Once again, you're speaking logic... and that doesn't work with a lot of people. :-/

Costco, so I don't have to carry the ad through the store or to another store to price match.

Don't forget square payment and/or intuit go payment

Try Cube CC payment, It has a reader too.

PvZ 2 FTW!!! And Dead Trigger 2 too please! Until these two are ported over to WP8 I'm staying with Android.

Love my Lumia 925 also. I know Mint is coming soon. Filebox seems to cover Dropbox. Looking forward to Nokia Beamer. But i do miss: 1) Amazon Cloud Player 2) Remote Desktop and LogMeIn 3) Banks and Credit Cards - PNCBank, Citizens, Fifth Third, Capital One, Chase, AmEx, etc 4) Travel - Airlines, hotels, etc Recently asked the National MS Society for a WP app. their response was that web stats say that no one using a WP ever looks at their website. iOS is most used. thus iOS and Android will get apps from them, WP won't. Seems it will be a long time for this kind of thing to change :(

2. you can use teamviewer for remote desktop operation, if anything. Also Mouse remote/PC remote are good solutions (paid). I would still appreciate native RDP support though.

Almost there. WP8 is missing many major games and that needs to pick up.

Agreed. I fired up my Android phone over the weekend and was browsing the Play Store and was shocked at how many games there are now(it's been a while since I've been on it). WP is way behind on the games front.

Still need Xbox video and snapchat but this is awesome!

We still need banking apps, Snapchat, and Google apps. Microsoft needs to keep pushing :)

Snapchat won't happen until Microsoft allows for screenshot blocking at the app level.

Why are google apps necessary there is an equal, if not flat out better Windows/Bing app??? (Except for youtube)

There are still a lot of stupid and useless apps in the Windows Phone Store, but Android had the same. And we all know now Android is kinda on the same height with iOS. Hope for Windows Phone it will also get better support.

So does this mean that there are currently 175000 apps in developement in the last two months?? Please correct me if i'm wrong but if that would be true it would be just amazing ... Windows Phone WTF f*** those haters...

Still need a official YouTube app despite metro tube and mytube are fantastic of course

Why, when MetroTube was better than the official app?

So true couldn't agree more i guess its just for the sake of it to be fair but of course google is not fair

Until we see Candy Crush the answer is no.

Thats absolutely true LOL. Follow me on instagram! @kaaspparas :D

Hahaha... Take your time to write something funnier! :D

Same garbage that was said about instagram.

Yup. No matter what news comes out, people will add a new app name that THEY want and claim ecosystem failure if they don't their toy immediately. That being said, hurry up with Flipboard! :)

Well done Microsoft, although personally I would express critical mass in marketshare not app availability. But considering the presence of Windows Phone in Europe and other markets its clear WP is taken off in many markets. They have a long way to go but I would say critical mass has been reached. RIght now the main challenge for MS is to keep WP fresh via updates. In my country WP haters have changed their arguments from 'no apps' to 'aged'. The OS always lacked a few features but now even the notative features from its launch in 2010 are considered bad points because iOS and Android can now do it as well only better. And while they are exaggerating, I must admit that they have a point. We need 8.1 and we need it now to keep the momentum going.

It's not even close to "critical mass". Sometimes I wish MS would just be quiet. It'll be "critical mass" once 3rd party developers start releasing apps in line with iOS and Android apps. Getting apps a year late helps, but doesn't fix the problem. If they can't get devs to do this, WP will always play 2nd/3rd fiddler to iOS and Android.

True, that's a good point. Most Ads i see, if not all, are underlined with 'For Android and iOS'. This just makes people think there really are only two choices.

Assuming Microsoft is using the term "critical mass" correctly, then I think they are there. Critical mass is simply the MINIMUM about to get momentum towards something more significant. I've heard "critical mass" in terms of marketshare is 5%. That's enough users to make an impact and get exposure and makes it possible to make significant gains. Critical mass for apps, to them must mean the number of titles in the Top 25 to push significant gains in growing users and developer activity. Critical mass is not the end, but a signal that they have the numbers to take it next level. FYI - we'll always be 2nd/3rd fiddle until Windows Phone exclusive apps are more prevalent. Just the other day there was some music creation app released on WinPhone first and when you go to the YouTube demo, it was nothing but Android users asking when it was going to go to their platform. THAT is how you get ahead of the competition. Now that they have "critical mass" of the catch up apps, they can/should push development of DIFFERENTIATORS.

I totally disagree- being quiet will be seen as MS agreeing with what some critics say. The goal here is to battle the public perception among developers and customers that WP will NEVER have a representative app situation. That doesn't mean EVERY app, but the vast majority of the biggest apps that people need on a daily basis. And they are quickly reaching that point. Once even just a few businesses reach that conclusion, then we'll see more services releasing apps on WP around the same time as IOS and Android. The bottom line is that every time another big name app comes out, they need to shout this louder and louder. If it changes the general attitude of one business or dev about the platform, it's worth whatever needling from critics they open themselves to. This isn't about 'truth', this is about perception. As a great archeologist once said, if 'truth' is what you are looking for, the philosophy class is right down the hall. ;)

Can we get a full featured Uber app already??? That crap web app they had out didn't cut it.

Just hopes the Xbox Video comes soon. And I hope that Flipboard isn't as laggy as the Windows (RT) 8.1 app. Oh, and bring Vine and Instagram to PCs/tablets/laptops already.

Yes, a Windows 8 native app will be more than awesome... But wanting MS to merge W and WP stores/apps as soon as possible, will quite solve it =D

Sure hope they merge soon...

Now MS needs to fix Xbox Music app. Because I got that duplicated-bug after Amber (which should have fixed).

I have that as well on my 620 but not my 920. It's pretty annoying. I tried deleting the duplicated but then got errors when trying to play the remainders.

The only way to get rid of that is by resetting your phone. Start from the beginning. That is pretty annoying. It happened to me while using that Windows Phone app for desktop. I don't really need to do that as I have a Zune. But I figure why not have it on my phone as well. Anyways, long story short, I reset my phone and just downloaded the songs through my phone. Will never try syncing my phone again.

Absolute rubbish. I love my 920 but the apps are shocking, how many Facebook, candy crush saga walkthrough, talking cat, apps so we need? I am sick of people having the latest apps that I cant have on my phone. What we need is for developers to realise that when they've developing an app, that they have to do so for 3 platforms, not just 2.

How about basic functions like editing music playlists, or sending anything other than pictures directly in emails? Still haven't got basic functionality right and they are jumping around because they got a couple of apps. Hilarious.

Tell me about it.... MS needs to update the mail and calendar apps for WP. Right now they are just barely usable. And also a decent app to sync with my Tablet/Desktop.

Once an official Snapchat client is released Windows Phone will have every single "huge" app needed to appeal to teenagers.

Speaking of looks like 6snap came out today.

And that right there is why it's somewhat frivolous... they have a short attention span with a lot of this stuff.

No Subway Surfer. Waaaaaahhhhhh!!!

Half of these apps will be made and just to appeal to whiners and then never updated.

Yes it has I use to be an apple fan boy but apple is so messy after its last update, checked out WP and fell in love. Email. Music. And everything else is amazing under WP, I also sold my MacBook air and bought a Surface PRO 2! Microsoft all the way! Woooooo!

Give me Sirius XM and I will die happy!

The article on PC Mag out today does not help.

This is great and all but they need to realize that they will not truly reach "critical mass" until there is some feature parity with iOS and Android. Having these apps is awesome but they're not going to carry WP alone. The same would be true if they started with feature parity but had none of these apps. There's no denying that WP is lagging behind in features. Now that the app situation is greatly improving MS needs to focus on faster, easier, and more meaningful updates. Until then they'll be seen as an afterthought by a lot of people, like they currently are. This is coming from an almost 3 year WP user. You just can't denying the facts that there is still A LOT of work to be done and MS needs to step up.

Yeaaah it will explode now

I have been posting the same comment in other posts because I want no one to miss this idea I got. I think we should all help out. I want this to succseed and am willing to put in the work. do you know what I have been doing to increase awareness at the very least??? And I urge more of you guys to the same, I wne to the website for all of these sites that I would like to see and app for; Allstate Car Insurance, UPS, Barclays Credit Card Service, NEST, WebMD, Time Warner Cable, Kiloo Games (Makers of subway surfers), Sharebuilder and if anyone knows about this Vmware Vsphere management app that is available for IOS, I went to OPS1. On all of these sites they have a link to like them on Facebook and twitter, I followed those Facebook links and commented on their page simply when is a mobile app for windows phone 8 and\or windows 8 coming out, I told them their customer want this and need this. And guess what all of them except Kiloo games and Ops1 replied to me telling me either it's in the works or they will pass the suggestion along to the mobile development teams. Now…These may be BS replies I get back from them but I think if we all did this on these sites and more, whatever you guys like to see on WP8 and win8, I think they may just end up listening.

You could also use "Where's my app?" app for the top apps and ask there.

The top apps on iOS and Android are mostly games. As long as game developers ignore Windows Phone, parity will be a pipe dream.

Not really. Games don't have the 'lasting effect' that "apps" do. Most people are done with games when they complete them.

God its not about apps, 6tag is much better! Its about that my Windows 8.1 tablet can fucking lock orientation and sync bookmarks and tabs and passwords and has a calendar week view and a preinstalled stopwatch and my Windows Phone NOT! That is IRONIC! SkyDrive smart files would make so much sense on devices like phones with small storage and Bing Smart Search would actually give that search button a reason to exist!

I agree that Rudy has done a great job with his apps and I will continue to use his apps. He has done a lot for this platform. I was shocked to see how feature rich my Surface was out of the box. I hope WP gets there fast!

Agree! And we are missing the most important thing - file manager. I can load epub files on a tablet but on the phone, I need to have a proper internet connection in order to download them from the cloud. I can attach any files to emails on a tablet, but I'm locked down to only "official" files on Windows Phone. Is already coming to the end of 2013, yet WP is not really a smartphone at all.

I am really happy to see so many official apps. I travel a lot and we have most major airline apps, hertz, etc. Makes traveling great! Instagram is a great addition and it sounds like many more are on the way. Maybe since YouTube is on XBox One Google will make a Win8 / WP app soon? (wishful thinking) I don't play them but we need the social games; candy crush, etc. Also, we still need some basic features, wifi printing, volume controls, notification center. We have come a long way and I am anxious to see the future.

I'm wondering if Geico will ever release an official app on WP? My mom wants that one for her 620. Both of us also wouldn't mind getting Candy Crush, although I'm good with playing that on my iPod touch, so no biggie. Overall, I feel that I pretty much have everything I need on my 920.

Sirius XM. for my phone and tablet would be nice.

Cant wait to see the xbox video app, would love a snapchat app and Hearthstone support.

You can snapchat RIGHT NOW with 6snap.

Its a good day to be a windows phone owner!

HBOGo would be an awesome addition to the Windows store. Hope to see that soon for the US.

they need to keep the momentum release update 3 and wp8,1 right after it i know people are taling about the RT/WP hybrid and unified store but if they want to keep the devs intested they need to do that now !

I don't care about Instagram, SnapChat, Vine, or anything else as much as I would like an official YouTube app back. I've learned to enjoy MetroTube but I really liked the last version of YouTube before Google destroyed it.

Instagram and Waze were definitely big for me, but to say they are anywhere neare critical mass is absurd. It's still a total novelty to see another windows phone. They still don't have their own video app working, let alone key others like Youtube, HBO Go, WatchESPN, NBC Live, or any networks or sports leagues. The notification system and live tiles are still crippled. The sad thing is that Nokia owners have the best hardware in the business, but it's being held back by ios3/Androind1.6 level software

Also, how may of these "critical mass" of apps have limitations compared to their iphone version? I know many of the ones I use are much poorer efforts

This doesn't surprise me. I always pick the best. IPhone sucks, Android is spyware, and Blackberry was unintuitive.

When did that way overused tearm "ecosystem" become about apps? It used to mean something entirely different. Seems like it has been redefined to fit around other OS's. It used to be about all the devices in the operating system, and how they interconnect. WP8 - SkyDrive - XBox - W8 etc. And the "Windows Ecosystem" was in place before anyone else's as far as I know.
Now it seems it's all about apps... but why?

Give me a good browser and VLC, and that's about all the apps I really need.

Now we just need more and better games, and more REAL Xbox games, like titanfall or ryse exclusive for windows phone?

I believe that ordinary mobile games like for example Candy Crush is needed as well for the general public

Yeah, but considering we have Xbox live, I want REAL Xbox games, not just Xbox achievements. We just got Spartan assault, our first real Xbox game on WP.

Inched up just a *bit* not *big* Daniel

Now it's time for games: like Candy crush, though I don't want to play it myself but games are also important to people and they create something you are left out of if the game isn't on your ecosystem

Because not everyone wants to use Microsoft services. Some people are in Google's ecosystem, so those people can't use WP unless they completely switch to MS services, which would be time consuming and not worth it for some people. Some people need GMail, Google Now, and Hangouts. People won't switch if the apps they need aren't available.

I don't care about wildly popular apps. Critical mass is when you can do lots of useful, niche things that are important to a relatively small percentage of users. For example, as far as I can tell there is only one nautical charting app and it requires Internet connectivity, which doesn't make a lot of sense for using on a boat where you are likely to be far away from cell towers. I know there are lots of other specific areas where app availability falls short.

There is no doubt that Microsoft is gaining ground little by little. If the app-equality can be marketed appropriately, as well as everything else it has to offer, it could soon become a very formidable competitor.

It's not just about the most popular apps. It's about your local radio station, local mall, bank, etc., that put out an app for iOS and Android but have never heard of WP. We need to get these apps.

This is what I actually care about MORE than the big name apps. I couldn't care less about an official Instagram or Snapchat.

I dunno about other countries, but in my country, whenever a new service is avialable, the only platforms I see is Play Store and App store. No Windows Store at all. Windows Phone is still an unknown platform for a lot. Furthermore, Google services and Android are already so mature that it totally over-shadowed MS products. I think MS will need to speed up with making Windows Phone to be on par with the matured OSes out there, and prove that WP is not as crippled as it is doing now.

Yeah, as far as apps go, it's still not the BIG ones that are the issue for "critical mass". My credit union for example, it's a big presence here in town, but there is of course no WP app for check deposit, only iOS and Android. When a company like that put out WP app at the same time they do iOS and Android, that's when we've got "critical mass", IMO.

The core is is missing feature parody with iOS and Android. Updates are near nonexistent and seem only released to support new hardware, not with a primary goal of providing features and fixes to current clients. There are clear issues with the WP8 API. Apps sometimes use up batter in a couple hours then work fine another day. Some apps like Audible run so bad it is a black eye on MS, as they should never allow an app in their store so badly bugged. MS just isn't competing. Last year we got a new WP, iOS, and Android. This year all but WP has major upgrades. All but MS had significant minor upgrades too. New devices like fitbit and others just don't even bother making apps for WP8. Fat, far from critical mass.

I will agree once there is TWC tv app & HBOGO apps available. I do not agree that a instagram app is earth shattering.

Microsoft need to keep pushing!

too bad we don't have a good Facebook app

Now we need Opera mini, Skyfire browser, video editor app a real one -add music, effects, etc-

Now I'm hoping for more browser apps, like Firefox. :)

Windows Phone... RULES!!!!!!!!!!!!!!!!!!!!!

Instagram id-.." anky17cool " ...follow to see amazing clicks nd allow me to follow back..

I think they really need to have a great youtube app... An official one that doesn't look like google created to get ms off their back

Still waiting for official Pinterest app, or at least info about its development...

They can't be serious? What about the convenience and corporate features that are available on other platforms?... like, different vibrations for email & mms & even by person, VPN, notification center, a decent calendar app, etc. Apps are just one part of the puzzle. WP still has a ways to go IMHO.

Some ninja kiwi bloons tower defense games would be nice.

So, I was working with a coworker of mine in designing the UI on some WP8 apps earlier this year and here's what I see as the main problem with the platform and why I think it isn't attracting developers. In order to build WP8 apps, you have to have the enterprise version of Windows 8. You can't develop on Windows 7 unless you install some kind of emulator, which was a real pain to do. Why in the world would Microsoft build in such a crazy requirement? Windows 8 does not have market penetration in the enterprise yet; Win 7 does. Why require developers to upgrade their desktop OS in order to build some mobile apps on a platform with 4% market share? Nobody is going to do that, especially when their home computers and workstations at the office are probably on 7. Windows Phone is just not a hot enough OS for someone to say, "Geez, I just gotta build some apps for that so I'm going to go through the trouble of purchasing an OS upgrade that might render a bunch of my current desktop apps incompatible." Microsoft is known to have a silo-based corporate culture and I wouldn't be surprised if the Windows division forced that requirement in order to push sales of Win 8. It's that kind of culture that ends up hurting companies in the long run.

Yes, I'd agree WP has turned a corner, but the OS still needs tweaks like custom text alerts and more themes/colors/customization options. I am sure GDR3 will address some things. I am hoping with MS in transition and more resources/faster turn around on updates, WP could surely be a stronger force. I am glad to see top brass excited though.

When there's an official VLC app, that'll be the watershed moment.

They will have more app downloads if all apps are not country-locked or carrier-locked

Why is it that microsoft insist that it's better to add app infrustructure rather than fixing the bugs in the existing core features? Xbox Music is so far behind it's rediculas. Volume bugs. No integration between bing maps PC to phone. Non complete skydrive experience when compared to the skydrive app for ios and android. No category management for outlook email account. Kids Corner back doors to social media and the internet. These are core features that were used as selling points for the phone in the first place. Totally unaceptable.

Who cares what Microsoft says? It's what the customers say - or rather, what they spend their money on. As the saying goes....'money talks, bs walks...'

Still there are huge gaps in device portfolio When a device like Dual Sim, Dual Core, 1GB Ram, 10GB Storage, 3G, Wifi, SD Card Support, 5MP Rear, 2MP Front, GPS hits $100 the Samsung Galaxy Y market gap will be consumed by WP which defenitly will increase 10% in global market share That is the sweetest spot in Indian Mobile phone Market. Samsung, Micromax, controls more than 80% of the smartphone market in $100 range. Asha has no chance to compete it... Btw, Asha is not a new gen smartphone to compare it with Android

Lets be honest those are some great apps. I just feel that Windows Phone is being held back by several key apps that many people will not enter or convert until they bring the following apps & release them to Windows Phone Users . Amazon Cloud Player or Amazon MP3 - For Users that are heavily invested in the Amazon enviornment that can still enjoy on IOS and Android even though they have Apple Store and Google Play environments StateFarm, AllState - Insurance Apps Web MD, Epocrates, Medscape, Skyscape and other medical apps for the folks in the medical field Trulia for Realtors - Yes Realtor and Zillow are there but Trulia is a big one Capital One Banking App, TCF Bank - Banking App SnapChat - Official App Uniden Guardian - Home Monitoring App Uverse for ATT - App, HBO, Comcast, Dishnetwork, Direct TV - Television Apps Lord Of Dragons - Game, Candy Crush Game Those apps would convert or really close the gap by leaps and bounds...
Windows Central Newsletter
Get the best of Windows Central in in your inbox, every day!
Thank you for signing up to Windows Central. You will receive a verification email shortly.
There was a problem. Please refresh the page and try again.