Xbox Video coming soon to Windows Phone? Check!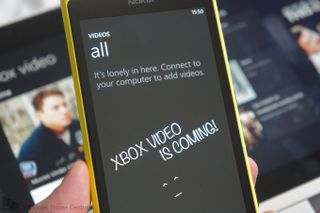 Numerous apps and games have been announced for Windows Phone at Nokia World 2013, but there's one app in particular which is worth mentioning on its own - Xbox Video. That's right, folks. Xbox Video is coming to a Windows Phone near you. So, what's the app going to do and why should you be interested?
According to the Windows Phone Blog (a fairly solid source, eh?), Xbox Video will enable you to "access a massive library of blockbuster movies and TV shows." Just like you can on your Xbox or Windows 8 PC. I believe there's a single image that sums up everyone's reaction to that quote:
Right, now we've got the excitement out the way, you'll be able to purchase or rent movies and TV shows, watching them on any supported device. Arriving in time for the holiday season, you'll be able to catch all those festive classics on the smaller (or "relatively large" if you're grabbing the new Lumia phablets) screen.
Unfortunately, there's no date as to when we can expect to see Xbox Video on Windows Phone. We'll hopefully have more information as the day progresses. Stay tuned to our feeds for the latest from the floor.
Rich Edmonds is Senior Editor of PC hardware at Windows Central, covering everything related to PC components and NAS. He's been involved in technology for more than a decade and knows a thing or two about the magic inside a PC chassis. You can follow him over on Twitter at @RichEdmonds.
When is lumia Black going to be available??????????

Late 2015 from AT&T, rest of the world with GDR3!!

Seriously. Att will withhold it.

I really hope this intigrates to the Music+Video app, I don't wan't to have a seperate application =P

Oh.. come on.. MSFT would never do that !!! or would they???

It's pity that there's no ETA

Won't Xbox video be coming to android and ios7 first?

Omg its a miracle lol jk I'm very excited for this XD

It says only Windows Phone customers this holiday season, so iOS and Android should see it next year

I would rather not let them see it at all. Scratch that, give it to iOS but don't give it to Android. Should be good.

Yeah Apple is kind of OK but Google really fucked up with MS. Screw Google, if they dont make apps for us, MS should not make apps for them. Like remote desktop...

MS can't really afford to ignore 80% of the phone market.

Erm, I think can. The reality is, they'd rather not.

Microsoft makes as much money off an Android sale as a WP8 sale, so while the WP business group may not like it, but all up, it's still good for the company.

They will be first to share Xbox movies over Skype.

It's unbelievable. Android and ios users should really get this first. oO :P

Lol... I completely understand business wise why they did it....it just sucks for WP consumers.

Supported in all countries? I really hope so coz this is awesome!

Doubt it, I'm here in my country still waiting for Xbox music, let alone Xbox video *sigh

Awwww yeah indeed! I only hope that the content will not be restricted as per region. :|

Well it is restricted on windows 8 and xbox, so I'm gonna guess it will be on WP too. Shame, coz the US store is way better than the Aussie store.

One of the best announcements of the day!

All of my dreams are coming true! Yes!

You need to dream bigger.

You guys calm down.lol Just really excited about video coming to Windows Phone is all.

As I said in another post hells the f*** yeah!

Does anybody know how good Xbox video is, as I've never used it?
Furthermore, does it show up to date movies like box office does, on Sky tv?

it is a fantastic service i use it all the time. it does show up to date movies. its gonna be sweet having this on my RT xbox and wp. im super amped!!!

Not only up-to-date movies, but Microsoft often works out deals to get rentals on Xbox Video first and sometimes they'll get a movie before it hits theaters, but this is rare. I'd like to see them drop the rental and purchase prices, but they are competitive.

And don't forget the TV shows

Thanks guys, it sounds good, can't wait to give it a try -- Sky tv can go take a flying jump, seen as they can't be bothered to build a Sky go app.

My bad Rich... just spotted you thanked me on another article ;-)

:-P (we actually knew of this prior to today, you have no idea how hard it is to keep such secrets!)

Hats off to you guys... NDAs suck but I guess they are needed! Great work guys!•

I really hope it is buy./rent on one platform and it works on other. Especially, purchasing on the phone and being able to watch on the xbox/ win8 laptop.

I wish xbox music was this way, manage on the phone and it syncs up with other devices, but you can only manage music on laptop.
Hopefully they do it right.

totally agree here - start watching on the phone and finish on the xbox! that would be great.

I think that was the intent, but for some reason, MS hasn't gotten there yet after all this time.

Can't imagine why it wouldn't, considering the app allows access to a service already established, not a standalone service for WP, itself. My only question is, why did it take MS so long to bring this app to WP? This should have been year one app, but definitely a WP8 opener app.

Yes, it is cross platform, at least it was, that's the number one thing that pissed me off when I upgraded from WP 7 to 8, was loosing my ability to watch the movies I bought on Xbox on my phone, honestly that was a major factor of mine on deciding to go with WP when I bought my first WP (focus) was the ability to watch my movies on my phone, was very unhappy when we lost that ability on WP8, Its about time their enabling it onWP8

Im curious if it will integrate into the Music+Videos hub or if in a future update all those apps will be separated out like on WIndows 8.1. (photos, videos, music)

What about Nokia black bittersweet? When is that coming?

And I'm sure the content is limited to US/CANADA meh*

Dear God...PLEASE fix the Windows 8 version first. It essentially is just their giant store app. It is horrible for your personal collection. Go back to the Zune system where we can tag videos as Movies or TV and then break those TV shows down to episodes. The only thing missing was the ability to add DVD covers or Movie Posters. I was hoping that would be the final piece with Xbox Video, but instead it took so many steps back.

With an explanation as to why it is 2 years or so overdue as well?

That's great news! Maybe they will add sports into that app. Would have been nice to watch NHL games on WP8;)

The most important part about this is we're getting this functionality as an app and not as part of an OS update. Could be an indication of things to come with WP8.1, where core OS features are distributed as apps (like Windows 8 and Android) instead of bundled with the OS. The benefit being that stuff like Xbox Music, Mail, Maps, etc could be updated more frequently and out of cycle with the overall OS updates.

*fingers crossed*

Good news but why on earth wasn't it there from the start?

Just like with Xbox Music and my purchased tracks, I hope that when I open the app or navigate to the movies section in Music + Videos that it will list my purchased collection there to stream.

About time. I never understood why it was removed when windows phone 7 had it but 8 didn't.

Amazon Video is the app I'm waiting for. The more the merrier though.

That would be nice, but I doubt amazon will ever do that since they sell the kindle, I own a kindle and about 30 or so movies on amazon, I was surprised when they came to the Xbox though so who knows, everytime I've asked amazon they have said they no plans to allow movies on windows phone, I don't know if Android or ios can watch movies bought on amazon on their phones either

Now if they'd only join Ultra-Violet... Cause I ain't being tied down to one ecosystem... I'd rent though... I'll wait for Vudu...

Yeah, I would also love a vudu or ultra violet app for WP

I bet the where/when is Xbox Video app ?'s will surpass the at&t gdr2 update ?'s in no time at all...

Don't really care for this. I miss Windows Media Player on the RT. And I don't buy digital entertainment content that can be bought on physical copies (music, films, games). So...no need for this App. If people want it, great. I'm happy with the current solution though.

Huh? The current solution is no Xbox videos on your phone. I would rather have the option to have Xbox videos on my phone than not have the option at all.

I meant as a video player. Xbox Videos on W8 also doubles as a video player. That's why I mentioned Windows Media Player.

What's with the fat dude with the mustache in the images??

Dunno, makes the article look like a 14 year old kid barged in a slapped a bunch of images from the net into the articles. Not why I started reading WPC.

Great news! Been waiting for this one for a while as I want to start a digital library across my surface, xbox one and WP8. Awesome.

What's the point? Indian users still don't have access to any of the cool Xbox services.. :(

I assume, unlike Xbox Music, you won't be able to rent while traveling - making it useless...
They should also add Netflix like subscription....

Does the Xbox Music Pass also include access to the video or is that a separate product with its own pricing??

there is no Video subsciption but that would be awesome.

Glorious! Been hoping for this. I do like the XBOX Music and Video ecosystem and how it is jumping from device to device.

it would be better if they enhance the crappy player !! (more codec, read subtitle,...)

It's about damn time. They should have had this feature ready when WP8 was first released.

Please tell me this is going to be available in South Africa!
Windows Central Newsletter
Get the best of Windows Central in in your inbox, every day!
Thank you for signing up to Windows Central. You will receive a verification email shortly.
There was a problem. Please refresh the page and try again.