Microsoft's Age of Mythology: Tale of the Dragon expansion coming Jan. 28 on PC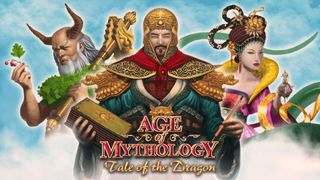 (Image credit: Microsoft)
The first expansion pack in over 12 years for the 2002 PC real-time strategy game Age of Mythology is less than a week away. Microsoft plans to release Age of Mythology: Tale of the Dragon on Thursday, January 28 via Steam. The expansion was developed by the Forgotten Empires team, which also developed two expansions for Microsoft's Age of Empires II: HD.
Originally developed by the now defunct Ensemble Studios, Age of Mythology was re-released in 2014 as Age of Mythology: Extended Edition on Steam. It included the main game, its first expansion, The Titans, and the extra Golden Gift campaign. It also had a number of graphical improvements compared to the original version, along with extra features such as full Steamworks support, integration with Twitch and more.
The Forgotten Empires team has not yet revealed the full list of content and features in Age of Mythology: Tale of the Dragon but it would appear that it will add gods and other units from Chinese mythology to the main game. There's no word on the price for the expansion.
Source: Forgotten Empires
Windows Central Newsletter
Get the best of Windows Central in in your inbox, every day!
Microsoft now: Sorry but we have postponed the launch for 2020.

Just for the Windows 10 Mobile release :)

Technically this could have been delayed back in 2002 until now.

* waits for complaints about it being on Steam and not the Windows Store*

Exactly. But nothing surprises me anymore.

I think there will be separate campaign as well..

Ok, good, but maybe they should start working with AoE4.

Ensemble studios is disbanded.

There are other studios out there..

Instead of wasting time creating an expansion for the mess that is AOM on Steam, they should have rather properly remastered and updated the game to HD with HD textures, and HD cinematics; not merely made it work on HD screens with very limited 'graphical improvements'. Same goes for AOE2, releasing new expansions, yet still the base game has pixelated menus, ****** non-HD cinematics, etc.

Shut up and take my money!!!

This is the game that brought me to age series!!! I love mythology

Hehe I'm definitely checking this out. AoM is the best Age game imho.
I hope for some graphical improvements, but it's probably just new units... Let's see :D
Windows Central Newsletter
Thank you for signing up to Windows Central. You will receive a verification email shortly.
There was a problem. Please refresh the page and try again.