Microsoft's Cortana denies existence of Windows 11
A playful question posed to Cortana shows why getting answers from web forums isn't always the best option.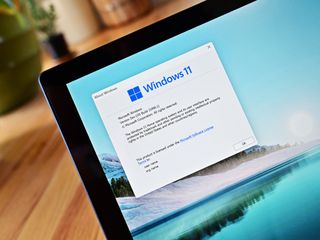 (Image credit: Daniel Rubino / Windows Central)
What you need to know
Microsoft's digital assistant, Cortana, says that there won't be a Windows 11.
The source of the answer is from a comment on a Microsoft answers forum, not an official statement from Microsoft.
It was previously believed that Windows 10 would be the last version of Windows.
Microsoft's digital assistant might need to catch up on our coverage of Windows 11. The digital assistant said that "there will be no Windows 11" when asked about the upcoming operating system.
The Verge's Tom Warren shared a video on Twitter asking the digital assistant, "Is Windows 11 real?" Cortana responds by explaining that Windows 10 is the last version of Windows 10:
Warren asked the question to Cortana while running Windows 11.
The source of this quote comes from a Microsoft answers forum (opens in new tab) from 2018. It's the top reply to a discussion about "The New Windows 11." The answer isn't from a Microsoft spokesperson or anyone speaking in an official capacity. It does, however, link to a Microsoft doc that discusses Windows as a service (opens in new tab).
Since Warren shared his first video, Cortana gathered together some new information on Windows 11. The assistant now shows articles covering the new operating system.
Of course, this is all a bit of fun. Microsoft wouldn't announce Windows 11 through Cortana. The digital assistant also gets its answers from the web, so it's prone to some mistakes.
Windows Central Newsletter
Get the best of Windows Central in your inbox, every day!
News Writer and apps editor
Sean Endicott brings nearly a decade of experience covering Microsoft and Windows news to Windows Central. He joined our team in 2017 as an app reviewer and now heads up our day-to-day news coverage. If you have a news tip or an app to review, hit him up at sean.endicott@futurenet.com (opens in new tab).
2015 Windows Central - Microsoft says Win10 is the last version
2021/06/16 Windows Central - Microsoft never said Win10 is the last version
2021/06/17 Windows Central - Microsoft Cortana says Win10 is the last version

This recent piece is clearly talking about it in a joking way. No one here is claiming that Microsoft isn't making Windows 11 because of a response by Cortana.

I don't mention Win 11 in my comment though. 🤣😅
Its ok to own it, it was published in just about every article since 2015 - the last version of Windows. Now we read MS "never officially said" but WC said they said so.

Those people are no longer at MS, they said it and now they are unsaying it simple. Many companies have gone back on their words. Not a topic to be given too much attention to.

Thats not the point but I'll bite. Belfiore and Nadella and company are all there. I know you'll say Balmer, he never said it, left before 2015.

We've always been at war with Eastasia.

I saw that piece on The Verge and I think this is schoolyard level bashing. Cortana clearly says that according to microsoft.com etc. etc. So to make it even a thing that 'their own D.A. is saying that.. bla bla ' is sooo childish

Not newsworthy by any stretch. Always easy to pick on Microsoft for some of these sites. They can't resist the urge.

Announcement via Cortana would've been way too cool

Imagine a Halo Infinite tie-in announcement.

https://i.imgur.com/4m3iHIW.png

Future article: Microsoft's Windows denies existence of Cortana

There was never going to be, and never will be a "Windows 11." This is just Microsoft's pathetic attempt at a 'surprise,' come June 24th. I could even give the new name, but I won't.

So, the thesis here is: Windows Central starts strongly hinting that Windows 11 should be a thing 4 weeks ago. Microsoft codes into an OS a new WinVer, OOBE, About screen, Setup with 'Windows 11' all over it for laughs in response. Microsoft then "leaks" this OS 2 weeks before the announcement Fans get to see the new Start menu, design, some new features, look over the code, find hidden features, do videos on it, show the new touch interaction, new sounds, etc. On June 24, Microsoft gets on stage, shows its new OS (that we've mostly seen now), and then has a 'gotcha' moment ... on the name? Because it is the name that matters here, not the actual design/features of the OS. Seems legit. Tell you what: DM me the name on Twitter. I'll keep it a secret. On June 24, when you're vindicated, I'll tell the world you were right.

I thought Cortana and Clippy were sharing a Mai Tai on a beach somewhere in retirement.

Microsoft's Answer is a joke. It's not run by Microsoft employees but members of the public I think. For every problem it seems they just tell you to "reset your PC". It should be called Microsoft Not-Where-You-Come-For-Answers, but that's less snappy :D

Windows Central got bored from updating old articles until Windows 11 leaked. Now we'll have multiple of 11 articles before June 24. 😐

We'll look to undo the thing that forces you to read each one, refresh our site, check back later that day, and leave a comment.

Someone is still using Cortana?

Anyone surprised? Cortana's response to 'Cortana, enter an appointment in my calendar.' is 'Sorry, I can't help with that.' At least Bing gives you a detailed explaination how to use Google calander to manage your meetings when asked 'How can I enter an appointment in my diary?'. Cortana is like Kelly Bundy without the legs.