Microsoft's Cortana Intelligence Institute will explore what's next for the digital assistant
Cortana Intelligence Institute, a collaboration between researchers at Microsoft and RMIT University in Melbourne, will focus on bringing complex capabilities to Cortana.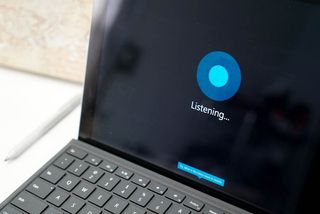 Microsoft has announced the establishment of the Cortana Intelligence Institute (opens in new tab), a new effort to work on "next-generation capabilities" for Cortana. The institute's work will be a collaborative effort between Microsoft Research, Cortana Research, and RMIT University in Melbourne, Australia, Microsoft says.
The group will work to continue Cortana's evolution through new and increasingly complex capabilities by sharing expertise and research. One goal, for example, is expanding Cortana from working with basic queries to supporting things like assisting with tasks that may involve multiple steps and an understanding of context. The Cortana Research Team is already working on bringing more complex task management to Cortana, but that work will now be bolstered by research from RMIT focused on contextual understanding.
Researchers at RMIT University will also work with Microsoft researchers to help incorporate things like the physical activity, location, and app usage to better understand tasks that Cortana users are working on. From Microsoft:
As Microsoft, like other tech companies, continues to place a focus on AI, it has placed a specific emphasis on Cortana. In addition to bringing the digital assistant to more services and apps, Microsoft has promised Cortana will come to more devices in 2018. The Harman Kardon Invoke and GLAS thermostat are two recent examples of this, but a collaboration with Qualcomm could portend Cortana's arrival on many other IoT devices.
Dan Thorp-Lancaster is the former Editor-in-Chief of Windows Central. He began working with Windows Central, Android Central, and iMore as a news writer in 2014 and is obsessed with tech of all sorts. You can follow Dan on Twitter @DthorpL and Instagram @heyitsdtl.
1st to comment here, by the way Cortana is best of all assistants.

No, it isn't world wide supported. Just make it available for all of us.

What was that about MS canning Cortana naysayers? It's ok I'll wait for a relevant answer...

Sounds like a good idea but surely they should concentrate on rolling Cortana out to the rest of the world first? If they don't do that quickly, as well as getting it on more devices then no matter how good, even superior, it might become, everyone will be locked in to another ecosystem and no one will care.

People will start to realize that Cortana goes way beyond the consumer technology boundary which the Alexa is focusing on. The next generation of digital assistant will be AI focused. MS has made a messive bet on AI with over 8,000 people working in their AI & Research group at present. Its mission is to develop and push AI to everywhere including Cortana. Cortana is deeply integrated with W10 OS, Edge, MS apps and the future PWAs to improve productivity for enterprises and business. In the near term, MS is partnering with Amazon Alexa to help covering the consumer service with its rich Skills. In the future, MS hopes to compete to serve both consumer and enerprise spaces with their next generation AI assistant technology. https://www.geekwire.com/2017/one-year-later-microsoft-ai-research-grows...

Yangstax nailed it with "In the future MS hopes to compete..". How about MS starts to compete right now if they ever want Cortana to be relevant? Incredible resources are being poured into Cortana. Is any of it going into marketing?

How do you market this product that's best used with mobile devices and home products like Alexa. You see WP is dead, iPhone and Android have their own assistant, who would carry around a pc or laptop to use Cortina, who would use cortana at work or at home using their PC or laptop,? Nadulla has to go. The guy does not know how to innovate.

Too deeply intergrated and no real easy way to get rid of it without going into group policies or the registry and then I have my doubts if it is really disabled.

No it is very noticeable when Cortana is disabled you don't get web search out of Windows search, you don't get all of the useful thing she provides such as reminders, pick up where i left off, etc. Now if you're worried about the privacy aspect of telemetry and targeted advertising and such then there are multiple settings you need to change in the OS.

Partial tangent though everyone is worried about the things that ms collects through their services but they are glad to use all other services which collect more info such as facebook, google services, amazon, and social media. I never understood it.

Agreed, what people don't understand is that Cortana is a platform and a framework. Similar to .net you can use it to build out functionality of your app. You don't hear people downing or praising .net framework even though its used in more things than you can count but its always there to be used and built on. That is what i see Cortana as so I don't see it going away.

Jeff Bezon recently said that Amazon has 5000 people working just on Alexa and Echo devices. Imagine how good Cortana could be with 5000 people working on it.

Too much talk, nothing in reality.

Cortana In Georgia Soon? Moved here

They should first finish with "basic features" before moving on. Also without mobile pretty much pointless...

I predict they will ditch her. She'll join the band, windows phone, windows mobile, groove and all the other great consumer facing products Microsoft has abandoned.

Nothing new or promising here really for MSFT customer facing. I know there are some, but NOONE i know uses cortana, When i changed to a the new and mediocre Nokia-branded phone running Android, after my beloved Lumia Icon died. I stopped using Cortana entirely and now use the google assistant and the Google services. To run my OS, when i have a keyboard, voice is less important that it is on the phone. Before MGMT in 2017 killed it, I was a hugely loyal Microsoft and Nokia fan, using Contana daily for getting around, and "Remind me to xx when i get home" user, and universal app developer, If they had the needed balls they would -implement- LIVE TILES- in the launcher for the major apps if that is legal or find a way. I am about to lose interest in the microsoft launcher and uninstall that, its value proposition is very weak, riding on top of android as a swelling on a phone with limited resources. I use launcher for my phone to look different than other geeks but its not really different enough and its a fat layer over. Giving up on windows phone after winning a decent market share in europe might have been a fateful failure with cascading consequences for MSFT. Now Google, or Alphabet ( just like when MSFT was a being perceived as a monopoly, google reorganised itself there, learning from Bill Gates' struggle and cleverly avoiding it). is very successfully angling the way Microsoft did when it was bad ass. Lets hope the Windows Store.. or er. Microsoft Store gets something better than iHeartRadio , and laptops with cellular can kind of encroach back into the phone space.. I miss when MSFT was dominating because its a very expensive and a big chore to design software for three platforms, really holds back progress for a lot of companies. I still develop for xbox and windows 10 but I have to consider that this might encroach on xbox as well. Nvidia shield tv can play android games. Sadly unless MSFT innovates, follows through with projects, and generally stops being a LOSER, it could go out like the NOKIA they turned out and destroyed. Reality bites. As i watch Google be the Microsoft of its glory days i see a Winner there, while msft has so much going for it, so much inventory and infracture to leverage, yet it continues to awkwardly flounder and struggle.
Windows Central Newsletter
Thank you for signing up to Windows Central. You will receive a verification email shortly.
There was a problem. Please refresh the page and try again.