Microsoft's DC-21 external power bank is now available for sale in India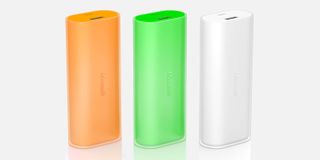 If you're looking to charge your Windows Phone on the go, you'll be glad to know that Microsoft's DC-21 external power bank is now available in India. Listed on Flipkart (opens in new tab), the power bank is retailing in the country for Rs. 3,499 ($56).
The 6000mAh battery can charge your device twice before it runs out of power. There's an LED indicator that shows the remaining charge, and the battery goes into standby mode when not in use, which preserves the charge for longer (with a quoted standby time of 6 months). The charger takes four hours to full charge, and can be simultaneously charged while providing power to your device.
Available in color variants of green, orange, and white, the battery charger goes well with similarly-colored Lumias. Head to the link below to grab one.
Buy Microsoft DC-21 external power bank on Flipkart (opens in new tab)
Thanks Aditya!
Windows Central Newsletter
Get the best of Windows Central in your inbox, every day!
Harish Jonnalagadda is a Senior Editor overseeing Asia for Android Central, Windows Central's sister site. When not reviewing phones, he's testing PC hardware, including video cards, motherboards, gaming accessories, and keyboards.
I get double the battery for half the price with double the connections to charge stuff.. dont know in which part of the world this is alright pricing.. sure India is not one of them

Exactly its too costly...Within Rs 600-1500 you can get a good power bank

Pricing is alright. Ok, you can get other at cheaper rate. But its cheaper, so risky too. This one is by big brand. On par with Sony.

And we all know microsoft is known for its quality battery production,right?There are plenty of tested other brands in that area with powerbanks. even have been done by richard in the past.

Beyond pricing, I do wonder how many sales are lost due to only bright colors available. This was the case with their last two wireless chargers also. Why eliminate the popular black color from the choice of colors? I know they lost two sales to me because of this odd obsession with only bright colors.

Oh launch the surface 3 already

Agree, I have a Anker Astro Pro with 14,400 mAh, dual outputs, and a dc 9v or 12v option for a netbook.
...
All for about 60$ (admittedly, on sale)...similarly priced, but with magnitudes of improvement. Plus, hasn't this gadget taken some time to become available in India.....which seems to be MS'S modus operandi for some time...

Dude, it's Microsoft branded and guaranteed to hold its juice for 6 months.. I'd say the pricing is more than okay. Sure I can find a Chinese unit on eBay with double the capacity and half the price but I wouldn't stick that thing in my phone..

My Ankar, noted above, holds the charge for six months to a year as well.
..
Not cheap.
..
Here is a quick link....you tell me which you'd rather have in a pinch...
...
http://androidforums.com/threads/review-of-anker-astro-pro-14400-mah-ext...

I've used Anker products before and I trust them. However, I would still pick the Microsoft one, simply because of portability. This thing is huge.. Perfect for trips perhaps but not for everyday use..

Oh sorry. am I not allowed to critizee microsoft? Where do you think this one is produced? In US?

No. You can get proven Anker products with more capacity and functionality for similar or even lesser price.

I got a Samsung's 12,000 mAh power bank for free from one of my vendors. I definitely don't need anything else. Wohooo!

MI power bank comes at 999₹ at charge capacity of 10000₹maH

MI also has a decent failure and return rate afaik. There are a lot of reports of battery not holding charge within 15 days of use.

How does this powerbank compare with Mi Powerbanks, givng 10000mAh for Rs 999/- ~$16. Is there a newer/better tech used in Microsofts' ? Mi Power bank at Flipkart.

it is colourful and says microsoft on it. thats what the difference is worth :)

Didn't you read? They said the battery could go 6 months thanks to a new standby mode for the battery. The powerbanks don't even sustain a month un-used before having to fully charge again.......

That's not a feature worth the price man!! I have been using a relatively cheap power bank and it doesn't bother me if i don't charge it for long, I can simply charge it again. If there is something important next day, I will make sure my powerbank is charged. And Yes I did read the article hence my comment. Checkout the link I gave and compare it as you like. That is why I asked is there something special.(A normal customer won't buy simply because of 6 month standby given the steap price. Even the discription mentioned isn't enough.)

I think its totally fine and understandable that u are not getting the same quality but getting the job done in a cheaper way.

I was just giving the example of my case where I am compromising quality over function. But in this case the other product I mentioned is a quality product, so....we are back to that feature point what microsoft has over the latter.

Understood...we agree...yes, I speak for the people of Earth...lol

"We" was in context with the previous conversation. So no I am not speaking for the People of Earth "L O L" .

Mi is China. I know..almost everything nowadays is Chinese. But one of my friend purchased Mi powerbank and it stopped workin aftr couple of months.

My Mi power bank is 7 months old and still working brilliant

Sure alot of products are produced in China, but with the design and how-to-build developed in other countries. I'd never buy something developed and produced in China by a Chinese company. Never!

Last year I got that DC 16 for my 925. It was good for a month but then the capacity of that declined.

I have the dc-19. Seems to work pretty well. I use it with my 1529 and it gets me back up to a decent charge without being too large.

Harish. Is the DT- 902 charger now available in India?

lol. The colour options. :P Made specially for India. :P

Good observation, I never noticed that :D

You sir are not color blind.

wow. thank god someone noticed :S

Way too expensive. If the difference was about ₹100 could understand.

Even Sony provides 10k mah power bank @3500..
Microsoft gone mad

Ohh man that's lot of money.. I got 5200mah from MI for just 8$

That seems to be the sentiment..

Hi, my DC-16 last for 2 month on a charge, and got me 75% on a Nokia Lumia 625.

You can get an Anker with not only auto off, but PowerIQ technology which auto detects the maximum charge speed of your device, and is half the price.

Would have been really interesting if it came with some sort of a Qi support.

I like that...might need a switch though, else it would be constantly discharging...

I want that. I have the old power bank from Nokia, which provides 2000mAh only. I need a bigger one for my 930 and this one is perfect!

i've got an unknown branded powerbank with 9000mah for like 20 euros, in dollars around 25 i guess, with 3 usb ports

Its too costly for markets like India where competitors like MI is providing power banks for 999 with double the power. India is a market where brand name is losing the grip and new companies with good features and affordability are getting success. Examples are Micromax KARBONN MI and the list is long.

I personally had the experience where a Karbonn cellphone exploded and the battery caught fire. Luckily no one was hurt. The quality and reliability is a big deal. I would prefer to spend a little more to be safe than sorry.

It is compatible for all Lumia devices right?

it doesn't have wireless charging built in. That's unfortunate as more winodws phones support wireless charging. That's what made the nokia portable wireless charging pads so tempting. 56 dollars is relatively expensive. There are other competitors that offer the same quality for less. Wireless charging should have been part of the package to give more charging options and this brick an edge.

It took me two evenings two track down this battery in the UK. They have serious problems with different availability in different parts of world. So frustrating

Anyone knows where this is available yet? Especially in Indonesia

I got it for $38 here, with a bunch of other stuff ($15 off offer). Even the MSRP is $49. But it's totally worth $56 too. You can charge your phone maybe thrice with one full charge of DC21.

Why shouldn't I get a new Lumia 435 by putting another 1k in it?

My take on this very different. If you need a power bank, you seriously need to rejig your life, come out of the so called digital lifestyle and shun those devices for a bit !!

That's true and I totally agree to that, but how about when you go for some outing and want to click a lot of pictures? Or when you are traveling?

Cars, trains etc all have charging points, its just amatter of using a portable device judiciously. Cellular phones are not meant for looking into them continuously, they are essentially emergency connectivity devices. Texting is ok, but watching online videos or vidos otherwise isnt what they are meant for, what with their uny batteries ! Cellular phones arent meant to take a lot of pics as well. Buy a good camera for that !!