Microsoft's MSN Money, News, Weather and Sports Windows Phone apps get minor updates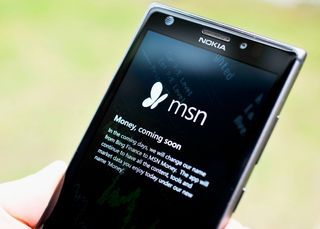 Microsoft has new updates available for the Windows Phone versions of its MSN Money, News and Sports apps. However, they appear to be minor updates, with just some unnamed bug fixes and improvements.
Here's the breakdown: MSN Money, News and Sports all now has the version number of 3.1.4.501. The Money app's change log shows "Bug fixes" listed, with the News app showing "Stability improvements" and the Sports app posting "Performance improvements". The Weather app shows both "Performance improvements" and " Live tile update fix" in its change notes. In other words, there's not much to these updates, but if you happen to find something that's noticeable, let us know in the comments.
Thanks to Abhishek for the tip!
Download MSN Money for Windows Phone (Free)
Download MSN News for Windows Phone (Free)
Download MSN Sports for Windows Phone (Free)
Windows Central Newsletter
Get the best of Windows Central in your inbox, every day!
What was the relevance of this comment to this article?

Much more relevant than the Twitter conversation few comments below.

Health & Fitness also gets updated: http://www.windowsphone.com/en-in/store/app/health-fitness/cbb8c3bd-99e8...

Travel http://www.windowsphone.com/en-in/store/app/travel/19cd0687-980b-4838-88...

And not transparent tile yet, how many updates wait for have transparent tile?...

I hate that all apps are making that change. Keep the apps distinguishable!

the div's must give us the option! The new OneDrive tile doesn't look good for me :|

I would like them to be transparent, so the option would be the best of both worlds.

I have not updated OneDrive-I do not want the transparent tile. Too many apps with transparent tiles-I prefer the original app colors.

Hopefully never. Whenever MS gives us a transparent tile they never make it as an option. So screw your transparent tile.

Msn money sucks, it gives shares update with a huge delay of 16minutes.

Off topic: I'm frustrated with official Twitter app; no notifications for past few days. Anyone experiencing the same? I've tried almost everything from reinstalling to moving to phone memory or reinstalling after revoking access via web. Pls suggest something.......... Twitter app should get a much needed update soon.

To keep it simple, official Twitter app for WP is broke. Nothing you can do to fix it. Also, read the forums. There are alot of threads regarding this.

Days? It hasn't worked for me in years lol.

Just waiting for the ability to use other twitter apps for people hub.

If i could buy only one single app for twitter, which one it should be: Aeries, Tweetium, Tweet It! or twabbit?

I purchased Tweetium when I updated my Lenovo laptop to Windows 8. I really like it.

Twitter app is abysmal.I gave up on that ages ago.

Performance improvements are always welcomed, but how about some added functionality and capabilities? These are your 'branded' apps, Microsoft...they need to offer premium level functionality.

I'm guessing added functionality coming in new version with Win10 Mobile

Bug still currency section, should list all from home currency to foreign, but it don't.

Nothing new until windows 10 is released. But its nice to see bug fixes.

that's my favorite lumia at pic

I wonder if the Weather live tile will finally update regularly now.

Mine does, but I find that the Cortana tile works well too for a quick look at the weather.

Still no live tile for me, back to a third party weather app for me. Sad that 3rd party apps work but MS apps don't seem too!

Can someone tell me why the f did they screw up the travel app

Wndows 8.1 MSN apps have also changed a well earlier. The biggest changes I have noticed is the changes with the news and travel app. They have both been reduced to wrappers for the MSN website and corresponding news website. In this update I don't see any changes. ​

Yes. this completely sucks. These apps used to be great. They cant even support apps on their own platform. A web wrapper? seriously!! This shit is getting old.

Because they are making new apps for w10, m using new news, sports and weather apps. All are great apps

The new windows 10 apps for news has a new look, but is functionally basically the same. The news sources are still curated, not the best sources (for my country) and many articles are still wrappers for the corresponding website. You can not add your own sources and news feed any more in the windows 10 app. You can however in windows 8.1! In the windows 10 app you can categorize more to filtered news according to interest, but even using the favorites page is a chaotic experience. But many individual articles are still merely wrappers for the websites. They don't pull in and download whole articles like rss readers do. In one of the first few versions of MSN news for windows 10 there used to be a search bar where the user can search and curate article cateogories. In version 4.3.93.0 this seems to have all but gone for local news. And local news is simply awful. They don't show and have the correct news sources for my area in the windows 10 app, but do have it correct in the windows 8.1. app!I like the new lay out but the app is still dysfunctional. No way around it. For my country the Netherlands its almost better to totally ignore/delete news and go for an app like Nu.nl, Blendle or Nextgen reader.

Everytime I turn 'news' to off in the background it turns itself on again! Lol so annoying

Why won't the sports tile show the score of a baseball while it is being played? All mine says is "Live" and does not post the score until the game is over. I thought it may be a licensing issue but when you open the app you can see your favorites team score in there so it makes no sense. If the app can show the score when you open the app, why not on the tile?

Wondering the same thing-sports "live" tile is worthless. That why I use Lunosoftware apps-shows score, base runners, pitch count tight in the tile..and notifications are almost instantaneous. Tile updates few minutes later.

Bug fixes? We want localization!

Why didn't they just name the apps Microsoft apps or Microsoft Collection

That is a great question. The MSN brand is dead. They should kill it off and go back to these being branded to Bing or Microsoft.

I love weather glance integration, but why cant the provide option for Bing images for lock screen is beyond me..

Off topic, but The AT&T Lumia 635 got the denim update and GDR 2.

Not seeing it. W10 Insider.

Interesting. I just checked the ATT site and there is no release date posted for Denim or GDR2 for the 635. No one on their forums have reported gettng the updates. Also did "phone update" on my 635 - nothing. Now back to the topic at hand.

The AT&T 635 got Denim and i don't have the Insider app here http://imgur.com/pvzaeWO it shows that the Lumia 635 got the update

Go to All Settings --> extras+info and tell us what you see.

http://imgur.com/yz6bVBk this is what I see

That's not the "extras+info" screen but it was interesting to see Update 2 in the "About" screen which is what is shown in the link above. Please find "extras+info" in All Settings - it's toward the bottom


http://imgur.com/hZdLJ87 herhere it is

Humm... this update was delivered to your 635 by ATT? If yes, then I wonder why no mention on their web site, user community or here: ttps://www.microsoft.com/en/mobile/support/software-update/wp8-software-update/... Perhaps starting a new thread is in order. Not many will notice, this thread is already "old" and the comment was OT.

I'm interested also why haven't other people said they got the update? This seems odd to me.

Can you tell me where do I start a new thread? sorry I forgot how to do that

Go to the top page. Find Forums on the upper right, then find the Nokia Lumia 635 section under Windows Phones. There you'll find a Blue Box labeled Post New Thread under Nokia Lumia 635. I seem to recall some false positives with phones reporting Denim. Don't remember what triggered this though.

This is interesting because this isn't false Denim, I can make folders on the start screen. I'm going to make a forum

I want tetra lock screen back!!!

Health and fitness too got an update.

Transparent tile? Oh wait...