Microsoft's new Display Dock turns your Lumia 950 into a desktop PC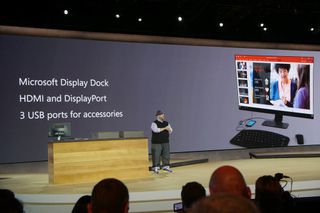 Microsoft has introduced a new accessory alongside the Lumia 950, the Display Dock. This accessory lets you take of the Windows 10 Continuum support in the 950, which lets you use your phone as you would a desktop PC.
The dock connects to your 950 through the built-in USB-C connector, and features both HDMI and DisplayPort out, along with 3 USB Ports. The little black box lets you put a Windows 10 desktop on a large screen, and your phone's Live Tiles will show up on the desktop's Start menu. While using the dock, you can still use your phone independently of the computer. You can connect USB thumb drives to use them with your phone as well.
Follow along with the Windows Central liveblog for more from Microsoft's event.
Windows Central Newsletter
Get the best of Windows Central in in your inbox, every day!
They should really have a commercial video showing this.

The demo convinced me. I will picking up a 950XL. 950 for my wife. Band 2 as well. Hell, with the rate Surface Pro 4 is moving...I may be picking one of these up as well!

Well, you better have a lot of money to spend!

Me too getting all of these.... but I dont have money so will be waiting out side the store when Jeff comes out.....

Can we connect a pendrive in the USB-C in 950?

Yes he did that in a demo to insert a photo into the presentation.

Or did he put the drive in the hub / dock / Munchkin? Are USB-C thumb drives available yet?

He plugged it into the dock, not the phone.

Is this only compatible with the 950 vs 950 XL?

Is "950" the catch all for both phones?

Yes...if 950 supports it obviously 950xl will support

@anubhav756 you can through the dock. Not through USB-C expandable up to 2TB on the phone. The dock has I believe 4 USB connections.

They said 3 USB ports. I wonder whether they are 2.0 or 3.0 though..

2 x 2.0. and one high charge USB 2.0. http://www.microsoft.com/en-us/mobile/accessory/hd-500/specifications/

Weren't they bundling this with the 950?

I hope so! I hope they are bundling it with the 950 and 950 XL!

Can you do side by side apps?

It sure seems that way with Continuum, not sure with just the phone. The demo had resizing of apps going on.

There is no Snap on Continuum for W10M sadly, even windowing which is the very definition of Desktop UX (which they markets it like a "Desktop-like experience"). Wait is there any demo about resizing apps on Continuum? I haven't seen one.

During the Devices event, when the guy was using Office, he showed how if he started to use it on his phone (rather than on the large display), the app resized itself to match his phone's size. IDK what that ends up meaning, but it at least leaves me hopeful.

Am I the only one concerned with what the guy in the picture is wearing?

That was exactly my initial thought when I saw this picture.

Very interesting attire I would say.

I think he lost a bet and that ensemble was the consequence.

seriously who cares what he was wearing....

Yup, who cares. Guy presented quite well. I wish I could wear sneakers all day.

Probably. You don't need to date him.

If you do you have
Problems Posted via the Windows Central App for Android

Provided there's the necessary apps, this would be a great solution as a TV stream box

I was hoping there would be a laptop like clamshell as well.

Pricing and availability, por favor.

Wait a second, how is Continuum powered? Photos/presentations so far suggest it's only got USB-C to phone and Displayport/HDMI to monitor - meaning any connected devices are powered by the phone. Anyone seen any mention of an AC input and/or USB-charging via one of the 3 ports?

Would be interesting if Continuum has a battery, for lighted keyboards and devices that need more power.

Dock has a USB C charger input, 3A. http://www.microsoft.com/en-us/mobile/accessory/hd-500/specifications/

So, OTG confirmed for W10M? Or just Lumia 950/XL?

Well, I now know what I'm saving up for!

Here is the contribution that Windows RT made to the ecosystem: When Windows came into the market, some developers started porting x86 applications to work on the ARM architecture. Those apps will now be a big milestone on the continuum ecosystem.

Any word on the price of Continuum ?? 950 XL looks awesome bit of kit ....... The dude in the jaunty colourful hat is a style icon ........

OK, cool, so, lets say I have a 950xl, so, how much is this adapater ?

But will there be Miracast support for Continuum??? Will I ever be able to do this with my Microsoft Wireless Display Adapter?

Yes. https://www.thurrott.com/windows/windows-10/5652/microsofts-continuum-do...

Anyone know the price for the display dock?

Awesome! For some reason, I don't get it why they called it "Dock" since you can't even dock it on the Display Dock, its more like a Hub.

Can I use the Display Dock with Lumia 1020 also whenever windows 10 update will arive or is it only for 950 and 950xl???

I hope to do just that with my 930 and a USB-C to USB 3 micro adapter. We'll see...
Windows Central Newsletter
Thank you for signing up to Windows Central. You will receive a verification email shortly.
There was a problem. Please refresh the page and try again.