Microsoft's new Ringtone Maker app is now available for download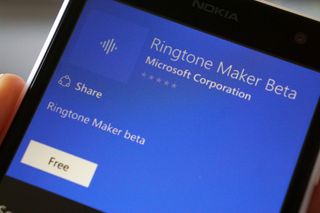 Microsoft has released the company's refreshed Ringtone Maker app as a beta. For the time being, the app itself appears to be available for Windows 10 Mobile only. As we previously covered, Ringtone Maker is essentially a refreshed version of the old Nokia tool that lets you create custom ringtones.
It's worth noting that this version of Ringtone Maker is indeed a beta and thus bugs and glitches may be present when attempting to use the app. While listed as a Universal app, Ringtone Maker is not currently available for Windows 10 on the PC.
Hit the link below and let us know in the comments how you get on with the new app.
Download Ringtone Maker Beta (opens in new tab)
Thanks, Prasanna Jadiya, for the heads up!
Get the Windows Central Newsletter
All the latest news, reviews, and guides for Windows and Xbox diehards.
Rich Edmonds was formerly a Senior Editor of PC hardware at Windows Central, covering everything related to PC components and NAS. He's been involved in technology for more than a decade and knows a thing or two about the magic inside a PC chassis. You can follow him on Twitter at @RichEdmonds.
Works great, looks great.

I really hope they keep this app on Windows phone only and stop giving us reasons to leave the platform.

But then there'd be no one left to complain!

I don't want a maker, just want some new ring tones. Where's a good place to get them?

There are a million apps in the store about ringtones

As other have said there are apps, but you can also just drop audio files on your phone in the ringtones folder. Download what ever you can off the internet and use that.

I've tried a few apps but couldn't find what I wanted. Searching the internet is too annoying, too much junk will come up. Anyway, it would be nice if Microsoft just provided more. It would be easy for me to install and make customers happy.

This app is really good for ringtones.
Tonality (https://www.microsoft.com/store/apps/9wzdncrdcrdq)

Useful apps (with regular updates) for iOS and Android, useless ones for Windows mobile.

The gtfoh and buy a lagdroid

Already got it. It's amazing. Better than every Ringtone maker on Lagdroid or iCrap

I've got all kind of devices in my house, so yes I'm sure.

Well, don't worry, soon enough Microsoft will be asking for insiders to test the iOS version and then probably port it to android. Eventually, leaks will show that the iOS version having features that the windows version won't have. Posted via the Windows Central App for Android

All people in India are dumb like you?

He's probably from somewhere else.

I am not from India or have any Indian origins, idiot. I don't understand what IQ level a person has, has to do with where he/she comes from. Well, definitely urs is quite low to mistake Indians for dumb, two of the best three tech companies in the world are run by Indians.
Where I live, the UK, people are respected wherever they come from, don't know about urs but I can make a guess, that it is not really the best place, from the fact that u r running around insulting everybody who doesn't get along with ur opinion. How civilised!!!! Posted via the Windows Central App for Android

> Calls previous poster an idiot. > Typo's a million times and lacks any proper grammar while stating they live in an english speaking country.

I think 'idiot' was quite right considering the comment I was replying to. Hmm, I think I am in a fan/tech site, not in an English lesson or a grammar test. I can say what I want the way I want it. I don't think I should have put it in a masters essay form or should I?! . Don't worry about my grammar, I passed my GCSE, A-levels, Bachelor's and Masters (writing loads of essays) with flying colours, mind u. Perhaps u need to check urs because it is quite ironic that ur two sentence comment has some issues (articles for one) while calling me out on my grammar. Posted via the Windows Central App for Android

Haha you are the dumbest one posting here with your language. Silly troll Posted via the Windows Central App for Android on my Lumia 950 XL

Did u forget to take your happy pills?

I forgot to give your mom the birth pills

Why didn't you just type "other OS's" like you did in your review rather than "Lagdroid or iCrap"?

Cause they suck. (like iyaes mom)

@DoubleM I have got only two word for you SUCK IT...

That's what your mom said

You comment too much about mom's.I think your mom must be a ***** sleeping with every men she encounters...

Already downloaded and looks no different with the old one

Its totally diffrent.. Wat do you want more different? Ability to chat with frnds in that app? :D

He might ask one single app to perform like every apps that are in iOS

Yes the UI is different but the ability to make song into ringtone is same like the old app, I'm talking about ability to make ringtone

Have a wee sing into voice recorder then use this app to make it the ringtone. Have fun ;)

https://www.windowscentral.com/e?link=https2F%2Fclick.linksynergy.co...

How is it that I can't find any specific app in the store using search? Seriously, what are these? Search algorithms? Naaaaah

It's a reported issue being worked on as it's a huge problem for developers and a frustrating one for users.

Because MS broke store search. Its been like that since windows 10 came out but they don't really seem to give a ****. That's fact not opinion. I've dealt with many support reps, staff on their forums and staff on twitter. They have zero interest in resolving it and windows central don't care either (I wrote them a long email detailing it). Indie devs get screwed but who cares right? :(

Beta apps aren't indexed.

Should've integrated with sound settings

Most of the new users dont know about the app.. And its a normal and most used thing.. If group me can be integrated with people then RTM should definetly be integrated with sounds settings

My English sucks and I'm high AF, I can't understand what you wrote :p

Its most used thing.. Changing ringtones.. So it should be integrated than downloading it as an app..

I thought the whole reason for going more for "apps" than "integration" was because of phone updates not being sent out by carriers. If they have apps instead, they can update the app and not worry about if/when the carriers send out the OS update.

Another more app that remain pending for integrated into the system as Gestures Beta.

So what? They are functional 100%

I don't think that's necessary, and probably will be a out of the box app, so, like calculator etc.

Don't start taking about Gestures Beta. Just makes me feel sad...

Beta beta beta....when an app of microsoft will be published as done? Wp is the beta platform and android/ios is the market where they aim their products. Wtf.

It works. So why do u care if it says beta? Damn you people. Then gtfoh and buy a Lagdroid.

It works? What are you, a 5 year old? Based on your way of viewing things, W10m for you is ok because it works besides gliches and crashes, yeah sure pay 500$ on a phone that you hope it works, or use apps that just work even though it is beta. Why wp is the only platform where beta is the only way an app is published with no refinements. Ill be damned, i could make my own apps for myself and i think it will be better ones.

Then sell your mobile and stop actin like a ****** girl. Go buy something else. All of you people are crying. Gtfoh. You are all turds

@Double M... I love your passion for wp... Refreshing to see someone like you after such negative reviews

You need help. All he posts is negativity. Posted via the Windows Central App for Android on my Lumia 950 XL

Use the app frst.. It no where looks like a beta app..

Where is the link? I thought so..

Think again
Ringtone Maker Beta (https://www.microsoft.com/store/apps/9nblggh6gpxj)

There's MS beta apps on Android too, you just don't see it.

Windows Phone OS (BETA since its launch)

Wpfan1995, idiot since birth

Nice one. This is exactly how we should try reach other around here! If we diss each other we forget to diss MS for a while... I'm a fan 2xM

This app should be a part of windows 10 operating system..There should be add ringtone option in file manager...

That's true, maybe they will bring it when the WM10 is ready.

(copied and pasted from up higher) I thought the whole reason for going more for "apps" than "integration" was because of phone updates not being sent out by carriers. If they have apps instead, they can update the app and not worry about if/when the carriers send out the OS update.

Seriously? Not every function needs to part of the OS. That's why it is built to support apps. Maybe a 'right click' extension in file manager or Music to make a ringtone when you install the app. I have no interest in a ringtone maker on my phone. Wouldn't mind if the 'Universal' app ran on my laptop where it is easier to manage. There are plenty of pre-made ringtones in any case. Don't bloat up the OS with with all these functions not everyone needs or wants and can be supported in other ways. How about useful stuff like being able to activate Quite Hours, or other profiles, based on calendar entries or GPS locations/BT connections. There are tons of features missing from the OS. RingTone Maker is not one of them.

I've heard this comment too many times. If they put everything people thought should be in the OS it wouldn't fit on a phone.

Thank goodness. The old one wasn't working anymore. Thought it was just me buy tried testing it on a classmates phone and it didn't work there either

It works for me but anyway, this is better.

https://www.windowscentral.com/e?link=https2F%2Fclick.linksynergy.co...

Works great and looks awesome

Unrelated but I just bought a 950XL and the 10586.29 update has been stuck at 0% endlessly. Can someone tell me if this is normal and if there's any workaround? Since then the phone has been a hotcake :/

What happened to the liquid cooling technology hahahahahah

What happend to your face? Hahhahaha

It actually dwnlds the update in background.. But the best walkarnd is dont close the phone update page or run in background.. Keep it active.. Dont lock the screen or let it automatically turn off screen.. Thats what i do.. :)

No it doesn't. The wifi icon on the phone update page is stagnant and does not show that any data is being downloaded. Also, storage remains the same so in essence, nothing is being downloaded. Has been like this for the past 6 hours!

Cancel the download by rebooting a several times or hard reset.. Then try what i said.. Dont close the page once the download starts amd preps to install

Premium Microsoft care for its products don't forget....BETA

Sell your **** and go buy a android or iphone then

A welcome addition. Thank you.

I couldn't get the link to work either from Edge on my Nokia 1020 site or the WindowsCentral mobile app. Ended up grabbing the store link out of the page which eventually worked on my phone: https://www.microsoft.com/en-us/store/apps/ringtone-maker-beta/9nblggh6gpxj I miss the QR Codes WindowsCentral used to use on their site, never seemed to have a problem with those. Now it's a battle to get anything to open on my phone. Sad times :-(

Yeah I kept getting inactive link as well. It was annoying me that it was working for everybody else. Thanks for the help.

Soon ..soon..soon..wait..wait ..wait..and made himself idiot @the end of life..for WP foolishness

Just end your life buddy (:

Ha ha... True we windows fans are fools to wait for an update .. :) lol..

Anyone else unable to save a newly created ringtone? It wants to send me to the store for a app to do that.

Crap......this app does not work in windows 8.1 mobile... Does this work in Windows 10 mobile...

Of course, Nokia did make some great apps for WP at that time. Meanwhile MS is too busy developing useless junk for iOS and Android

Different team is creating apps for Lumia's, different team is creating apps for ios/android

Time to shift some people to the home team.

They have a much more talented team working on the iOS versions, obviously.

Yeah, of course, but they are under the same company, so this is not an excuse

Which apps do you think pay the bills?

If by that you meant that iOS and Android apps pay the bill, than you are missing something. All the people I know use iPhones and Androids, and not a single one of them uses MS apps or services. And I am talking about the best ones, like Onedrive or Outlook, not the sh*#%ty alarm or wallpaper or whatever the f$#%ck apps they deliver generously for those platforms.

The old one works fine. MS should use their resources more wisely to fix Windows 10 Mobile instead of wasting them on apps that won't save the platform.

The old one has a few bugs on W10M, just compared the two. 8.1 the list of songs has multiple duplicate tracks. 10 they're just fine, well the division bars are confused. 8.1 has a background photo, 10 has Microsoft drab grey.
They both work, this is for 10.

Both 10 and 8.1 versions are 1.3.5.1. I do mot see any indication that the 10 version is a beta. Also they both say "For legal reasons, you are only allowed to make ringtones from DRM-free music."

Not available in India. I really don't understand why there are some apps which is not available in India. Microsoft health is also not available. I am using Lumia 730 and it is also a premium device as compared to other Lumia phones. Does these comments are also shared with Microsoft team. Then they should know that making apps for windows phone should be their priority. And if Ms. is busy making apps for other OS then it is better we switch to other OS and use their much better created apps.

Just change your location dude to us.

I'm glad MS is working hard on getting the important stuff like "ringtone makers" updated and released. Win 10 is perfect and WP is thriving so there's no reason to work on those anymore.

Lol, love this comment. Can feel the sarcasm it's so good!

Not working right for me. I created a ring tone from about 20 seconds of a song. Then assigned it as the ringtone for one of my contacts. When a call comes in, it plays two seconds of it and repeats. I have a 950 with .36 build.

If the song is not DRM free which constitutes 90% of all songs, then the ringtone is scrambled and does NOT play. This is not fair..... I am willing to pay for this app to have unlimited recording of one-minute ringtones.

90% of your songs have DRM? you're getting your songs from the wrong source.

Is this considered an update to the original app or is it a standalone download?

Sure is a lot of anger in here over something a simple as a ringtone app.
Chill out folks.

Beta app for beta OS. seems faster.

This app has already been released on IOS days ago. Posted via the Windows Central App for Android

Wow cant believe it! Microsoft app for Windows Phone?

Microsoft has XBOX Music subscription service. They could at least make their own Ringtone Maker support DRM music since they can control the license.If you cancel your subscrition the ringtone no longer works, not to difficult. Yet, here we are not able to use any of the music subscribed to for ringtones. I expected this from other ringtone makers but not from Microsoft's, useless.

US only? I cannot find this from store and I'm in Finland. :/

It's nowhere to be found on my 1020 just the original

For whatever reason, the app is no longer available. Too bad, it was very good.

App is no longer available, i believe that the app is going to come as complete version with an update with the existing app.

WTH happened to the program? No longer available. But the stinky old version still is. Does anyone have the actual file? Unbelievable.