Microsoft's next Surface Book could radically redesign what a 2-in-1 is supposed to be like
By Sean Endicott , Daniel Rubino published
A new Microsoft patent shows a display hinge design reminiscent of the HP Elite Folio and Acer ConceptD.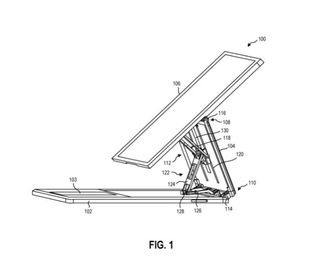 (Image credit: PATENTSCOPE)
What you need to know
A Microsoft patent shows a new kickstand design that could be used in a new Surface device, possibly Surface Book 4.
The patent would allow the display to rest at different angles, similar to Apple's Magic Keyboard for the iPad.
The design would also allow the display of the device to pop forward at an angle while still allowing a person to access its trackpad.
A Microsoft patent could indicate that a significant redesign to the Surface Book is on the way. The patent was spotted by WindowsUnited, shows a different style of display design from Surface Book 3 or Surface Laptop.
As is the case with all patents, this design may never be implemented in a product released to the public and Microsoft doesn't mention any specific device by name in the included documents.
"A hinge of a computing device includes a primary support connecting a display to a stand," says the patent's abstract. "As the display rotates about the stand, the primary support slides along a friction strip, which stabilizes the display with respect to the stand. A stabilizer may connect the stand to the base or the stand to the display."
At first glance, the drawings from the patent look a bit like Apple's Magic Keyboard for the iPad. Based on the figure labeled 7-2, it looks like the design allows the display to rest at different angles, thanks to a stabilizing part (item 728).
The designs also have a lot in common with the HP Elite Folio. That convertible 2-in-1 can pop its screen down for easy viewing while still showing the trackpad.
Future of Surface Book 4?
Questions remain about Microsoft's ambitions with a Surface Book 4. Rumors have been circulating that the company may be rethinking the current Surface Book concept of a detachable display that doesn't seem to get much use these days.
Currently, the Surface Book's processor is limited to that of Ultrabooks due to it being behind the display instead of the base of the computer like all other laptops. With this new redesign, Microsoft could finally make a much more powerful Surface Book while retaining its 2-in-1 roots.
We wrote about these issues back in 2020, calling for Microsoft to effectively make a "Surface Laptop Pro." That looks like it could be happening now as the Surface Book hasn't been redesign since its initial release in 2015.
In our experience with HP's Elite Folio, the pull-it-forward display lets you transform the PC from a full laptop to a presentation mode and a tablet without having to lift the device off your lap. It's a clever design that is easily better than the current Surface Book.
The concept of a pull-it-forward display is not new, either, as Acer has been employing it for years and most recently with its imaginative ConceptD 3 Ezels, but goes back to 2013 with the Acer Aspire R7.
As to when we could see such a device from Microsoft, due to current chip shortages, it seems unlikely this would release in 2021 and, instead, be on the table for 2022. However, Microsoft is good at maintaining secrets, so anything is possible.
Do you think Microsoft should go with this design for Surface Book 4? Let us know in the comments!
Sean Endicott is the news writer for Windows Central. If it runs Windows, is made by Microsoft, or has anything to do with either, he's on it. Sean's been with Windows Central since 2017 and is also our resident app expert. If you have a news tip or an app to review, hit him up at sean.endicott@futurenet.com.
Yes, this would be good. If you truly want a more tablet oriented device, the Surface Pro is better. Because I believe the data show that most Surface Book users treat is a laptop most of the time, and it only gets very limited battery life in tablet mode, this would be an improvement to the majority of its users. It would also bridge concept between Surface Studio and the Surface Pro and Laptop lines. The screen positioning in the patent diagram looks closer to the Studio than any other current MS product (or the Acer or HP models).

"It would also bridge concept between Surface Studio and the Surface Pro and Laptop lines"

Yup, Absolutely.

speaking of the Studio, let's add to this hypothetical new Book design some proper wide gamut color calibration, and maybe 10bit display, then it will be absolutely perfect

Yep, or do this on any new Surface devices across to any lineup. Surface displays still looks great, but it is already lagging the competition. Considering like the Studio catering to designers and artist, proper wide color gamut and 10-bit display should be a minimal requirement. As much as high FPS is cooler and may feel the smoothness when drawing, that didn't stop Wacom to be the industry standard regardless not having high FPS. Well on Wacom they have a gold standard pen performance. Surface Pen hasn't even improved in this field for years already.

I like it a lot. I've moved away from the Book 1 as I really didn't use the display by itself much, so I paid for what I didn't really need.
I did use the Book in Tablet mode (if you can call it that) with the screen resting on the keyboard for sketching a lot.
This design would totally fulfill my needs.

I own the folio. Good concept other than the 16:9 ratio and also the overly tiny track pad. The SB should keep the large track pad and also have a 3:2 display which would make the general design better

That was the Spectre Folio ;) Elite Folio is 3:2 and it has a much larger trackpad.

Looks neat but waiting for Microsoft to improve their inking tech to cut that pen wobble way down for artists.

Isn't that just a software change? I don't see how that is inking tech as far as hardware is concerned. Seems to me it's a matter of a software based "smoother" to create smooth lines from a drawn line. I feel like some apps do that, but Microsoft doesn't by default have that inside of Windows.

No matter what app I use (OneNote, Clip Studio, Concepts, Sketchbook, Sketchable, etc.) there is noticeable wobbling on the lines unless you draw quickly. There are numerous video of artists who experience the wobble as well which is why they all just stick to iPad Pro's and the Apple Pencil. Hardware wise, I am currently on an i7 16GB Surface Pro 6, but the wobble is present on every Surface I have used these past few years, including the Duo and my husband's 2020 Surface devices and I don't think Microsoft has improved the pen in years. They added the 4,096 levels of pressure and pen tilt years ago but haven't improved it since and they kind of left artists hanging after making a big to-do about making Windows an OS for creatives.

Yeah, ladydias that wobble issue is disappointing and is an issue with N-Trig tech. I found a 2015 response to this issue from Steven Bathiche, an MS employee, who at the time said Microsoft was working on the issue and was looking at increasing the pen voltage as a possible solution. I recently tweeted about it here:
https://twitter.com/JLTechWord/status/1422152793448718341?s=19

There are essentially three inking technologies that involve both hardware, pen and screen, and software. There's Wacom, sort of the graphics industry standard, which MS used in it's earliest Surfaces, then N-Trig which MS eventually bought and is calling Microsoft Pen Protocol. You can find third party MPP styluses. Wacom even sells some. The last of course is the proprietary thing Apple does. All three are distinct, incompatible, and apparently have differing capabilities and experiences.

Is it really that hard to make a laptop with a 360° hinge like any HP x360 laptop, Microsoft?

That design works great for 13" laptops but falls apart when you want to do a 15-inch. Also, 360 hinge also means you have to lift the laptop off your laptop, flip it around, lay it down flat again. On this design, you just pull the screen forward and lay it down. You also get a slight angle with the pull-it-forward design more like a drafting table vs. completely flat with a 360. A 360 design also gives you a viewing or presentation mode, but it completely hides the keyboard and trackpad. With this design, you can keep the trackpad exposed, which is a nice secondary interactive mode instead of tapping the screen. In having used both designs, the 360 hinge is dated and not as flexible/convenient as pull-it-forward.

Works on a lightweight device such as LG Gram 16 2-in-1 and Samsung Galaxy Book Pro 15 360. Plus the Convertible design has the advantage of being able to use the Tablet at any free angle, and also vertically in Windows Portrait mode. You can't do that with the Sliding design.

Right, "lightweight" devices, but even there I don't think it really

works

. Have you tried the Galaxy Book Pro 15 360? It's not a great tablet. It's a neat option for some, but it really works better in the 13-inch range, which is precisely why we don't see many do it. Now, go up to a beefier 15-inch like HP Spectre and it becomes even more unwieldy. There's a reason why Dell dropped the idea of a 15-inch 2-in-1 XPS.

"has the advantage of being able to use the Tablet at any free angle, and also vertically in Windows Portrait mode. You can't do that with the Sliding design."

I find this whole emphasis on a 15-inch tablet very niche and not at all enjoyable. Try holding a 15-inch tablet with one hand especially the 4.23lb Spectre 15. The only good thing about 15-inch 2-in-1s with 360 hinges is the media mode for watching movies. That's it. Either we're talking a beefy Surface Book 4 with an H-series processor, RTX graphics, and a display that can transform into a 2-in-1, or we're talking a super light Galaxy Book Pro 15 competitor, but we can't have both.

"The only good thing about 15-inch 2-in-1s with 360 hinges is the media mode for watching movies." Then you missed the point. Obviously you're not supposed to stand up and walk around using it like a Surface Pro. In fact, anything heavier than a Surface Pro like the XPS 13 2-in-1? Only really good at using the tablet mode flat on a desk, or on your lap sitting down. I'm uncomfortable using a 13 inch convertible with my hands trying to use it like a 12" iPad. So convertibles are ALREADY a niche, not just the 15 inch+ sizes as you've put it. Sliding design won't solve the issues you're talking about either. The existing ones aren't popular because they're bulky and heavy, and limited in their 2-in-1 use. Have you ever seen the HP Folio or Acer ConceptD out in the real world? Because I haven't.

I use the HP Elite Folio every day, writing up the review right now for later this week. It's awesome. I stand by my assessment.

Fair enough. To be clear I don't think the sliding hinge is bad, but the execution is very challenging to pull off as a viable commercial item. Elite Folio is a $500 value device priced at over 2 grand, and ConceptD Ezel makes a poor workstation as reported by many of its users. Judging by MS's past track record, I'm skeptical they will do the Surface Book 4 Ezel justice.

Are you walking around, holding in one hand and typing with the other, or is it on a desk? A 15" 2-1 is no more awkward than a 15" laptop. Neither are intended to be 'mobile'. I just got a 15" Dell Inspiron 2-1, and love the extra screen real estate. I'd have bought a 15" XPS 2-1 if they sold one. I do appreciate the fact the inspirion has storage for the pen. Haven't had that luxury since my 1" thick HP XP Tablet Edition PC. The Inspirion isn't fat by any means either. Dell took some inspiration from the Surface 10X for the pen.

Can we get something exactly like the Surface Laptop, but with the ability to fold 360?

The best thing we have is HP Spectre x360 14 (for SL13) and LG Gram 16 2-in-1 (for SL15) and both are amazing laptops, probably two of the best convertibles out there.

Yes, exactly this. I use a Surface Pro, mostly like a laptop but really don't want give up the tablet form factor when I want to use the pen. I love being able to flip the device around to add a signature to a document or to hand draw a diagram or something and a laptop just doesn't do that naturally.

15 inch 2-in-1 without pen input IMO is more of just a media use at best. But having pen input for example is better for artist and designers who wants larger canvas but don't want to lug around additional dedicated drawing tablet that adds weight to their bag and something to plug in. Yes, this use case among most people is niche, but so does 2-in-1 convertible laptops. Most just need plain simple laptop anyways, but that's not the point. Some have more specific needs and sometimes one of those devices cater to them, though as long as they can pay the higher price due to lower demand.

Not to mention you don't have to hold the awkward keyboard behind when on tablet mode, which is a thing for 360 hinge convertibles. Which what I like about Surface Book since it still feels a tablet, not a laptop that spins its display. Though the compromise with non-detachable tablet portion is that you hold the whole weight of the device with your on-tablet use. Good when you lay flat on the table, but it will be more uncomfortable when holding it like a magazine, which current Surface Book allows me to do. The Clipboard mode of Surface Book may be a limited use case, but it is by design I think since it is really meant for shorter length use and not meant to be your full-blown tablet to be carried anywhere without its base. It also keeps it light and thin. But yes, this limits the performance. I guess, keep the same form-factor if existing Surface Book, but only for 13 inches model and maybe make it cheaper and may only have Intel Xe Graphics or some lower end GPU enough for light 3D modelling, video editing and graphics. While 15 inch can have the new design with more powerful internals, since I think that is where the actual tablet mode were used less.

What I like about the Acer ConceptD series is that you can use keyboard Macros as you're using the touchscreen for CAD/Design/Editing software thanks to the unique hinge. But my primary issue with the ConceptD Pro was heavy weight and short battery life. If MS wants to pull this off, they'll need to use much lighter materials than the ones they are using right now, and up the battery capacity all the way to match the performance. And also really beef up the cooling system to be on par with current generation, top-tier gaming laptops. Their current tech isn't simply going to cut it for this caliber of device. Hopefully they still continue with the old design, I'd hate to see it become another relic of the past.

Looks interesting. Hope they announce it in Oct. I need a new Surface to run W11=D

This makes sense this would allow them to out more powerful hardware in the book going forward but still allow you to use it like a "tablet" but in a more elegant style than the usual 360° hinge

I remember thinking Spectre Folio's design was genius when HP announced it back then. So glad to see the industry is starting to take notice, feared for it when we didn't get a new gen of SFolio.

It's a little sad they might be moving away from the detachable tablet as it's insanely light and thin and you really don't need big battery life in it (just dock it back with the keyboard and back to work). I was looking forward to next-gen processors in the next Surface Book. But I suspect that as a pen-centric user with limited power needs I'm not really the target audience for the Surface Book going forward and this different design may suit power users more. Anyway great rundown of the patent and the likely target competition.

Microsoft is covering all the bases with their Surface line. Primarily touch and pen users are catered for with the Surface Pro (and Surface Go) line, while those who primarily use keyboard and mouse/touchpad input are catered for with the Laptop/Book line. In recognition of the fact that most Book users use the device in "laptop mode," this redesign would make more sense for the latter target audience, while still giving them the option of occasional tablet-oriented use.

True, I guess this direction do make sense. Though little sad for me as well as I am the one who really make use of the Clipboard mode time to time. Yes, I don't use it 50% of the time, but I think it doesn't need to and I understand its more limited use case. But once I do need it, I have a noticeably light tablet mode without the bulk of the whole laptop, considering how heavy Surface Book for its class already is. Surface Pro for me is a compromise since it's an Ultrabook without a keyboard permanently attached to it. I need beefier graphical performance on the go which Surface Book offers, which allows me to do video editing, play some games and more than enough for high complex multiple layer Photoshop design or drawing projects. Surface Book has become a perfect laptop for me and its sad that may be not anymore, I guess. There is no one really like it on the market if there is, I can't find it and buy it.

True. But there may be people with some occasional power-user needs who are also heavy pen-and-touch users, and I imagine them to be Surface Book users. This would change the dynamic a bit. But as I said I think this may make sense given the market, so no disagreement here.

Hmmm, this or a potential Surface Laptop Pro? I Have the top spec SB2 now.

I'm sure the Surface team's "hingeneers" can pull something like this off 👍

I dont like it. Unless they can get the dive to 1.7 pounds TOTAL...all this does is ensure that Im forced to hold the full weight of the device, even when all I want is a light weight tablet. If the device ends up being 4 pounds...thats a 4 pound tablet 🤮 I like the idea of being able to shed weight when I need to.

That's what the surface pro line is primarily for

Surface Pro doesn't have a 15" screen. Currently, that's actually what the Surface Book lineup is for. ;) And for many, we'd like it to stay that way.

There is no way I can see the Surface line using such an inelegant hinge device. That is way too much exposed mechanism, ready to be screwed up.

I would reserve judgment until the day if/when we see the final product. A lot can change in how the hinge is presented/viewable.

If it means we get 8-core processors with higher wattage, then great, they might get a purchase out of me. I was just about ready to jump ship to the next XPS 15 (or the theoretical next MBP with an M2 chip) to replace my ageing SB2, but might wait around to see what happens here

This would be so much more useful!

I really do not understand the point, it looks like all it does is move the screen closer to me but blocks the keyboard? Is the point that Microsoft can design an interesting hinge?
I would never give up my SB1 for this, I love the detachable lightweight tablet when I need it and my work is still there when I switch back and forth. Maybe it is just me and a different vision about how to use devices, but I also love my Duo and use it as my main device.

I get the sense that the Surface Book 3 was not selling very well, so they're making something less riskier and cheaper to engineer. Microsoft likes to listens to feedback from only small select group of people, and I bet some vocal minority complained how the processing power was too limited due to the Tablet portion of design. So they chose the Sliding hinge to be able to put a 45 watt CPU and beefier GPU in there. It's a shame, I loved the detachable mechanism and its versatility as well.

I might buy Surface Book again since I've found out that I'm not using the tablet at all (except watching videos).

I'm one of the few that actually does detach the SB screen and use it that way.
That said, I don't do it a LOT, because battery life dies fast. Plus I've got a pre-ordered SB2 here, so battery capacity has dropped since release. It's no coincidence that I use the tablet function a lot less now with an older battery than I did when it first came out with a fresh battery. So I don't mind this change, if it happens. I'm sure the hinge mechanism will work amazing as they always do.
Just hoping for at least 3 USB ports. 3 USB-A + 1 USB-C would be great (using my machines for mobile astrophotography, we use USB-A a lot!!)
Windows Central Newsletter
Get the best of Windows Central in in your inbox, every day!
Thank you for signing up to Windows Central. You will receive a verification email shortly.
There was a problem. Please refresh the page and try again.