Microsoft's NFL Windows 10 app will live stream today's Panthers vs Cowboys game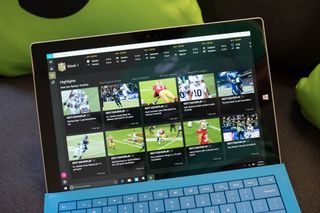 Thanksgiving Day will give Windows 10 PC users a chance to live stream a big NFL football game. Official NFL on Windows app will host for free, the CBS broadcast of the game between the Carolina Panthers against the Dallas Cowboys, starting at 4:30 pm ET. The stream is available just for US residents.
Unlike the Xbox One version, the NFL on Windows app doesn't normally offer live streams of games, but it looks like Microsoft got a deal with the league to show this matchup as a one-time special offer. It should be a good game, too, as the Cowboys are huge rivals for the Panthers and they would really like to take away the team's current undefeated status.
Will you be watching the game via the NFL on Windows app, instead of watching it on the big-screen TV? Let us know in the comments!
Download NFL on Windows from the Windows Store (opens in new tab)
Source: Microsoft (opens in new tab)
Windows Central Newsletter
Get the best of Windows Central in in your inbox, every day!
Now that it isn't streaming in India .... I can say I would have watched only if it were being streamed :P

With such a big NFL fan base in the UK why is this for the US only?

Seriously, isn't it free using an OTA antenna anyway (in US)? It's nice for those who don't have a tv and antenna though.

http://mychanneltv.org/football/PANTHERS20COWBOYS.html

For people like me who have OTA TV but because of geography (a large hill directly between me and the relevant tower) don't get that channel, this is certainly an option.

That would be down to the TV rights and licencing. The NFL offer the Gamepass subscription for catchup with all games, and outside of the US also offers live streaming unless its shown by a local station in that country. In the UK, Sky show one 12pm and one 4pm kickoff each Sunday, those games are blacked out for 48 hours after they finish.

I will be watching on my Xbox one

Let's go Carolina #KeepPounding

Why isn't this app available for mobile yet?

I guess we in the UK could use a proxy.

Cowboys and Panthers are huge rivals?

Actually they are big rivals. Before Carolina Panthers came into being, there were two kinds of fans in NC. Redskins and Cowbows. So especially special for Panthers to beat both of those teams and in beginning. And they always pointed to those two opponents. Of course the Redskin fans pulled for Carolina when they played Cowboys. Same thing when Carolina played Redskins-the Cowboy fans always would pull for Carolina. Really helped build the fan base here in North Carolina for the Panthers.

Even though I will be watching this on TV... I'm planning on streaming this game on the app.

Streaming on xbone nfl app...
Windows Central Newsletter
Thank you for signing up to Windows Central. You will receive a verification email shortly.
There was a problem. Please refresh the page and try again.