Prep for 10: Microsoft's UpdateAdvisor now available for Windows Phone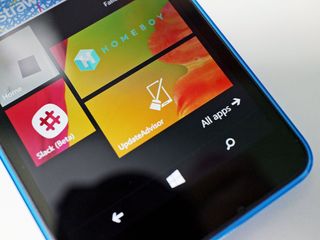 Microsoft is prepping for Windows 10 Mobile updates, and one of those ways is through an UpdateAdvisor app (initially released a few months ago)
The app itself is nothing too fancy as it merely clears temporary data out from your phone to make room for the update in addition to checking for that OS upgrade. That first part is critical for devices with low amounts of internal memory like some budget Lumias.
From the app description:
"Update Advisor can help check if an update is available for your phone and free up space to get you started. It connects to the network to check for new updates, then helps you free up space for updates by recommending files that you can move to an SD card or OneDrive to make room for the update. After the update is completed, you can move the files back to your phone.
With the Update Advisor app, you can:
Move songs, podcasts, pictures and videos to your SD card.
Move songs, podcasts, pictures and videos to OneDrive.
Delete songs, podcasts, pictures and videos from your phone.
We just ran the update on our Lumia 640 with Windows Phone 8.1 and – no surprise here – there is no update waiting. Still, if you think you may find value from the app feel free to download it and keep it by if and when those OS updates begin to roll out starting next week.
Download UpdateAdvisor for Windows Phone
Thanks, Sudesh B., for the tip!
Windows Central Newsletter
Get the best of Windows Central in in your inbox, every day!
Daniel Rubino is the Editor-in-chief of Windows Central, head reviewer, podcast co-host, and analyst. He has been covering Microsoft since 2007 when this site was called WMExperts (and later Windows Phone Central). His interests include Windows, laptops, next-gen computing, and for some reason, watches. Before all this tech stuff, he worked on a Ph.D. in linguistics, watched people sleep (for medical purposes!), and ran the projectors at movie theaters because it was fun.
I already downloaded it and prepared my Lumia 925 and I am crossing my fingers to welcome Windows 10 mobile!!

Just curious. You can get W10 mobile now on your 925 if you want to. Why are you waiting?

This app was put up in the store months ago!

Yeah what are you waiting?

My understanding is the official wide release version will have less telemetry gathering processes running in the background so should run smoother. If this is in fact the case I think it is fair for ppl to want to wait for this version rather than installing the insider version.

That is wrong. Same as with Windows 10 for PC. Insider == Official. Also where did you even get that information from? I'm pretty sure it was not an article on this site.

How so? Sure the Insider will be ahead in Version # but the builds are the same. Example. Insiders got the .29 update to W10 Mobile before that very same build got sent to the Lumia 950. Non-insiders are on that build and it was the same as when it was an Insider build.

All right newbies, we've had this discussion before. The insider is MS, the OS is MS, hence it is official, just has a slight possibility of bricking ye phone.

Just because it is not on this site does not mean it is not true.... Regarding where I got the info, from an actual MS employee who is involved in some of the programming for the OS... Logically it makes sense to me.

That is only half true. I believe he is talking about the Feedback part of the OS being on by default. You can turn that off. Like I said, if that were really the case it would have been reported on the largest Windows site on the planet. Otherwise it's your word vs those with verified contacts at MS. Not to mention that you are insinuating that Insider builds differ in telemerty btw non-insider builds and that has not been the case on PC and it wouldnt be any different on Mobile.

Perhaps by Insider build this person was referring to their internal employee build and not the Insider build going out to the public. I'd find that unlikely though, one of the main points of flighting these build out to insiders is to collect as much data as possible to work out any kinks. To achieve this you need background telemetry processes running....

They get their feedback from the Feedback app that is installed as part of the Insider program. Just think about it, if the intent of the Insider program is to see how the OS will run on devices, how could they possibly get an accurate measure if they are running extra telemetry processes in the background that will not be there on official release??? Doesn't make sense. I just also did a quick read on their site about their privacy policy and there is no mention of that either.


What if the intent is to also see how often an underlying process crashes? Would you not need background agents running to auto report on this?

No. That is not necessary for the OS to do that. That's not how it works. Even if that were the case they would need our permission to send it. The Feedback app is the official channel to report that and collect data from your phone. Have you not used the Feedback app? That should answer your questions. MS even sent very active Feedback users phones to test.

I'm thinking they are not the same. If they are the same, why the big wait? Something's holding it up, right? In my case, two days ago, I used the PC-based windows device recover tool (or whatever its called) to roll back to 8.1 from .63 on my 1520.3. In the process, I picked up a firmware upgrade, which I was dang pleased to see. Now, krayziehustler might argue that's outside of WM10, which is true. But if the firmware isn't ready for WM10, than WM10 ain't ready. Or so it seems to me.

well if you read articles here you should see that they are doing a lot of changes at OneCore which is windows 10 core a t all devices thats why the number wont increase and yea they have to make the OS to read all frimware and such for all their Insider devices. i am pretty sure the next mobile build that will come after the release will be close to the pc version again till then the updates are samll to fix small problems and make all devices ready duh? plus firmware for some devices is not up to MS itself but to other manufacturers so when on insider builld you cant get it for obvius reasons :3

Yes, I've used the feedback app; quite a bit actually. The fact that there is a dedicated feedback app doesn't invalidate that there may be other means at work for MS to collect essential telemetry data for the development of the OS. You yourself open in your latest reply by saying it is "not necessary for the OS to do that" sure, but is it against all logic that it is not? Regarding permissions I honestly have no interest reading through their terms of use agreement. When I did sign up for the insider program I did so fully expecting MS could be collecting additional telemetry data on how the OS is working/user interactions so it really is a non issue for me. Regardless, perhaps this is a subject WC could delve into further.

There is nothing going on in the Insider builds that is not going on in the standard builds. Nothing. MS collects telemetry data for Cortana and you have to agree to that to even use her. MS cannot just do what you are saying. So if you ate waiting for a release you might as well upgrade now as there won't be a difference between builds

well thats the app called feedback app. if you go to it and choose upload feedback you will see that button it will automaticly upload if it on AC power as it says. now how it gets the feedback? well when an app gives an error or the whole system gives an error i am pretty sure it gets saved there... and then gets uploaded you know just the pc has the benefit to send it to microsoft automaticly. all OS have a place for those errors so its something the OS does it self i believe as it should like the pc version and not that all insider build have something extra :3 since my 535 will never lag etc. with insider build!.

Correct. There is nothing extra added to Insider builds. That's just not even remotely true

Latest update of windows insider makes me curious that insiders can grab a firmware from it when its available officially to other..

I'm trying to find it on store and there's nothing!!!no search results....region:greece

Use Bing Vision and scan the code in the article Posted via the Windows Central App

lol, Thats a good one! If only they would bring back Bing Vision.

Actually on WM10 I use NeoReader as filter and it seems even faster Posted via the Windows Central App

In Windows Phone 8.1 Bing Vision is under lenses in Camera so the person can scan the QR code.

I know, but I made the jump to W10. Bing Vision was best on WP8. I used it all the time. It was great for scanning text to translate.

I don't think you can get it any more

Εαν εχεις την εφαρμογη στο κινητο σου πατα στο λινκ download app η αλλιως στo bing vision και πατα scan στο QRCode
Τι μοντελο εχεις;

ama patiseis sto link tou site kai na dialexeis na to katevaseis apo to site tou pc dn sto katevazei ?? se enan filo mou etsi tou to katevase sto kinito :3

gia sas malakes. ellinoamerikanos edo. zhto zhto h ellas

Same result on my Lumia 930. I'm guessing they are prepping for some time next week?

Crashing on Lumia930 with the latest win 10 build

This app is for windows phone8.1 not for windows 10

Got excited but then realized I already had the app installed from a few months back.

Good point! Here's a cookie!

Lol I have a feeling of Déjà vu aswel guessing a retooled version of the stop restart tool app released a while ago

Yes indeed. I was excited too and th was like"heeeyyyy wwaaaiiittttt. I already own this app." :)

Starting next week, am I missing something?

Probably yes :) take a cookie

Is it the official update that I'm missing?

Good job but nothing happens ;)

Hope MS releases to all CV phones at once.

It only works on 8.1 right?

Echoing to comments of others... This app has been out for quite some time already.

Does it need to unenrolled the windows insider to be able to get the uupdate!?

Does it need to unenrolled the windows insider to be able to get the uupdate!? I have W10 from insider. Do i need to roll back to 8.1?

you can just leave the W10 insider program from the app. then when there is an official update you will get notified about it:3
insider = official
like the pc version i had 10240 (RTM) 2 weeks earlier to send feedback but at the corner no build number nothing it was the same RTM build all people got and this goes for the phone so you have to do nithing at all just leave the program so you can only get official updates now :3

Downloaded app to (at$t) 950, running latest insider fast ring build. App crashed on second window "checking your phone". I'll uninstall, hard reboot, reinstall, hard reboot, see if it runs, and report back. Edit:
Uninstalled, hard rebooted, reinstalled, hard rebooted. Still errors out. Maybe its not compatible with the insider build? Not like I needed it, but it would be interesting to play around with.

Umm.. Why? What do you think you can achieve with it? Or just want to check it out?

Maybe s/he wants to clear some date.

@kirsutin:
I just wanted to check it out. Im like that with many apps advertised here.

Man, why would you buy that phone? You have amazing smartphones in that budget and you choose the be an Alpha Tester.
W10M is a buggy OS, Microsoft sucks so hard.

Is there a bridge you should be standing under right now?

@boyack:
I didn't buy anything. I got it to test/demo from MS, because MS doesn't suck as bad as you imply.
And its not "alpha testing", its a global collaborative "beta" thats been in existence for

That's like saying that iPhone users that update on the first day are testers because there are always serious bugs that pop up.

Same goes with being in dashboard preview(while they have the tools to fix stuff on a case by case basis they have yet to use them) glad I don't actively seek the updates out as having the retail bug months before it was identified as such was an inconvenience(that gave me a reason to not buy season pass at full price)

Then why are you here? xD
He wants to test it so he does since its not what you say it is but even if it was now its his choice. If you dont like it dont try it!

Hold on. Does windows 10 roll out from next week??

Any word on the underrated hero the Samsung ativ se getting windows 10?

Looks like a lot of people can't even read the first sentence of the article before commenting. It's in parentheses but it clearly states "initially released a few months ago"...

Nah, title is all some folk can (barely) read

Lol im sure some people are still as drunk as they were during the holidays

I'm confused, does this app work in conjunction with the insider app?

Nah. Seems it solely for Windows Phone 8.1 users. (Besides if you already are on Insider WM10, what would the Update Advisor check for? It's already updated.)

it could say WINDOWS 11 CONFIRMED xDDD (joking) :DDDDDD

Uninstalled and installed....still doesn't work...always says Something went wrong.... 950XL dual sim, none-inseder.

Yep, ditto. Tried 2x. Oh well...

Guys this app is for Windows Phones running 8.1.

you have windows 10 and get official updates since not insider what does it have to show?? that from windows 10 you will update nothing ? xD

No use for this app..
Maybe try working more on some useful apps like Messenger, Facebook, Twitter.

Then why are you here? Shouldn't you be charging your apple watch,or something?

OMGGGGG THANKS A LOT!!! this app fixed my phone. i have an HTC 8x and do you remember that one of the windows 10 updates rolled out to phones that were not supported? well this app fixed the bug, where i had this update but didnt download it, then after microsoft deleted this update, i wanted to see what will hapen and started to dowload the update but then the update dissapeared and after that i couldnt check for updates. even if i try the insider app and set it to configure my device for insider builds i says "you currently have an update go download it and come back" but there was nothing. I'm so happy :) i hope Win10 comes for HTC 8x (i rly hope)

THANKS! it did not show up for me in store, so used barcode.

Cool, I'll download it & see if I can clear some "temporary data"from my 930

Crashes on Lumia 920 ukcv

I've had this for several months .....

Guys how is your battery on .63 i have lumia 640, just joined insider (couldn't wait) and battery life is cut by half!? Im guessing the update needs to set it for some time!?

For me it's same as in 8.1. On my L520. I don't let anything run on background except SMS+skype ,because wouldn't get alerts from sms messages.

at my 535 its the same :/ if you let it settle for somedays it might fix it. or try having battery saver on for 2-3 days and let your battery take some air xD before you kill it again :D 3:)

Lol, what if I don't want Win 10 on my phone?

"you I" get you **** together. And if you don't want it, don't do ****. Just keep using 8.1. :)

Lol, didn't notice that grammar mistake, sorry. Doesn't the update install automatically though?

No. It doesn't. Like usually.

Are insiders getting some sort update? Or will official be same as latest build?

officials is always the latest build :3 same as pc or there would be no point for them to have these builds.. :P

Oh okay :D thought that would be like newer than latest.

Ran the app. Says "no update required". It should say "no update available" because I personally DO require a phone update.

And I require you to take this cookie! :)

I went through all this comments just to take a fart on your last cookie offering. Smell it, smell it, now take it!!! You're welcome.:)

Whaaat :D was bored last night... ^^

Still, you have to admit. I'm funny! Yes i am;:)).

It does not work with windows 10 mobile insider

Crashes on 930 running WP10

Thanks for the tip! Sadly, my phone is up to date.

What temporary files are deleted? Posted via the Windows Central App for Android

I have downloaded the app and it works fine I have a Samsung ativ se running 8.1, this is good news for me because I might get the W10 update :)

I can't find on store using 540

Wrong lead & incorrect post!! New app is "UPGRADE advisor beta" and not "UPDATE advisor" The correct & new app is here: https://www.microsoft.com/en-us/store/apps/upgrade-advisor-beta/9nblgggz...

Will update advisor work on W10M insider preview?

Hi All, I installed this on my HTC 8X and started the app. It showed me the free space and asked me to check in phone updates for new updates. New updates are found and downloaded but not installed. Getting an error with number 80188301, but no information found the error code. Is anyone facing the same issue?

On my Lumia 1020, it doesn't show in the store. If I go directly to the download link, it tells me that I don't have permission to download the app...

I don't find the app Update advisor in the store?

I didn't find the Update Advisor in the App Store. Lumia 1320

Link by shubhr worked... But it threw me out saying no permission to download. 640xl ds

Kinda cool I really like it

When will windows 10 is available for Lumia 730 DS

Windows is the widely used OS all over the world, and its size is gigantic! Moreover, it is loved by many of us. Unfortunately, it has also become like a maize: One enters & gets lost. Same is with the W10 for PC. Almost impossible to download! I hope that W10 for Lumia devices does not repeat this terrible experience.

Two weeks later the app does not show up in the phone store

Still errors on both my 920 and 635. Shame MS apps fail, no wonder platform is being swerved.
Windows Central Newsletter
Thank you for signing up to Windows Central. You will receive a verification email shortly.
There was a problem. Please refresh the page and try again.