Microsoft's Xbox lead will talk about its Windows 10 game plans at PC Gaming Expo on June 16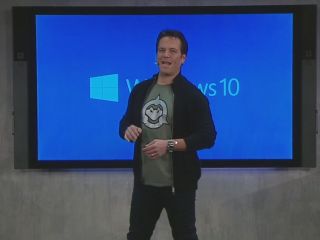 In addition to holding its own dedicated Xbox press event on June 15 in Los Angeles before E3 2015 officially begins. Microsoft will also participate in the first annual PC Gaming Expo on Tuesday, June 16 in LA as well. Microsoft's Xbox lead Phil Spencer will speak at the event to talk about the company's plans for Windows 10 gaming.
PC Gamer, one of the main sponsors of the PC Gaming Expo, has also posted an interview with Spencer talking about why he and Microsoft have decided to join the event. Spencer says:
Spencer also offered a general overview of what Microsoft will discuss and reveal during its part of the PC Gaming Expo:
The event will be held at the the Belasco Theater in Los Angeles and will be live-streamed on Twitch.TV. Besides Microsoft, the PC Gaming Expo will feature "new game reveals, updates on beloved series, and perspectives from key PC developers" such as Blizzard, Square Enix, the Creative Assembly and many more.
Source: PC Gamer
Phill looking great there!

Heres hoping for a halo mcc for pc anouncment

They need to do more than that. They need to fully declare that Xbox One and Xbox on Windows 10 are the same: cross-play, cross-buy. Find a way to make Xbox One games run on Windows 10 PCs and then treat them as the exact same platform with a truly universal Store. Those will be damning blows to Sony and Valve and is something Microsoft should've done at the start of the Xbox One launch.

Ever since they announced exactly how the Xbox One would work (the multiple independent VMs) I've been hoping that at some point they'd allow XB1 games to be playable by PCs that meet specific requirements. It wouldn't be a simple task, but with the fact that the hardware is abstracted away by using VMs, it seems possible. So you'd basically launch an Xbox app or something (which really just loads up the VM(s)) and suddenly your PC is an Xbox. Unless they required a very specific video card though, I could see them needing to have textures and models that can be adjusted, like normal PC games. So games before this change may not be playable, and games after would need to be specifically built to support this feature. Lots of problems to work out, but I can dream.

That would be a terrible idea from a gameplay perspective, not to mention it's up to the devs to implement cross-play and cross-buy.

No, it wouldn't be a terrible idea from a gameplay perspective: it would be a fantastic idea. More gamers = better community. If you're talking about differences in input method (controller vs. keyboard and mouse), that is easily remedied by having different matchmaking algorithms. I am saying it shouldn't be up to the devs to implement cross-play and cross-buy. It should be automatic: one, universal Store. They should do what Riot09 suggested with making Xbox One a VM inside Windows 10 to run Xbox One games. Unify Xbox across devices.

Awesome finally an event only for pc gaming

Microsoft times 2? ALRIGHT! DX12 GAMES. HERE I COME! :D

So... DirectX 12. 1+2 = 3 . Half Life 3 Confirmed!!!!

This is what I'm waiting for.

I'd like to hear about a family account plan. I should be able share my digital downloads on more than one Xbox.

Hmm I guess they are also trying to eliminate the PC Master Race elitism by ... telling everyone XBox is a PC(oh but the hardware specs though)...
Windows Central Newsletter
Thank you for signing up to Windows Central. You will receive a verification email shortly.
There was a problem. Please refresh the page and try again.