Minecraft Education Edition Early Access open beta goes live for teachers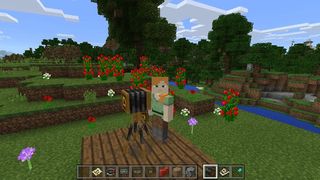 Mojang and Microsoft have announced that the Minecraft Education Edition Early Access open beta is now available to download for free for all teachers worldwide, ahead of its official launch in September.
Microsoft first announced that it would offer a education-based version of the popular sandbox game earlier this year, and the Early Access edition was made available to 100 schools for testing in May. Here are some of its features:
Easy Classroom Collaboration - One of the most common requests we get from educators is the ability for students to collaborate together to build projects and solve problems. In Minecraft: Education Edition, an entire classroom of up to 30 students can play in a world together without a separate server required. Or, students can work together in pairs or groups simply by joining their classmates' worlds.
Camera and Portfolio - Another important aspect of Minecraft in education is being able to collect evidence of learning in the game, and being able to demonstrate student progression. The camera and portfolio features allow students to take screenshots of their work and document the development of their projects.
Non-Player Characters - An educator may create an NPC (Non-Player Character) to act as a guide for students in the game, giving instruction, providing more information, and also allowing educators to insert an active web link to additional references.
Chalkboards - Similar to an NPC, educators can use chalkboards to communicate learning goals, provide information, give explicit instructions, or challenge students with problems to solve within the game. Chalkboards come in three different sizes – Slate (1×1), Poster (2×1), and Board (2×3) and can be placed either on the ground, or mounted on a vertical surface.
Microsoft will charge between $1 and $5 for each copy of Minecraft Education Edition when it is officially made available.
Check out the Minecraft Education Edition Early Access open beta
Get the Windows Central Newsletter
All the latest news, reviews, and guides for Windows and Xbox diehards.