Minecraft Realms offers cross-platform play between Windows 10, iOS, and Android [Update: Live for Windows 10]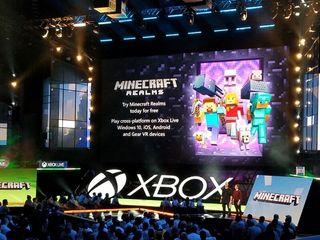 Microsoft has announced an expansion of its Minecraft Realms platform, in an attempt to unite Minecraft players across platforms.
As a part of the program, Minecraft players across Windows 10, iOS, Android and Gear VR will be able to connect over multiplayer for the first time. Tagged as 'The Friendly Update', the expansion will provide dedicated servers for multiplayer sessions, acting as a unified solution for mobile cross-platform multiplayer.
This title joins the existing support for PC and Mac, but multiplayer support will still be divided between these platforms. Support for consoles is planned to rollout in the next year.
Update: The Realms update is now live for the Windows 10 version of Minecraft
Download Minecraft Windows 10 Beta from the Windows Store ($9.99) (opens in new tab)
Windows Central Newsletter
Get the best of Windows Central in your inbox, every day!
Matt Brown was formerly a Windows Central's Senior Editor, Xbox & PC, at Future. Following over seven years of professional consumer technology and gaming coverage, he's focused on the world of Microsoft's gaming efforts. You can follow him on Twitter @mattjbrown.
Wow! Just wow!! So what good is Windows Mobile to fans again?!

Microsoft said: "When we said Windows 10, its including Windows 10 mobile and Windows 10 for PCs" and Xbox sometime :D

Did they exclude Windows 10 Mobile? I would assume this is a universal app, playable on phones as well.

I believe the Minecraft app is a Universal Windows 10 app. Posted via Surface Pro 4 or Microsoft Halo Phone

Wish they would rename the Minecraft on mobile from "Minecraft: Pocket Edition" to "Minecraft: Windows 10 Edition" so that we know they are 100% the same app under UWP L950

The Minecraft app on Windows 10 Mobile is not a universal app. It's the Windows Phone 8.1 version, and Mojang already confirmed that they're abandoning it--the first retail version of Minecraft to get abandoned by Mojang--even though it's all owned by Microsoft.

The specifically made no mention of Windows Mobile while specifically mentioning android ans ios. Also no, Pocket Edition on phones is not the same. At least it hasn't been prior to now. Posted with Windows Central for Windows 10

Minecraft Pocket Edition and Minecraft Windows 10 Beta are the same thing. Mojang has explained this on their website repeatedly.

Except Minecraft: Windows 10 Beta is not on Windows 10 Mobile--the WP8.1 version is. Mojang has explained repeatedly that they're abandoning the Windows Phone version. Eventually the Windows 10 edition will come to Windows 10 Mobile, but it ain't here now and it won't help WP8.1 owners (you know, 90% of the WP community).

They don't have to mention mobile, they just need to mention windows 10. it is implied.

No need to mention twice for Windows 10.. Posted via the Windows Central App for Android

I agree on this. Windows 10 is Windows 10, doesn't matter if on PC or mobile.

Then why did they explicitly state "Windows 10 PC" in the E3 conference?

Maybe because the game is for pc. Posted via the Windows Central App for Android

So weird they did not unify the multiplayer with Xbox One version and announce it in a Xbox One event, I expected at least Xbox One first, and then PS4 one year later.

Xbox event, not Xbox One. Xbox is a platform now, not a console.

So this is just dedicated servers for platform play. I can still host my own and play cross platform across Win10 and iOS without paying right?

Right. Just like before. Posted with the Windows Central app for Windows 10 on HP 250 G1 notebook. It is a scary old monster, I think :D

Confirmed. There is a tab for Realms with the update, but it says my device does not support Realms. 950xl. Damn you Microsoft. Just want to save a world from hard reset or upgrade. It's not hard.

If you want to save it before a hard reset, just export it to your SD card or somewhere else, and import it after the hard reset ;) Posted with the Windows Central app for Windows 10 on HP 250 G1 notebook. It is a scary old monster, I think :D

Guys, do y'all really NEED them to say Windows 10 Mobile? Pocket Edition has done a good job staying up to date on Windows Phone. Heck, it has even gotten some of the updates before Android and iOS :P

Lol. Realms doesn't work on Windows 10 mobile, so yes. It would be nice if they had said "Windows 10 mobile".

But they literally just announced this. I'd wait a little bit before you get all panicky.

It's not panic. It frustration. But the update out and the tag for Realms is there. Just says it not supported on Windows phone. But it working right now on Win10, IOS, and android. They just have chosen to exclude WP.

But that could be anything. It could be accidental or a bug.

I hope it will come. I was ready to pay. But we will see.

Believe me, I'm a little disappointed too. But I'm sure there's a reason it's not working on Windows 10 Mobile yet...

It is coming according to Xbox.com "and now Minecraft players on iOS, Android, Windows 10 phone and Windows 10 devices can all join together in cross-device multiplayer fun."
Read more at https://news.xbox.com/2016/06/13/xbox-e3-2016-briefing-news-recap/#M5q71...

Nice catch. But I think people's point is that the update is already out, however, Realms doesn't work on Windows 10 Mobile. But at least we have confirmation that it's supposed to work. Hopefully they fix it soon.

I think the point is the integration between Minecraft PE Windows 10 Mobile and XBox Live. It's requeired for Realms working properly. I think this integration is not working on Windows 10 Mobile, yet.

Xbox integration on Windows 10 Mobile games is already working - many other games have them. But I think the problem is, that MCPE on Windows Phone is in fact the 8.1 version - there's no existing Windows 10 Mobile verison of this game.

Android and iOS versions of PE have Xbox achievements. PE on Windows Phone does not have them and never will, according to Mojang. Defend that.

[–]mojang_tommo 2 points 7 days ago Unfortunately Live didn't get supported on WP8 so nope, it won't have achievement as surprising as it is.
Windows 10 mobile will, but we don't plan on releasing a W10M version just yet.

That's from one of the MCPE devs. So no crossplay, achievements, and – apparently – Realms for the forseeable future.

Time to definitely sell my Windows 10 Mobile... now Microsoft kills their own games on their own platform :)

looks great just donwloading on the xbox updateing on the pc. watching streams my internet is taxed tonight! I will play this asap!

Wow. I thought Windows 10 was a universal platform. Didn' t know that it meant Windows PC, iOS and Android.

That's a bit of crap :( I also thought Windows 10 is PC and mobile as well. So now we've learned, they abandon the Windows Mobile app soon. Why is the "Realms" tab integrated in the Windows Mobile version of Minecraft 0.15 then? They should fix their bugs soon :)