Minecraft Story Mode and other Telltale games could be coming to Windows 10 Mobile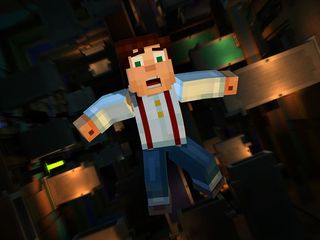 Microsoft has posted an article detailing how Telltale Games brought Minecraft: Story Mode to Windows 10 via the Windows Store. It also says Telltale is working on bringing the game's engine to Lumia phones running on Windows 10 Mobile.
In a blog post Zac Litton, Telltale's vice-president of Tech, says that the developer separates its game engine from its game creation tools:
It also sounds likely that Minecraft Story Mode, and other Telltale games, could be coming to Windows 10 Mobile sooner rather than later:
Litton adds that Telltale does indeed plan to bring all of its back catalog of games to the Windows Store this year. That will include its Walking Dead and Game of Thrones episodic titles, and hopefully its upcoming Batman game.
Please be the case! I love there games!

Nice, keep growing Windows

These would be some great games to add to the W10M lineup. Even better if they come as the same package as the PC versions and end up as cross buy

I got the 1st episode of Game of Thrones on Xbox One and never went any further. I do want to try the rest so if they were cross buy w/ cloud sync for PC and Mobile I'd buy it from MS and support the store tbh. If they time it so it's after the Xbox Store merges with Windows 10....Well then maybe they could be some of the first paid for games that run across Xbox, PC and Mobile with 1 purchase

Best news ever! Bring it on Telltale

Love Telltale Games! Have some of them on Steam, but if they come to Windows Store will buy them again =p

Include Xbox Live support and you have a customer

I got over Telltale games, choices that don't actually make a difference at all and the more recent titles the storylines haven't been grabbing me as much.

I only had Episode 1 of Game of Thrones, but I was a bit disappointed when I got to the end of the episode and went online to see what other endings people had gotten. It was my first Telltale game and I thought you could have very different stories based on choices but it turned out what happened at the end of the episode happened no matter what you did, so I was a bit deflated about the whole thing - Found out it's quite common that most major events in their stories don't really change much based on choices you make

were all tired of the cow they've been milking over the years but yet we buy it

And these episodes run on Android or iOS? Or only desktop and consoles? If so it means W10M has an advantage or if it is not, it is just catching up.

Would you rather the games not come to windows10M at all? :P catching up is better than not at all :) +640 on Windows10Mobile

It was a genuine question. But it is only announced to be coming to Android and iOS, so it may come just at the same time, that is very good in the end.

Hey, don't forget about Tales from the Borderlands! Eagerly waiting for more, also Wolf Among us! Love those two!!!

I'd buy all of The Walking Dead games again on Windows Mobile! Love them on my Xbox One, this would be awesome.

Ohhhhhhh! I'd buy them all again if I could play them in my phone!

Same here! WAU and both WD games.

I hope Microsoft (and the users) get the most out of this...

About time they did. Don't be too strict on requirements though. Even my L1520 is not compatible with valiant hearts.

Good times, que the window 10 music

I would buy them all in a heartbeat if they released for W10M.

Don't want to be pessimistic, but I thing is too late.

This is great news. Hopefully, the games will come with the Xbox achievements (200 gamer score).
Windows Central Newsletter
Thank you for signing up to Windows Central. You will receive a verification email shortly.
There was a problem. Please refresh the page and try again.