Minecraft's 'Better Together' Xbox and Windows beta is rolling out, this is what you need to know
Minecraft is finally going fully cross-platform across Xbox One, Windows 10, Nintendo Switch, and other mobile platforms with the Bedrock update.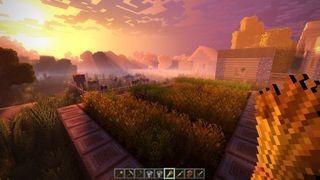 (Image credit: Mojang)
The Bedrock engine is an all-new extensible platform for Minecraft, allowing Mojang and Microsoft to update all versions simultaneously while keeping them cross-platform compatible.
Players on Xbox One, Windows 10 (and mobile), Nintendo Switch, iOS, and Android will be able to connect and play together via a Minecraft Realm, which is a subscription based service allowing players to maintain their very own dedicated server. There's no PlayStation version, because Sony hates its customers refused for some reason.
The first round of beta tests for this new system is going live on Xbox One and Windows 10 very shortly. If you owned the previous Xbox One Edition of the game, know that your purchases and content are completely safe, and can be transferred to the new system. You'll also be able to upgrade for free.
Here's how you can gain access to the Bedrock test on Xbox One and Windows 10, and a list of everything new in this update.
Windows and Android first, Xbox soon
To gain access to the Minecraft beta, you will need to download the Xbox Insider Hub from the store. The Xbox Insider Hub is your one-stop shop all Xbox pre-release content, including Insider builds, and occasionally, app and game betas. Minecraft will use Xbox Insider Hub to manage invites to the Bedrock tests. On Android, the beta will require a version of the Pocket Edition purchased on Google Play.
Note: The beta isn't live as of writing, but it will appear next week for Xbox One users.
Open the Insider Hub from your Games & Apps on your Xbox One.
Enroll in the program if you haven't already. Note that you need to be 18 years old.
Once signed up, navigate to Insider content.
Select the Minecraft beta, and hit Join.
You will then be given steps on how to get up and running with the new version of Minecraft for Xbox One.
For Windows 10 users
The "Better Together" Update is going live straight away for Windows 10 users, here's how you can get in on the action there.
Grab the Xbox Insider Hub from the Windows 10 Store.
Sign in to the app with your Microsoft account.
Select Insider Content from the left menu.
Select the Minecraft beta and hit Join.
What's new in the Minecraft Better Together Update?
At its core, the Better Together Update attempts to further merge existing copies of Minecraft, with a range of new features across most supported platforms.
Bringing true parallel functionality between devices, cross-platform multiplayer and purchase syncing, the Minecraft experience now seamlessly translates across various device families. The update also further merges the community with the introduction of community servers – a new form of multiplayer built with social features in mind. Here's a breakdown of all the latest additions, and the supported platforms.
Some of the gameplay features include: Stained glass, fireworks, dancing parrots, customizable crafted banners, armor stands, jukebox and music discs, recipe books and ravine landscapes. In multiplayer, hosts can set permissions, and you can now upload Minecraft creations directly to Microsoft's 3D hub, Remix3D.com.
Minecraft is now more universal than ever
One of the most important aspects of the Better Together Update is new versions of the game for Xbox One and Nintendo Switch, in an attempt to unify all currently supported versions of Minecraft.
While the Windows 10, virtual reality and mobile versions of Minecraft have been developed closely alongside one another, the console editions of the game were built from the ground up with these platforms in mind. Minecraft on both Xbox One and Nintendo Switch are currently based on versions of the game outsourced to an external developer, 4J Studios.
With this update, your Minecraft content will roam across all the following platforms, allowing you to share and play together across any of these devices.
Xbox One
Windows 10
Nintendo Switch
iOS
Android
Apple TV
Kindle Fire
Gear VR
Oculus Rift
By migrating Xbox One and Nintendo Switch versions of the game to this similar code base, these copies now fall under a universal core, referred to internally as the "Bedrock Engine." As seen on other platforms already leveraging this universal engine, both platforms are now expected to follow near-parallel development to Windows 10, mobile and virtual reality copies of the game. These versions will also support Minecraft Realms connectivity for cross-platform play.
To prevent losing features currently established exclusively on the console, a set of new features are also being introduced to all versions of the game. Although this includes in-game items, major features such as a server browser and split screen will be accessible across all these versions of Minecraft. During the migration, you won't lose any of your existing worlds or DLC purchases either – these also make the transition on both platforms.
By unifying Minecraft across all platforms, this completes Microsoft's vision for the game since its $2 billion acquisition in 2014. Minecraft is now more universal than ever, which guarantees parity in content and functionality between most copies of the game going forward.
Cross-platform multiplayer expansion
With all copies of Minecraft now packing the same set of features, this allows for an expansion of the game's cross platform capabilities. As the name suggests, the Better Together Update unifies multiplayer on all Bedrock versions of the game, allowing players to join multiplayer matches regardless of what platform you're playing on.
For the first time, Windows 10, Xbox One, Android, and iOS players can all play Minecraft multiplayer cross-platform, with no limitations based on device type. Sony has blocked access for Minecraft on PlayStation, however, and the PC "Java Edition" legacy version sadly doesn't support the Bedrock Engine due to limitations of Java itself.
Cross-platform purchases between more devices
Earlier this year Microsoft debuted the Minecraft Marketplace – an in-game storefront designed to house all Minecraft expansions. While this rehoused existing official content in a single location, the doors were also opened to a range of curated community content, via the Minecraft Partner Program. All purchases made through this storefront would be tied to your Xbox Live account and could be automatically shared between devices for no additional cost.
Making Minecraft a truly universal experience between platforms, cross-platform purchases are also coming to Xbox One and Nintendo Switch. Provided you're playing these versions of the game while signed into an Xbox Live account all of your purchases will be synced between devices, for no extra charge.
New in-game community servers
The Better Together Update also introduced servers for Minecraft – large-scale lobbies open for any players to join. Unlike Minecraft Realms, which are rented cloud-based servers for personal use, servers provide easy access to a community of players for free.
Right now, four servers are available to explore: Lifeboat, Mineplex, InPvP, and Cubecraft. These each provides their own unique game modes that put a twist on the core Minecraft formula, through modes certified by Microsoft. More are expected to be added in the months ahead, although we're yet to see a roadmap of can be expected.
What does the update mean for you?
Xbox One, Nintendo Switch: For those on Xbox One and Nintendo Switch, entirely new versions of the game will be available for your console for no additional cost. After updating you'll be gaining access to the Minecraft Marketplace, alongside cross-platform purchases with all supported devices. Cross-platform multiplayer will also be available on Xbox Live, with the inclusion of third-party community servers. Other new items will be introduced as a part of the update, after being migrated from other bedrock versions. It should be noted that no existing world progress or DLC purchases will be lost in the process, and will automatically transfer across upon playing the latest version.
Other Bedrock Engine versions: After the Better Together Update rolls out, those on existing Bedrock Engine versions of the game will still see some notable changes. Features such as split screen will be introduced from the Xbox One version, alongside entirely new functionality such as official community servers. Players will also be able to take advantage of cross-platform multiplayer and purchases, including newly added platforms.
Legacy versions of Minecraft: For copies not on the Bedrock Engine, the aforementioned features won't be available. Each platform has its various reasons for a lack of support, although this doesn't rule out the potential of such functionality later down the line. While the Java PC version is held back by differences in design, those on PlayStation are being excluded due to Sony policies. Both the Java and PlayStation versions of Minecraft will receive new features, and if Sony ever decides to play ball, it can receive the cross-play features too.
What about Xbox Play Anywhere?
Despite the fact the Xbox and Windows 10 version will now share the same core, they will remain separate purchases for the time being. A Microsoft spokesperson offered us this statement:
New to Minecraft?
If you're new to Minecraft or want to set up a Realm to play with your family across iPad, your Xbox, or your Windows laptop, we have piles of guides to help you get set up and building.
Let us know in the comments if you're still punching trees and hunting diamonds, and if you'd like to apply to join the official Windows Central realm, send a message to "Jez" on Xbox Live.
Get the Windows Central Newsletter
All the latest news, reviews, and guides for Windows and Xbox diehards.
Matt Brown was formerly a Windows Central's Senior Editor, Xbox & PC, at Future. Following over seven years of professional consumer technology and gaming coverage, he's focused on the world of Microsoft's gaming efforts. You can follow him on Twitter @mattjbrown.